The word 'chocolate' can perk up anybody's mood. Just hearing the word makes one want to pop a piece or two in their mouth. So much so, I went ahead and made these eggless chocolate pancakes. Are they for breakfast or are they for dessert, one may ask! I don't mind to eat them either way.
Extra decadence comes in the form of hot chocolate ganache (fudgy sauce) poured over chocolatey light eggless chocolate pancakes. Of course strawberries pair really well with chocolate and they add the tartness and also sweetness to these delicious pancakes.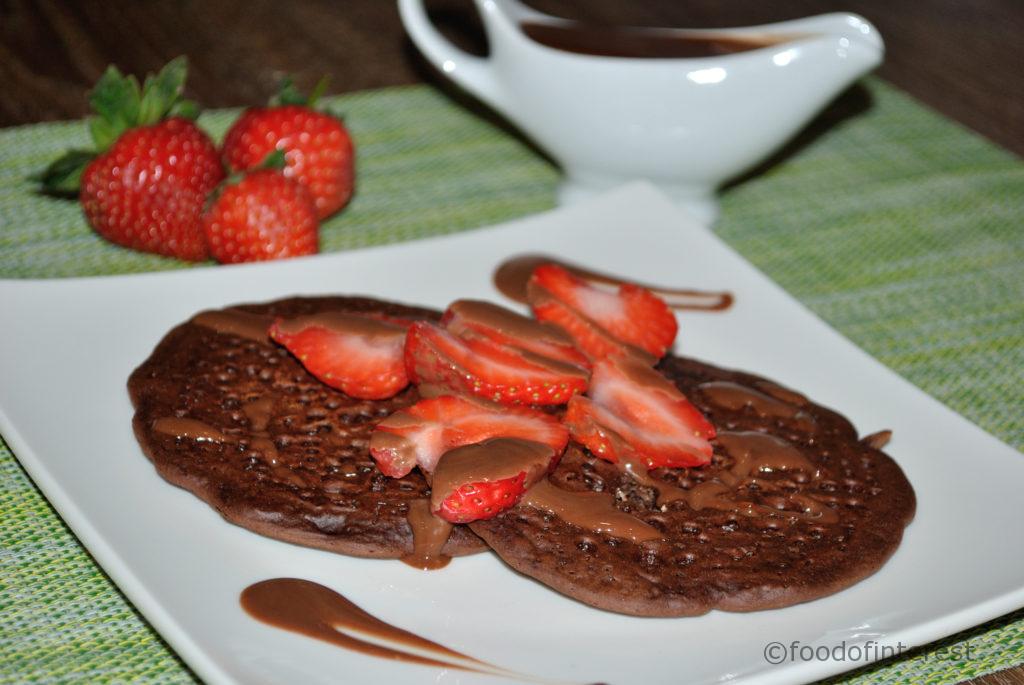 You can pair them with any fruit you like, bananas some orange slices. Or even just a cup of coffee with these eggless chocolate pancakes will complete them. A dusting of icing sugar or cocoa, indulgence! They taste so good just on their own. For world pancake day this year, my choice is eggless chocolate pancake, so why wait, go try them!
Try more eggless pancake recipes from FOI:
Eggless whole wheat banana pancakes
Eggless apple sauce pancakes
Yum!
Try more chocolate recipes from FOI, all eggless, chocolate brownies, chocolate cake etc.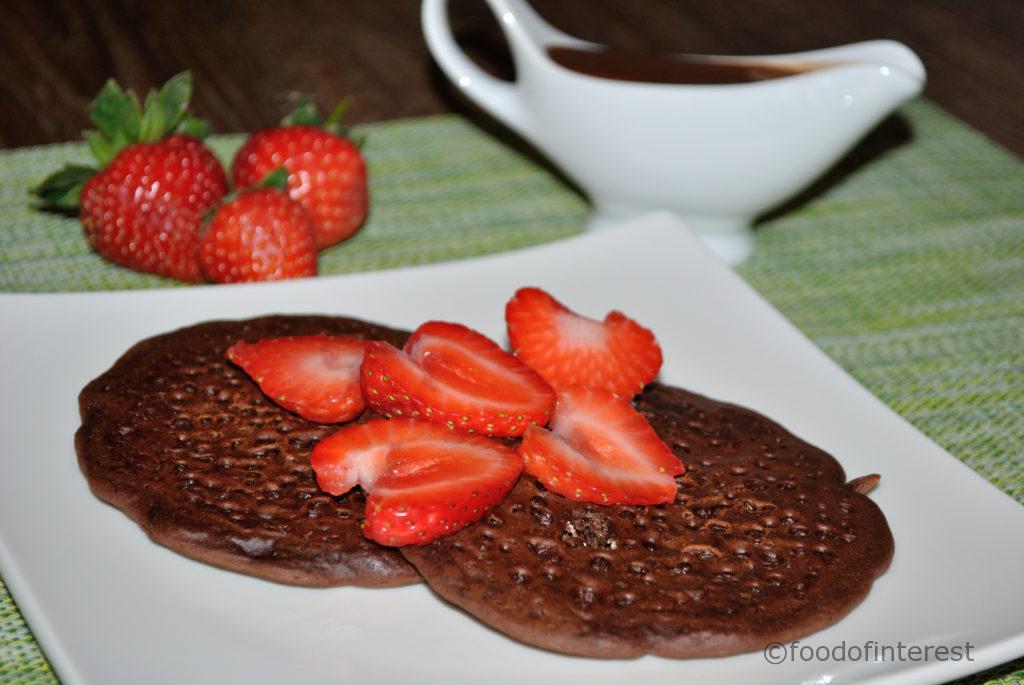 Eggless Chocolate Pancakes | Chocolate Pancakes | Pancake Recipes
Decadent, indulgent, eat them for breakfast or for dessert, eggless chocolate pancakes
Ingredients
Dry Ingredients:
1 cup self raising wheat flour (or even maida + 1 Tsp baking powder + ¼ Tsp baking soda)
2 Tbsp cocoa powder
1 big pinch baking powder
1 pinch salt
2 Tbsp powdered/icing sugar
1 Tsp vanilla

1 Cup whole milk
2 Tbsp yogurt
Little butter to make pancakes

For Chocolate Ganache:
½ Cup single cream
½ Cup dark + milk choc chips

To Serve:
Method
In a large mixing bowl, add the flour with a pinch of salt
Add cocoa powder and a pinch of baking powder
Next add a tsp of vanilla
Add powdered/icing sugar and mix all ingredients well. Keep aside
Slice the strawberries and keep aside
Meanwhile heat cream in saucepan until it just scalds. Turn off heat
Pour the chocolate chips into the warm cream
Whisk well till chocolate chips melt into a shiny ganache. Keep aside to cool till serving time
Now back to pancakes, add yogurt
Slowly pour milk and whisk into pourable batter
Heat a tawa, add little butter and wipe it off to season the tawa
Pour ladlefuls of batter and don't spread
Roast till golden on underside
Flip and cook till golden
Serve hot with warm chocolate sauce and sliced strawberries
Notes
Use any kind of chocolate you have on hand, chocolate chips are not a must

Non-stick pan or well seasoned iron cast pan is best for making pancake

Serve with sliced banana or kiwi or even with just a glass of milk if you want

As mentioned in ingredients, use maida or whole wheat atta flour if you want

Eggless Chocolate Pancakes Stepwise:
In a large mixing bowl, add the flour with a pinch of salt

Add cocoa powder and a pinch of baking powder

Next add a tsp of vanilla

Add powdered/icing sugar and mix all ingredients well. Keep aside

Slice the strawberries and keep aside

Meanwhile heat cream in saucepan until it just scalds. Turn off heat

Pour the chocolate chips into the warm cream

Whisk well till chocolate chips melt into a shiny ganache. Keep aside to cool till serving time

Now back to pancakes, add yogurt

Slowly pour milk and whisk into pourable batter

Heat a tawa, add little butter and wipe it off to season the tawa

Pour ladlefuls of batter and don't spread

Roast till golden on underside

Flip and cook till golden

Serve hot with warm chocolate sauce and sliced strawberries