Thai curries are aromatic and fragrant. The aroma is rendered by a unique blend of ingredients ground into a paste. Thai green curry paste is so called because of the green colour from the chillies, basil (Thai), lime leaves etc.
Ingredients are generally ground into a paste using mortar and pestle. Obviously this will bring out the flavours of the ingredients even more.
Along with green curry paste there is another variation which is the red curry paste. These pastes are used with coconut milk and other ingredients to make beautiful curries from the Oriental!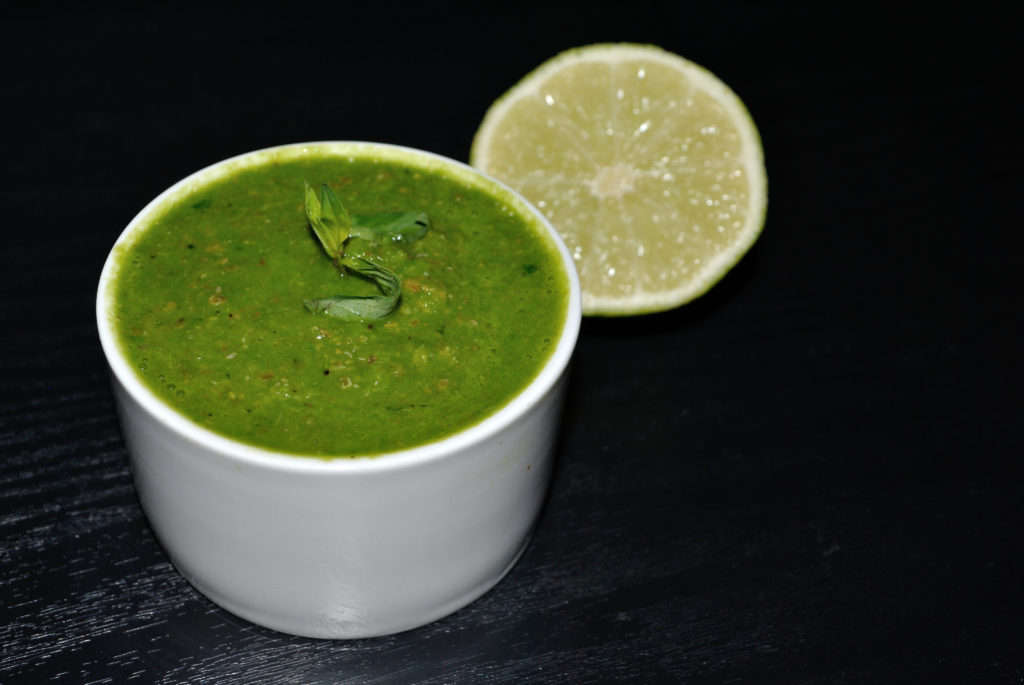 These pastes are very similar to Indian coconut based curries with emphasis being on fresh leaves and herbs. Here's is the recipe of Thai green vegetable curry using this Thai green curry paste. Try Chinese recipes as well.
Thai Green Curry Paste | How to make green curry paste?
Mild, fragrant, homemade Thai green curry paste - base for tasty Thai curries
Ingredients
1 roughly chopped green chilli
¼ Cup packed Thai basil (or dry leaves)
¼ Cup fresh regular basil
1" piece ginger
1 chopped lemon grass or lime leaves (optional)
2-3 chopped cloves of garlic
1 Tsp lime zest
Few fresh coriander stalks
¼ Tsp jeera/cumin
1 Tbsp coriander seeds
Juice of ½ lime
Coarse sea salt or regular salt to taste
A pinch of freshly ground black pepper
Method
Gather all ingredients together. Zest lime (only green layer)
Start adding all ingredients into a mixer jar. Add coriander stalks, ginger, garlic, lemon grass
Drop in green chillies, basil and Thai basil
Next add cumin and coriander seeds
Add lime zest and squeeze in lime juice
Lastly add salt and pepper to taste
Grind into a paste adding little water at a time. It should not be very thick or thin
There it is, Thai green curry paste is ready
Notes
Use only lime juice and zest if you do not have lemon grass or lime leaves (Kaffir variety)

Adjust chillies as per your taste

Use dry basil if you do not have fresh variety. But curry paste will not be bright green

Thai Green Curry Paste Stepwise:
Gather all ingredients together. Zest lime (only green layer)


Start adding all ingredients into a mixer jar. Add coriander stalks, ginger, garlic, lemon grass
   

Drop in green chillies, basil and Thai basil
   

Next add cumin and coriander seeds
 

Add lime zest and squeeze in lime juice
 

Lastly add salt and pepper to taste
 

Grind into a paste adding little water at a time. It should not be very thick or thin


There it is, Thai green curry paste is ready