When thinking of what kind of chutneys to make for dosas, idlis or even chapathis I try to find a way to incorporate vegetable in some form. Either in peels form, stalks form or even the vegetable itself.
This is a great way to intake more fibre as part of your diet in a very tasty form, chutneys. This is also a great way to use up leftover small pieces of vegetables.
Chutneys are a very integral part of Indian cuisine. Coconut chutney is the most common chutney as a side dish for dosas or idlis.
Try this chayote squash/seemebadanekayi chutney. This is a very sweet vegetable and has a lot of moisture. It goes well with a lot of dishes, a simple one seemebadanekayi saagu. For today, try this seemebadanekayi chutney, spicy, sweet flavours all in one! More chutney recipes.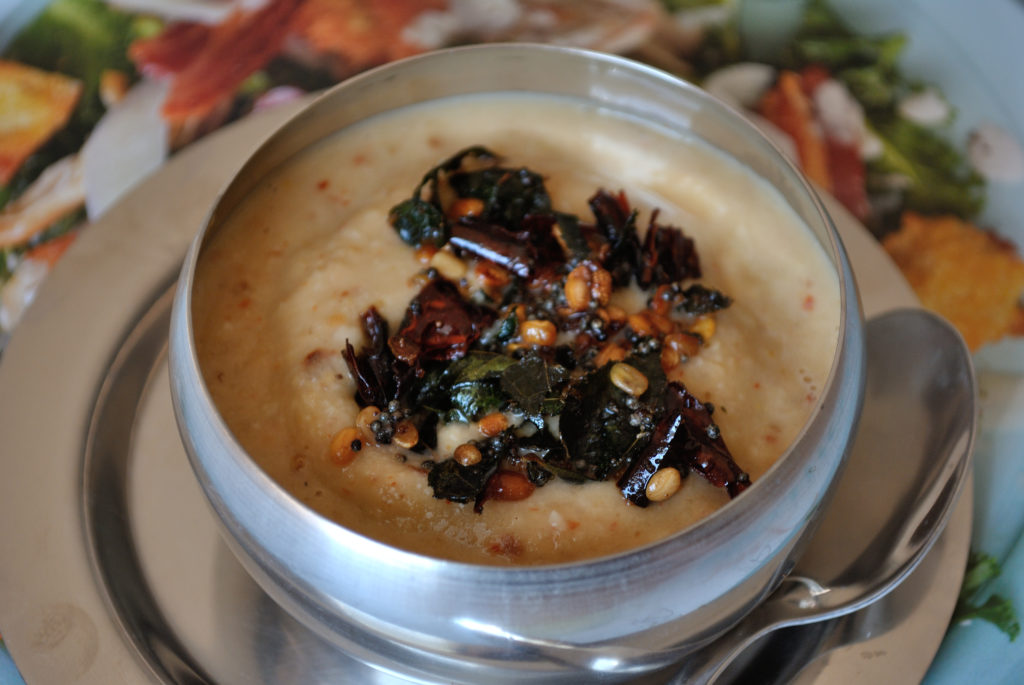 Seemebadanekayi Chutney | Chutney Recipes
Spicy yet with sweet mellow flavours all part of this chayote squash chutney
Ingredients
2 Tsp oil
¼ Tsp methi seeds/menthya
1 Tbsp urad dal
2 dry red chillies
¼ Cup desiccated coconut
1 pinch of hing
50 Gm or 1 piece of diced seemebadanekayi/chayote squash
½ Tbsp or a small piece jaggery/gur
Salt to taste

For Tadka:
1 Tsp oil
4-5 curry leaves
½ Tsp urad dal
½ Tsp mustard
1 small pinch hing/asafoetida
1 broken red chilli
Method
Heat 1 Tsp oil. Add methi seeds and fry for a few seconds
Next add urad dal and start frying till light golden
Drop in dry red chillies and fry
Add desiccated coconut and hing. Fry for 10 seconds or so. Turn off heat.
Add jaggery, salt and keep this aside
Again in the same pan, heat 1 Tsp oil. Drop in diced chayote squash. Saute
When seemebadanekayi pieces turn soft and light golden on the outside, turn off heat. Let it cool
Meanwhile make tadka with oil, curry leaves, urad dal, mustard, hing and red broken red chilli. Mix cooled seemebadanekayi pieces with sauteed masala, urad dal, chilli and coconut mixture. Grind into a chutney. Pour tadka over chutney
Serve as a side dish for dosas, idlis
Notes
Adding urad dal to chutney gives a unique flavour to this chutney. Urad dal works really well with seemebadanekayi

Adjust red chillies as per your taste

Add a little tamarind if you want. But with chutney I preferred the natural sweet taste of seemebadanekayi without a counter sour flavour. But that would work well too

Fresh grated coconut can also be used in place of desiccated coconut
Seemebadanekayi Chutney with Stepwise Pictures:
Heat 1 Tsp oil. Add methi seeds and fry for a few seconds


Next add urad dal and start frying till light golden


Drop in dry red chillies and fry


Add desiccated coconut and hing. Fry for 10 seconds or so. Turn off heat
 
Add jaggery, salt and keep this aside


Again in the same pan, heat 1 Tsp oil. Drop in diced chayote squash. Saute


When seemebadanekayi pieces turn soft and light golden on the outside, turn off heat. Let it cool


Meanwhile make tadka with oil, curry leaves, urad dal, mustard, hing and red broken red chilli. Mix cooled seemebadanekayi pieces with sauteed masala, urad dal, chilli and coconut mixture. Grind into a chutney. Pour tadka over chutney
 

Serve as a side dish for dosas, idlis