Peaches are fuzzy fruits, so soft and cute. They are bright, colourful and very tasty. Rich in fibre and and they provide instant energy. Making a milkshake or smoothies with fruits is a great way of consuming fruits. This peach milkshake when combined with bananas and a little vanilla ice cream provide a cooling tasty treat!
Peach Milkshake is my favourite way of consuming peaches. These fuzzy fruits always taste best when combined with something. I also make other peach based desserts with like peach and berry crumble which I have already posted. I have also tried peach and berry summer fruit crostata inspired by Ina Garten and also peach pineapple dumpcake. These have been photoshot and their turn to be on FOI should come soon.
Milkshakes are soothing to the gut and kids love it too. Try papaya banana milkshake, muskmelon milkshake and mango milkshake. All milkshakes, smoothies and juices can be found here. These are especially great during fasting to keep you hydrated and energised.
Bananas can be skipped in this milkshake. Add sugar if you want instead of honey which is what I have used here.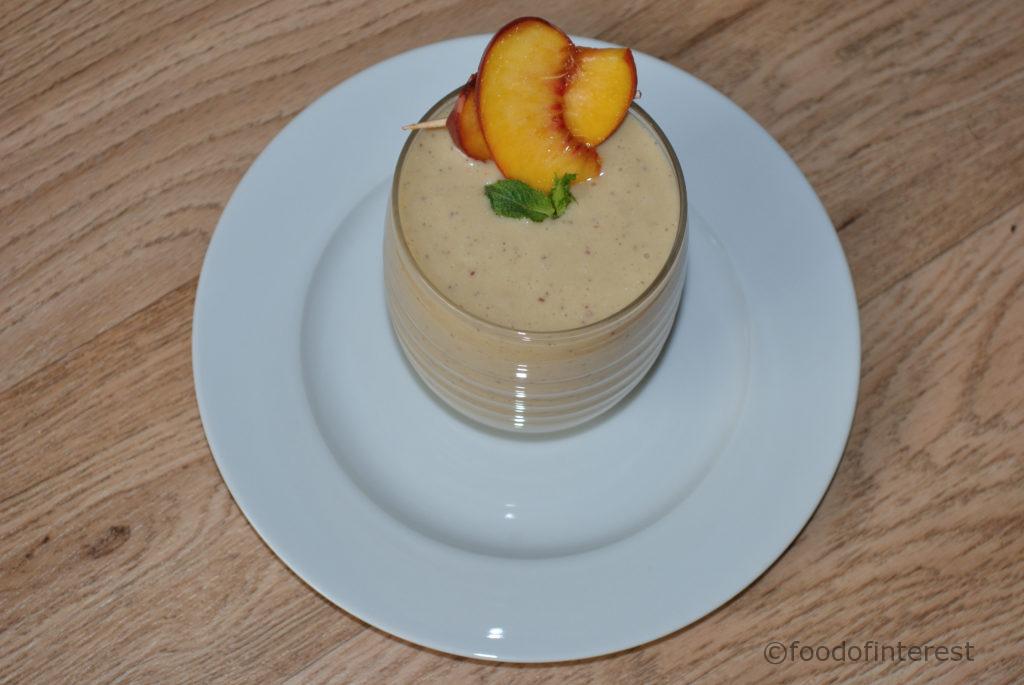 Peach Milkshake | Milkshake Recipes
Thick, cool, refreshing peach milkshake - a joy to gulp down
Recipe type:
Beverage/Drink
Ingredients
3 ripe peaches
1 ripe banana
1 scoop vanilla ice cream
1 Tsp honey
1 Cup chilled milk or as required
Method
Wash peaches and cut them into half along the seed
Scoop out the seeds and discard
Next roughly chop up the peaches into cubes
Add sliced banana into blender
Drop in the chopped peaches
Pour in milk and add a scoop of vanilla ice cream
Spoon in some honey
Blend all till smooth
Serve chilled
Notes
Add ice if you want but if all items are chilled then adding ice is not required

Skip banana if you want

Double or triple ingredients if you want to make more glasses

Add almond milk and use a vegan ice cream, skip honey to make it vegan

Peach Milkshake Stepwise:
Wash peaches and cut them into half along the seed

Scoop out the seeds and discard

Next roughly chop up the peaches into cubes

Add sliced banana into blender

Drop in the chopped peaches

Pour in milk and add a scoop of vanilla ice cream

Spoon in some honey

Blend all till smooth

Serve chilled