Imagine a rainy evening and you are digging into a plate of spicy and buttery pav bhaji. Pav bhaji needs no introduction, it is the most loved street food. It is from western part of India specifically from Maharashtra but famous throughout. Different states make it in different ways but the base is pretty much the same.
Loads of butter in a spicy gravy all mashed into a delicious gravy. This gravy is served with butter toasted pav or buns. Some chopped onions, chopped coriander, a lemon wedge and a dollop of butter adorn the pav bhaji plate. I generally use homemade pav bhaji masala to make pav bhaji but you can make use of store bought masala too.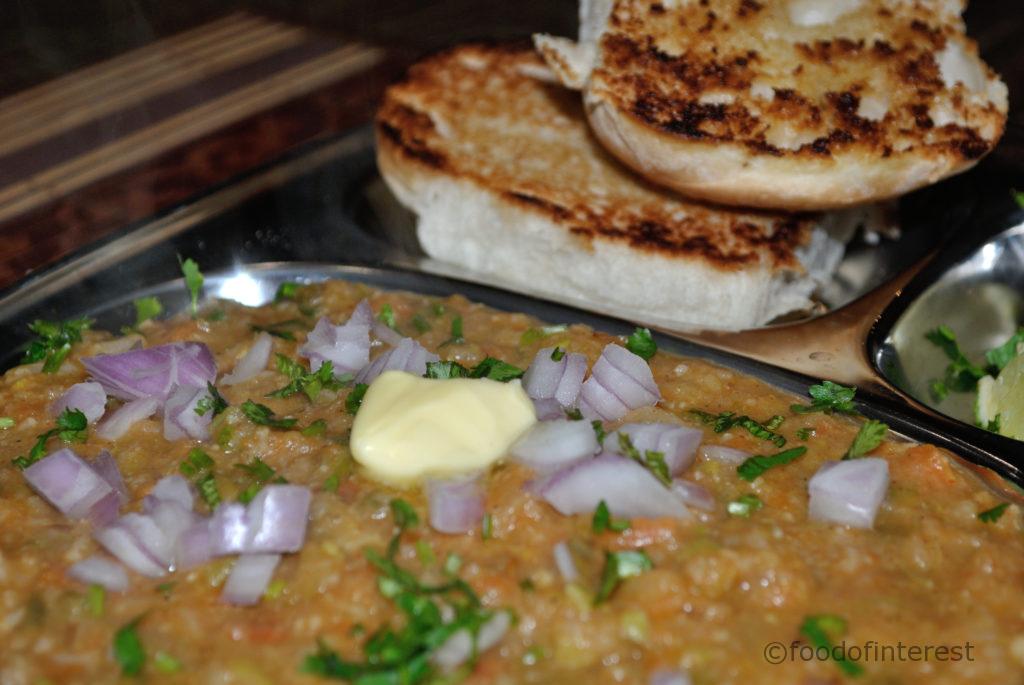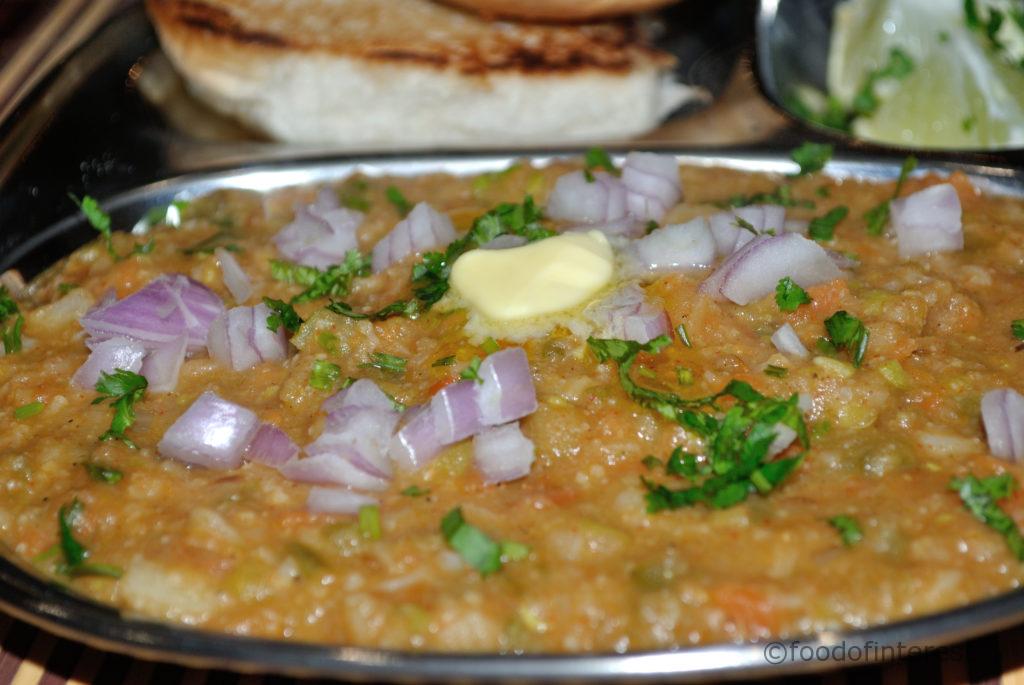 Pav bhaji is one of those street foods which is a meal in itself. It is quite filling and loved by most. Make a big batch of bhaji and then toast the buns with butter just before serving. The secret in making bhaji for pav bhaji is to mash the gravy really well. It brings out the flavour and makes it delicious as it boils on the stove top.
Try more street style dishes from FOI, roasted gobhi manchurian, sev puri, dahi papdi chaat, masala puri, peanut chaat, bombay sandwich, rajma sandwich etc.
Pao in Marathi means bread, the word Marathi borrowed from Portuguese pão (lit., "bread").
Some variations:
Cheese Pav Bhaji: Top with fresh grated cheese (cheddar or mozzarella or processed cheese) and let it melt onto the bhaji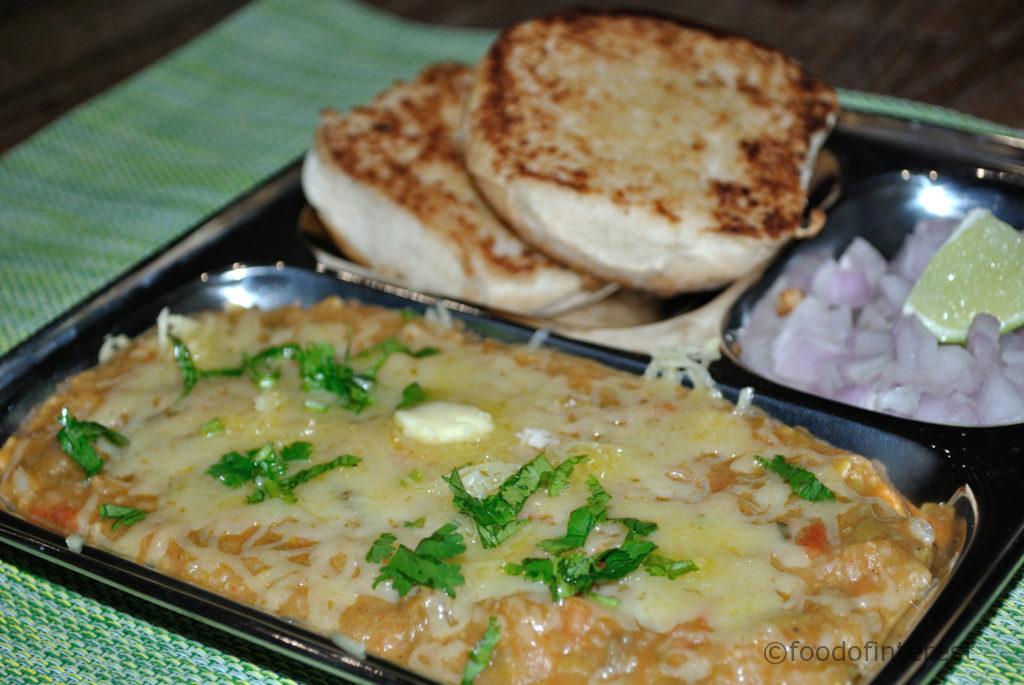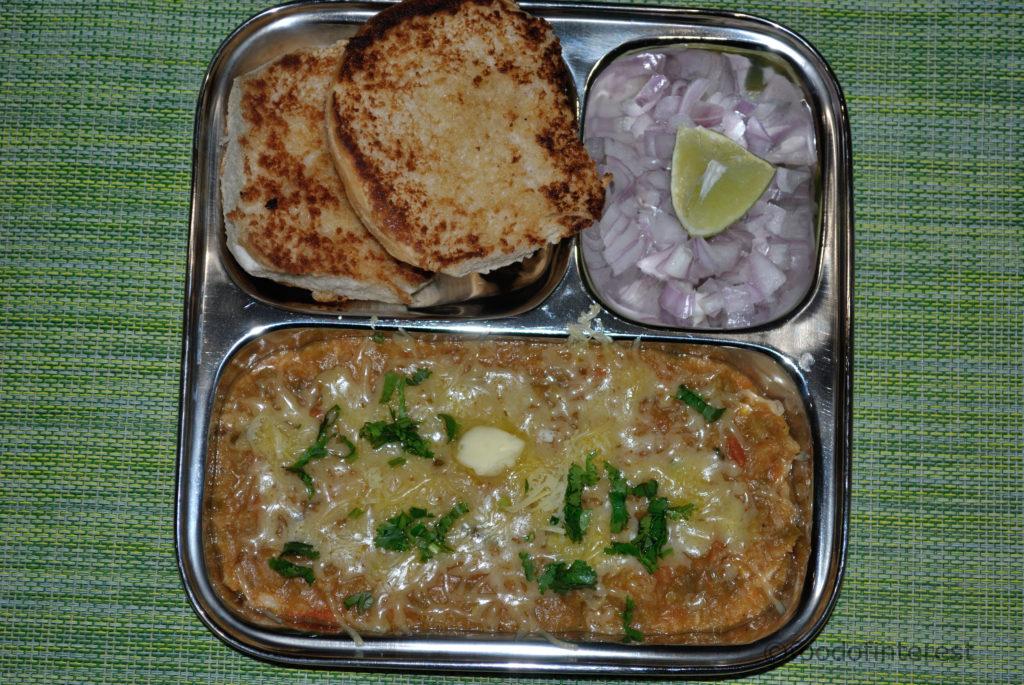 Paneer Pav Bhaji: Crumble fresh paneer, sprinkle little pav bhaji masala and serve immediately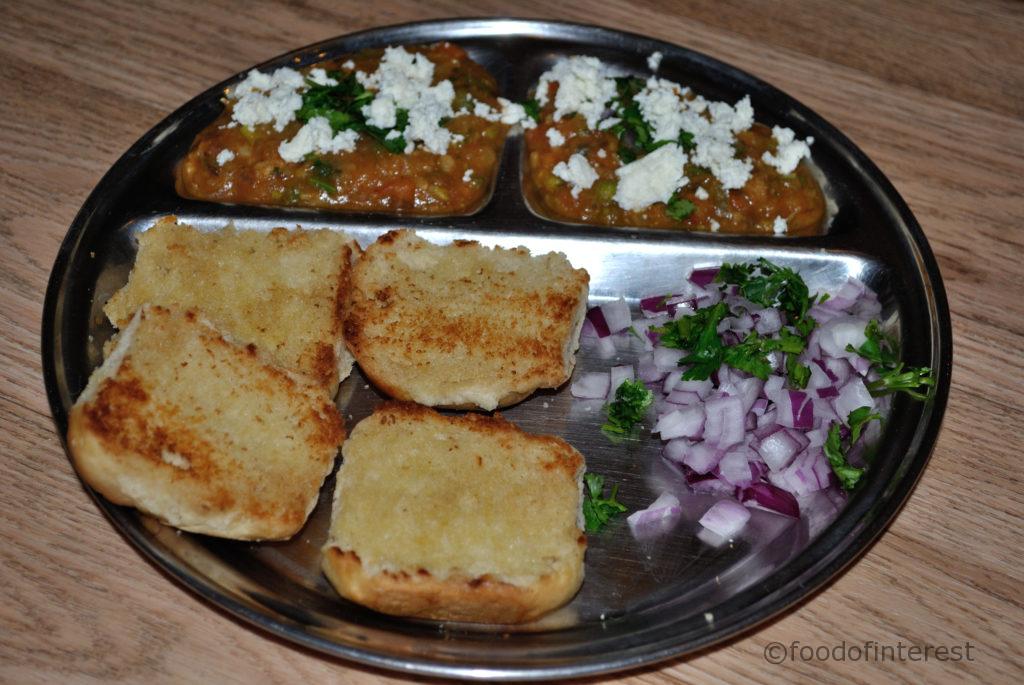 Pav Bhaji | Street Style Pav Bhaji | Snack Recipes
Spicy, buttery and filled with flavour, street style pav bhaji
Ingredients
3-4 medium sized potatoes
1 medium sized diced carrot
10-12 finely chopped green beans
10-12 finely chopped cauliflower florets
½ Cup fresh/frozen green peas
1 finely chopped green capsicum/bell-pepper
2-3 finely chopped tomatoes
4 Tbsp butter
¾ Tsp jeera/cumin
1 Tbsp garlic/ginger/green-chilli paster
1 finely chopped onion
¾ Tsp lal-mirch/kashmiri red chilli powder
1½ Tbsp pav bhaji masala
Salt to taste
Finely chopped coriander to garnish
2 Tbsp lemon juice
6-8 pav
Butter to toast
Method
Finely chop all the vegetables and keep them ready
Steam carrot, beans, cauliflower, green peas till soft
Boil potatoes, peel them and set them aside
Heat butter in a pan, reserve a Tbsp of butter to add at last
Add jeera, let it splutter, add garlic/ginger/green-chilli paste and saute for a few seconds
Next add finely chopped onions and green capsicum/bell-pepper and fry
Once onions and capsicum/bell-pepper soften a bit, add chopped tomatoes and saute till the tomatoes soften
The masalas can go in next, lal-mirch and pav bhaji masala and mix well
With a potato masher, mash tomato mixture very well
Season the masala with salt as per taste
Add the steamed vegetables and keep mashing
Next add boiled and mashed potatoes
Keep mashing the bhaji till it becomes thick and even
Lastly, simmer for 5-10 minutes. Add a dollop of butter and chopped coriander to garnish. Sprinkle some more pav bhaji masala
Squeeze in lemon juice, bhaji is now ready
Halve the pav buns and toast them with lot of butter till golden
To serve, place toasted pav bins in a plate. Add bhaji on the side. Garnish with little more butter and some chopped onions and some lemon wedges on the side
Notes
Pav must be fresh and soft

Don't hold back on butter. Pav bhaji demands a lot of it

Wash cauliflower florets really well with warm salted water

Pav Bhaji Stepwise:
Finely chop all the vegetables and keep them ready

Steam carrot, beans, cauliflower, green peas till soft

Boil potatoes, peel them and set them aside

Heat butter in a pan, reserve a Tbsp of butter to add at last

Add jeera, let it splutter, add garlic/ginger/green-chilli paste and saute for a few seconds

Next add finely chopped onions and green capsicum/bell-pepper and fry

Once onions and capsicum/bell-pepper soften a bit, add chopped tomatoes and saute till the tomatoes soften

The masalas can go in next, lal-mirch and pav bhaji masala and mix well

With a potato masher, mash tomato mixture very well

Season the masala with salt as per taste

Add the steamed vegetables and keep mashing

Next add boiled and mashed potatoes

Keep mashing the bhaji till it becomes thick and even

Lastly, simmer for 5-10 minutes. Add a dollop of butter and chopped coriander to garnish. Sprinkle some more pav bhaji masala

Squeeze in lemon juice, bhaji is now ready

Halve the pav buns and toast them with lot of butter till golden

To serve, place toasted pav buns in a plate. Add bhaji on the side. Garnish with little more butter and some chopped onions and some lemon wedges on the side