If you have tried making oats upma and it has turned out soggy, porridge like or like a paste then this recipe will help you fix that. Nowadays many people are advised to incorporate oats as part of their diet. Oats is a cereal grain rich in dietary and soluble fibre and is known to lower bad cholesterol. Generally, people turn towards making oats porridge which will be very tasty especially if you add some nice things to it like the one in oats with dry nuts and raisins.To make something savoury with oats can be a challenge as the glutinous fibre makes it sticky and unmanageable. Here, I have mentioned all the tips and tricks to make oats upma very tasty and you can savour it just like our good old poha or sooji upma. It is called oats upma but looks like poha, now that's a nice combination.
Use old fashioned rolled oats and not porridge oats to make upma. Make this and enjoy the benefits of oats. Try more oats recipes from FOI, overnight banana choco chip oats, carrot cake overnight oats, orange oat bars, apple banana oats smoothie etc.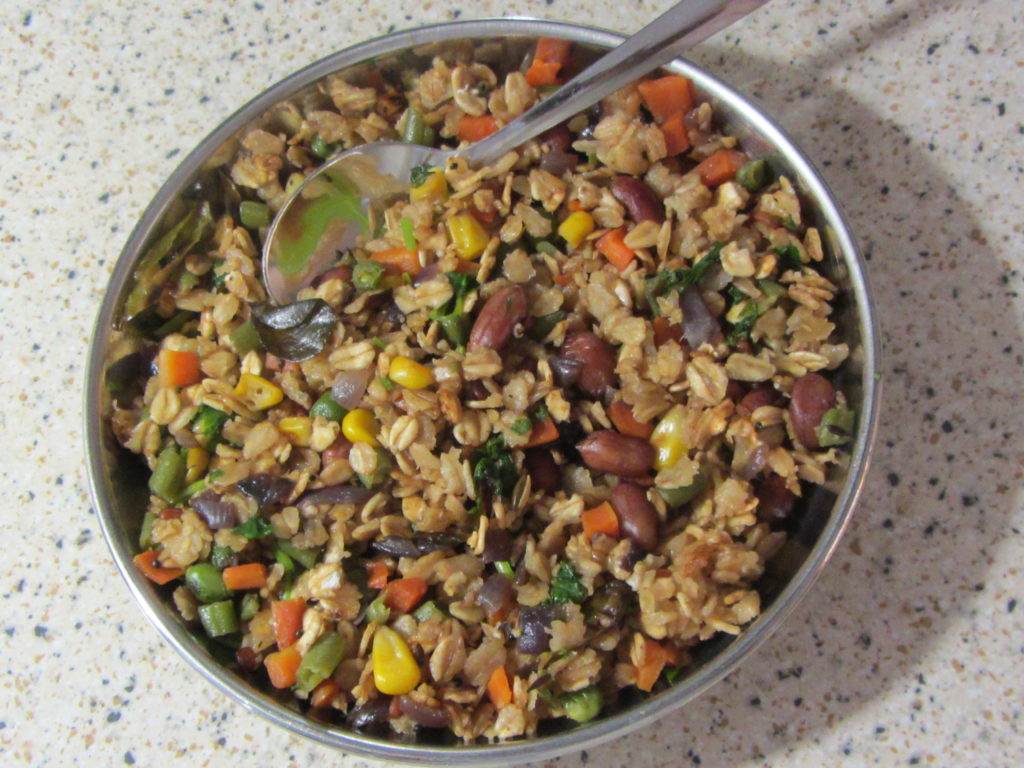 Oats Upma | Oats Uppittu | How to make oats upma?
Light, simple oats upma with mixed vegetables
Ingredients
¾ Cup Old Fashioned Rolled Oats
1 onion finely chopped
1 sliced/finely chopped green chilli
¼ Tsp sugar
Salt to taste
1 finely diced carrot
8-10 chopped green beans
¼ Cup boiled corn
¼ Cup boiled peas
½ Tbsp oil
¼ Tsp jeera
¼ Tsp mustard
1 pinch hing/asafoetida
½ Tsp urad dal
Few curry leaves
¼ Cup groundnuts
Coriander to garnish
¼ ~ Cup water
Method
Start by dry toasting oats in a pan lightly till slightly aromatic. This is the most *important* step to make oats upma like upma and not porridge. Remove and keep aside
In the same pan, add oil, make tadka with jeera, mustard, urad dal, hing. Add green chillies, curry leaves,fry till urad dal turns golden
Add groundnuts and fry till they crisp up
Next add chopped onions and saute till they soften. Add ¼ Tsp sugar
Add all vegetables, carrots, beans, corn and peas. Saute till they slightly soften up, cover and cook
Add toasted rolled oats and mix well with the tadka. add salt
Now sprinkle water, do not add all at once. Cover and let it cook. Sprinkle 1-2 Tbsp more water if oats are not soft yet. They should be just soft and to the bite and not mushy
Garnish with coriander
Serve immediately with some yogurt on the side
Notes
Lightly toasting oats is the most important step to make oats upma. Follow step 1

Add any kind of mixed vegetables you like carrots, cabbage, beans, add bell pepper/capsicum if you want

Never add water all at once, oats upma will become a mess. Sprinkle slowly and then mix it. Lightly fluff up as you mix the upma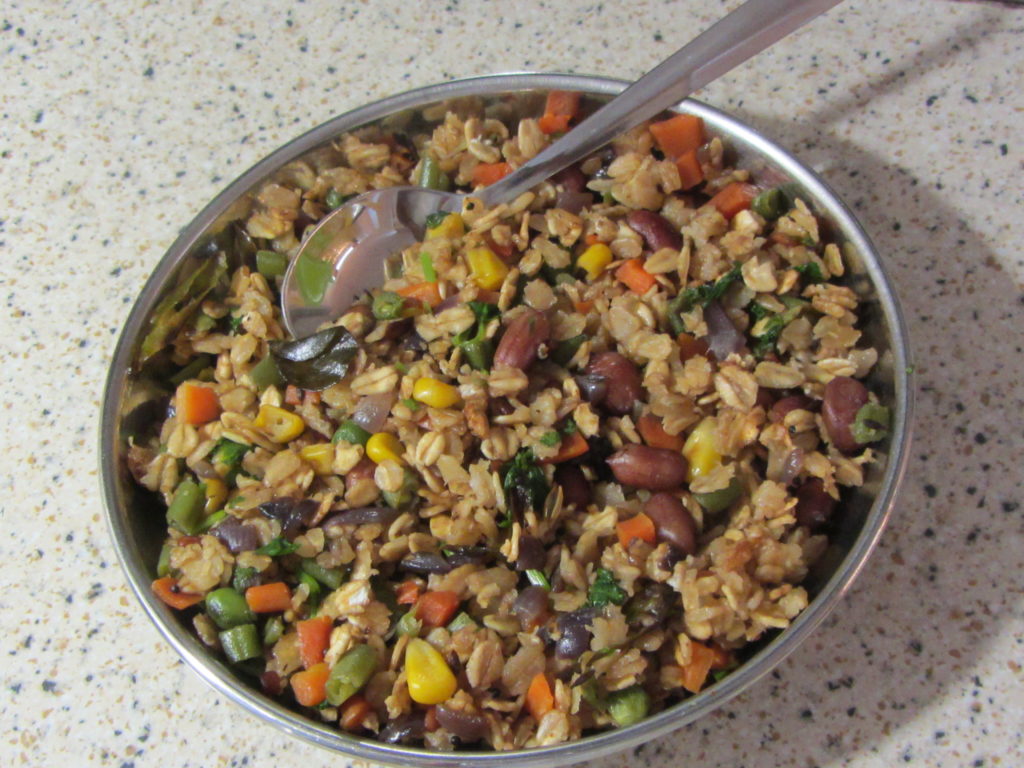 Oats Upma Stepwise:
Start by dry toasting oats in a pan lightly till slightly aromatic. This is the most *important* step to make oats upma like upma and not porridge. Remove and keep aside


In the same pan, add oil, make tadka with jeera, mustard, urad dal, hing. Add green chillies, curry leaves, fry till urad dal turns golden


Add groundnuts and fry till they crisp up


Add chopped onions and saute till they soften. Add 1/4 Tsp sugar


Add all vegetables, carrots, beans, corn and peas. Saute till they slightly soften up, cover and cook


Add toasted rolled oats and mix well with the tadka. add salt
 

Now sprinkle water, do not add all at once. Cover and let it cook. Sprinkle 1-2 Tbsp more water if oats are not soft yet. They should be just soft and to the bite and not mushy


Garnish with coriander


Serve immediately with some yogurt on the side