Crisp hotel style onion rava dosa, I can actually hear the sound of its crispness when I break into a little bite. Yum! One of the tastiest dosas ever! Hotel style onion rava dosa is very easy to make as the batter needs no soaking or fermenting.
This recipe is instant although I prefer to keep it for atleast half hour after preparing batter. It is not essential but it makes the batter soak up all rava and blend well with all flavours.
Now coming to the secret of making crisp hotel style onion rava dosa. Should I reveal it? Oh, well here it is, 'water'. Yes, you read it right, water is very very essential to make hotel style onion rava dosa. It is absolutely essential to make the batter thin and watery.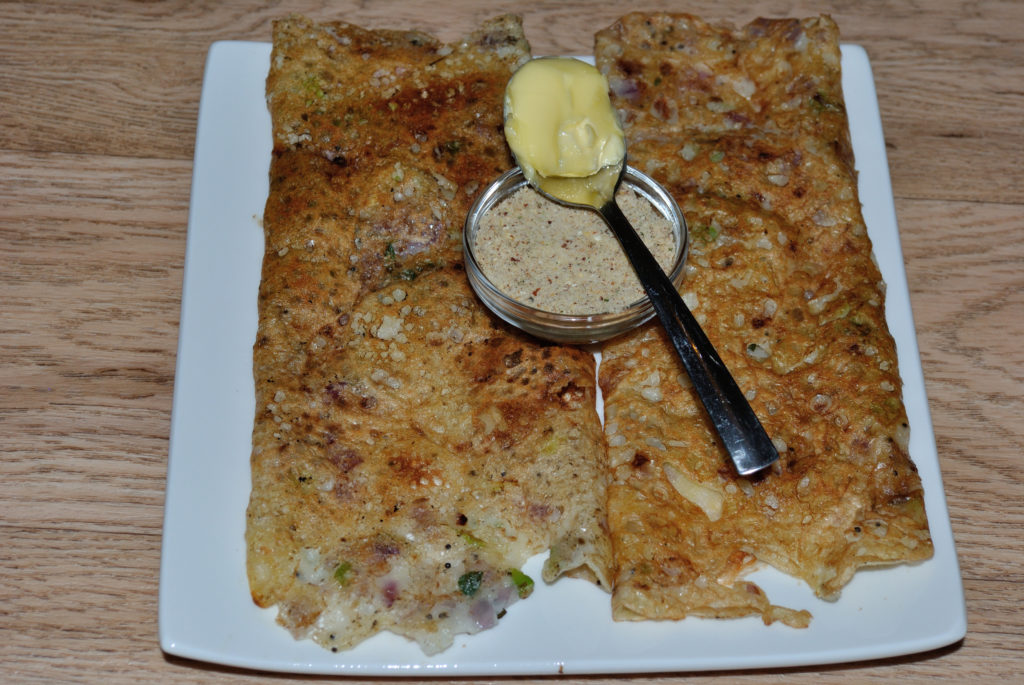 Another important point to bear in mind is to have a well seasoned tawa/skillet. It should be evenly heated and dosas turn out to be crisp and tasty. This is one easy recipe for bachelors. It makes for an easy dinner recipe as well. As in hotels, you do not need to add a lot of oil but still get the same flavour. The tadka makes a lot of difference.
With these points in mind, dive into making crisp hotel style onion rava dosa.
Serve with a blob of butter and shenga (groundnut) chutney pudi or any kind of chutney. Veg saagu also tastes very good with onion rava dosa.
Try other dosas from FOI: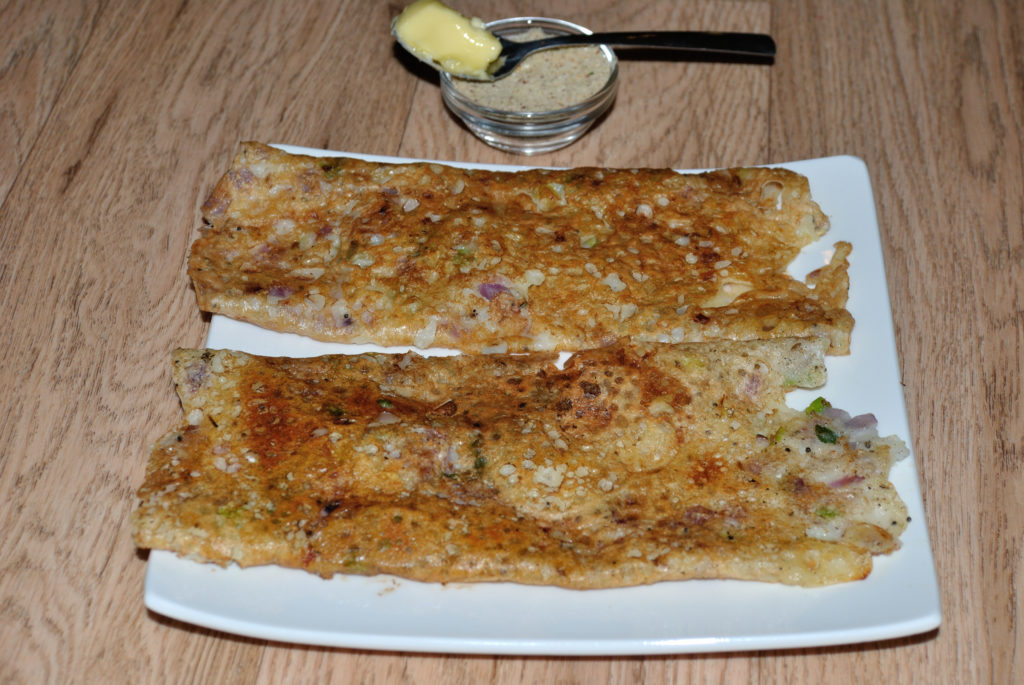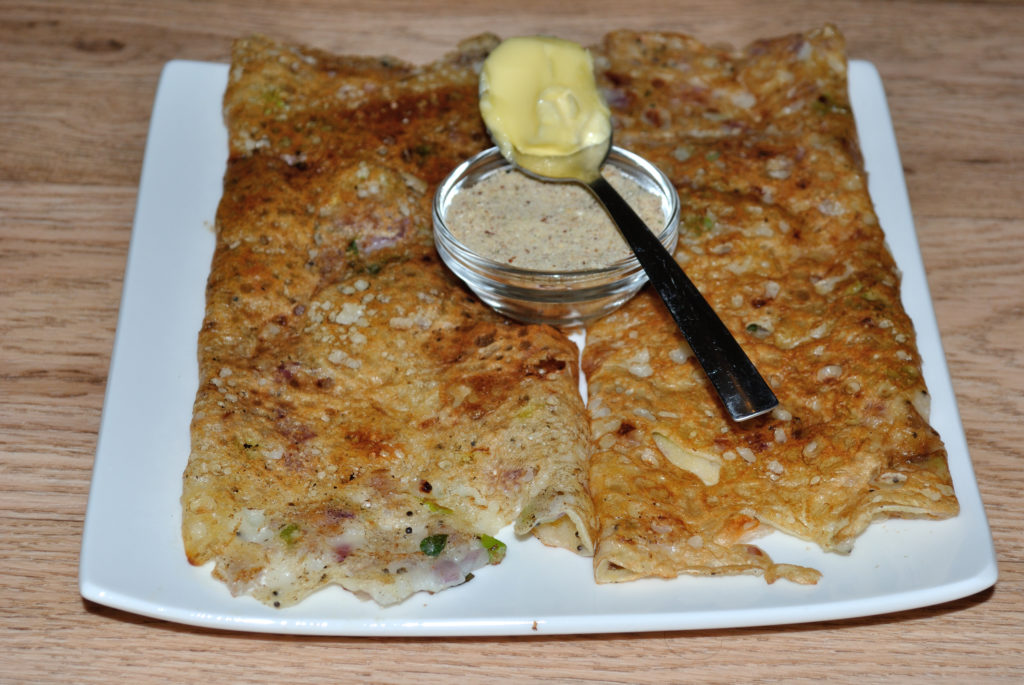 Hotel Style Onion Rava Dosa | Onion Rava Dosa | Dosa Recipes
Crisp and utterly tasty, hotel style onion rava dosa
Serves:
8 thin, crisp, big dosas
Ingredients
½ Cup heaped unroasted rava (upma rava)
½ Cup scant akki hittu/rice flour
¼ Cup maida/all purpose flour
¾ Tsp or salt to taste
¼ Tsp jeera
1 heaped Tsp sugar
1 finely chopped onion
2 finely chopped spring onions (optional)
1 finely chopped green chilli
5-6 finely chopped curry leaves
1" piece ginger grated
1½ Cups + ½ Cup water
1 Tbsp yogurt

For Tadka:
1 Tbsp oil
½ Tsp mustard
¼ Tsp jeera
A pinch of hing/asafoetida
Method
In a bowl, add rava, rice flour, maida. Mix everything well
Add salt and sugar
Sprinkle jeera and mix well
Tip in finely chopped onions and spring onions and mix well
Next add grated ginger, chopped curry leaves and finely chopped green chilli. Mix well
Pour in water slowly and mix well
Spoon in yogurt and mix well again
Next make tadka with oil, mustard, jeera and hing
Pour in this tadka and fold well again
Finally add ½ Cup water and thin the batter even more. Set batter aside for 30 minutes or so
Heat a tawa. Pour a big ladleful and spread lightly but because the batter is watery it spreads on its own pretty much
Cover and cook. Once it turns crisp and golden flip and cook again
Serve with butter and chutney pudi or any chutney
Notes
Use unroasted upma rava. Don't use chiroti rava or semolina

As mentioned earlier, make sure batter is watery. If necessary, add more water and thin batter in between making dosas as water tends to get absorbed

Adjust green chilli as per your taste or skip it entirely if making for children

You can skip onions and just make plain rava dosa

Adding a little sugar makes dosas crisp and golden

Do not add a lot of yogurt, dosas tend to stick to the tawa

This recipe can be doubled, adjust salt and green chilli accordingly
Hotel Style Onion Rava Dosa Stepwise:
In a bowl, add rava, rice flour, maida. Mix everything well

Add salt and sugar

Sprinkle jeera and mix well

Tip in finely chopped onions and spring onions and mix well

Next add grated ginger, chopped curry leaves and finely chopped green chilli. Mix well

Pour in water slowly and mix well

Spoon in yogurt and mix well again

Next make tadka with oil, mustard, jeera and hing

Pour in this tadka and fold well again

Finally add 1/2 Cup water and thin the batter even more. Set batter aside for 30 minutes or so

Heat a tawa. Pour a big ladleful and spread lightly but because the batter is watery it spreads on its own pretty much

Cover and cook. Once it turns crisp and golden flip and cook again

Serve with butter and chutney pudi or any chutney