Did you know apple sauce is a substitute for eggs in baking? Several cakes and desserts can be baked with homemade apple sauce. It is super easy to make.
Homemade apple sauce can be used as a dip just as a little snack with some cut fruits. It can also be used to pour over ice cream just like caramel or fudge sauce. A healthier alternative!
I used this batch of homemade apple sauce to make apple pancakes. I have adapted this apple sauce from The Pioneer Woman recipe.  Homemade apple sauce is scrumptious and can be eaten by the spoonful. Delicious!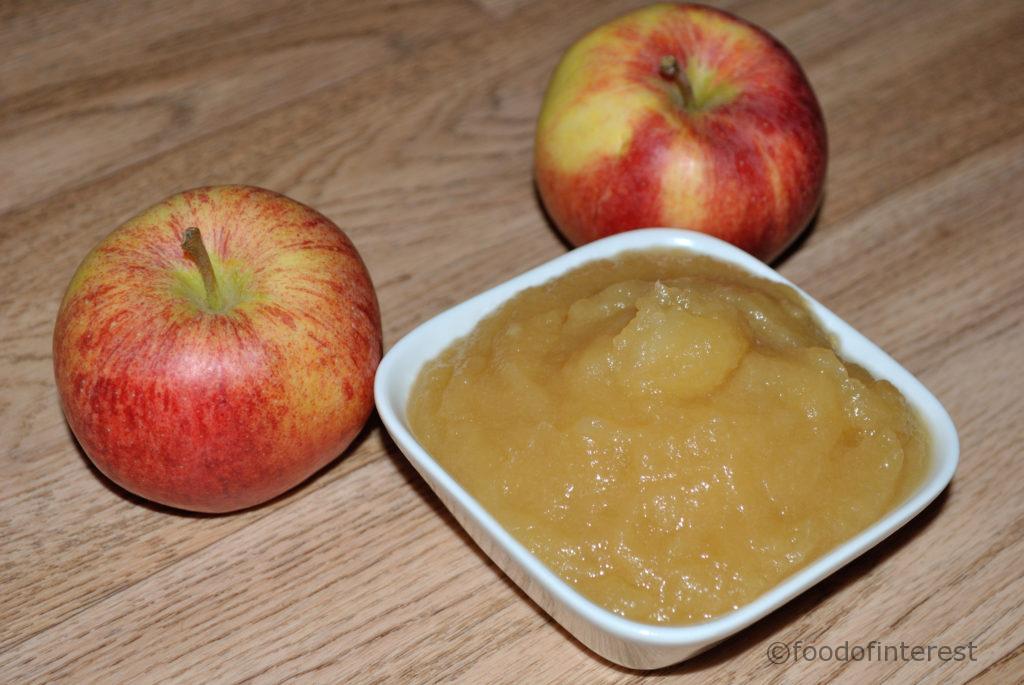 I do not add butter to apple sauce and keep it plain and simple. Any kind of apples you have on hand is enough to make this homemade apple sauce.
Recipe for apple pancakes coming up after this one.
Try other apple recipes here. More homemade recipes from FOI.
Homemade Apple Sauce | How to make apple sauce?
Homemade Apple Sauce for baking cakes, desserts and more
Ingredients
4 apples (Royal Gala, green, cooking, Fiji, Kashmir, Delhi, Pink Lady, NZL etc. etc.)
1 Tbsp lemon juice
¼ Cup apple juice
¼ cup brown sugar
Method
Peel, core and slice apples into 8s
Add this into a big sauce pan, add lemon juice and apple juice and sugar
Cover and cook till apples are soft. Let it cool
Purée till smooth. This is the apple sauce. Refrigerate
Apple sauce is ready
Notes
Purée to chunky texture if you want

Lemon juice adds little tartness and prevents apples from browning completely

Use any kind of apples you want

You can also freeze apple sauce, thaw well before use

Regular sugar can also be used, brown sugar gives a nice depth of taste and colour to the sauce

Homemade Apple Sauce Stepwise:
Peel, core and slice apples into 8s


Add this into a big sauce pan, add lemon juice and apple juice and sugar

Cover and cook till apples are soft. Let it cool

Purée till smooth. This is the apple sauce. Refrigerate

Apple sauce is ready