Sandwiches can be made in many ways, however which way they are made, they are super yummy! Like these street food speciality Bombay sandwich. These are loaded with fun vegetables like boiled sliced potatoes, green capsicum (bell pepper), tomatoes, cucumber.
But the main tang and kick comes from the pudina chutney made fresh to smear on these sandwiches. A sprinkling of chaat masala seals the deal. Bombay sandwich is moist, crunchy and very very delicious. Different variations of Bombay sandwich do exist and they are made in every place.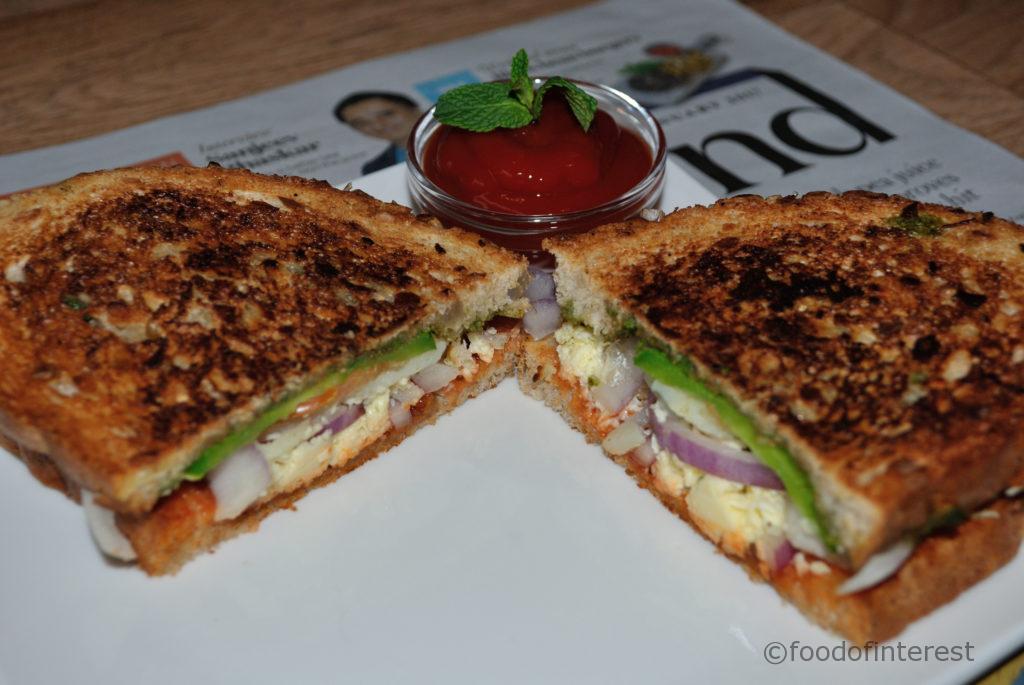 Fond memories of eating this fun Bombay sandwich is in Mumbai of course and also from a famous street style food joint in Bangalore (Cool Joint)! Grated beetroot, sev, grated paneer, grated cheese etc are also added as additional fillings.
Bombay sandwich makes for a fun Sunday evening snack! It can be made with white, brown or multi-grain seeded bread but it should be soft bread and not crusty and of course it should be fresh. Serve with ketchup and savour the fun!
Try other sandwiches from FOI, avocado grilled red bell pepper sandwich, ALT sandwich, spinach and corn cheese sandwich etc. Try other snacks from FOI!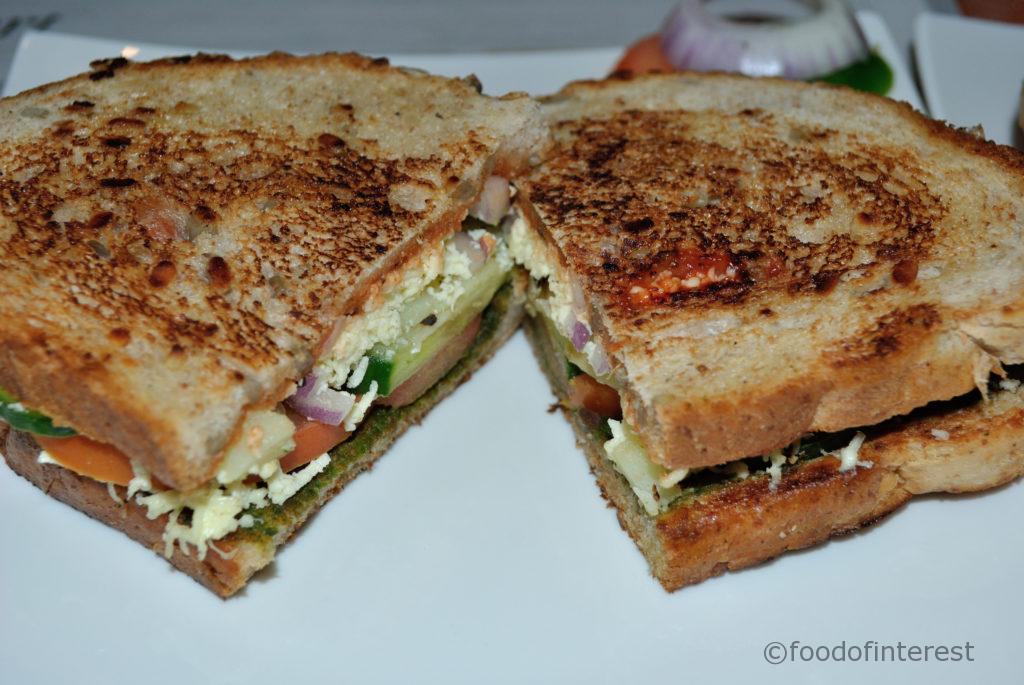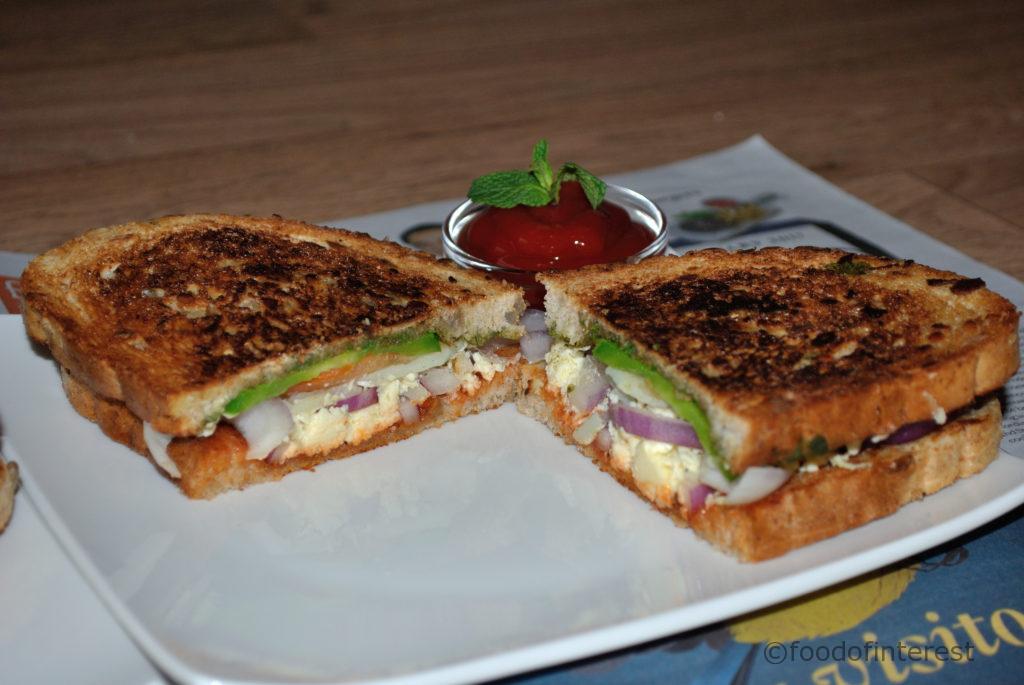 Bombay Sandwich | Street Food Recipes | Sandwich Recipes
Super delicious snack, street food style Bombay sandwich
Ingredients
6 slices of bread
Butter to toast
Chaat masala to sprinkle as required
Black pepper powder to sprinkle as required
½ Cup grated paneer
3 Tbsp ketchup
1 tomato
½ Capsicum
½ boiled potato
A small piece of cucumber
½ onion

For Chutney:
½ Cup packed pudina
¼ Cup packed coriander
1 garlic
1 piece ginger
Sprinkle rock salt
Lemon/lime juice (optional)
Method
Firstly let's make chutney. Add all ingredients to mixer jar

Make a chutney by adding little water. Keep aside
Next slice boiled potato, cucumber, tomato, green capsicum (bell pepper) and onions into roundels
Grate paneer and keep aside
Lightly butter bread slices and toast them till light golden
To assemble sandwiches, spread some pudina chutney all over a bread slice
Place a few green capsicum slices and tomato slices
Sprinkle little chaat masala all over
Place a few cucumber slices and some boiled potato slices
Sprinkle on some black pepper powder
Next place a few onion roundels
Spread grated paneer all over
Apply ketchup to another slice
Close lid of sandwich ketchup face side down over the sandwich base
Further toast the sandwich till golden and crisp
Slice or cut, serve hot with ketchup
Notes
Paneer is optional, cheese may also be added

Adjust spice for the chutney as per your taste, you can make it spicier if you want

Use any kind of bread you like, here I have used seeded organic wholemeal bread

Grill the sandwich if you want

Bombay Sandwich Stepwise:
Firstly let's make chutney. Add all ingredients to mixer jar

Make a chutney by adding little water. Keep aside

Next slice boiled potato, cucumber, tomato, green capsicum (bell pepper) and onions into roundels

Grate paneer and keep aside

Lightly butter bread slices and toast them till light golden

To assemble sandwiches, spread some pudina chutney all over a bread slice

Place a few green capsicum slices and tomato slices

Sprinkle little chaat masala all over

Place a few cucumber slices and some boiled potato slices

Sprinkle on some black pepper powder

Next place a few onion roundels

Spread grated paneer all over

Apply ketchup to another slice

Close lid of sandwich ketchup face side down over the sandwich base

Further toast the sandwich till golden and crisp

Slice or cut, serve hot with ketchup