Holige/obbattu is one of the most filling and delicious sweets. It is a sweet dal stuffed bread. During a festival or a function we all look for one dish that can feed a big crowd which is also filling. Sweets generally are accessories in a big spread. Yes, preparing holige/obbattu is effort but when you have mastered the process of making the dal filling then preparing holige/obbattu will be easy especially if you have a few people to assist/work with you.
I have used whole wheat flour for the outer covering dough whereas generally all purpose flour (maida) and chiroti rava (fine rava) are used to prepare the dough along with a pinch of turmeric. I prefer whole wheat flour(learnt it from my mother), holige turn out to be soft and do not become stretchy and chewy when they are kept for a while. Infact they taste better as they are kept and taste best with a cup of boiled and cooled unsweetened milk or eat them hot with some ghee on top! Perfect combination for upcoming Ganesh Chaturthi festival. Try Hayagreeva, Vermicelli Payasa, Tambittu and other festival recipes for Ganesha Chaturthi.
Bele Obbattu | Bele Holige | Puranpoli | How to make holige?
Filling and delicious sweet dal stuffed bread for festivals
Serves:
15 holige/obbattu
Ingredients
For Filling:
1 Cup toor dal/arhar dal/pigeon pea dal/togari bele
½ Tbsp chana dal/gram dal/yellow dal/kadalebele
¾ Cup packed grated coconut
2 Tbsp + 1 Tbsp desi ghee
200 Gm or 1 Cup grated/pieces of soft gur/jaggery/bella
2 Tbsp almond powder (optional)
A small pinch of freshly grated nutmeg/jaakayi
7-8 powdered elaichi/cardamom

For Outer Covering Dough:
1½ Cups whole wheat flour + extra for dusting when rolling holige
2 Tsp oil
A small pinch of salt
Water to make dough
Method
Clean and wash both the dals in water. Keep for 5 minutes. Make dough with whole wheat flour, salt and water, knead with oil and keep it aside covered
Cook the dals with 2 to 2½ Cup of water. They should be just cooked and not mushy and watery. If you press one cooked dal with the back of the spoon it should be just soft
Drain the rest of the water into a separate vessel which is called 'kattu' will be used to prepare rasam/holige saaru to mix with rice and eat. Let the dal cool
Meanwhile grind grated coconut without any water into a rough paste
To this add cooked, drained, cooled dal and grind into a paste. Do not add any water. It should be thick
Add 2 Tbsp desi ghee into a thick pan. Add the prepared dal paste to this
Add grated/pieces of good quality jaggery
Jaggery melts into the dal and mixes with it. It comes together quite quickly if you have not added any extra water while grinding
To this thickened paste, add elaichi powder and nutmeg powder
Add almond powder and mix well
Add 1 more Tbsp of desi ghee and mix well till it is smooth and it should not be sticky
Turn off heat when filling starts leaving the pan
Remove into a separate bowl, lightly pat and keep aside to cool
To make holige/obbattu, pinch medium fist sized balls off the outer covering dough and filling, filling balls can be smaller
Take a outer covering dough ball, press it lightly into a small puri sized round. On top of this place a dal filling ball in the centre
Start pinching the outer covering dough over the filling with your fingers
When it comes together, it will be like a parcel. Ensure all of the filling gets covered
Press lightly and roll out into a holige/obbattu using a rolling pin/belan with light hands
To roast holige, put the rolled out holige on a heated skillet/tawa, roast by applying oil or desi ghee
Serve hot or at room temperature with desi ghee and boiled and cooled unsweetened milk
Notes
Almond powder is added to thicken the filling quickly, it makes no difference to taste but makes the filling richer and softer

Only chana dal can also be used but toor dal is best for digestion, a little easy on the stomach

If the filling feels sticky after removing from heat, add a little more ghee , mix for 2 more minutes. Once cooled keep in refrigerator for 2 hours so that all extra moisture is absorbed by the dal

Add a pinch of turmeric to the outer covering if preferred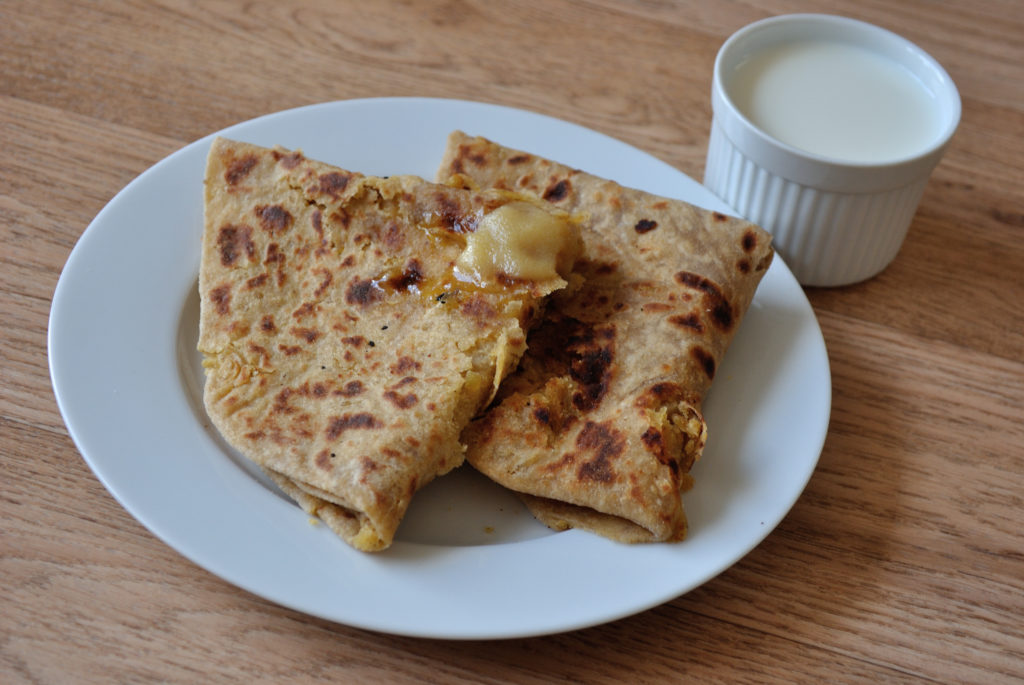 Stepwise:
Clean and wash both the dals in water. Keep for 5 minutes. Make dough with whole wheat flour, salt and water, knead with oil and keep it aside covered
 

Cook the dals with 2 to 2 1/2 Cup of water. They should be just cooked and not mushy and watery. If you press one cooked dal with the back of the spoon it should be just soft
 

Drain the rest of the water into a separate vessel which is called 'kattu' will be used to prepare rasam/holige saaru to mix with rice and eat. Let the dal cool
 

Meanwhile grind grated coconut without any water into a rough paste
 

To this add cooked, drained, cooled dal and grind into a paste. Do not add any water. It should be thick
  

Add 2 Tbsp desi ghee into a thick pan. Add the prepared dal paste to this
 

Add grated/pieces of good quality jaggery


Jaggery melts into the dal and mixes with it. It comes together quite quickly if you have not added any extra water while grinding


To this thickened paste, add elaichi powder and nutmeg powder


Add almond powder and mix well


Add 1 more Tbsp of desi ghee and mix well till it is smooth and it should not be sticky


Turn off heat when filling starts leaving the pan
 

Remove into a separate bowl, lightly pat and keep aside to cool


To make holige/obbattu, pinch medium fist sized balls off the outer covering dough and filling, filling balls can be smaller
  

Take a outer covering dough ball, press it lightly into a small puri sized round. On top of this place a dal filling ball in the centre


Start pinching the outer covering dough over the filling with your fingers


When it comes together, it will be like a parcel. Ensure all of the filling gets covered


Press lightly and roll out into a holige/obbattu using a rolling pin/belan with light hands
  

To roast holige, put the rolled out holige on a heated skillet/tawa, roast by applying oil or desi ghee


Serve hot or at room temperature with desi ghee and boiled and cooled unsweetened milk