Bananas are such a versatile fruit. It pairs up so well with so many dishes. Fruit salads, smoothies, milkshakes, cakes, brownies, I pretty much use bananas for everything. This time, banana in the form of traditional dosas for breakfast or for a snack. Soaked rice ground with mashed bananas result in a sweet and soft baalehannina dosa.
These are fun to eat for everyone and the elaichi added to these dosas make them very flavourful. But making dosas means the need to make sides like chutneys. Good news, these dosas do not require any side dishes at all. Baalehannina dosa taste good with just a small piece of mango pickle (maavina midi especially) or a just a little ghee.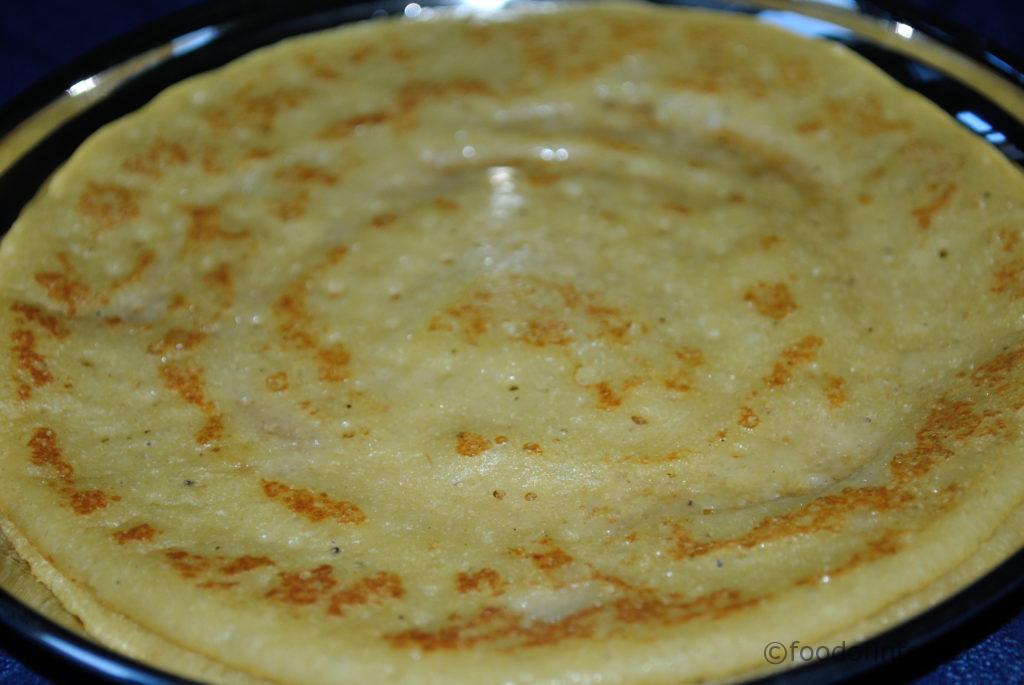 This dish is a hidden gem from beautiful Malnad part of Karnataka. Other variations include halasina hannina dosa (jackfruit dosa), maavinahannina dosa and so on. This baalehannina dosa is especially easy to prepare as bananas are a common ingredient at home. I have added a pinch of turmeric to give a golden hue to these delicious dosas (I had seen this on a blog a few months ago, cannot find the link anymore).
Try more banana recipes from FOI, creamy fruit custard, baalehaanina rasayana, banana bread, eggless chocolate brownies and many more…
More dosa recipes from FOI, masala dosa, open dosa, neer dosa etc.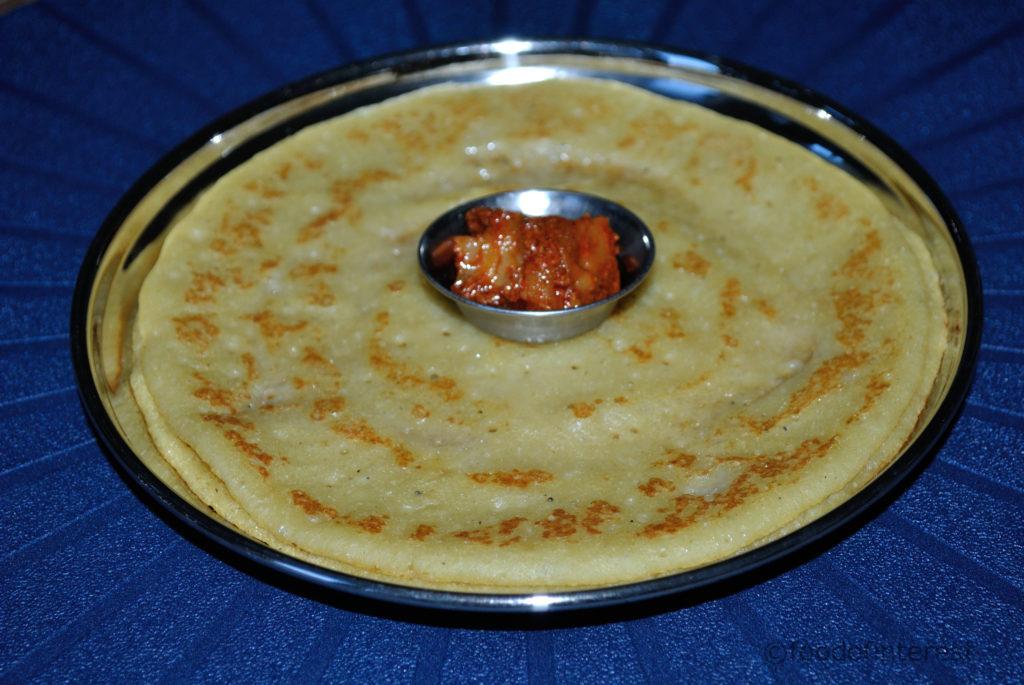 Baalehannina Dosa | Banana Dosa | Dosa Recipes
Soft, sweet, traditional malnad special, baalehannina dosa
Ingredients
1 Cup idli rice
½ Cup avalakki/poha
¼ Cup jaggery/bella/gur
1 ripe banana
3-4 elaichi
A pinch of salt
A pinch of turmeric
½ Cup grated coconut
Oil to make dosas
Method
Take idli rice in a bowl, wash 2-3 times, pour more water
Add poha and let it soak for 4-5 hours
After 4-5 hours, drain water, and add into a mixie
Add grated coconut
Next add chopped jaggery grind all into a batter
Sprinkle a pinch of salt and peeled elaichi seeds
In another small bowl, add chopped ripe banana, mash well with a fork
Pour this into the mixie and also, add a pinch of turmeric
Slowly pour a little water (about ¼ Cup to start with)
Grind into a thick, pourable batter
Take this into a bowl
Set this aside for half hour or you can make immediately
To make dosas, heat a tawa
Pour a small ladleful of batter and slowly spread into a small dosa
Drizzle little oil and let it roast
When the underside is cooked and golden, flip and cook on another side
When both sides are cooked and the dosa is soft remove from tawa
Serve immediately with mango pickle
Notes
Do not keep this batter for a long time

You can even serve these dosas with chutney

Add more jaggery if you want extra sweetness

Baalehannina Dosa Stepwise:
Take idli rice in a bowl, wash 2-3 times, pour more water

Add poha and let it soak for 4-5 hours

After 4-5 hours, drain water, and add into a mixie

Add grated coconut

Next add chopped jaggery

Sprinkle a pinch of salt and peeled elaichi seeds

In another small bowl, add chopped ripe banana, mash well with a fork

Pour this into the mixie and add a pinch of turmeric

Slowly pour a little water (about 1/4 Cup to start with)

Grind into a thick, pourable batter

Take this into a bowl

Set this aside for half hour or you can make immediately

To make dosas, heat a tawa

Pour a small ladleful of batter and slowly spread into a small dosa

Drizzle little oil and let it roast

When the underside is cooked and golden, flip and cook on another side

When both sides are cooked and the dosa is soft remove from tawa

Serve immediately with mango pickle