Pancakes for breakfast, sounds Western and fancy. It is very much like our dosas and very easy to prepare. A little preparation is required though, for these apple pancakes with homemade apple sauce.
Make apple sauce ahead of time or previous day. Preparing these tasty apple pancakes will then be a breeze. For Pancake day, my recipe from FOI is apple pancake.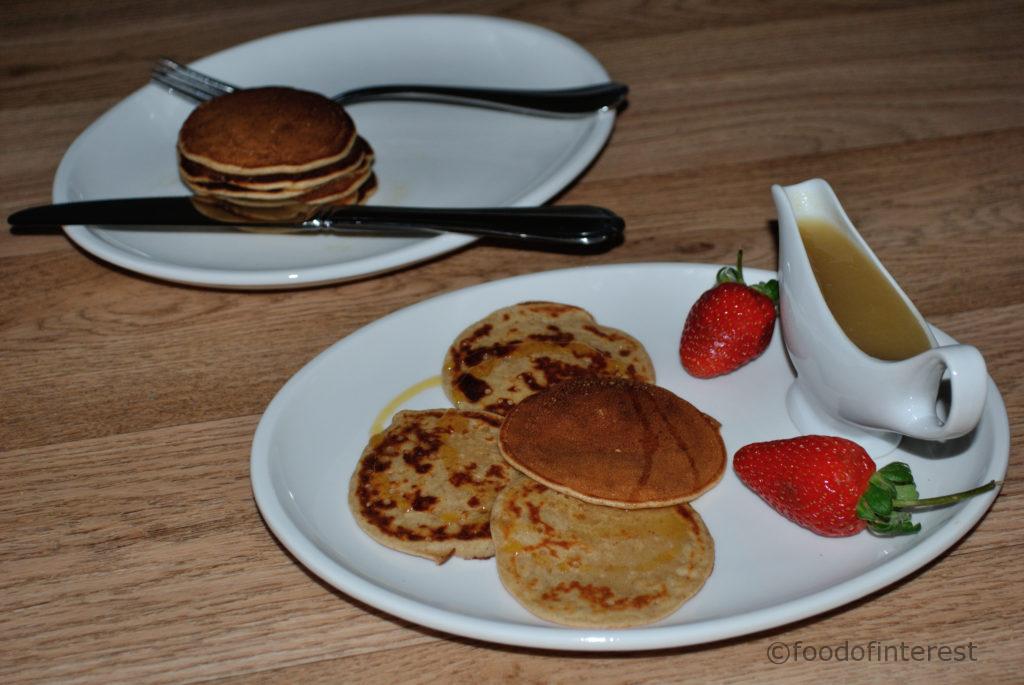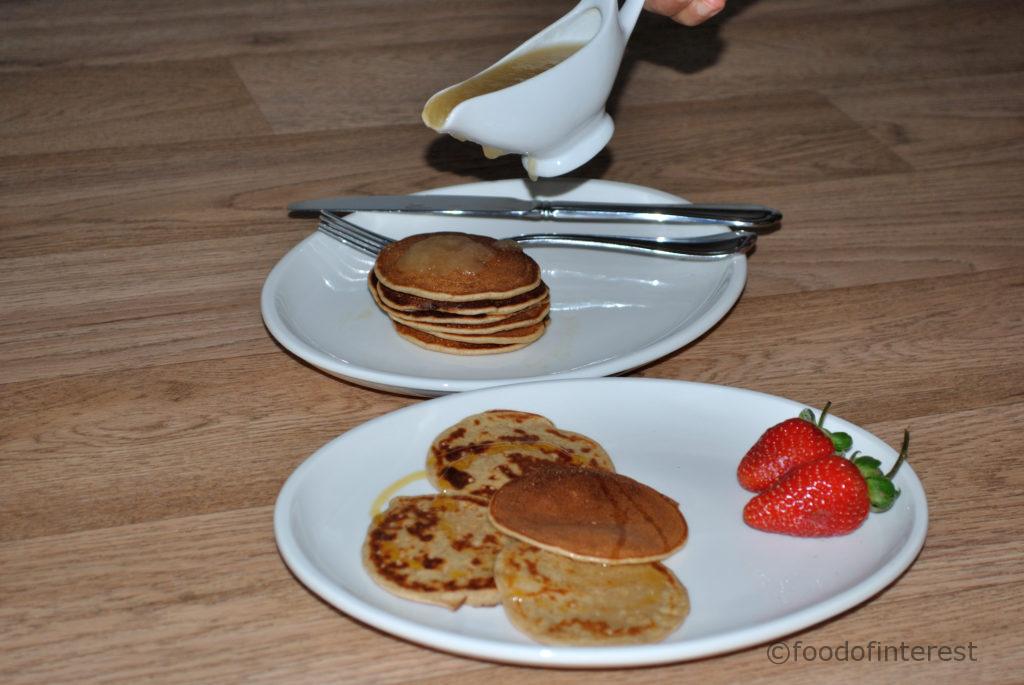 It is made with whole wheat and has no eggs. A completely vegetarian apple pancakes recipe. You can also try these whole wheat banana pancakes ( personal favourite).
These apple pancakes are no less. Very very tasty, fibrous and filling. More breakfast recipes from FOI.
For more apple recipes, try Apple Strudel, Apple Gojju, Apple Red Grapes Smoothie…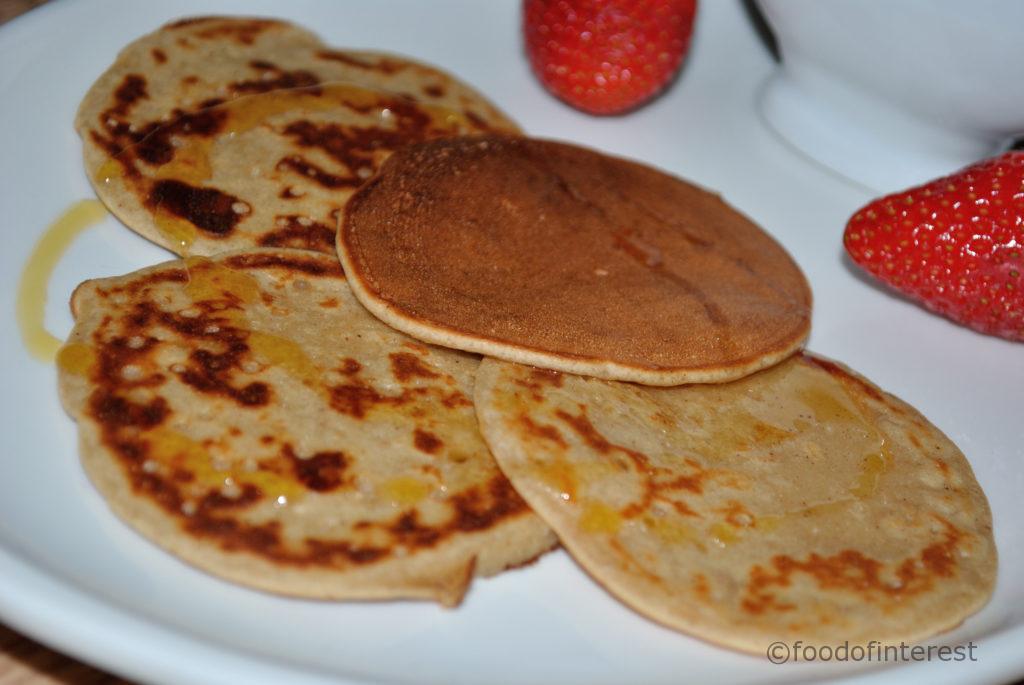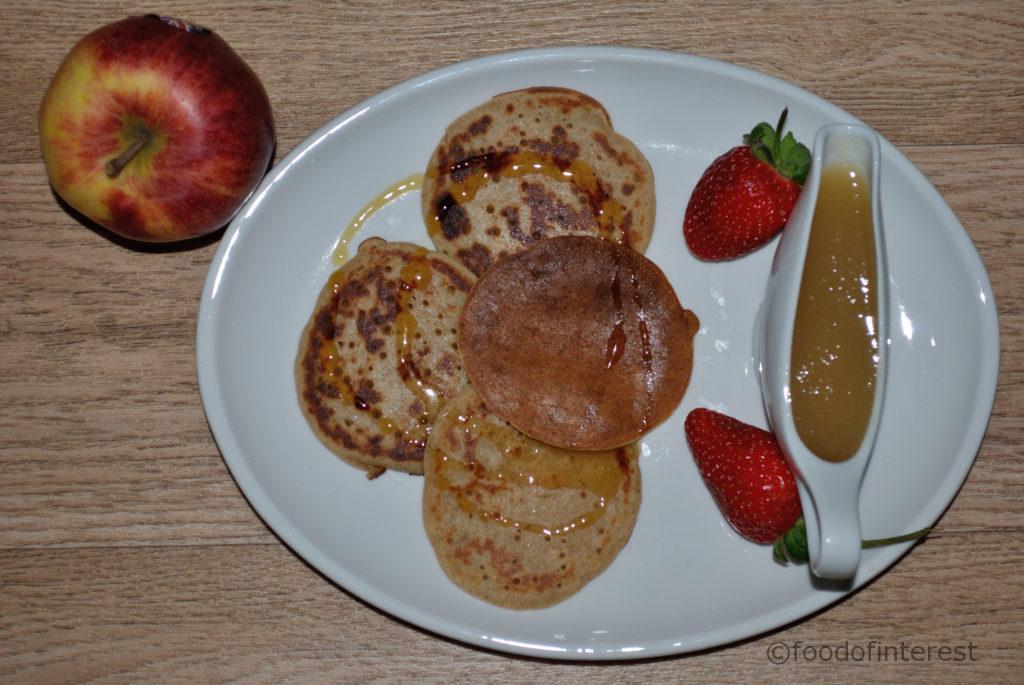 Apple Pancakes | Eggless Apple Sauce Pancakes
Soft, delicious apple pancakes with homemade apple sauce
Ingredients
1 Cup whole wheat flour
½ Tsp baking powder
½ Tsp cinnamon
A pinch of all spice (optional)
1 pinch salt
2 Tbsp brown/granulated sugar
½ Tsp vanilla
¼ Cup homemade applesauce
1 to 1¼ Cup whole/semi-skimmed milk to make batter
1 Tbsp melted butter

To Serve:
Apple Sauce, Honey, Maple Syrup, Golden Syrup, Nutella, Slices of apple etc.
Method
Sift whole wheat flour, baking powder, salt and keep aside
Sprinkle cinnamon powder and all spice. Mix and keep aside
Now mix liquid ingredients with sugar. Add sugar in a bowl, add apple sauce
Pour in good vanilla and mix well
Next pour 1 cup milk to start with. Mix well
Tip in flour mixture half at a time and make a thick yet pouring batter
Add ¼ Cup more milk if required.
Mix in melted butter
Make pancakes by pouring a small ladleful into small pancakes
Flip when golden and cooked
Serve with applesauce thinned with apple juice and golden syrup on top of pancakes
Notes
Use all purpose flour/maida if you want

Add some chopped apples on top before serving

Adjust sugar and other spice seasonings as per your taste. Remember apple sauce also has sugar

Skip butter and add oil, use a vegan milk instead of milk to make the pancakes vegan

Apple Pancakes Stepwise:
Sift whole wheat flour, baking powder, salt and keep aside

Sprinkle cinnamon powder and all spice. Mix and keep aside

Now mix liquid ingredients with sugar. Add sugar in a bowl, add apple sauce

Pour in good vanilla and mix well

Next pour 1 cup milk to start with. Mix well

Tip in flour mixture half at a time and make a thick yet pouring batter

Add 1/4 Cup more milk if required

Mix in melted butter

Make pancakes by pouring a small ladleful into small pancakes

Flip when golden and cooked

Serve with applesauce thinned with apple juice and golden syrup on top of pancakes