Different varieties of bread are made all over the world. Bread is an umbrella term for various kinds of flour based dishes like rotis, leavened bread, chapathis, pita bread, tortilla, flatbreads etc. An Italian delicacy Foccacia also falls into the bread category, it is a leavened bread (involving raising the dough with some kind of leavening agent like yeast, baking powder etc). I attempted making foccacia with whole wheat flour and here's the verdict, whole wheat foccacia tastes really good. Indeed it's a delicacy!
Whole wheat foccacia can be made with plain with just some salt and olive oil on top, or flavoured with herbs like rosemary or basil and also made with some simple ingredients like olives, sun-dried tomatoes etc. It tastes really good with a bowl of hot tomato soup or also to make sandwiches.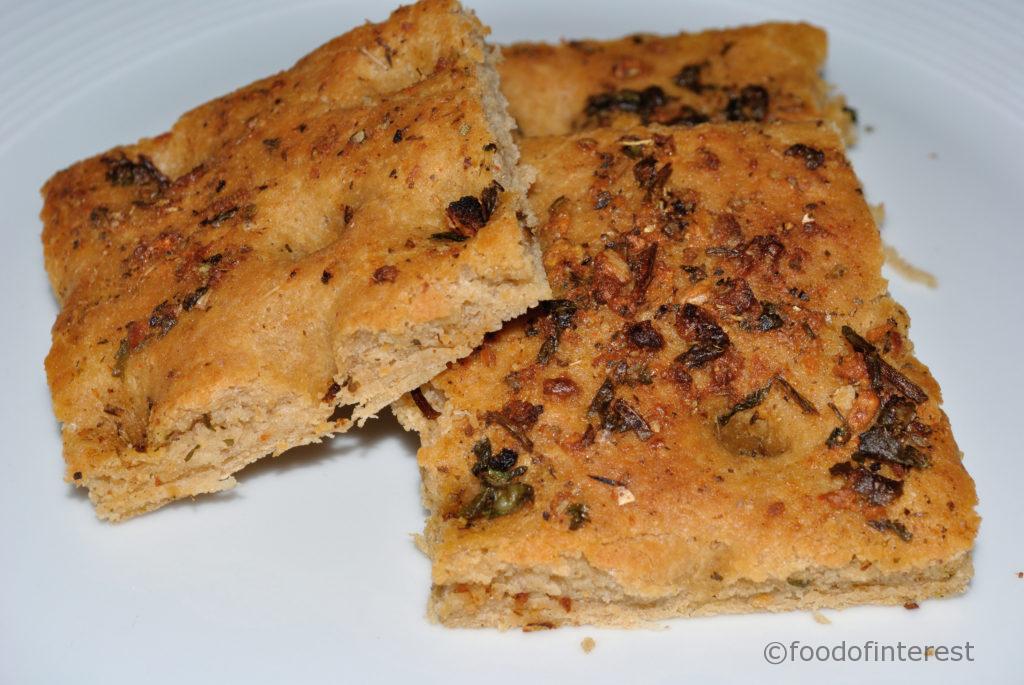 Whole wheat foccacia can be eaten as a snack or used to mop up sauces from pasta or salad dressing. I really like the subtle flavours of foccacia and is my favourite kind of Italian bread. Try more Italian recipes from FOI, pasta florentine, garlic spaghetti, tomato basil pizza, spinach and peas risotto, panzanella etc. More baked goodies from FOI whole wheat bread, dil pasand etc.
Whole Wheat Foccacia | Bread Recipes
Perfect for a snack, fun to eat, Italian special - whole wheat foccacia
Ingredients
1½ Cups whole wheat flour/atta
1 Tsp instant yeast
Salt to taste
1 Tsp sugar
¾ Cup luke warm water
Olive oil 1 Tbsp + extra for kneading
2 Tbsp melted butter
1 Tbsp finely chopped garlic
2 Tbsp finely chopped coriander leaves/flat leaf parsley
Method
In a large bowl, take wheat flour, add salt, sugar, instant yeast and olive oil
Mix well till the mixture looks like coarse bread crumbs
Slowly add water and start kneading
Knead into a dough and apply oil, keep aside in warm place for 2 hours
Once the dough has risen, punch slightly to release the air
Roll out the into a thick disk
Lay this rolled out disk onto a baking pan
Cover and set aside for half an hours
Next spread melted butter, finely chopped garlic and chopped coriander/parsley
Punch rest of the dimple holes on the surface, pre-heat oven to 200 Deg C
Bake at 200 Deg C for 20 mins or till done
Fluffy whole wheat foccacia is ready to be served
Notes
You can use all purpose flour, water proportion will vary

You can also use olive oil instead of butter to spread on top or both

Use any herbs of your choice to spread on top
Whole Wheat Foccacia Stepwise:
In a large bowl, take wheat flour, add salt, sugar, instant yeast and olive oil

Mix well till the mixture looks like coarse bread crumbs

Slowly add water and start kneading

Knead into a dough and apply oil, keep aside in warm place for 2 hours

Once the dough has risen, punch slightly to release the air

Roll out the into a thick disk

Lay this rolled out disk onto a baking pan

Cover and set aside for half an hours

Next spread melted butter, finely chopped garlic and chopped coriander/parsley

Punch rest of the dimple holes on the surface, pre-heat oven to 200 Deg C

Bake at 200 Deg C for 20 mins or till done

Fluffy whole wheat foccacia is ready to be served