Winter is drawing to a close and spring will start soon. So make the most of cold winter nights. Sip on some gorgeous vegetable hot and sour soup. Soups are food for the soul and I totally agree with it!
Vegetable hot and sour soup is really a nice assortment of vegetables cooked in a mildly spicy broth with simple flavours. Flavours from Indo-Chinese cuisine makes this soup very special and delicious.
You will crave more and more of this soup simply because of its soothing effect on the body. It is a well balanced soup and it can be adjusted to your taste most importantly.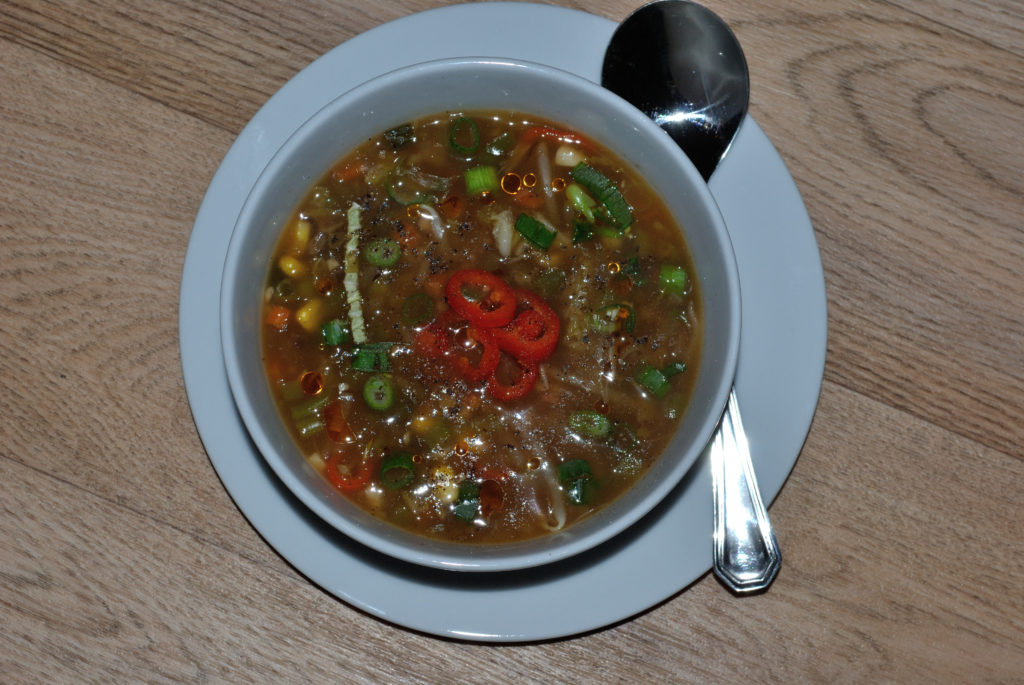 Along with tomato soup, this vegetable hot and sour soup is a common appearance on menu cards all over India. Super soup for your mind, body and soul! Very invigorating!
Add any assortment of vegetables you like, mushrooms generally are added (we skip it as we don't eat mushrooms). Add bean sprouts, bamboo shoots for special flavours and texture.
Adjust seasoning as per your taste for this vegetable hot and sour soup. This soup is loaded with fibre and low in calories which makes it an ideal soup for an early dinner!
Try other soups from FOI, spinach soup, tomato soup, potato corn chowder…
Enjoy vegetable hot and sour soup on a cold winter night. Tuck in and sip on!
Vegetable Hot And Sour Soup | Soup Recipes
Piping hot, loaded with vegetables and flavours, Indo-Chinese style vegetable hot and sour soup
Recipe type:
Starter/Appetizer
Ingredients
½ Tbsp sesame oil/cooking oil
1 small finely chopped onion
2 finely chopped spring onions
¼ Cup finely chopped celery (optional)
½ finely chopped carrot
5-6 finely chopped green beans
½ Cup finely shredded cabbage
2 sliced red chillies or 1 regular green chilli
¼ Cup finely chopped green bell pepper/capsicum
1" finely chopped ginger
2 finely chopped cloves of garlic
A handful of bean sprouts (optional)
¼ Cup corn
1 Tsp soya sauce
1 Tsp rice vinegar/regular vinegar
2 Tsp sweet red chilli sauce
4 Cups water
½ Tsp pounded black pepper
Salt to taste
½ Tsp sugar
Few drops red chilli oil/olive oil/sesame oil to add on top (optional)
1 Tsp cornflour mixed in 2 Tbsp water to create a slurry
Method
Finely chop all vegetables. Keep aside
Heat oil in a pan
Now add finely chopped onions and spring onions and saute for a minute
Next add chopped celery and saute again
Tip in chopped ginger and garlic
Time to add chopped vegetables, add carrot, beans, and shredded cabbage
Next add finely chopped capsicum and red chillies
Finally, add bean sprouts corn kernels
Meanwhile boil water with black pepper powder
Once the vegetables start cooking, add soya sauce, sweet red chilli sauce and mix well
Pour boiling water into the vegetables and mix well
Also add corn flour slurry and mix well again
Season with salt and sugar
Spoon in some vinegar
Boil for a few more minutes and turn off the heat
Soup is now ready. Add a few drops of red chilli oil. Serve immediately
Notes
Mix and match any vegetables

Adjust seasoning as per your taste

Use green chilli sauce instead of red chilli sauce

Use white pepper powder if you like

Some vegetables can be used frozen

Use vegetable stock if you want

Vegetable Hot And Sour Soup Stepwise:
Finely chop all vegetables. Keep aside

Heat oil in a pan

Now add finely chopped onions and spring onions and saute for a minute

Next add chopped celery and saute again

Tip in chopped ginger and garlic

Time to add chopped vegetables, add carrot, beans, and shredded cabbage 

Next add finely chopped capsicum and red chillies

Finally, add bean sprouts corn kernels 

Meanwhile boil water with black pepper powder

Once the vegetables start cooking, add soya sauce, sweet red chilli sauce and mix well

Pour boiling water into the vegetables and mix well

Also add corn flour slurry and mix well again

Season with salt and sugar

Spoon in some vinegar

Boil for a few more minutes and turn off the heat

Soup is now ready. Add a few drops of red chilli oil. Serve immediately