Many times you need something in the morning which is just warm and comforting. Whatever the weather is, you always feel like eating something soothing to the gut. But obviously we would like something that is not bland. This Maharashtra special, ukad or ukadpendi is one such dish, delicious, simple and easy to make.
Ukadpendi has a thick porridge like consistency. It consists of rice flour and besan mixed with buttermilk mixture. To make ukadpendi delicious roasted groundnuts are added on top with a simple tadka to finish with. To make it extra tasty I add a bit of amchur powder, red chilli powder and turmeric for a nice golden yellow colour.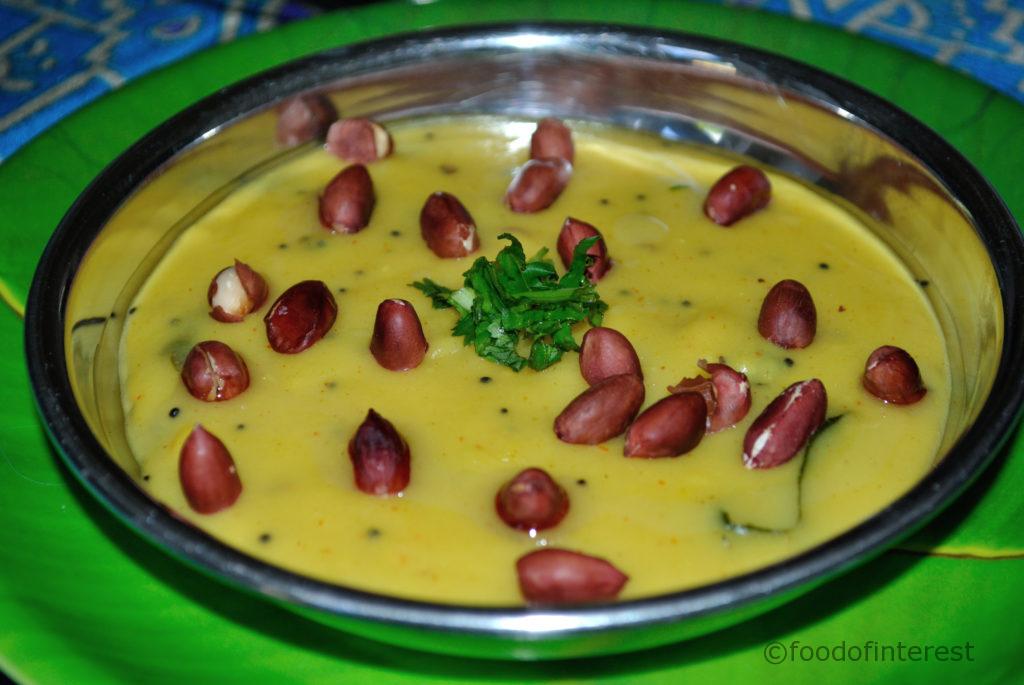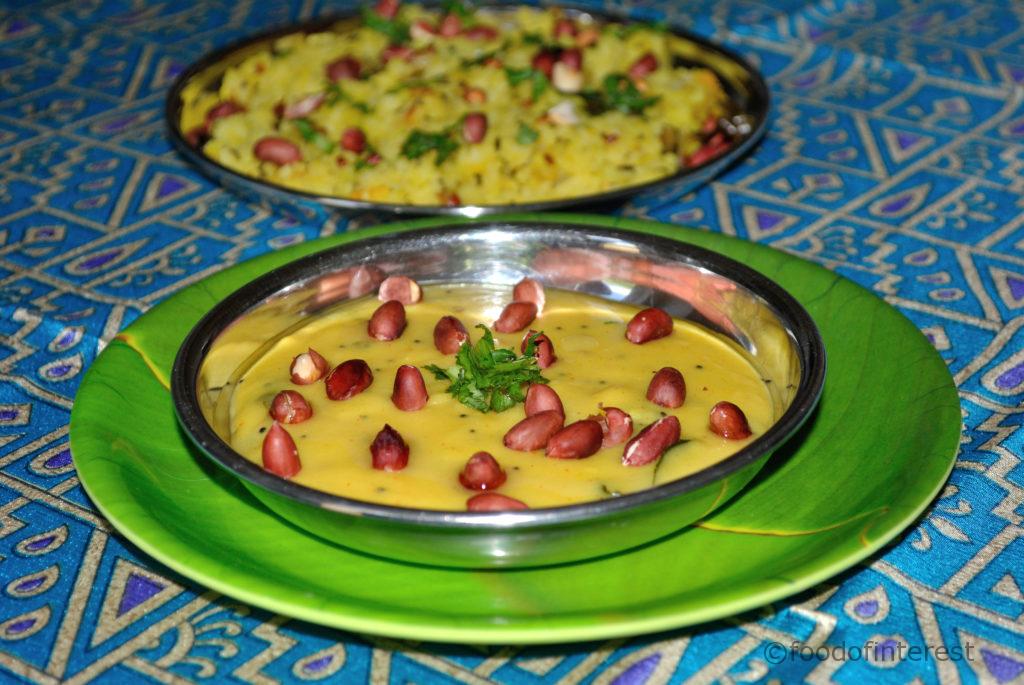 This dish hardly has any oil in it and is rich in good carbs, some fibre and protein. Ukadpendi gets ready in no time and you can quickly make it. It is then a matter of just gulping down spoons of it after it reaches optimum warm temperature. It is slightly tangy and has all the warmth. Along with the many kinds of porridges I make, this is definitely one of them. Try more breakfast recipes from FOI, dosas, idlis, oats porridge, overnight oats with banana, milkshakes etc.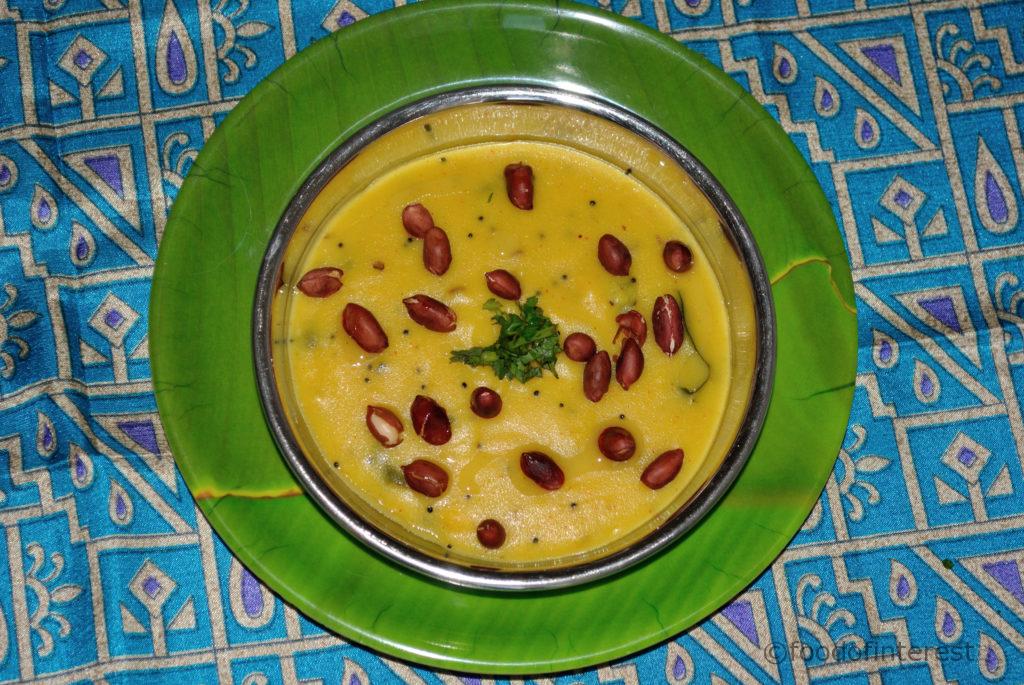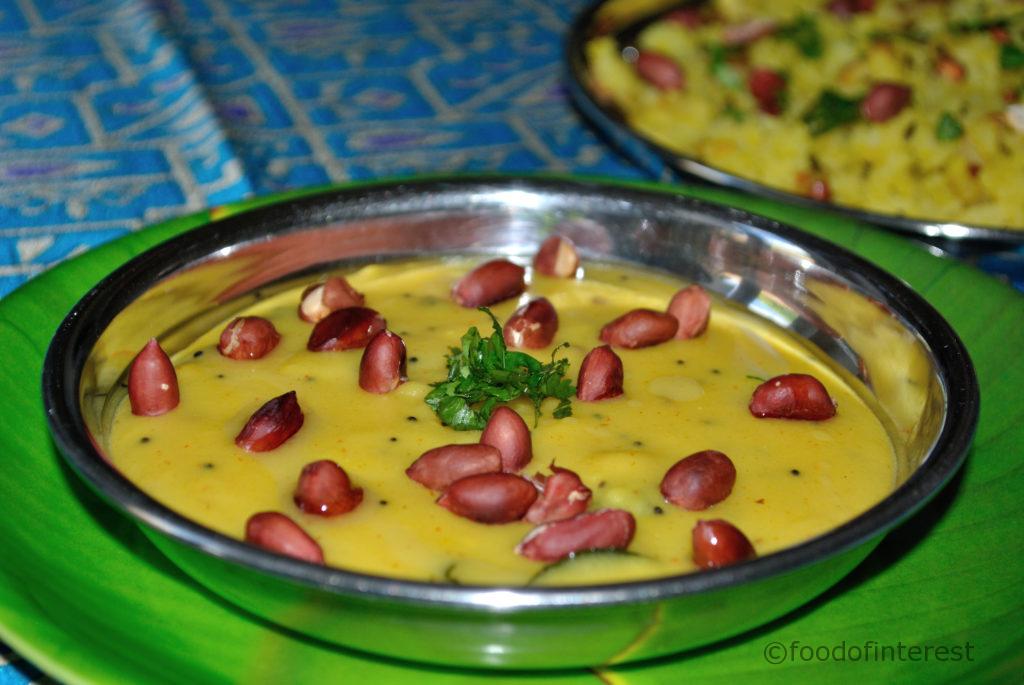 Ukadpendi | Ukad | Breakfast Recipes
Warm and comforting breakfast, Maharashtra special ukadpendi
Ingredients
1½ Cups water
¼ Cup buttermilk
1 Tbsp besan
3 Tbsp rice flour
Roasted groundnuts
½ Tsp amchur powder
¼ Tsp red chilli powder
¼ Tsp turmeric

For Tadka:
1 Tsp oil
½ Tsp mustard
1 pinch hing
½ chopped green chilli
4-5 curry leaves
¼" grated ginger
Method
Dry roast groundnuts in pan till they roast lightly and turn crisp. Keep aside to cool
In a deep thick bottomed vessel add rice flour and besan
Sprinkle salt as per taste
Add turmeric, red chilli powder and jeera
Slowly pour water and whisk well and ensure there are no lumps
Next pour buttermilk and whisk well
In a pan, heat oil
Splutter mustard in oil
Add hing, green chillies, curry leaves, grated ginger and fry well
Lower flame and pour ½ Cup of water and mix well
Now slowly whisk in the rice flour-besan mixture
Mix very well
Let it cook on medium flame, stir well
Squeeze in lemon juice and mix
It thickens after a few minutes
When it thickens and has a nice shine it is ready to serve
Serve in small plates with roasted groundnuts on top
Notes
You can first make the ukad and then put tadka on top as well

Do not over thicken it, it thickens as it sits

Do not use sour buttermilk use fresh buttermilk

Ukadpendi Stepwise:
Dry roast groundnuts in pan till they roast lightly and turn crisp. Keep aside to cool

In a deep thick bottomed vessel add rice flour and besan

Sprinkle salt as per taste

Add turmeric, red chilli powder and jeera

Slowly pour water and whisk well and ensure there are no lumps

Next pour buttermilk and whisk well

In a pan, heat oil

Splutter mustard in oil

Add hing, green chillies, curry leaves, grated ginger and fry well

Lower flame and pour 1/2 Cup of water and mix well

Now slowly whisk in the rice flour-besan mixture

Mix very well

Let it cook on medium flame, stir well

Squeeze in lemon juice and mix

It thickens after a few minutes

When it thickens and has a nice shine it is ready to serve

Serve in small plates with roasted groundnuts on top