Tomato pizza sauce is the base sauce used for most pizzas. In Italy, there are 2 types of pizza sauces that are generally made red (tomato) and white used for pizzas like potato leek pizza etc. This red tomato sauce is also called as 'Marinara' sauce and is the most basic sauce prepared in Italian cuisine.
Tomato pizza sauce is a versatile sauce, it is of course smeared on pizza bases like tomato basil pizza, pizza margherita, veg supreme pizza and many more pizzas. Not only that, leftover sauce can be used to make pasta. I absolutely love spaghetti with tomato basil sauce.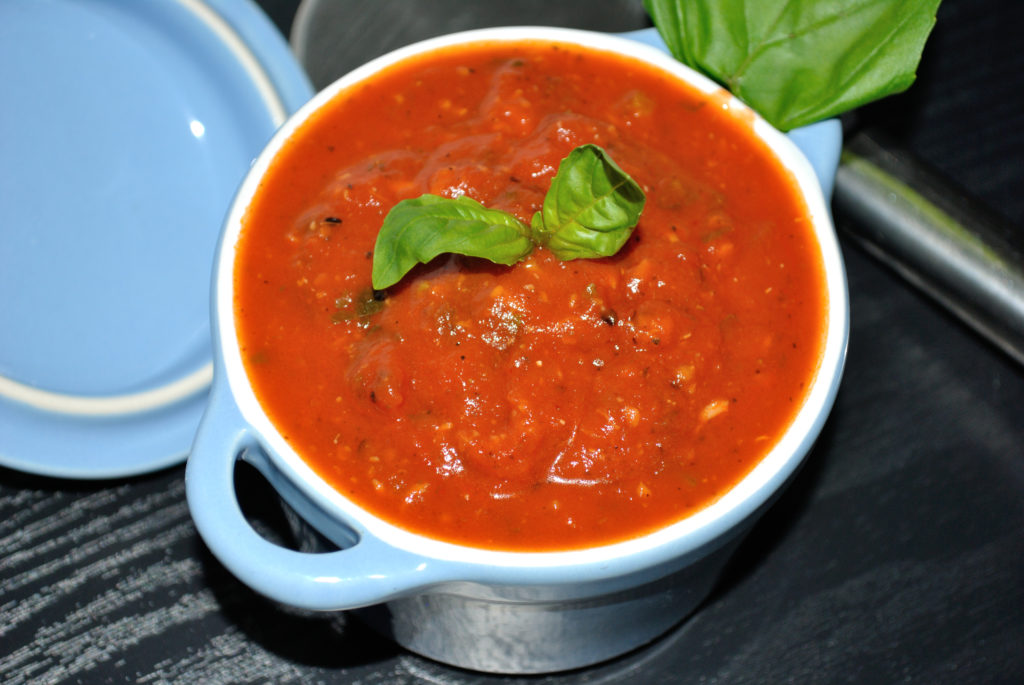 Use fresh tomatoes or organic canned tomatoes can also be used. Plum tomatoes work best as they are fresh and flavourful. This tomato pizza sauce can also be frozen(check notes in recipe) and it can be stored for a few weeks.
I have already posted fresh home-made hand kneaded whole wheat pizza dough, here's the tomato pizza sauce recipe. Tomato basil pizza also coming up. I have already posted Fig and Goat's cheese pizza.
This tomato basil pizza and tomato pizza sauce posts have been in the drafts for months. I had photoshot this recipe mid last year way back in July 🙂 Never too late to post though.
So plan this pizza for a weekend then! Try more Italian recipes like this Panzanella salad.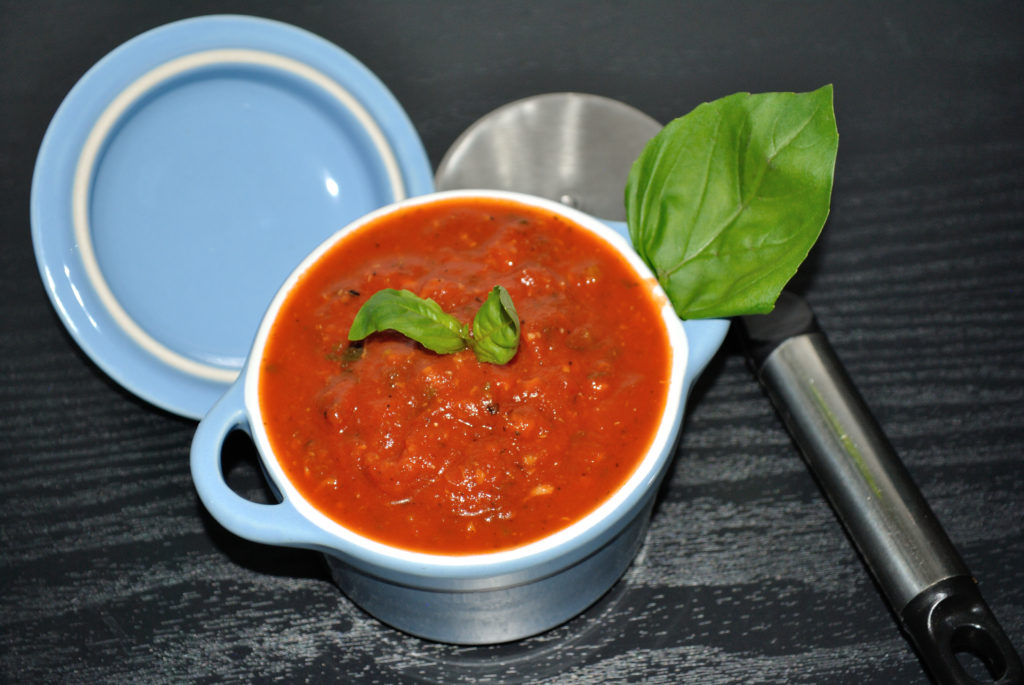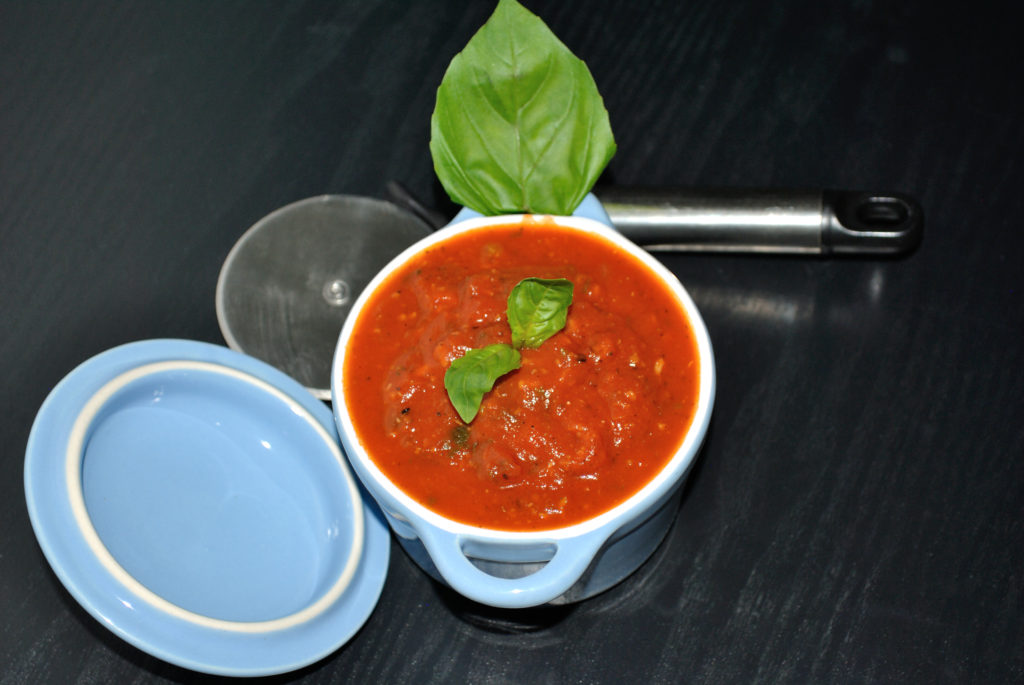 Tomato Pizza Sauce | Marinara Sauce | Homemade pizza sauce
Tangy and flavourful, fresh home-made basic tomato pizza sauce
Ingredients
400 gm plum tomatoes organic canned or 300 gm regular blanched tomatoes
2 grated cloves of garlic
½ Tbsp good olive oil
8-10 freshly ground black peppercorn
Salt to taste
1 Tsp sugar
½ Tsp heaped dried oregano
6-7 leaves fresh basil
2 Tbsp grated veg parmesan(optional)
Method
Grind tomatoes into a paste, keep aside
Tip in 2 grated garlic cloves into cold ½ tbsp olive oil and keep on stove, saute for a few seconds
Pour tomato puree and let it simmer
Season with salt, sugar and ground pepper
Add oregano and chopped basil
Mix and keep stirring on low flame for 2-3 minutes
Sauce is done when it thickens
Grate parmesan cheese optionally
Store or use for making pizzas once it cools a bit
Notes
Use dried oregano where possible as dried oregano has more concentrated woody flavour

Whereas, basil is best when used fresh but dried can also be used

To freeze, let sauce cool completely, pour into resealable freezer safe food bags, press to seal, stick into freezer and use when required

Adding garlic to room temperature prevents garlic from burning and brings out maximum flavour

Skip parmesan cheese to make this sauce vegan

Tomato Pizza Sauce Stepwise:
Grind tomatoes into a paste, keep aside
 

Tip in 2 grated garlic cloves into cold 1/2 tbsp olive oil and keep on stove, saute for a few seconds
 

Pour tomato puree and let it simmer
 

Season with salt, sugar and ground pepper
  

Add oregano and chopped basil
 

Mix and keep stirring on low flame for 2-3 minutes
 

Sauce is done when it thickens
 

Grate parmesan cheese optionally


Store or use for making pizzas once it cools a bit