Crispy cutlets are a filling snack. They can be eaten just for a snack or a light dinner (provided it is roasted and not fried) just like this sweet potato cutlet. They are packed with flavour and so much fun to eat. Everybody who hates sweet potato will fall in love with it after eating this sweet potato cutlet.
Sweet potato cutlet has a whole bunch of nice things in it with pop-in-the-mouth peas and crunchy groundnuts. It is mildly spicy with a distinct sweetness from the er… sweet potatoes and peas. You can of course adjust the spiciness as per your taste. Serve sweet potato cutlet with just some ketchup or pudina chutney.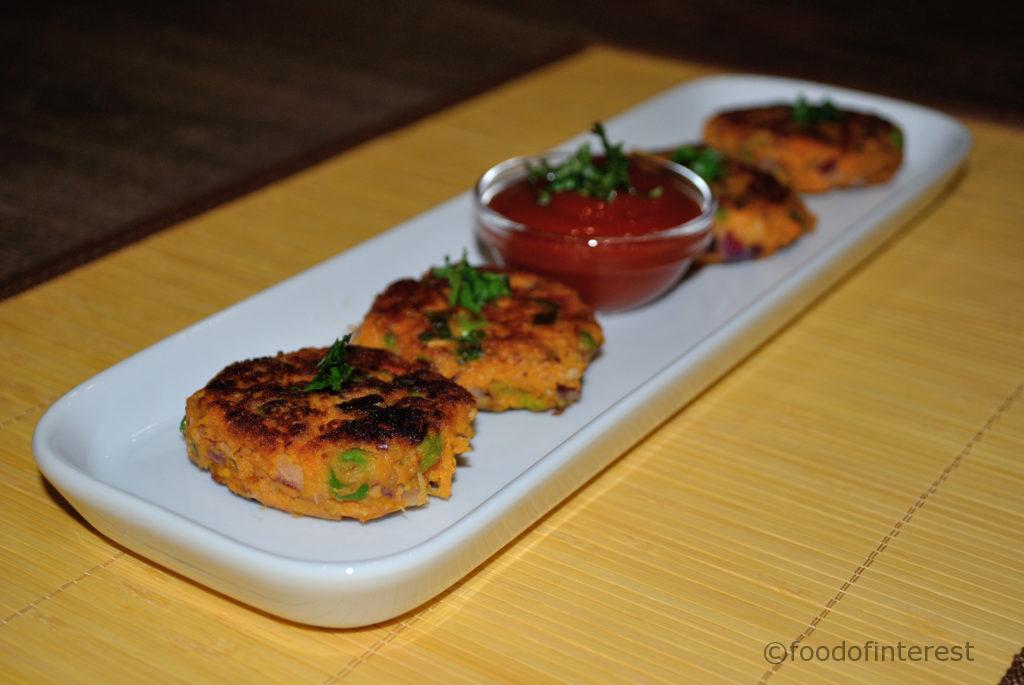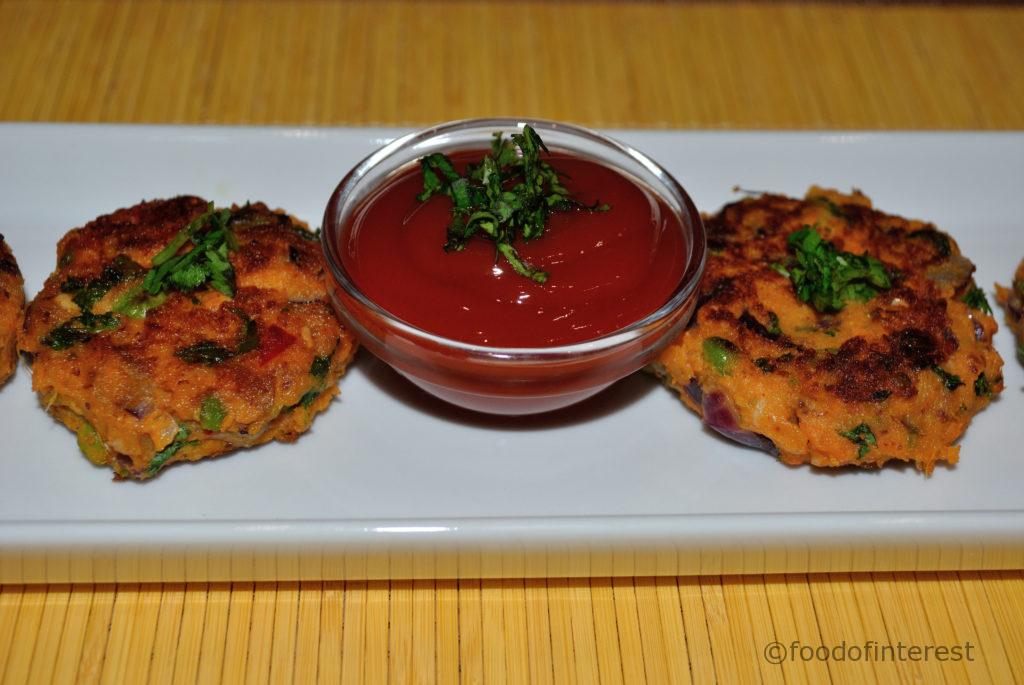 You can also choose to deep fry these cutlets but I always shallow fry cutlets and most snacks where possible. Sweet potatoes do cook quite quickly so these do not take a lot of time to make. Tea-time is just the perfect time time to serve sweet potato cutlet. Try more baked snacks from FOI, baked samosa, baked nippattu etc. Also try hara bhara kabab from FOI. Also try sweet potato recipes like sweet potato chutney.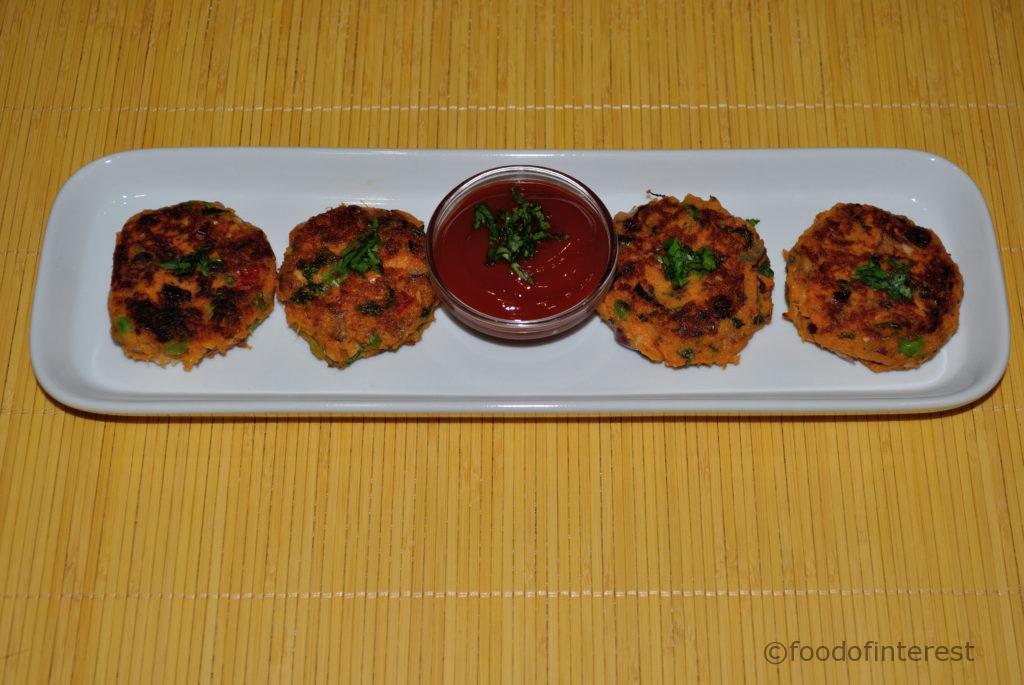 Sweet Potato Cutlet | Starter Recipes | Snack Recipes
Bright with summer colours, spicy and chatpata, sweet potato cutlet
Recipe type:
Starter/Appetizer
Ingredients
200 Gm or 1 big diced sweet potato
½ Cup fresh or frozen green peas
2 Tbsp besan
½ Tsp red chilli powder
Salt to taste
1 heaped Tsp chaat masala or amchur powder
1 chopped onion
¼ Cup roasted groundnuts
1-2 grated garlic
½" grated ginger
1 finely chopped fresh red/green chilli (optional)
¼ Cup chopped coriander
Method
In a pan, roast groundnuts till golden and roasted, keep aside
Take the roasted groundnuts in mortar
Pound them coarsely using a pestle
In another pan, dry roast besan till fragrant on low flame
Cook sweet potato in water till soft
Pierce a sweet potato and check if it soft, turn off flame
Add peas and close a lid and let the peas cook for a few minutes in the residual heat
Drain the cooked sweet potato and green peas and let them cool
Mash with a potato masher into a coarse mixture
Next add finely chopped garlic and red chilli
Add finely chopped onion and mix very well till everything is well incorporated
Next add all dry masalas, red chilli powder, chaat masala or amchur powder
Tip in the roasted besan and pounded groundnuts
Finally add chopped coriander and give a good mix
Smear some oil in a wide pan or skillet or tawa
Pinch small tikki sized balls from the sweet potato mixture
Make tikkis and flatten and them into the pan
Drizzle some oil from sides
Roast slowly till underside turns golden
Flip and roast on the other side as well
When both sides are golden and crisp and cooked through remove from heat
Serve immediately with ketchup or pudina chutney
Notes
Try not to skip groundnuts, they add a distinctive taste

Adjust masalas as per your taste

If you feel the mixture is very sticky, add little more roasted besan

Sweet Potato Cutlet Stepwise:
In a pan, roast groundnuts till golden and roasted, keep aside

Take the roasted groundnuts in mortar

Pound them coarsely using a pestle

In another pan, dry roast besan till fragrant on low flame

Cook sweet potato in water till soft

Pierce a sweet potato and check if it soft, turn off flame

Add peas and close a lid and let the peas cook for a few minutes in the residual heat

Drain the cooked sweet potato and green peas and let them cool

Mash with a potato masher into a coarse mixture

Next add finely chopped garlic and red chilli

Add finely chopped onion and mix very well till everything is well incorporated

Next add all dry masalas, red chilli powder, chaat masala or amchur powder

Tip in the roasted besan and pounded groundnuts

Finally add chopped coriander and give a good mix

Smear some oil in a wide pan or skillet or tawa

Pinch small tikki sized balls from the sweet potato mixture

Make tikkis and flatten and them into the pan

Drizzle some oil from sides

Roast slowly till underside turns golden

Flip and roast on the other side as well

When both sides are golden and crisp and cooked through remove from heat

Serve immediately with ketchup or pudina chutney