A chatpata snack, hot and spicy on a rainy day or a cold winter evening will perk you up right away! Street style paneer manchurian is exactly the kind of recipe you want. It has the right ingredients and refreshes you almost immediately. Infact this is one of the sought after appetizer recipes from Indo-Chinese cuisine.
Street style paneer manchurian is very easy to make, it does not need much preparation at all. You can cheat a little and use store bought organic fresh paneer and quickly fix this snack. Fresh homemade paneer, oh yes that's not a bad idea too! You will be a hit with your kids for a quick after school snack. But make sure you adjust the spice when serving kids!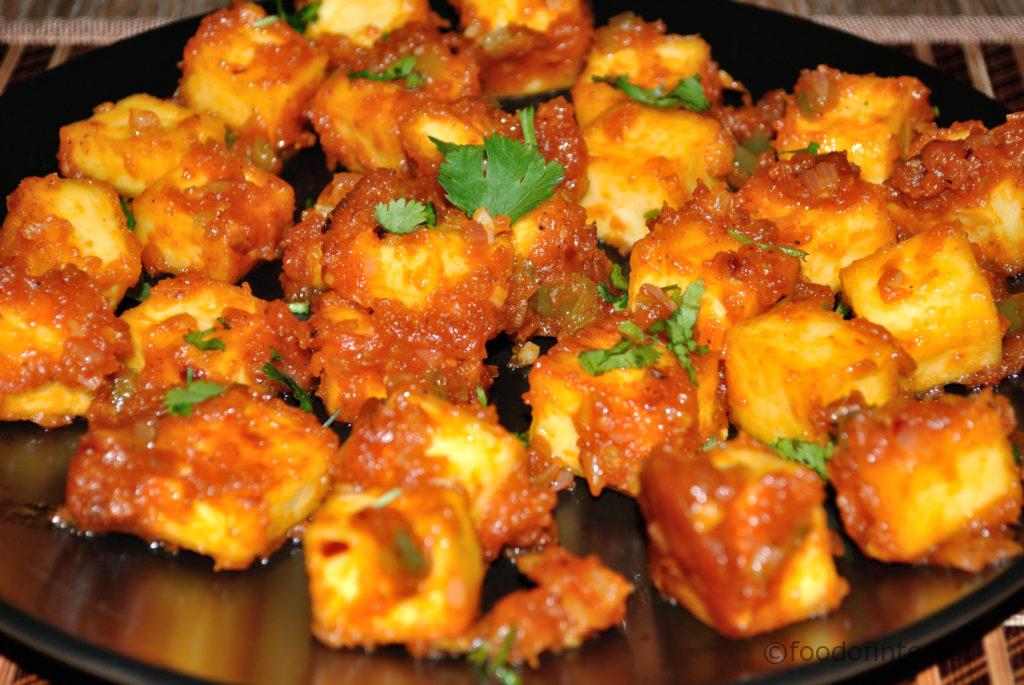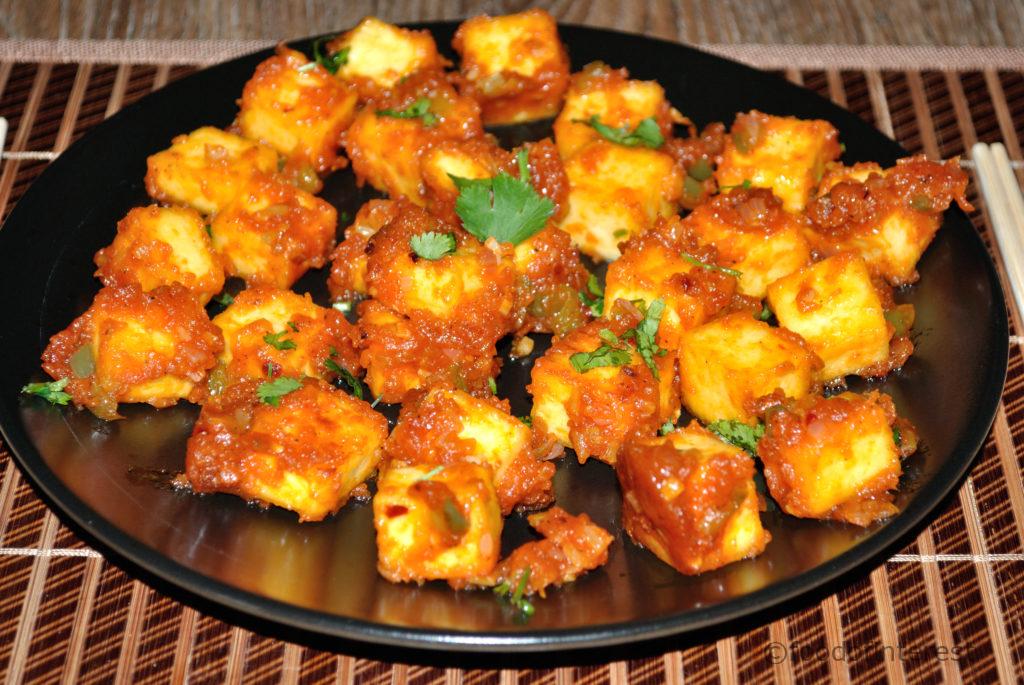 I have already posted a roasted Gobhi manchurian recipe, try this street style paneer manchurian. It is not deep fried too, making it regularly cannot be bad. Try more Indo-Chinese recipes from FOI, mixed vegetable fried rice, vegetable hakka noodles etc. More kid friendly recipes and snack recipes from FOI. And here are more paneer recipes like paneer paratha, palak paneer, methi malai paneer.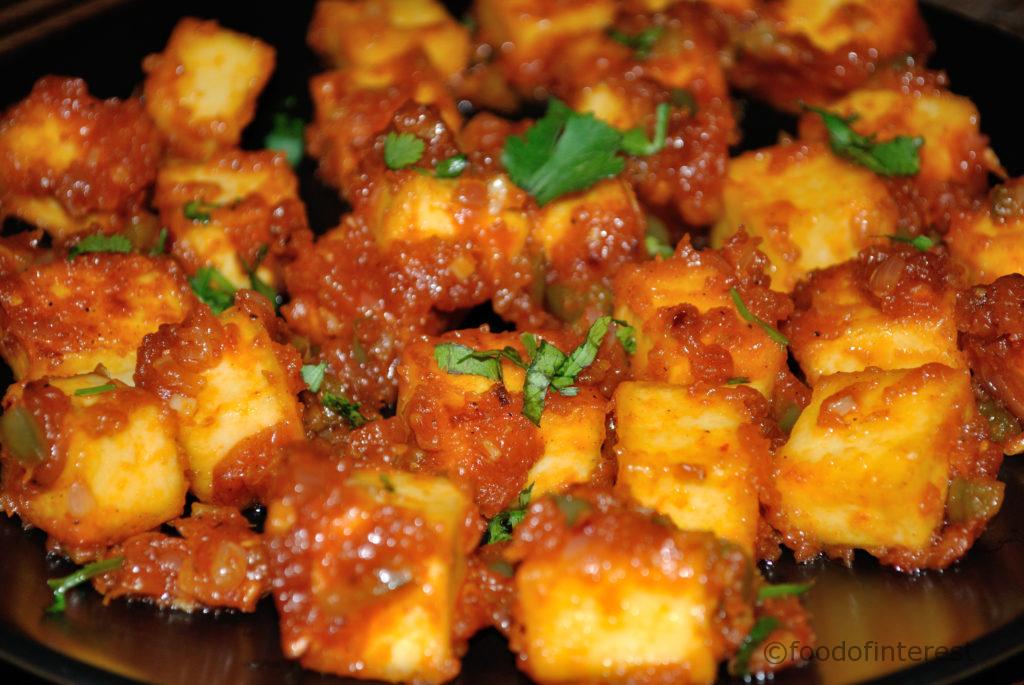 Street Style Paneer Manchurian | Paneer Manchurian
Spicy, soft yet crispy, street style paneer manchurian
Ingredients
200 Gm paneer
2 Tbsp heaped cornflour
¼ Tsp red chilli powder
¼ Tsp black pepper powder
A pinch of red chilli flakes (optional)
2-3 Tbsp olive oil
Salt to taste

For Masala:
1" chopped ginger
1-2 chopped cloves of garlic
1 finely chopped onion
¼ finely chopped celery
½ finely chopped green capsicum
2 Tbsp tomato ketchup
1 Tsp soya sauce
Salt to taste
Sugar to taste
1 pinch black pepper powder
1-2 Tbsp water to adjust consistency
Finely chopped coriander to garnish
Method
Dice the paneer and keep aside
In a small bowl add cornflour
To the cornflour add red chilli powder, chilli flakes, black pepper powder
Add salt and sugar to taste
Give the dry ingredients a quick stir
Drop in the cubed paneer and lightly mix to coat
In a pan heat oil and add the coated paneer pieces
Toss so that oil coats all over
Flip the paneer pieces so they turn golden all over, takes about 2-3 minutes
Remove them onto paper towels
In the same pan, into the same oil, add garlic, ginger and onion, saute
Next add green capsicum and saute again
To the remaining cornflour mixture, add 1-2 Tbsp water and make a slurry
Season onion masala with soya sauce and ketchup
Mix very well
Next pour the cornflour slurry and mix well
Cook on low flame, the mixture thickens and turns glossy
Next add the crisp paneer and mix well to coat
Garnish with fresh coriander
After 1-2 minutes, paneer manchurian is ready to serve
Notes
Ensure paneer is fresh and not hard and stale

As mentioned before, if making this for kids adjust the chilli, add less chilli powder or skip it!

You can also use maida in place of cornflour

Do not fry paneer on high flame, they become hard and chewy

Street Style Paneer Manchurian Stepwise:
Dice the paneer and keep aside

In a small bowl add cornflour

To the cornflour add red chilli powder, chilli flakes, black pepper powder

Add salt and sugar to taste

Give the dry ingredients a quick stir

Drop in the cubed paneer and lightly mix to coat

In a pan heat oil and add the coated paneer pieces

Toss so that oil coats all over

Flip the paneer pieces so they turn golden all over, takes about 2-3 minutes

Remove them onto paper towels

In the same pan, into the same oil, add garlic, ginger and onion, saute

Next add green capsicum and saute again

To the remaining cornflour mixture, add 1-2 Tbsp water and make a slurry

Season onion masala with soya sauce and ketchup

Mix very well

Next pour the cornflour slurry and mix well

Cook on low flame, the mixture thickens and turns glossy

Next add the crisp paneer and mix well to coat

Garnish with fresh coriander

After 1-2 minutes, paneer manchurian is ready to serve