A few months back, I ate a special type of idli with spinach at a restaurant. It was soft, delicious and had a creamy texture in the end. So immediately I had to try making idli with spinach. More importantly I wanted to make an instant version, so I made the base batter with rava/semolina. I have also added powdered oats to the batter making it extra fibrous and tasty. Try this spinach oats rava idli and you will love the texture and taste!
A few quick and easy steps are required to assemble the batter for this spinach oats rava idli. You can then steam the idlis and serve them with your favourite chutney and breakfast is served! You can also choose to serve with some masala yogurt or curd. Nice and simple!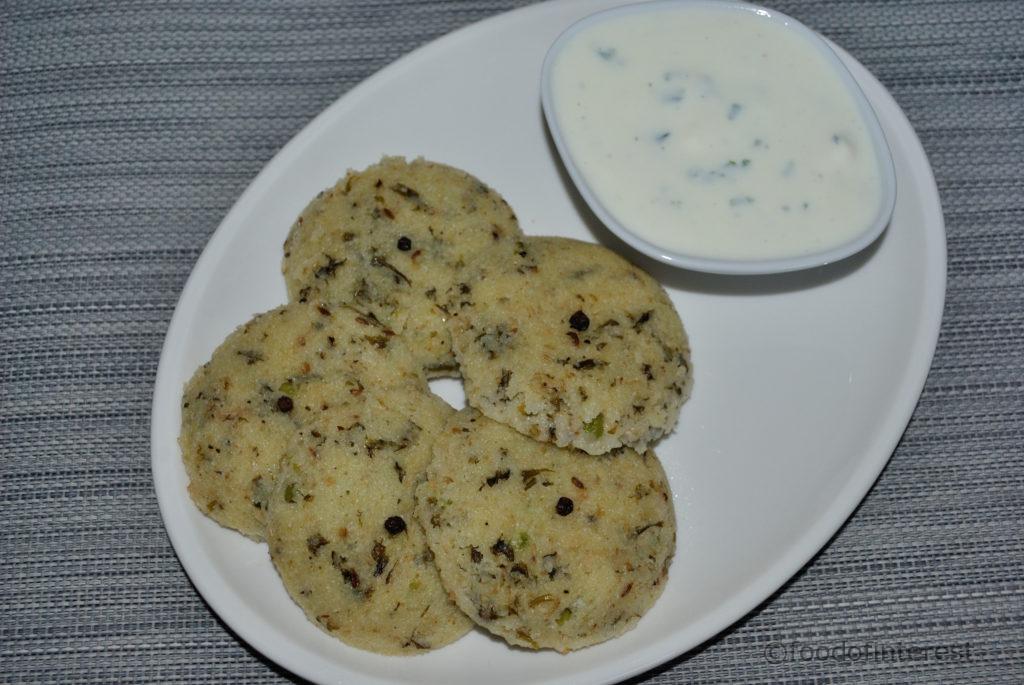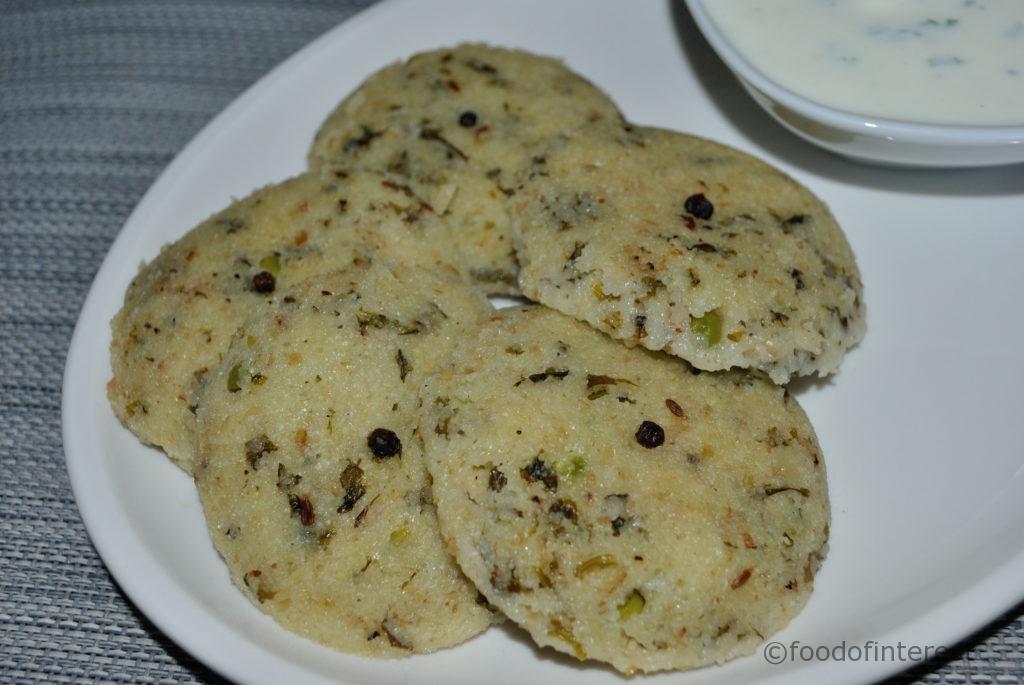 Roasting the oats removes the stickness when you mix the oats powder into the batter. Try more oats recipes from FOI, oats upma, dry nuts oats porridge and more. Try more spinach/palak recipes like palak paratha, palak dal, palak paneer. Also more idli recipes, corn idli, idli with idli rava, rava idli etc.
Spinach Oats Rava Idli | Palak Idli | Idli Recipes
Soft and nutritious, loaded with fibre and taste, spinach oats rava idli
Ingredients
3 Tbsp rolled oats
1 Cup rava/semolina
2 Cups chopped spinach/palak
½ Cup green peas
¼ Tsp black pepper
½ Tsp jeera
2 Tsp coconut oil
¼ Tsp baking powder
1 pinch baking soda
Salt to taste
2 Cups fresh curd
Water to adjust consistency
Method
In a pan, lightly toast oats till warm and nutty
Grind into a powder once it cools down a bit
Wash and chop the spinach/palak leaves
In a pan, heat 1 Tsp coconut oil and saute the chopped palak
Add sauteed palak to a bowl
Pound the black pepper coarsely
In same pan, again heat 1 Tsp coconut oil, add jeera and pepper, allow to splutter
Add peas and saute
Next rava can go in, saute till warm and mixed
Empty rava mixture into the same bowl as the spinach/palak
Add powdered oats we made earlier
Mix very well and let it cool for 5 minutes
Add salt to taste, baking powder and baking soda, mix well
Pour yogurt, fold and mix, adjust to thick, pourable consistency with water
Grease idli plates with oil
Pour spinach rava idli batter into the idli moulds
Repeat for all idli plates
Stack them together
Steam them in a idli steamer or cooker for 12-14 minutes till done
Let them cool, demould, serve hot with chutney or masala yogurt
Notes
Ensure spinach/palak leaves are fresh

Curd or yogurt should also be fresh and sweet, sour curd is not recommended

You can also use fruit salt instead of baking powder and soda, add about 2 Tsp, mix and quickly make the idlis

Spinach Oats Rava Idli Stepwise:
In a pan, lightly toast oats till warm and nutty

Grind into a powder once it cools down a bit

Wash and chop the spinach/palak leaves

In a pan, heat 1 Tsp coconut oil and saute the chopped palak

Add sauteed palak to a bowl

Pound the black pepper coarsely

In same pan, again heat 1 Tsp coconut oil, add jeera and pepper, allow to splutter

Add peas and saute

Next rava can go in, saute till warm and mixed

Empty rava mixture into the same bowl as the spinach/palak

Add powdered oats we made earlier

Mix very well and let it cool for 5 minutes

Add salt to taste, baking powder and baking soda, mix well

Pour yogurt, fold and mix, adjust to thick, pourable consistency with water

Grease idli plates with oil

Pour spinach rava idli batter into the idli moulds

Repeat for all idli plates

Stack them together

Steam them in a idli steamer or cooker for 12-14 minutes till done

Let them cool, demould, serve hot with chutney or masala yogurt