We always end up looking for ideas for making simple side dishes. Especially mild cooling side dishes always need a lot of thinking. This sorekayi raitha is a nice and easy side dish. It is soothing to the gut and sorekayi/lauki is good for you.
Sorekayi raitha is also called sorekayi hasi majjige huLi. It has all the ingredients a majjige huLi has except chana dal/kadale bele. See the regular Karnataka style majjige huLi recipe. For sorekayi raitha an aromatic coconut based masala paste. This is then mixed with cooling yogurt/curd and a tadka is added on top!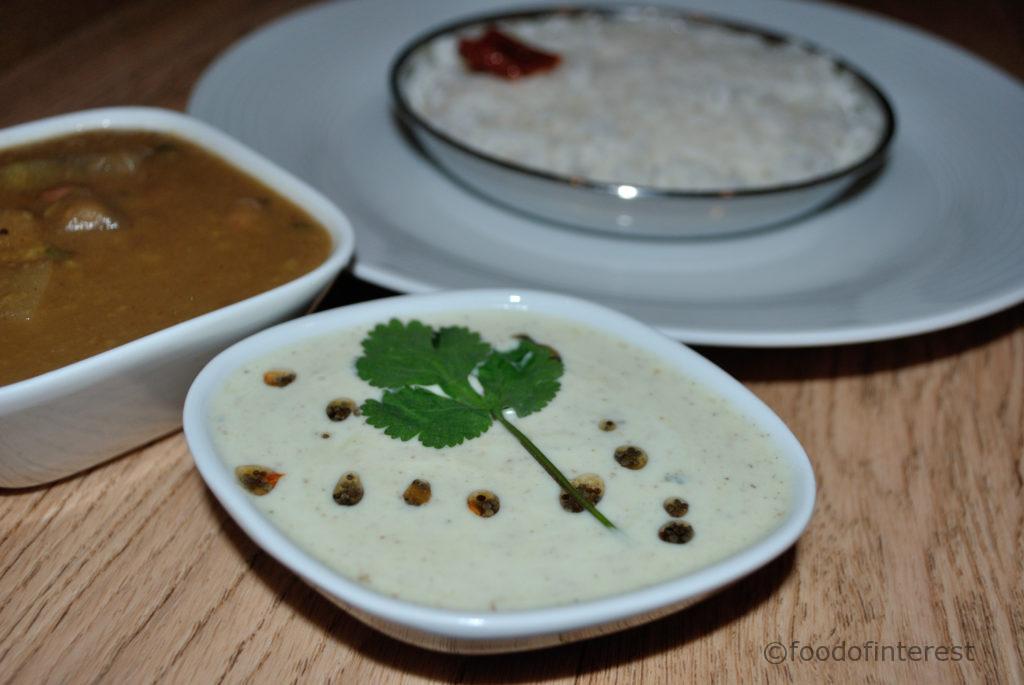 Sorekayi raitha can be eaten with rice at the end of a meal or even served with dosas or idlis instead of chutney. It is very creamy and you can even get children to eat sorekayi/lauki. Try more sorekayi/lauki recipes like sorekayi dosa, lauki ke kofta in tamatar gravy, lauki halwa. I served sorekayi raitha with sorekayi kootu and rice.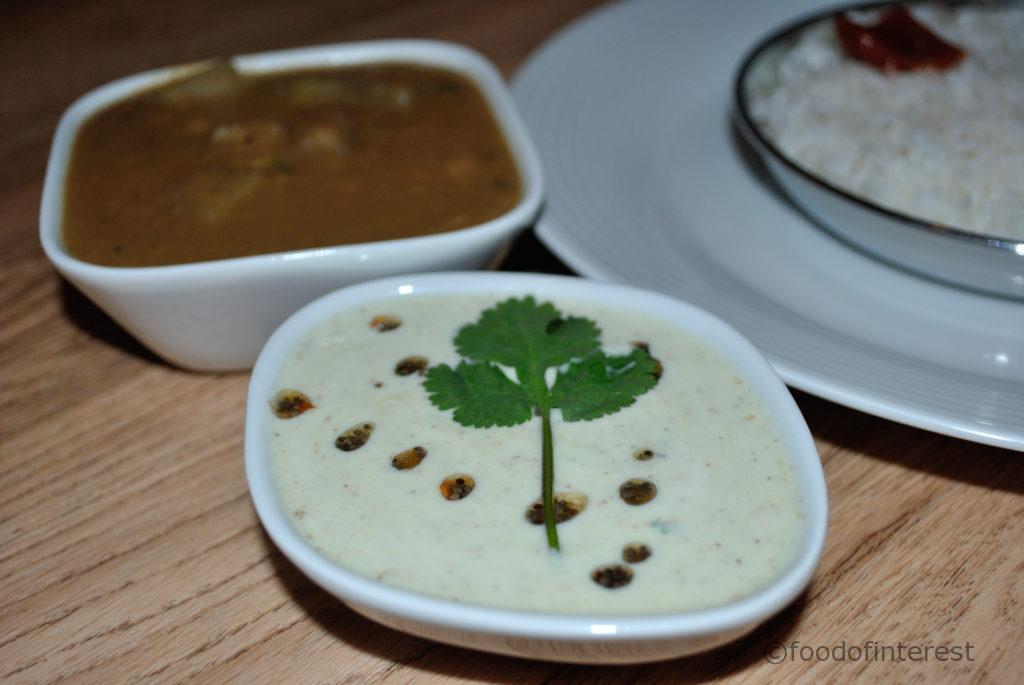 Sorekayi Raitha | Sorekayi Saasme | Lauki Raitha | Raitha Recipes
Creamy and tasty, coconut and yogurt based lauki or sorekayi raitha
Ingredients
½ Cup chopped sorekayi/lauki/bottlegourd
¼ Cup grated coconut
3-4 sprigs of coriander
¼ Tsp mustard
¼ Tsp jeera/cumin
5-6 whole black pepper-corn
1 small pinch hing
Salt to taste
2 Cups beaten yogurt/curd

For Tadka:
1 Tsp coconut-oil/cooking-oil
¼ Tsp mustard
1 broken dry red chilli
Method
Boil sorekayi/lauki/bottlegourd and keep aside to cool
In a mixer jar, add grated coconut
Add mustard, jeera and pounded black pepper
Wash and roughly tear coriander and add to mixer jar
Add hing and sprinkle salt
Lastly, add the boiled and cooled sorekayi/lauki/bottlegourd
Pour little water and grind into a smooth paste
In a bowl, whisk yogurt/curd till smooth
Pour ground sorekayi-coconut paste
Mix till well combined
In a small pan, add oil, mustard and dry red chilli
Once mustard splutters, pour it over sorekayi-yogurt raitha
Serve as a side-dish along with rice and sorekayi-kootu
Notes
Drop in a green chilli to add some extra heat

Ensure yogurt/curd is fresh and not sour

Sorekayi Raitha Stepwise:
Boil sorekayi/lauki/bottlegourd and keep aside to cool

In a mixer jar, add grated coconut

Add mustard, jeera and pounded black pepper

Wash and roughly tear coriander and add to mixer jar

Add hing and sprinkle salt

Lastly, add the boiled and cooled sorekayi/lauki/bottlegourd

Pour little water and grind into a smooth paste

In a bowl, whisk yogurt/curd till smooth

Pour ground sorekayi-coconut paste

Mix till well combined

In a small pan, add oil, mustard and dry red chilli

Once mustard splutters, pour it over sorekayi-yogurt raitha

Serve as a side-dish along with rice and sorekayi-kootu