Looks like we are going to make it to the goal, healthy recipe #4 this month, in this new year! I love it when that happens, without overplanning you get to meet the goal. So here we are with one more no compromise on flavour yet healthy breakfast dish. Sabsige soppu kadubu or steamed rice flour dill leaves dumplings. Nice, easy and healthy and more importantly hearty!
The number of ingredients required are small and simple. All you need is to buy some fresh dill leaves, organic and homegrown even better. We first need to prepare a dough, then shape into kadubu and steam them. These steamed dumplings are known by different names pidi kozhukattai, kadubu etc. Dill leaves or sabsige soppu adds the required fibre and is rich in Vitamin A.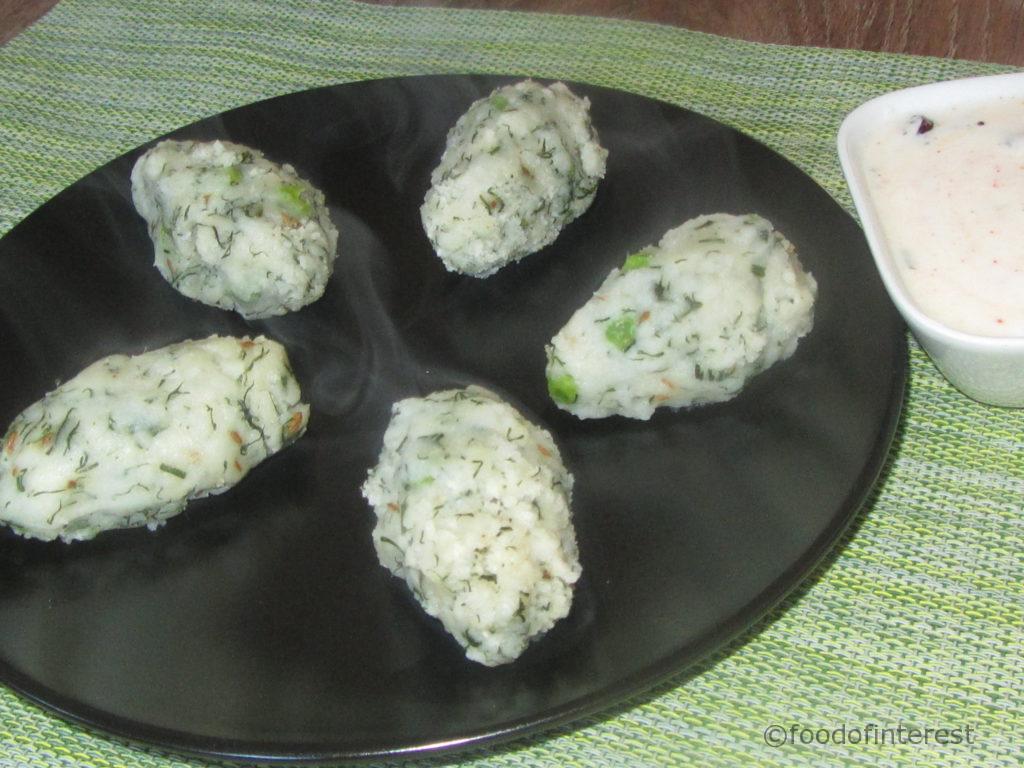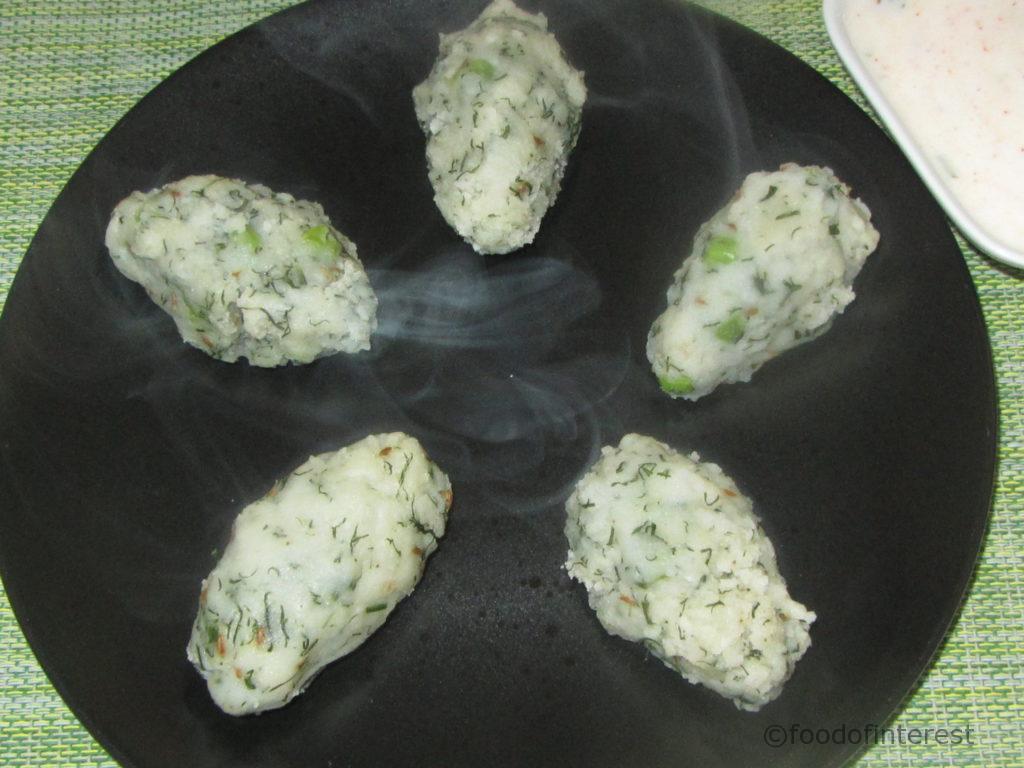 I have used idiyappam flour to make these sabsige soppu kadubu. You can also use rice flour, lightly roast the flour, let it cool and then it is ready to use. Some simple spices like pepper and jeera are enough to flavour these steamed wonders. The best part is steamed sabsige soppu kadubu can be served for breakfast, lunch or dinner. Chutneys or masala yogurt or kadhi/paladya, make simple and best accompaniments. Try more steamed recipes from FOI, akki tari kadubu, kuchida sihi and khara kadubu, idiyappam and a variety of idlis.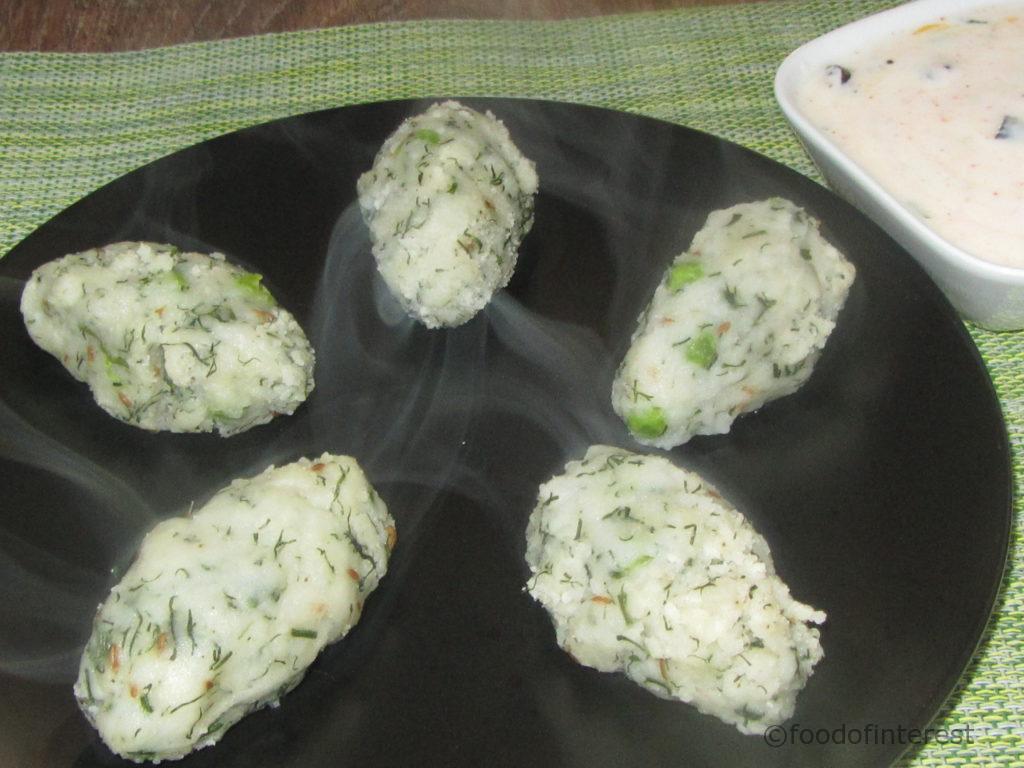 Sabsige Soppu Kadubu | Sabsige Kadubu | Kadubu Recipes
Steamed rice flour dumplings laden with fibrous dill leaves, sabsige soppu kadubu
Ingredients
1 Cup rice flour/idiyappam flour
1½ Cups water
200 Gm or 1 bunch sabsige soppu/dill leaves
¼ Cup peas
1 Tsp coconut oil
Salt to taste
¼ Tsp pepper
½ Tsp jeera
Method
Measure the rice flour/idiyappam flour and keep it ready
Clean and wash the sabsige soppu/dill leaves
Chop the dill leaves finely and keep aside
In a deep vessel bring water to a boil
Add little coconut oil and salt to taste
Next jeera goes into the water
Drop in the chopped sabsige soppu/dill leaves
Add green peas and mix well
Add some pepper powder and mix well
Slowly add the rice flour/idiyappam flour into the water
Quickly mix and you can see the mixture has come together
Cover and let it steam for 1-2 minutes
Turn off heat and let it rest for 10 minutes
Open the lid and let it cool lightly
Once the mixture is warm and you can handle it, lightly fluff up the dough
Make small bundles and place on a oiled plate
Stack up all the plates in a similar way
Steam in idli cooker for 8-10 minutes or till done
Serve hot with masala yogurt/curd
Notes
Rice flour can be roasted slightly if you do not have idiyappam flour

Sabsige soppu/dill leaves should not be very tender, it should be green and fresh though

You can also add regular cooking oil instead of edible coconut oil


Sabsige Soppu Kadubu Stepwise:
Measure the rice flour/idiyappam flour and keep it ready

Clean and wash the sabsige soppu/dill leaves

Chop the dill leaves finely and keep aside

In a deep vessel bring water to a boil

Add little coconut oil and salt to taste

Next jeera goes into the water

Drop in the chopped sabsige soppu/dill leaves

Add green peas and mix well

Add some pepper powder and mix well

Slowly add the rice flour/idiyappam flour into the water

Quickly mix and you can see the mixture has come together

Cover and let it steam for 1-2 minutes

Turn off heat and let it rest for 10 minutes

Open the lid and let it cool lightly

Once the mixture is warm and you can handle it, lightly fluff up the dough

Make small bundles and place on a oiled plate

Stack up all the plates in a similar way

Steam in idli cooker for 8-10 minutes or till done

Serve hot with masala yogurt/curd