Who does not like Gobhi Manchurian? This Indo-Chinese dish is the default starter dish most people order. Especially when visiting hotels/restaurants in groups, a few plates of gobhi manchurian dry is ordered for the entire table. A great starter/appetizer to share. I have made it healthier by making it roasted gobhi manchurian dry.
I have seared the cauliflower florets in pan with very little oil and finished roasting it in the oven till crisp. These cauliflower florets are then tossed with tasty onion-capscium masala. Yum! Roasted gobhi manchurian dry is great for sharing and is a sure crowd pleaser.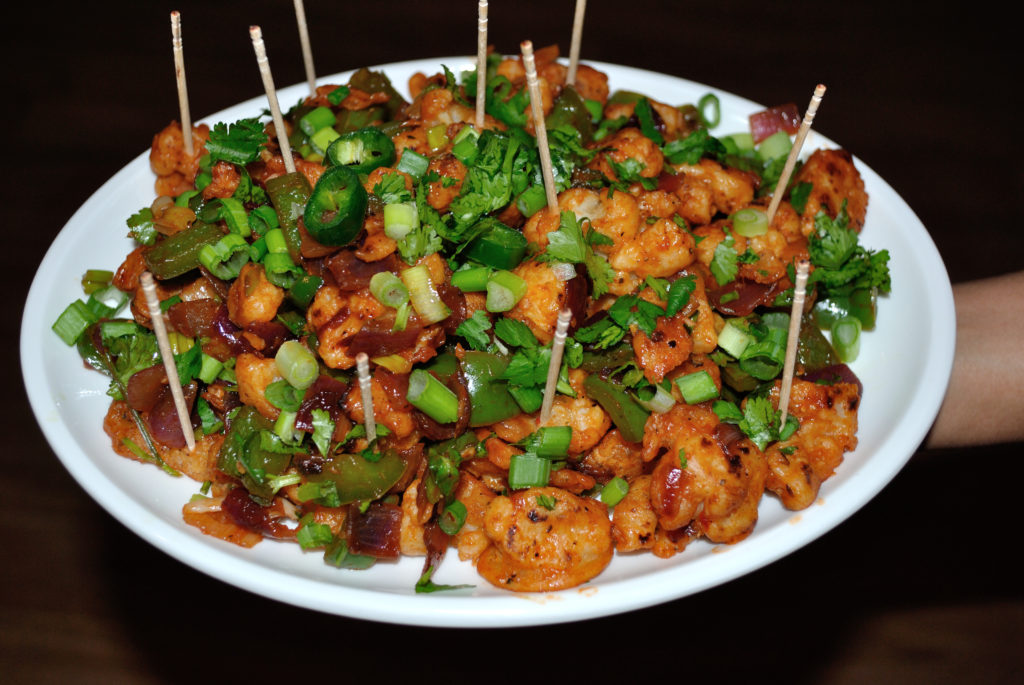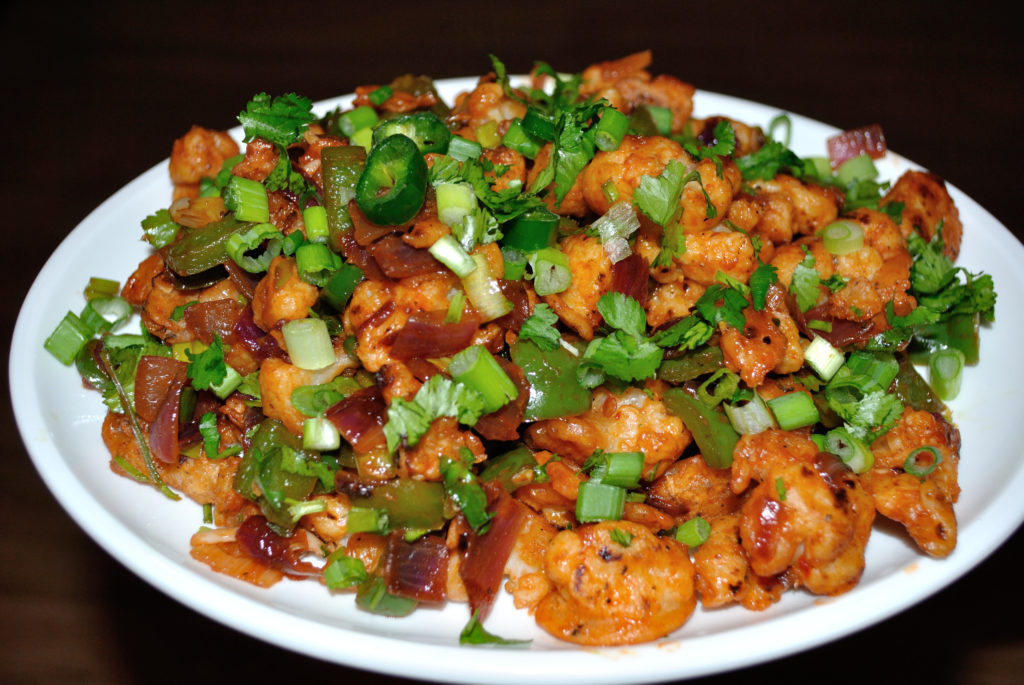 All the standard Indo-Chinese flavours are added, like soya sauce, chilli sauce. There are several steps to making roasted gobhi manchurian dry.
I have broken them into smaller steps so it will be easy to follow. However, some steps can be made slightly ahead of time if required. This will reduce the effort quite significantly.
More Indo-Chinese dishes like hot and sour soup, vegetable hakka noodles. Some Chinese recipes like sesame noodles, broccoli stir fry also on FOI.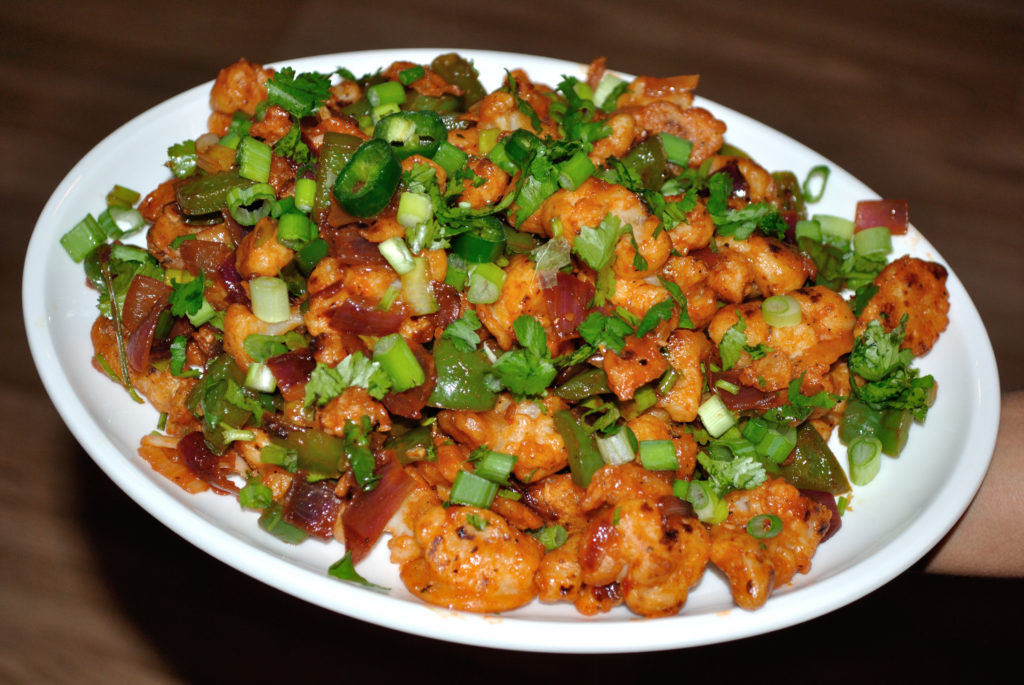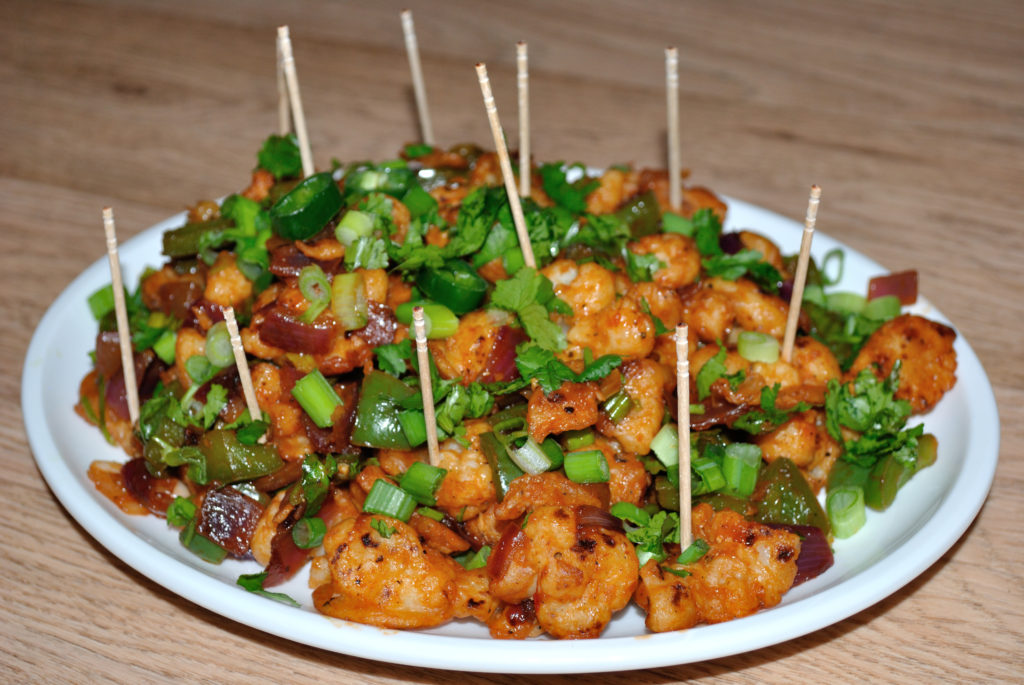 Roasted Gobhi Manchurian Dry | How to make gobhi manchurian?
A great starter, Indo-Chinese style roasted gobhi manchurian dry
Recipe type:
Starter/Appetizer
Ingredients
2 Cups cauliflower florets

For Batter:
¼ Cup all purpose flour/maida
2 Tbsp cornflour
½ Tsp red chilli powder
¼ Tsp black pepper powder
Salt to taste
½ Tsp grated ginger
½ Tsp grated garlic
Required water to make batter

For Masala:
1 diced capsicum
1 diced onion
2-3 sliced spring onions
1 sliced green chilli
1" grated ginger
2 grated garlic
1 Tsp soya sauce
½ Tbsp red chilli sauce
1 Tsp vinegar
1 Tbsp ketchup
Salt to taste
Coriander to garnish
Method
Blanch cauliflower florets in boiling water for 3 minutes. Drain and pat lightly with a paper or kitchen towel to remove excess water
Pre-heat oven to 200 Deg C. Roast for 10 minutes
Let's start making the batter, add all purpose flour/maida, cornflour in a bowl
Sprinkle salt, red chilli powder and mix
Tip in grated garlic, ginger and black pepper powder and mix well
Slowly pour water and mix to form a thick coating batter
Get the roasted cauliflower florets out of the oven, dunk in batter
With a few drops of oil shallow fry in a pan till it turns crisp
Again put these back in the oven to crisp up further for another 5-8 minutes
Next comes the masala, heat oil and diced onions and sliced spring onion whites
For some heat throw in sliced green chilli and diced capsicum
Add grated ginger and garlic and stir fry
Time to add some sauces, add red chilli sauce, soya sauce, vinegar and ketchup. Mix well
Season with salt to taste
Masala is now ready
Add the roasted cauliflower florets and toss well with the masala
Let it mix and heat well with all masala
Garnish with spring onion greens and chopped coriander
Serve hot! Enjoy this favourite starter/appetizer
Notes
Adjust sauces as per your taste

Cauliflower florets can also be deep fried in hot oil after dipping in batter

Roasted Gobhi Manchurian Dry Roasted:
Blanch cauliflower florets in boiling water for 3 minutes. Drain and pat lightly with a paper or kitchen towel to remove excess water

Pre-heat oven to 200 Deg C. Roast for 10 minutes

Let's start making the batter, add all purpose flour/maida, cornflour in a bowl

Sprinkle salt, red chilli powder and mix

Tip in grated garlic, ginger and black pepper powder and mix well

Slowly pour water and mix to form a thick coating batter

Get the roasted cauliflower florets out of the oven, dunk in batter

With a few drops of oil shallow fry in a pan till it turns crisp

Again put these back in the oven to crisp up further for another 5-8 minutes

Next comes the masala, heat oil and diced onions and sliced spring onion whites

For some heat throw in sliced green chilli and diced capsicum

Add grated ginger and garlic and stir fry

Time to add some sauces, add red chilli sauce, soya sauce, vinegar and ketchup. Mix well

Season with salt to taste

Masala is now ready

Add the roasted cauliflower florets and toss well with the masala

Let it mix and heat well with all masala

Garnish with spring onion greens and chopped coriander

Serve hot! Enjoy this favourite starter/appetizer