Palak paneer was one of the very first paneer dishes I tried years ago. I liked the idea of palak with its nutrients and protein rich lightly golden fried paneer pieces. A perfect marriage of ingredients resulting in the best restaurant style palak paneer.
Ensure you have fresh paneer and palak to make restaurant style palak paneer. It has some nice spices along with julienne'd ginger and some aromatic kasuri methi to finish on top. I also have a rustic home style palak paneer recipe where I do not grind the palak and leave the masala ingedients with a texture. Of course, restaurant style palak paneer has some fresh cream to finish which brings out the best flavours and creaminess.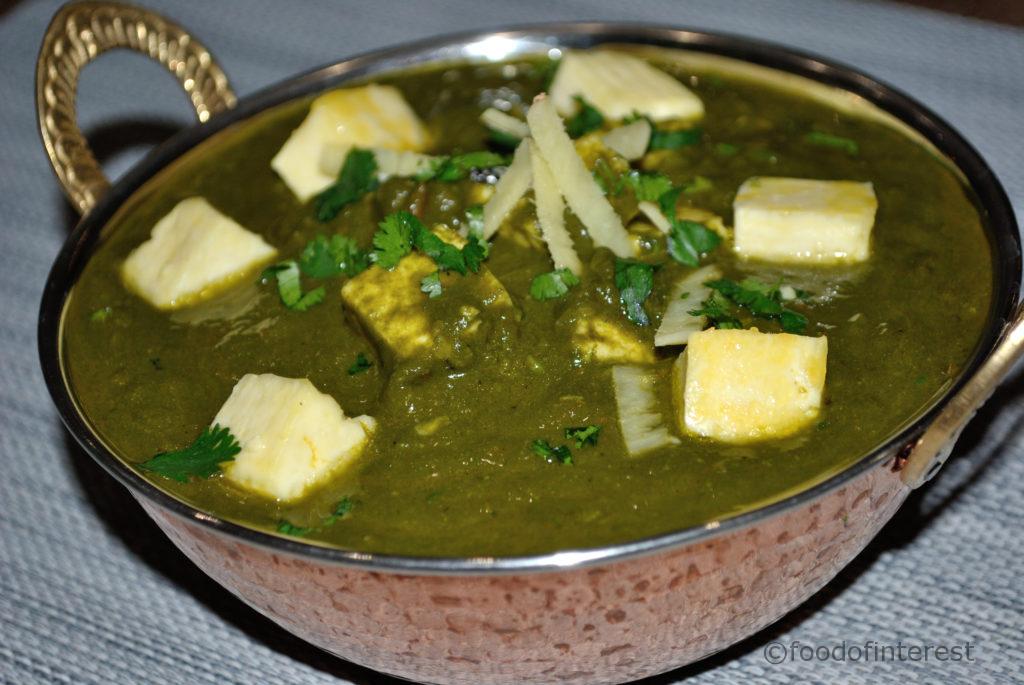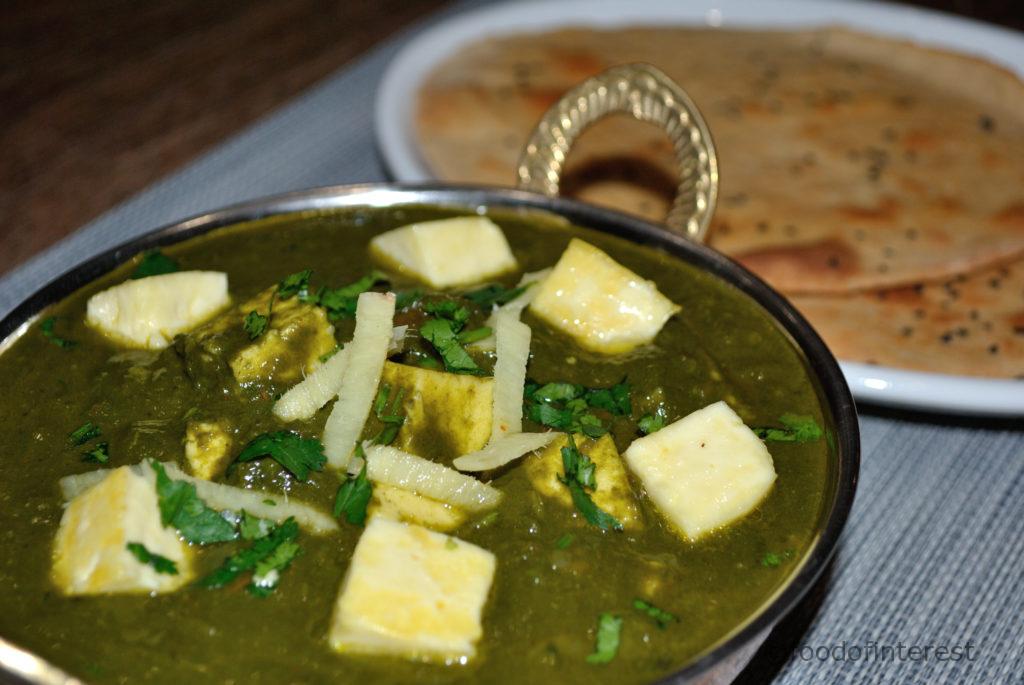 The idea with cooking palak is to not overcook it, just a simple blanching technique is enough too cook palak. Overcooking is the worst thing to do with greens, cook them enough to bring the best flavours out and to retain all the nutrients. So do try more palak/spinach recipes from FOI, palak pakoda, palak paratha, palak dal, palak raitha. More paneer recipes from FOI, methi malai paneer, tamatar paneer gravy, aloo paneer kathi roll, methi matar paneer pulao etc.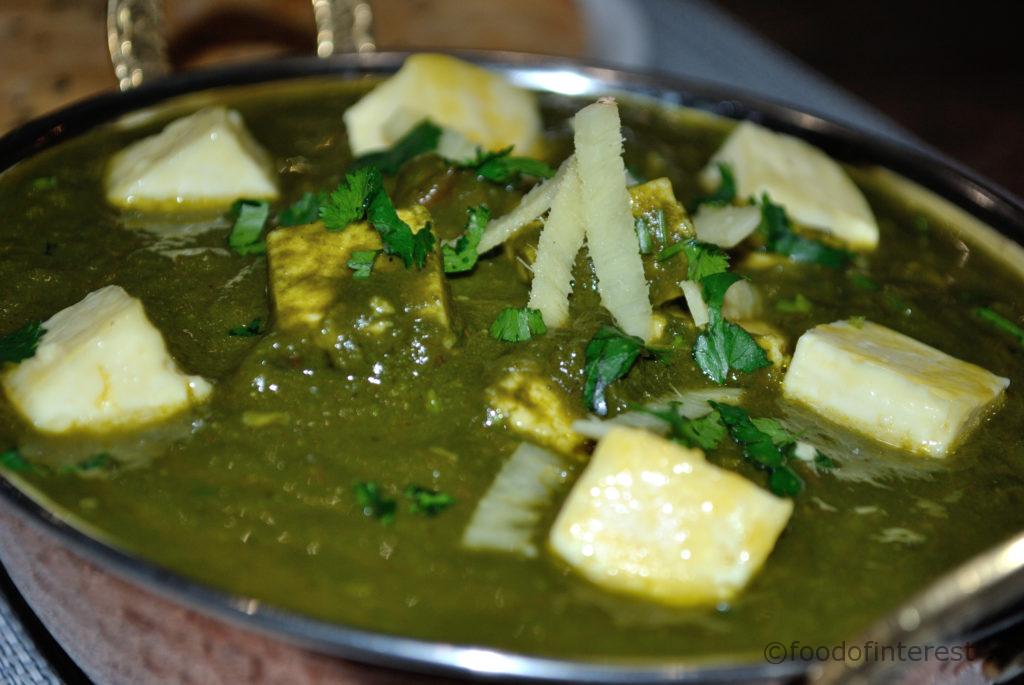 Restaurant Style Palak Paneer | Palak Paneer | Paneer Recipes
Rich in protein and the goodness of spinach, creamy restaurant style palak paneer
Ingredients
200 Gm or 3 Cups chopped spinach
200 Gm or 1½ Cup paneer cubed
½ Tbsp butter
1 Tsp jeera
1 bay leaf
¼ Tsp whole black pepper
1 chopped onion
1 chopped tomato
½ Tbsp ginger-garlic-green chilli paste
½ Tsp garam masala
1 Tsp kasuri methi
½ Tsp red chilli powder
¼ Tsp turmeric
½ Tbsp cream/yogurt on top
Few julienne'd ginger
Chopped coriander
Method
Clean and add spinach in a colander, wash well
In a pan, boil water
Add washed spinach and blanch for 40s-60s
Drain water and let it cool
Once it cools, grind into paste and keep aside
In another pan, add butter and let it melt
Add jeera and let it splutter
Next add bay leaf and whole black pepper and fry till it turns aromatic
Add finely chopped onions and fry till they turn translucent
Add ginger-garlic-green chilli paste and fry well
Sprinkle red chilli powder and turmeric
Add chopped tomatoes and saute till they turn mushy
Pour little water and adjust consistency, mash well
Next add palak paste and mix well
Season with salt and garam masala
Sprinkle crushed kasuri methi and mix well and bring the gravy to a simmer
In another pan, add little ghee/oil and pan fry diced paneer
Put the fried paneer in palak gravy and mix well
Lastly add cream and mix well
Garnish with paneer, cream, julienne'd ginger and chopped coriander
Notes
As mentioned earlier, do not overcook the spinach

Add more whole garam masala like a piece of cinnamon, 1 elaichi, shahi jeera etc for extra aromatic flavours

Always add garam masala at last for fresh aroma

Restaurant Style Palak Paneer Stepwise:
Clean and add spinach in a colander, wash well

In a pan, boil water

Add washed spinach and blanch for 40s-60s

Drain water and let it cool

Once it cools, grind into paste and keep aside

In another pan, add butter and let it melt

Add jeera and let it splutter

Next add bay leaf and whole black pepper and fry till it turns aromatic

Add finely chopped onions and fry till they turn translucent

Add ginger-garlic-green chilli paste and fry well

Sprinkle red chilli powder and turmeric

Add chopped tomatoes and saute till they turn mushy

Pour little water and adjust consistency, mash well

Next add palak paste and mix well

Season with salt and garam masala

Sprinkle crushed kasuri methi and mix well and bring the gravy to a simmer

In another pan, add little ghee/oil and pan fry diced paneer

Put the fried paneer in palak gravy and mix well

Lastly add cream and mix well

Garnish with paneer, cream, julienne'd ginger and chopped coriander