Pongal, khichdi or huggi, whatever name it is called by, it is one of the best dishes in this world! Really, comfort food at its best! And best part is we celebrate our festivals with such fervour and make a simple and humble dish really festive. So for this Makara Sankranti or Pongal, try a pongal with a different ingredient, rava or sooji!
Rava pongal is a very hearty dish to eat with warming black peppercorn and cooling mung dal. The texture is like plain upma but the taste is like pongal, what a super combination! For the festival I generally add cashews to make it more festive. Feel free to omit cashews and just make it plain.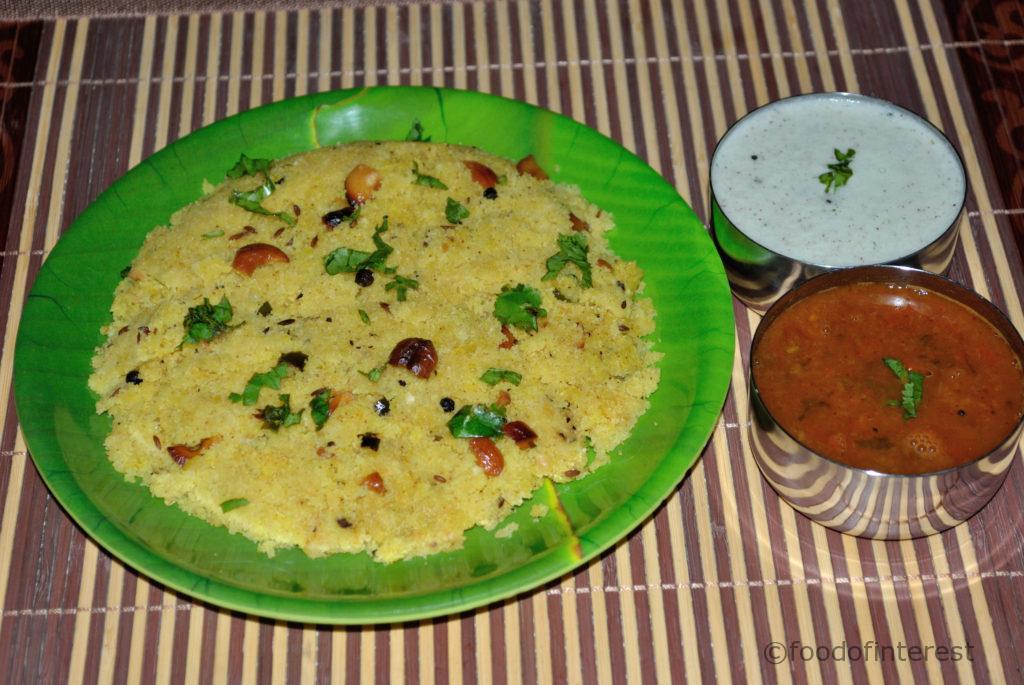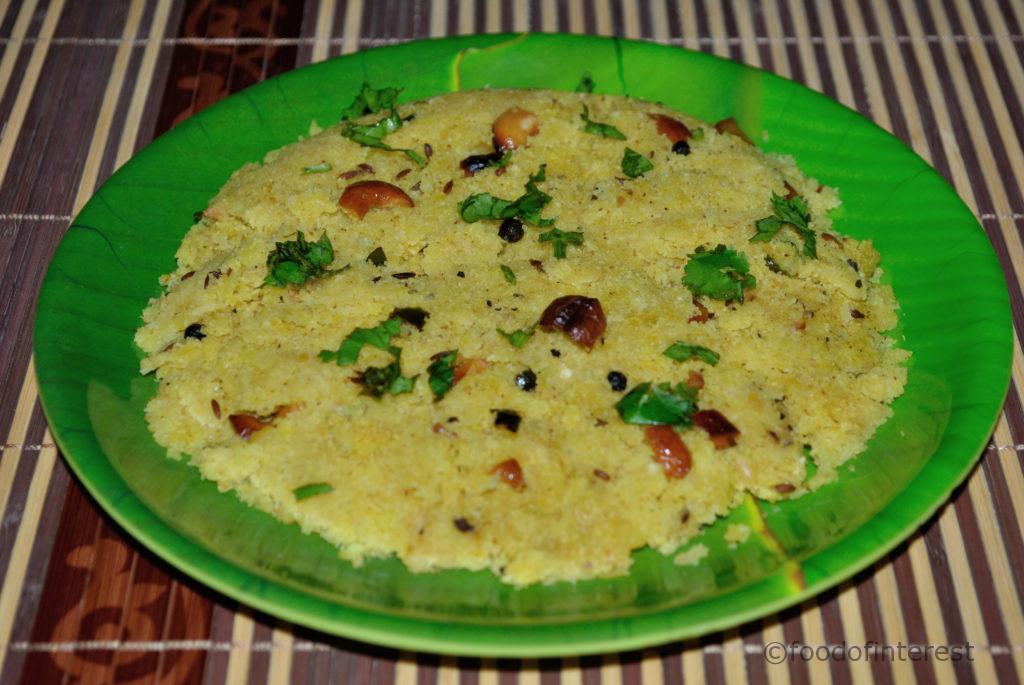 Serve with coconut chutney and/or tiffin sambar (without onions for festival of course!) even with a kadhi. It is one of the best things, do try it. Ensure the ratio of rava to liquid is 1:2 with may be slightly more liquid for a softer finish to rava pongal. Try more Sankranti recipes, shenga chikki, shenga unde, shenga barfi, til khoya ladoo. More pongal recipes, sakkare pongal, ven pongal, dalia khichdi etc.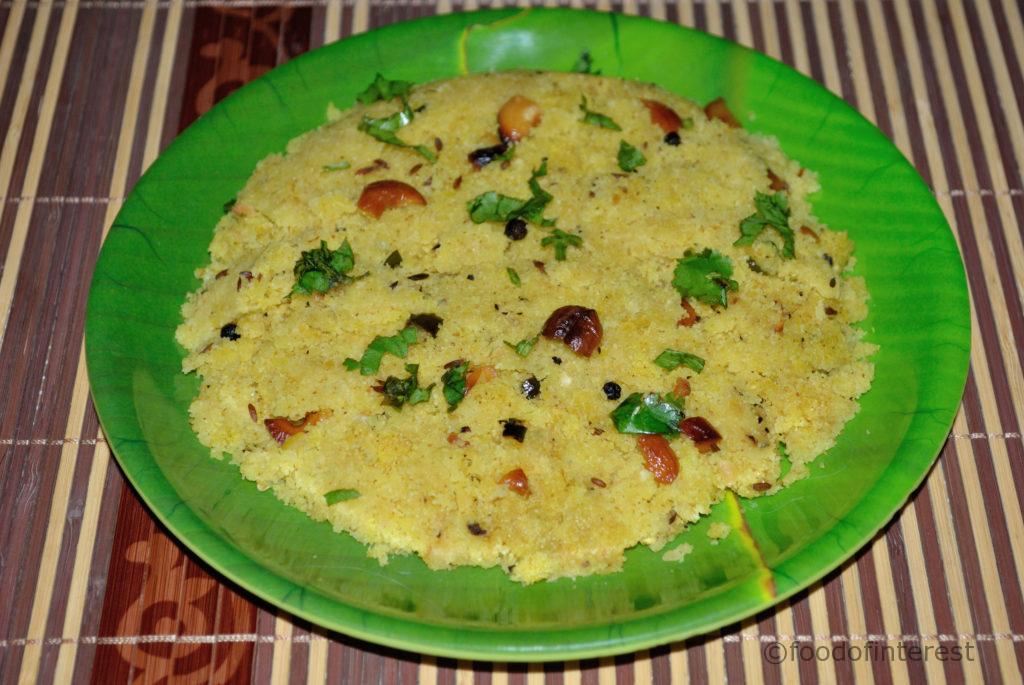 Rava Pongal | Rava Huggi | Pongal Recipes
Pongal of a different kind, Sankranti special, tasty rava pongal
Ingredients
¼ Cup hesaru bele/mung dal
¾ Cup roasted medium rava/upma sooji
1" ginger
1 finely chopped green chilli
Few curry leaves
1 Tsp jeera
8-10 whole black peppercorn
1-2 laung/clove
2 Tbsp + 1 Tbsp desi ghee
8-10 broken cashews
¼ Tsp turmeric
Method
Heat a pan, roast mung dal for 2-3 minutes on low heat till lightly golden
Add this to a small vessel or pressure cooker container
Pour 1 Cup water
Pressure cook for 2-3 whistles
Meanwhile when the dal is cooking, let's make the tadka, heat ghee in a pan
Add jeera and let them splutter
Next add whole black peppercorn and saute
Throw in the cashews and fry till golden
Add chopped green chilli and some curry leaves, fry for a few seconds
Add the rava and mix well
Season with salt and also add some turmeric at this stage
Mix everything very well
Once the pressure of the cooker has released on its own, mash the moong dal
Pour 1 more Cup of warm water into the dal and mix well
Now slowly pour this mung dal mixture into the fried rava and mix well
Add some ghee on top
Cover and cook for 3-4 minutes on low heat
Rava pongal is now ready to serve
Serve with coconut chutney or a gojju of your choice
Notes
Make sure the rava to water ratio is 1:2

Adjust spice as per your choice, add 1 more green chilli if your prefer a bit of heat

Cook the pongal on low heat or you will end up with lumps
Rava Pongal Stepwise:
Heat a pan, roast mung dal for 2-3 minutes on low heat till lightly golden

Add this to a small vessel or pressure cooker container

Pour 1 Cup water

Pressure cook for 2-3 whistles

Meanwhile when the dal is cooking, let's make the tadka, heat ghee in a pan

Add jeera and let them splutter

Next add whole black peppercorn and saute

Throw in the cashews and fry till golden

Add chopped green chilli and some curry leaves, fry for a few seconds

Add the rava and mix well

Season with salt and also add some turmeric at this stage

Mix everything very well

Once the pressure of the cooker has released on its own, mash the mung dal

Pour 1 more Cup of warm water into the dal and mix well

Now slowly pour this mung dal mixture into the fried rava and mix well

Add some ghee on top

Cover and cook for 3-4 minutes on low heat

Rava pongal is now ready to serve

Serve with coconut chutney or a gojju of your choice