A thick milk based drink is a real energy booster especially after fasting. If it has dry nuts added to it the energy, fibre, taste quotient increases that much more. Light emerald coloured pistachios are not only pretty looking nuts their health benefits are also innumerable. They are one of the foods that helps in weight reduction as they are rich in dietary fibre and are known to reduce heart related ailments. They are also known to regulate sugar content and keeps diabetes at bay.
Like I mentioned, the health benefits of this wonder nut are next to endless probably. Their rich nutty flavour imparts a beautiful coarse texture, fragrance and colour when added to milk and also helps thicken milk. More flavour is added by elaichi or kesar (saffron) or both. Enjoy the creamy, nutty flavour of this rich flavoured milk! This is also a great drink for festivals like Holi, Naga Chauthi/Panchmi, Ram Navami. Other milk based drinks to try.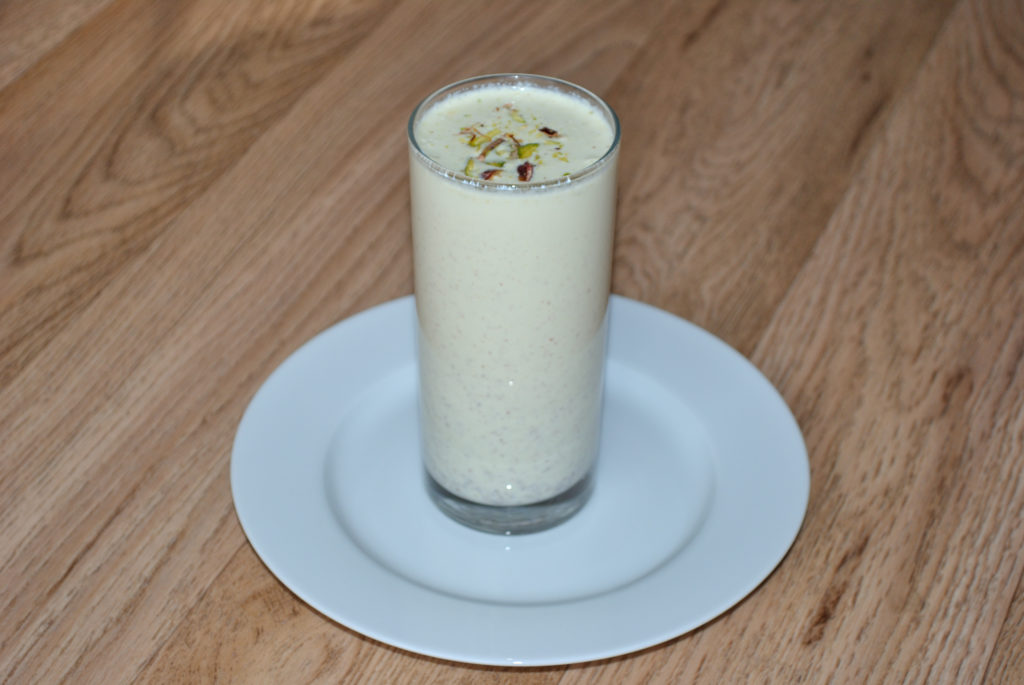 Pista Doodh | Pistachio Milk | How to make pista elaichi doodh?
Creamy, thick, nutty, light green, pistachio doodh/milk
Recipe type:
Beverage/Drink
Ingredients
550 Ml or 1 pint whole milk/full cream milk
¼ Cup unsalted pista
2 Tbsp sugar
6-7 elaichi
Method
Take pista in a small bowl and soak them in ¼ Cup water for 4-5 hours. Water should cover all the nuts
After a few hours, drain the water. Add them in mixer jar
Add 1-2 Tbsp milk and grind them. Add some more milk to grind them into a fine paste
Pound the elaichi into a powder
In a thick bottomed pan, start heating remaining milk till it scalds (just before it boils)
In a bowl, add ¼ Cup of this warm milk and into this add pista paste. Mix well, this will temper the pista paste it does not form lumps when added to hot milk. Adding warm milk into pista paste makes it easy to mix into the rest of the milk
Meanwhile, add sugar to heated milk in pan and mix. Keep stirring till all sugar gets mixed
Now pour the tempered pista paste into the rest of the milk and mix well
Add elaichi powder and mix well
Keep stirring till it froths up and thickens. Turn off heat
Once cooled to room temperature, chill in the refrigerator for a few hours. Serve chilled with some slivered/chopped pistas and powdered elaichi sprinkled on top
Notes
To make it vegan, add almond milk and use it as per instructions on the carton

Along with elaichi you can also add kesar/saffron. I wanted to keep the light green colour intact so I have added only elaichi for flavour

Serve it chilled or warm

Use whole or full cream milk. Skimmed or semi-skimmed milk does not thicken very much

Adjust sugar as per taste

Keep stirring milk especially after adding pista paste as it might stick to the bottom of the pan and burn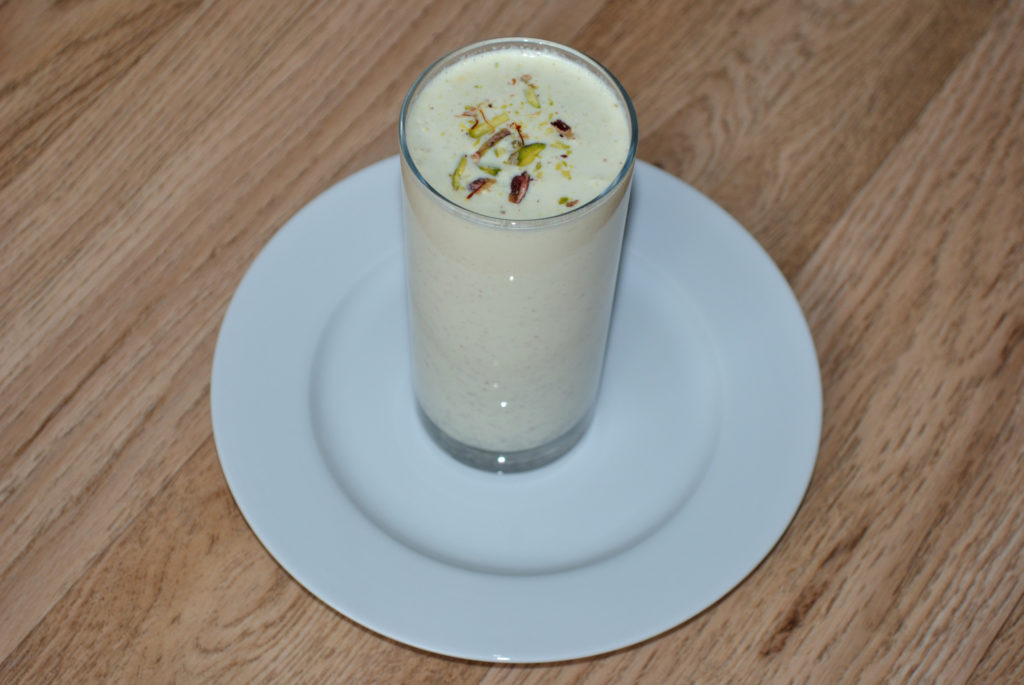 Stepwise:
Take pista in a small bowl and soak them in 1/4 Cup water for 4-5 hours. Water should cover all the nuts
 

After a few hours, drain the water. Add them in mixer jar
 

Add 1-2 Tbsp milk and grind them. Add some more milk to grind them into a fine paste
 

Pound the elaichi into a powder


In a thick bottomed pan, start heating remaining milk till it scalds (just before it boils)


In a bowl, add 1/4 Cup of this warm milk and into this add pista paste. Mix well, this will temper the pista paste it does not form lumps when added to hot milk. Adding warm milk into pista paste makes it easy to mix into the rest of the milk
  

Meanwhile, add sugar to heated milk in pan and mix. Keep stirring till all sugar gets mixed


Now pour the tempered pista paste into the rest of the milk and mix well
 

Add elaichi powder and mix well
 

Keep stirring till it froths up and thickens. Turn off heat
 

Once cooled to room temperature, chill in the refrigerator for a few hours. Serve chilled with some slivered/chopped pistas and powdered elaichi sprinkled on top