How do we make breakfast interesting? Or any meal for that matter! I feel a change in the routine dishes that we generally prefer to eat can make it interesting. Take for instance these paneer besan cheela, they are different and bring in a change from regular dosas or idlis (not that I ever get bored of dosas :P)
Dishes which can be instantly are sure to to be liked by everyone. You do not even have to plan a lot for these kind of dishes. These paneer besan cheela can be made with ingredients you can find at home. Simply walk into the kitchen and make them.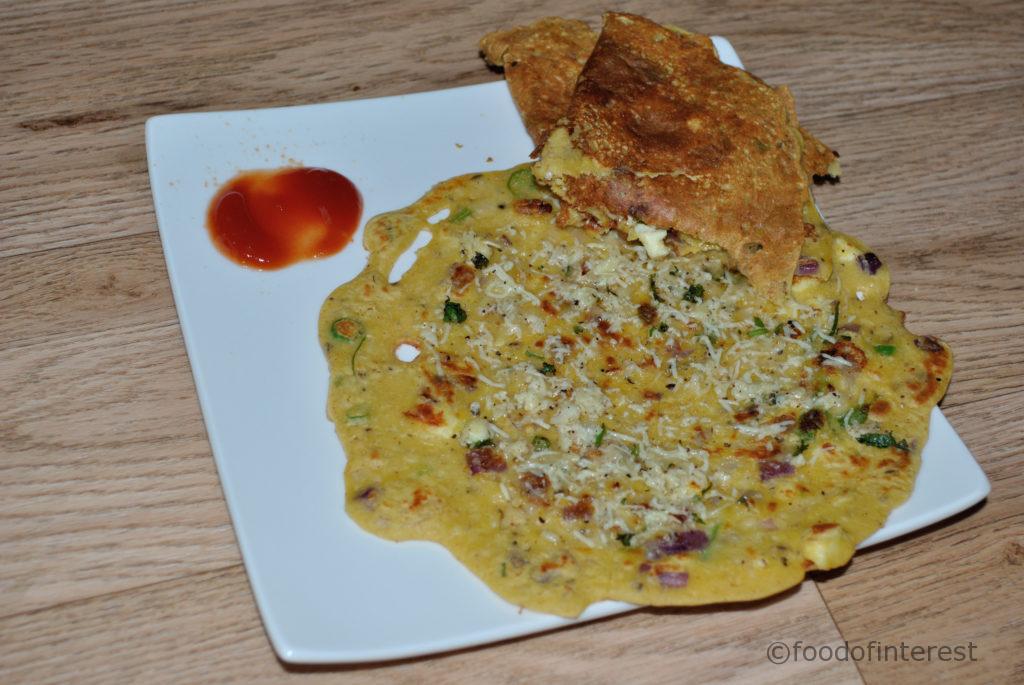 Paneer besan cheela are quite filling and tasty. Even chutney is not required and they can be served with tomato sauce or ketchup. Instead of paneer add vegetables like capsicum (bell pepper) or corn kernels or even grated cheese can be added.
Try other besan dishes like onion pakoda, palak pakoda. More dosa, pancake recipes. Try heerekayi dosa from FOI. Instant recipes also available to try any instant! Paneer dishes need no explanation, they are everybody's favourite!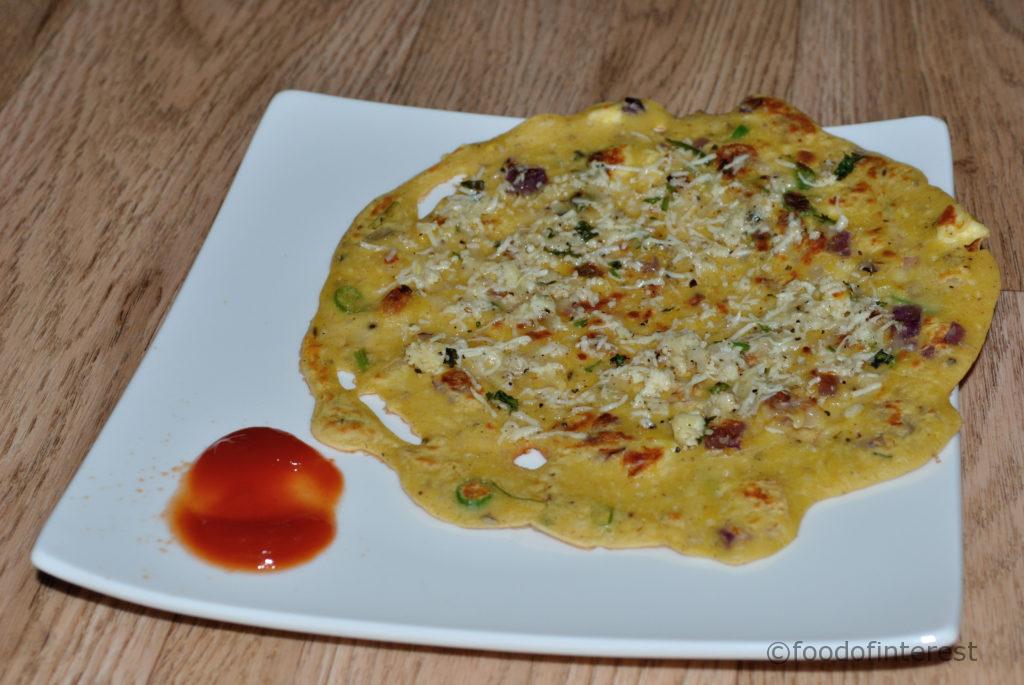 Besan Chilla | Paneer Besan Cheela | Breakfast Recipes
Filling, tasty and change from routine, paneer besan cheela
Serves:
2-3 people, Makes 6 cheela
Ingredients
1 Cup besan/kadale hittu/gram flour/chickpea flour
¼ Tsp om/carom seeds/ajwain
½ Tsp jeera
½ tsp sugar
½ Tsp black pepper powder
Salt to taste
1 finely chopped green chilli
1 Tsp finely chopped ginger
½ Cup grated paneer + extra to add on top
1 Tbsp yogurt/curd
1 Tbsp chopped coriander
1 Cup water + extra to adjust consistency
Oil to make cheela
Method
Take besan in a mixing bowl
To besan, add ajwain, jeera and black pepper powder
Next add chopped green chilli and ginger
Sprinkle in salt and sugar and mix well
Add chopped onion and mix again
Add chopped coriander and grated paneer
Pour in a Tbsp of yogurt and water. Mix slowly into a batter
Make batter into pouring consistency
To make cheela, pour a ladleful of batter on tawa/skillet
Spread lightly like a dosa but slightly thicker
Spread little oil. Cover and cook
Once underside turns golden and edges crisp up flip
Cook the other side also
Flip back again and spread a little grated paneer
Serve immediately with ketchup/sauce
Notes
Skip yogurt and paneer, instead add vegetables like capsicum (bell pepper) or corn or chopped palak etc. to keep cheela VEGAN!

If skipping yogurt add a pinch of baking powder to make them light

Cook on low-medium heat

Add other masala like garam masala, red chilli powder if preferred

Paneer Besan Cheela Stepwise:
Take besan in a mixing bowl

To besan, add ajwain, jeera and black pepper powder

Next add chopped green chilli and ginger

Sprinkle in salt and sugar and mix well

Add chopped onion and mix again

Add chopped coriander and grated paneer

Pour in a Tbsp of yogurt and water. Mix slowly into a batter

Make batter into pouring consistency

To make cheela, pour a ladleful of batter on tawa/skillet

Spread lightly like a dosa but slightly thicker

Spread little oil. Cover and cook

Once underside turns golden and edges crisp up, flip

Cook the other side also

Flip back again and spread a little grated paneer

Serve immediately with ketchup/sauce