I am always looking for new ways of making poha/avalakki. Most common ones are kayi avalakki, batata poha, kanda poha, matar poha etc. In Karnataka another famous poha/avalakki dish is huLi avalakki/gojjavalakki which I have already posted here. In this variation, I tried a malnad style gojjavalakki version with simple spices from Malnad region of Karnataka. All spices give a fresh flavour and make this dish really tasty.
Malnad style gojjavalakki can be eaten for breakfast or even for a light dinner. Tastes best served with curd/yogurt. The difference between Mysore/Bangalore style gojjavalakki and Malnad style gojjavalakki is the way in which the 'gojju' is made.
In Mysore/Bangalore gojjavalakki the 'gojju masala' is not cooked but it is allowed to set for a few hours and then mixed with powdered poha/avalakki. Whereas in Malnad style gojjavalakki the gojju is made fresh and is cooked just like in puliyogare. Either way both dishes taste great.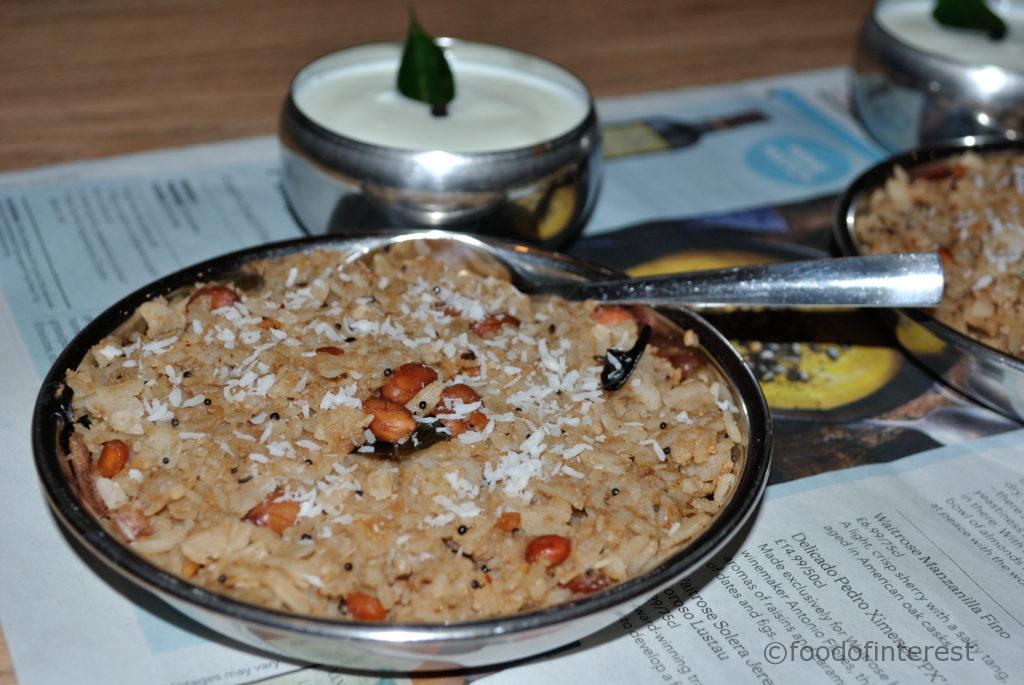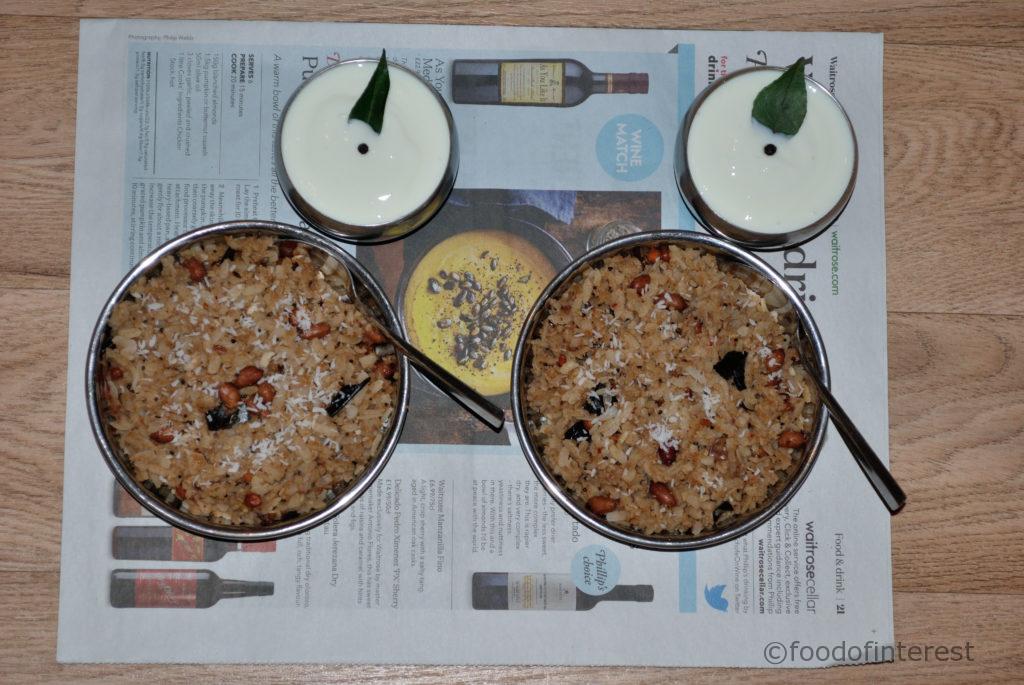 The sweet and sour flavours along with the spices changes simple poha/avalakki into a very tasty dish. Try more breakfast dishes from FOI, dosas, idlis. More South Indian breakfast dishes like benne paddu, carrot akki roti, rava roti etc.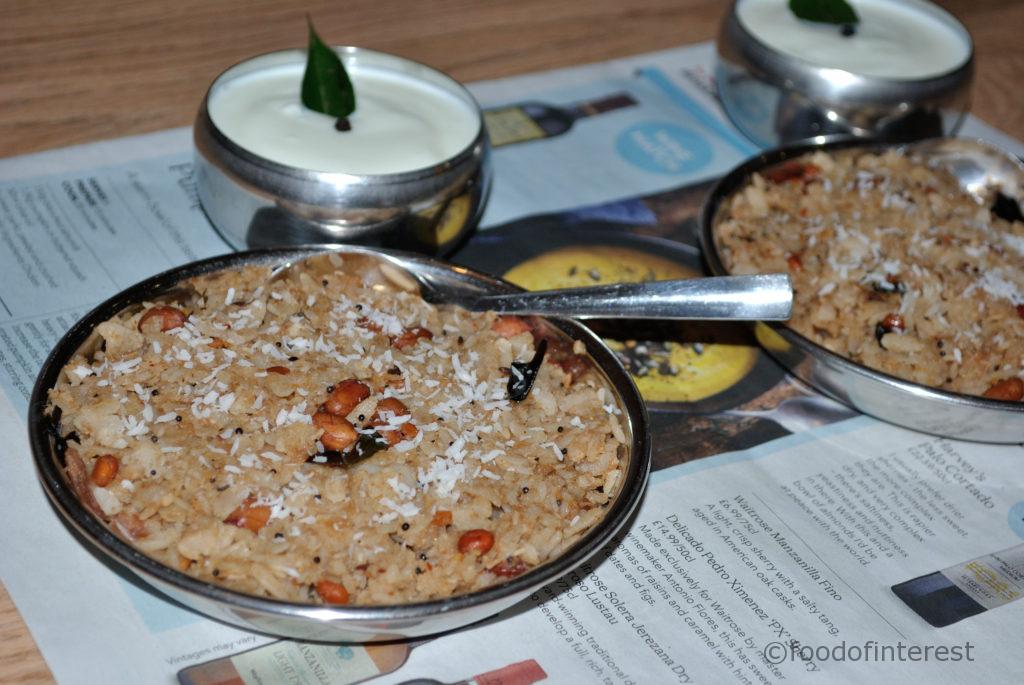 Malnad Style Gojjavalakki | Malnad Gojjavalakki | Breakfast Recipes
A simple and flavourful poha/avalakki dish, malnad style gojjavalakki
Ingredients
2 Cups medium avalakki/poha
To Roast Into a Powder:
1 Tbsp kadale bele/chana dal
1 Tbsp uddina bele/urad dal
2 red chilli
1 pinch hing

For Tadka and Gojju:
1½ Tbsp oil
½ Tsp mustard
¼ Tsp cumin
1 pinch hing
1 broken red chilli
6-7 leaves karibevu/curry leaves
1 Tsp kadale bele/chana dal
1 Tsp uddina bele/urad dal
½ Tsp arishina/turmeric/haldi
1 Tsp tamarind paste or 2 Tbsp tamarind extract
1 Tbsp jaggery
½ Tsp black pepper powder
¼ Cup water
¼ Cup desiccated coconut
Method
Roast chana dal, urad dal till light golden
Throw in 2-3 red chillies and roast till it releases aroma
Once it is cooled, add into a dry grinder and grind into a masala powder
In a pan, heat oil, add mustard and jeera and let it splutter
Add a pinch of hing, then add urad dal, chana dal, few dry red chilli pieces, curry leaves and fry till dals turns golden
Then add groundnuts and fry till they turn crisp and golden
Add ground masala powder and add ¼ Cup water
Keep sauteing till gojju thickens
Wash and soak avalakki/poha in water
Drain water after 2-3 mins and keep aside
Once gojju thickens, add black pepper powder, salt
Add tamarind paste and jaggery, mix well
Then add desiccated coconut and mix well
Add drained poha and start mixing well
Malnad gojjavalakki is ready to eat
Notes
Add little rasam powder if you want it more spicy

Serve gojjavalakki immediately

Serve gojjavalakki with aralu sandige
Malnad Style Gojjavalakki Stepwise:
Roast chana dal, urad dal till light golden

Throw in 2-3 red chillies and roast till it releases aroma

Once it is cooled, add into a dry grinder and grind into a masala powder with hing
  
In a pan, heat oil, add mustard and jeera and let it splutter

Add a pinch of hing, then add urad dal, chana dal, few dry red chilli pieces, curry leaves and fry till dals turns golden

Then add groundnuts and fry till they turn crisp and golden

Add ground masala powder and add 1/4 Cup water

Keep sauteing till gojju thickens

Wash and soak avalakki/poha in water

Drain water after 2-3 mins and keep aside

Once gojju thickens, add black pepper powder, salt

Add tamarind paste and jaggery, mix well

Then add desiccated coconut and mix well

Add drained poha and start mixing well

Malnad gojjavalakki is ready to eat