When we think about soups the most common soups that come to mind are tomato soup, hot and sour soup. But when you have some vegetables like lauki at home and you are craving for some piping hot soup, try this lauki carrot soup. The almonds and potatoes added to this soup add richness and thickness.
Hot soup going down your throat accompanied with some fresh garlic bread, that should set your evening. Lauki carrot soup is best suited for a quick dinner and then you can get by your chores and activities. Lauki carrot soup is easy to make and a really nice recipe for weight watchers and healthy eaters. Of course do cut down the butter used in the recipe and don't add any cream.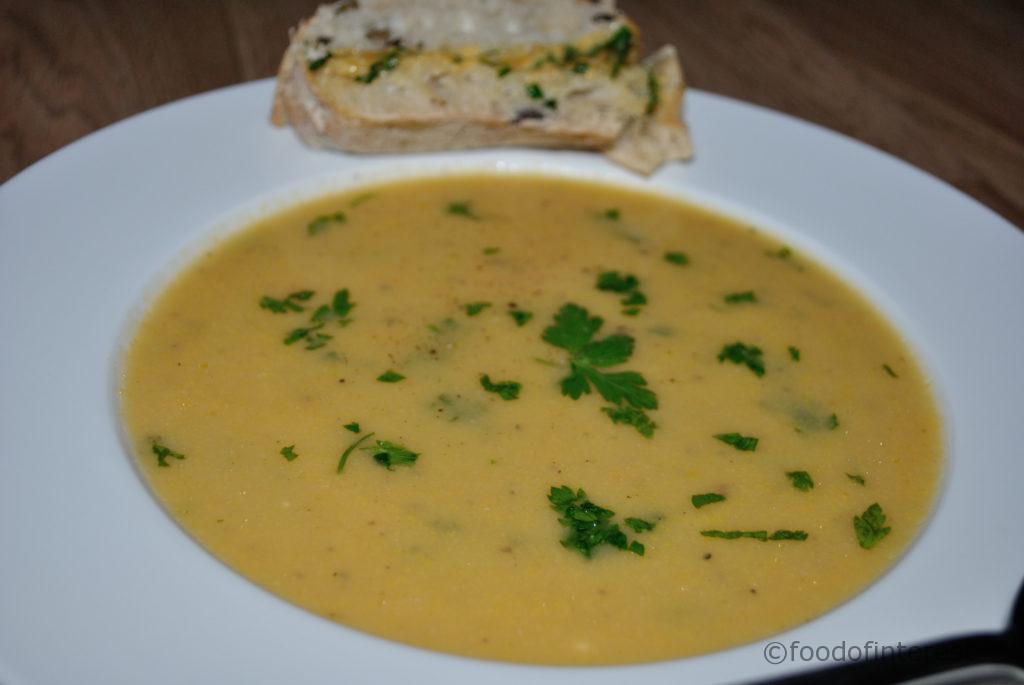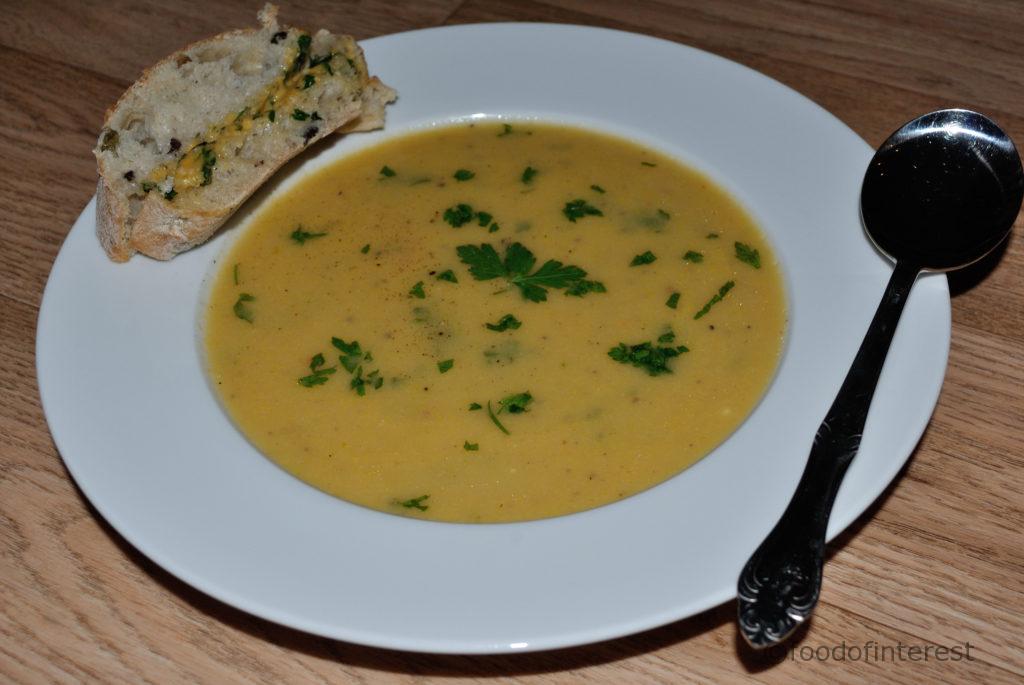 Lauki carrot soup can also be made vegan, skip butter and add olive oil instead. Obviously you should skip the cream too if you want it to be vegan. I have used fresh flat leaf parsley here, but coriander will work just fine. Try more soups from FOI, potato corn chowder, spinach soup, butternut squash soup etc. Try more lauki recipes from FOI.

Lauki Carrot Soup | Lauki Soup | Soup Recipes
Healthy piping hot lauki carrot soup, perfect for winters and the rainy season
Recipe type:
Starter/Appetizer
Ingredients
200 Gm lauki
1 medium carrot
1 small potato
2 Tbsp sliced almonds (preferably with skin removed)
1 pinch nutmeg
A generous pinch of pounded black pepper
1 Tbsp butter + ½ Tbsp butter
Salt to taste
Chopped parsley or coriander
2 Tbsp fresh cream (optional)
Method
In a small bowl, add skinned almonds and pour water to soak them
Clean, wash, peel and dice lauki, potato and carrot
Boil water and add the diced vegetables
Cook till soft and allow it to cool
In a mixer jar, add soaked almonds and grind into a rough paste
Next add boiled and cooled vegetables and grind into a thick paste
Empty the paste into a pan, season with salt and pepper
Add finely chopped parsley or coriander, mix well
Sprinkle freshly grated nutmeg
Finish with a blob of butter and optionally some cream
Serve piping hot with garlic bread
Notes
You can also use a hand-held blender to make this soup

Season the soup as per your taste, add some red chilli powder or cayenne pepper for some kick

Throw in some corn and green peas when the soup is boiling after adding the seasonings. This will add some more texture to the soup

Lauki Carrot Soup Stepwise:
In a small bowl, add skinned almonds and pour water to soak them

Clean, wash, peel and dice lauki, potato and carrot

Boil water and add the diced vegetables

Cook till soft and allow it to cool

In a mixer jar, add soaked almonds and grind into a rough paste

Next add boiled and cooled vegetables and grind into a thick paste

Empty the paste into a pan, season with salt and pepper

Add finely chopped parsley or coriander, mix well

Sprinkle freshly grated nutmeg

Finish with a blob of butter and optionally some cream

Serve piping hot with garlic bread