We all love instant recipes be it idlis or dosas. But instant recipes need to have the right balance to turn out to be tasty. Their fermented counterparts enjoy the time to rest and turn out to be light and airy. But adding flavourful things into a recipe like corn or spinach like this instant corn idli makes them taste so good!
Corn idli is made from corn rava (maize rava/cornmeal). This is easily available in grocery stores. Just like making rava idli, this instant corn idli is a specialty. It has yogurt added for moisture and light instant fermentation. The pop-in-the-mouth corn niblets (frozen/fresh) along with sweet raisins make them very unique in taste.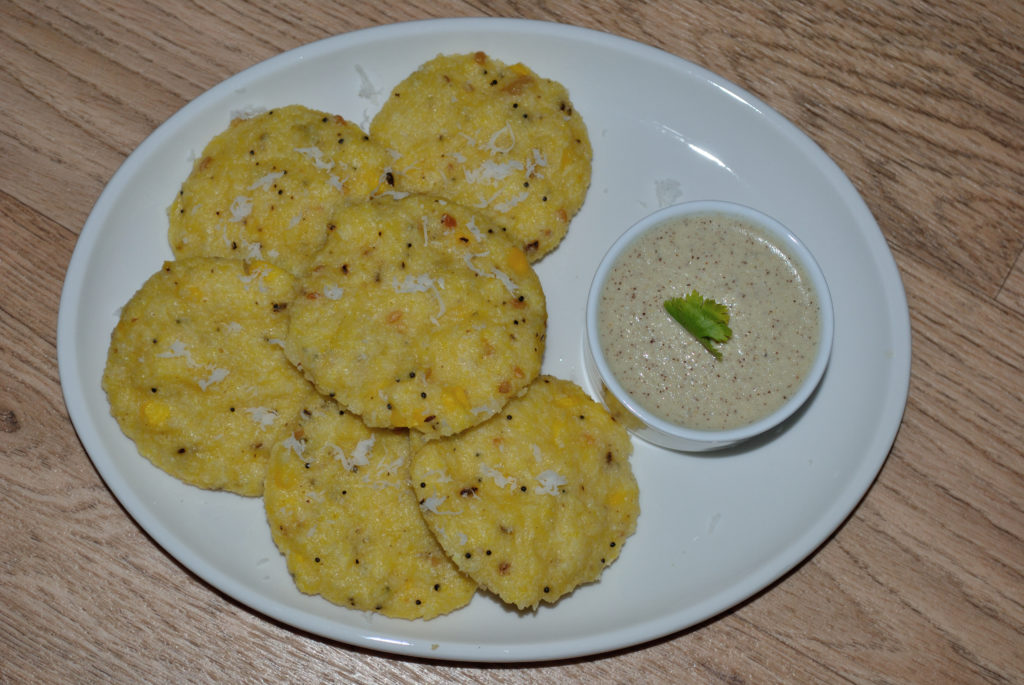 This recipe does not require a whole lot of planning especially if you have the base ingredients at your disposal. Corn is such a versatile ingredient, its sweet texture makes it blend into different kinds of dishes.
Try these corn cheddar cheese muffins Mexican style, or melt in the mouth spinach corn cheese sandwich. For the cold weather, try this potato corn chowder or this unique Mexican style cornbread. All corn based recipes in a single page from FOI.
Do try these breakfast recipes and more idli recipes coming up.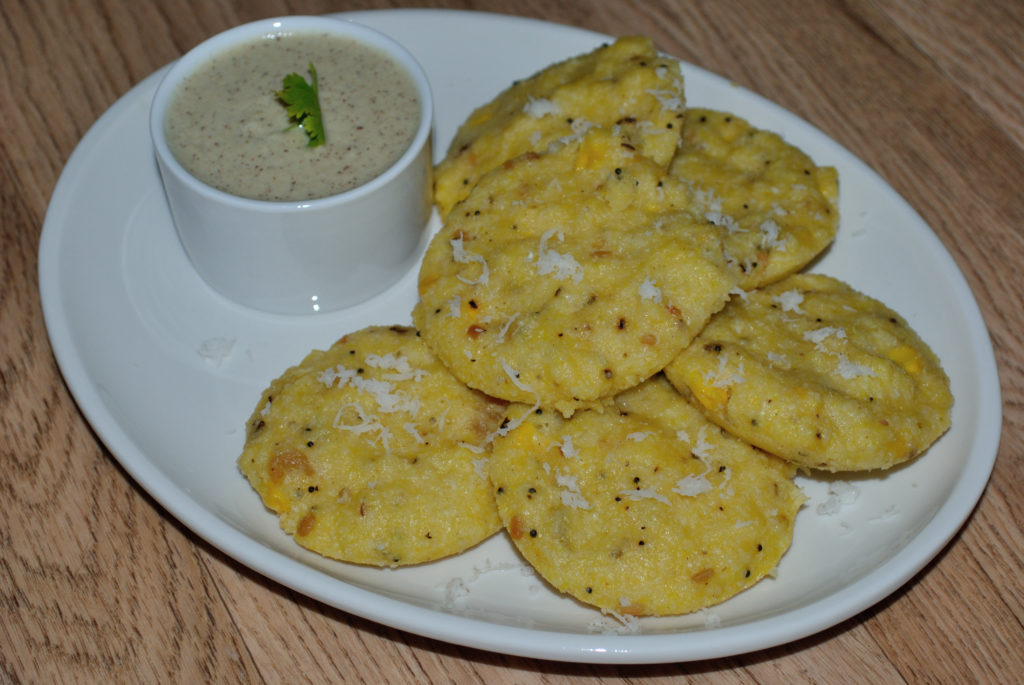 Instant Corn Idli | Idli Recipes
Instant corn idli, an easy breakfast recipe with pop-in-the-mouth corn niblets
Ingredients
½ Cup corn rava/yellow cornmeal or polenta
½ Cup akki tari/rice rava/idli rava
1 Tbsp ghee
½ Tsp jeera
½ Tsp mustard
A pinch of hing
1 Tsp urad dal
1 green chilli chopped
7-8 powdered black pepper
1¼ Cup yogurt
1 pinch baking powder
½ pinch baking soda
½ pinch turmeric
½ Cup corn
¼ Cup grated fresh coconut
Salt to taste (3/4 Tsp~)
Method
Make tadka with ghee, jeera, mustard, hing, urad dal, green chilli
Add corn rava and akki rava. Roast for few seconds
Mix corn, grated coconut and raisins
Sprinkle pepper powder, turmeric and salt. Turn off heat
Once cooled, mix baking soda and baking powder
Slowly add yogurt and mix well into a thick batter
Pour into greased idli moulds
Steam idlis for 12 minutes
Serve hot with chutney of your choice
Notes
Do not use sour curd/yogurt. Use fresh and sweet yogurt

If you do not have cornmeal, add fine rava but still add corn to make it corn idli

Steam according to the time required to steam regular idlis in your idli maker. Mine requires 12 minutes~

Fresh coconut makes the idlis light ans extra tasty

Instant Corn Idli Stepwise:
Make tadka with ghee, jeera, mustard, hing, urad dal, green chilli
   

Add corn rava and akki rava. Roast for few seconds
   

Mix corn, grated coconut and raisins
  

Sprinkle pepper powder, turmeric and salt. Turn off heat
  

Once cooled, mix baking soda and baking powder
 

Slowly add yogurt and mix well into a thick batter
  

Pour into greased idli moulds
 

Steam idlis for 12 minutes


Serve hot with chutney of your choice