Orange is a super refreshing flavour especially in desserts like muffins, cakes. Orange flavour works really well with these eggless whole wheat orange muffins. It is a very tasty muffin that goes really well with that morning coffee.
Make these in advance and enjoy your breakfast with some eggless whole wheat orange muffins It also has some oats in it making it ideal to eat with some ripe bananas and a cup of hot coffee.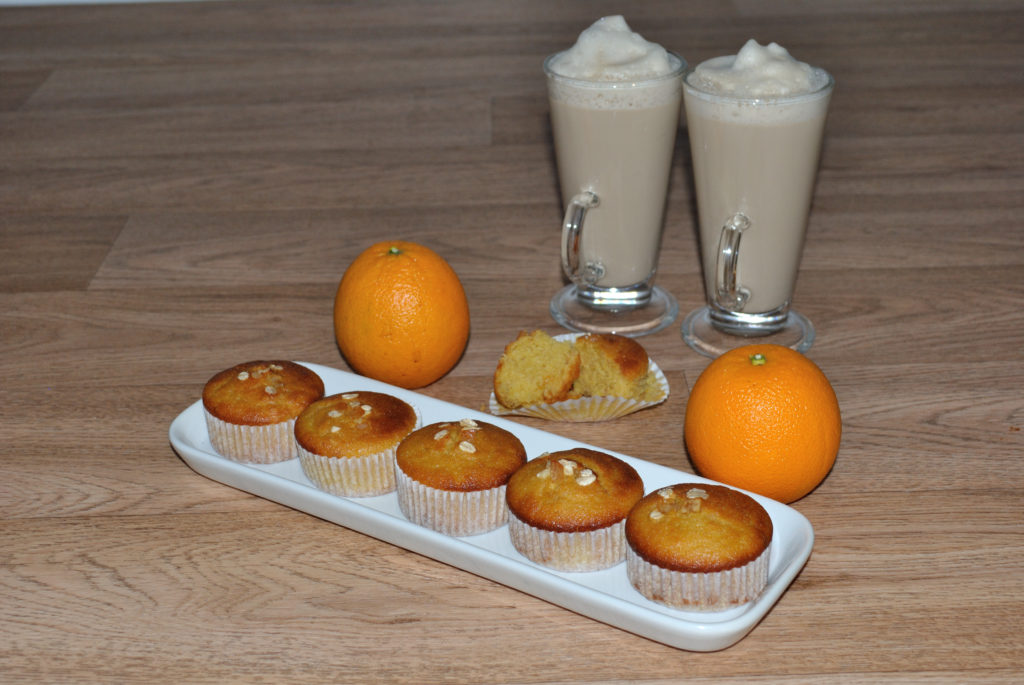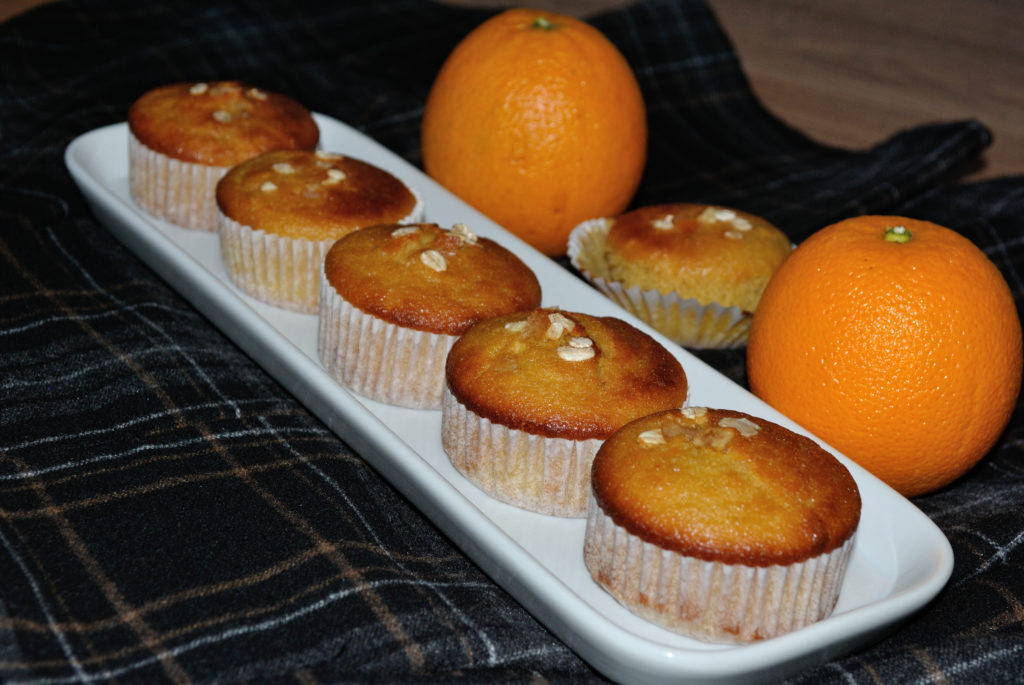 Whole wheat flour(atta) added to these muffins cannot be even tasted. The orange flavours makes the muffins so light and airy you would not know the difference. Butter milk makes these muffins super soft. All ingredients in this recipe make a perfect combination. I have added orange marmalade which makes them extra orangey special! They all work really well.
These muffins can also be turned into cupcakes by adding frosting on top. Try these savoury Mexican jalapeno corn cheddar cheese muffins. For more eggless desserts try eggless chocolate cake, eggless chocolate brownies, ice cream cake. More desserts on FOI can be found be here.
Enjoy these refreshing orange muffins. Please do review the post and rate my recipes.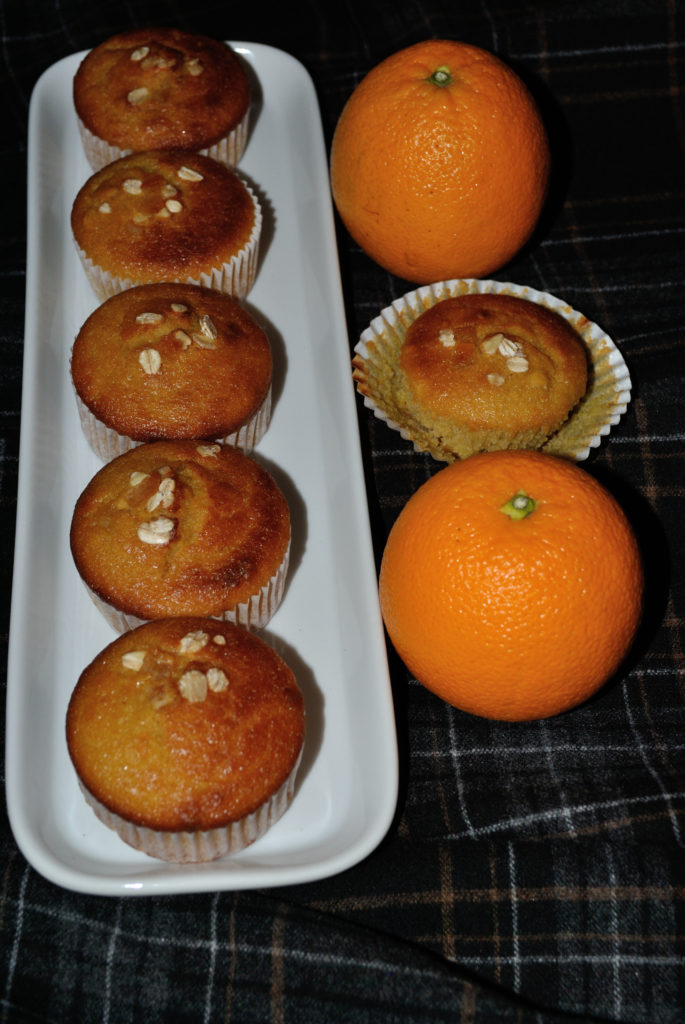 Eggless Whole Wheat Orange Muffins | Dessert Recipes
Super yum, eggless whole wheat orange muffins - breakfast muffins with oats and loads of orange flavours
Serves:
16 regular sized muffins
Ingredients
Dry Ingredients:
1 Cup whole wheat flour
½ Tsp baking powder
½ Tsp baking soda
1 Tbsp cornflour

Wet Ingredients:
1 Cup orange juice
¼ Cup oil
1 Tbsp orange marmalade
2 drops orange extract (optional)
½ Cup white or golden granulated sugar/brown sugar/unrefined sugar
1 Tbsp buttermilk (optional if vegan)
1 Tsp orange zest/peel grated

Additional:
2 Tbsp orange candied bits (optional)
2 Tbsp old fashioned rolled/regular oats (optional)

Baking:
Muffin Tray
Paper cup linings

OR
Cake tin/Spring form tin/Loaf pan
Method
Sieve whole wheat flour, baking powder, soda, cornflour and keep aside
Squeeze orange juice, strain and keep aside
Tip in sugar into a bowl, add orange juice and mix well
Pour oil and lightly whisk till it combines well
Now add orange marmalade, orange zest, 2 drops orange extract and combine well
Add sieved dry ingredients half at a time
Fold all ingredients into batter
Pour buttermilk and combine again
Optionally, add in orange bits
Next add oats 1½ Tbsp, reserve ½ Tbsp for the top and fold again
Line a muffin tray with liners. Pre-heat oven to 180 Deg C
Pour cup cake mixture into liners leaving little space, do not fill till the brim
Top with some oats and orange bits
Bake at 180 Deg C for 20 minutes till golden on top
To check doneness, insert a clean toothpick in the centre and it should come out clean
Serve with coffee and enjoy 1 or 2 for a quick breakfast
Notes
Adding buttermilk to muffins makes them extra soft. Skip it to make these muffins vegan

Use a combination of whole wheat flour and maida (all purpose flour) or only maida (all purpose flour)

Use a non-aromatic oil like sunflower/vegetable oil/filtered olive oil or even melted butter

Adding oats is optional but it adds a nice crunch and some fibre

If you do not have muffin tray, pour batter in a cake tin and bake into a cake

Grate only orange part while zesting and not whiter part which will be bitter

Eggless Whole Wheat Orange Muffins Stepwise:
Sieve whole wheat flour, baking powder, soda, cornflour and keep aside
    

Squeeze fresh orange juice, strain and keep aside
  

Tip in sugar into a bowl,  add orange juice and mix well
   

Pour oil and lightly whisk till it combines well
 

Now add orange marmalade, orange zest, 2 drops orange extract and combine well
    

Add sieved dry ingredients half at a time
  

Fold all ingredients into batter


Pour buttermilk and combine again
 

Optionally, add in orange bits


Next add oats 1 1/2 Tbsp, reserve 1/2 Tbsp for the top and fold again
 

Line a muffin tray with liners. Pre-heat oven to 180 Deg C


Pour cup cake mixture into liners leaving little space, do not fill till the brim
  

Top with some oats and orange bits
  

Bake at 180 Deg C for 20 minutes till golden on top
 

To check doneness, insert a clean toothpick in the centre and it should come out clean


Serve with coffee and enjoy 1 or 2 for a quick breakfast