Warm eggless whole wheat cinnamon rolls just out of the oven are a delicacy. They taste sooooooo good. The cinnamon goodness with all the melted butter makes the rolls so soft. These little rolls of soft bread are fun to eat.
These eggless whole wheat cinnamon rolls can be served for breakfast or for dessert or just eaten as a snack. I have also made a decadent vanilla bean and coffee icing. It is to die-for! It keeps the rolls moist and makes these eggless whole wheat cinnamon rolls extra special.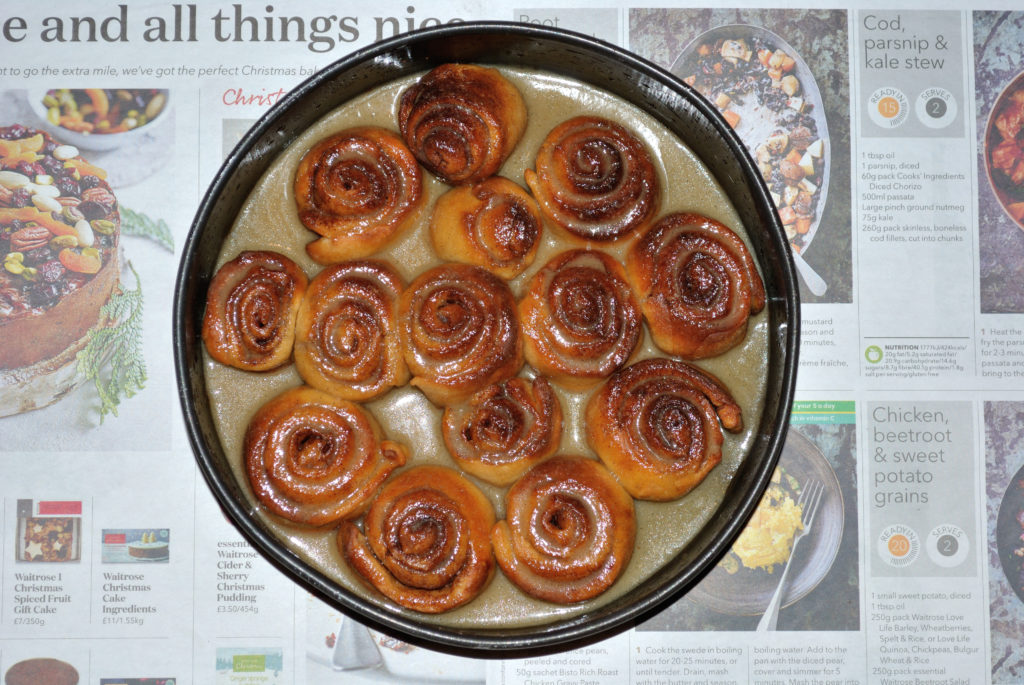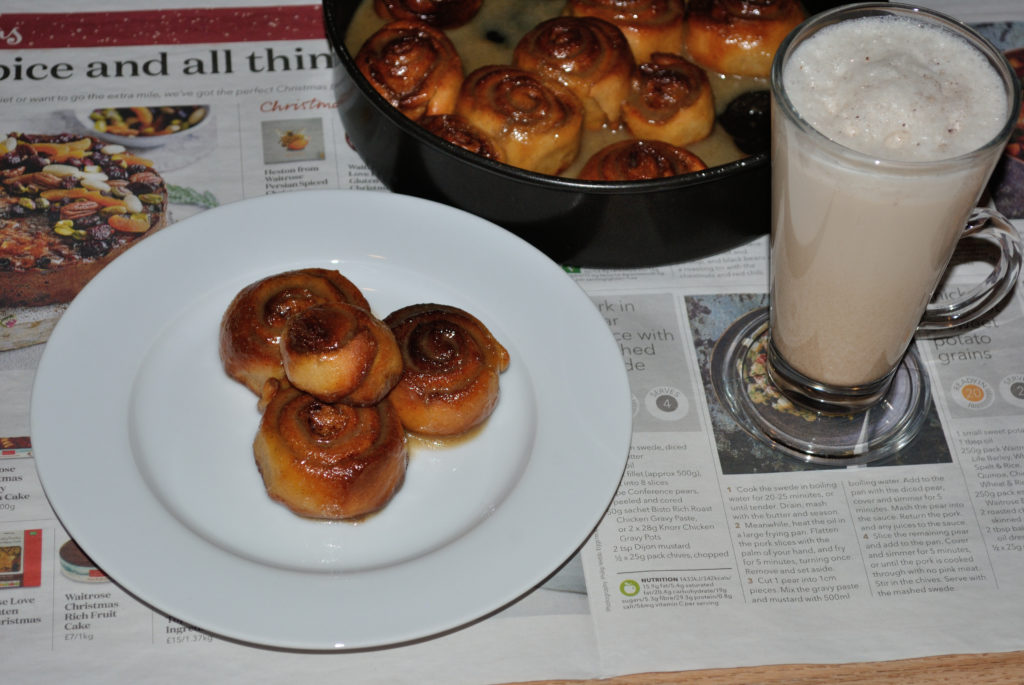 I fell in love with these rolls when I ate them at an English bakery. I was immensely happy when The Pioneer Woman revealed this recipe. Her recipe is on a large scale and I have adapted the recipe to make fewer rolls.
I made eggless whole wheat cinnamon rolls with half the dough. The other half, well I made garlic rolls!
Cinnamon, these days is one of my favourite spices. It is warming and hearty. Those thin bits of goodness makes dishes very fragrant. Take for instance, my favourite cinnamon toast. Yum!
Do try these cinnamon rolls. More snack recipes from FOI. Try whole wheat bread and dil pasand from FOI. More baked recipes of course cinnamon based recipes.
Eggless Whole Wheat Cinnamon Rolls With Vanilla Bean And Coffee Icing
Soft, buttery, fluffy and very flavourful eggless whole wheat cinnamon rolls
Ingredients
For Eggless Whole Wheat Cinnamon Rolls:
250 ml whole milk or 1 Cup
¼ Cup oil (sunflower/vegetable)
¼ Cup sugar
1½ Tsp yeast (1/2 Pkt active dry yeast)
1½ Cups whole wheat flour (atta)
¼ Tsp baking soda
½ Tsp baking powder

For Filling:
½ Cup melted butter or as required
½ Cup sugar
Cinnamon to sprinkle
1 Tsp salt

For Vanilla Bean And Coffee Icing:
¼ Cup powdered sugar
2 Tbsp fresh strong coffee
1 or 2 Tbsp milk
1 Tsp vanilla bean paste or pod
2 Tbsp melted butter
A big pinch of salt
Method
In a pan, add milk and sugar
Pour in oil and whisk milk, sugar and oil together
Keep the pan on low heat and whisk. Let it scald (turn off before it starts boiling)
Turn off heat, let it cool. Mix all dry ingredients except yeast, keep aside
Once milk cools down a bit and becomes warm, sprinkle in yeast. Mix lightly. Keep aside for 5 minutes
Now add dry ingredients slowly to milk mixture. Reserve about half a cup to be added later
Mix slowly into a sticky dough. Set aside for an hour in warm place and let it rise
Add reserved flour, knead well for 3-4 minutes and set it aside to rise again for half hour or so
To make filling, melt butter slowly
Keep melted butter, cinnamon powder and sugar together
Knead dough again. Cut into half and reserve it or make more cinnamon rolls. Just get little more filling ready 🙂
Pat dough into a rough rectangle shape
Roll slowly trying to keep it rectangular into a ½ Cm thick rectangle
Next comes the wild part, brush butter all over the rolled dough. Be generous
Sprinkle sugar all over covering entire surface area
Sprinkle cinnamon all over
To roll this, start with edge which is away from you
Roll with the roll starting to roll towards you
Lastly push the near edge over the roll and seal
Turn the roll seam side down, pat all over to seal. Do not press it
To cut into rolls, make 1" thick marks on the roll
Cut with a sharp knife or a dough scraper into rolls
Arrange rolls in baking tin or sandwich tin. Let it rise for half an hour. Pre-heat oven to 180 Deg C
Once rolls have risen, brush all over with plain melted butter. Bake at 180 Deg C for 15 minutes till they turn golden brown. Keep and eye on them
While rolls are baking, make vanilla bean and coffee icing. Add powdered sugar in a bowl
Drizzle in 1 Tbsp milk and freshly brewed coffee
Pour melted butter and add scraped out vanilla caviar or use vanilla bean paste or just good vanilla essence
Whisk well and add a big pinch of salt. Whisk well
Bring to a light boil till icing thickens a bit, add little more milk if required
Once hot rolls come out of the oven, pour vanilla bean and coffee icing all over. Don't leave out any roll
Serve with coffee or just as a snack
Notes
Use good vanilla only

Use maida or all purpose flour if you want

Use fresh cinnamon powder for true fragrance

Use unsalted butter only

Eggless Whole Wheat Cinnamon Rolls Stepwise:
In a pan, add milk and sugar
   

Pour in oil and whisk milk, sugar and oil together
   

Keep the pan on low heat and whisk. Let it scald (turn off before it starts boiling)
  

Turn off heat, let it cool. Mix all dry ingredients except yeast, keep aside


Once milk cools down a bit and becomes warm, sprinkle in yeast. Mix lightly. Keep aside for 5 minutes
  

Now add dry ingredients slowly to milk mixture. Reserve about half a cup to be added later
 

Mix slowly into a sticky dough. Set aside for an hour in warm place and let it rise
  

Add reserved flour, knead well for 3-4 minutes and set it aside to rise again for half hour or so
    

To make filling, melt butter slowly
  

Keep melted butter, cinnamon powder and sugar together
 

Knead dough again. Cut into half and reserve it or make more cinnamon rolls. Just get little more filling ready :)
    

Pat dough into a rough rectangle shape
  

Roll slowly trying to keep it rectangular into a 1/2 Cm thick rectangle
   

Next comes the wild part, brush butter all over the rolled dough. Be generous
     

Sprinkle sugar all over covering entire surface area
  

Sprinkle cinnamon all over
 

To roll this, start with edge which is away from you
  

Roll with the roll starting to roll towards you
 

Lastly push the near edge over the roll and seal
 

Turn the roll seam side down, pat all over to seal. Do not press it


To cut into rolls, make 1" thick marks on the roll
  

Cut with a sharp knife or a dough scraper into rolls
  

Arrange rolls in baking tin or sandwich tin. Let it rise for half an hour. Pre-heat oven to 180 Deg C
 

Once rolls have risen, brush all over with plain melted butter. Bake at 180 Deg C for 15 minutes till they turn golden brown. Keep an eye on them
     

While rolls are baking, make vanilla bean and coffee icing. Add powdered sugar in a bowl


Drizzle in 1 Tbsp milk and freshly brewed coffee

Pour melted butter and add scraped out vanilla caviar or use vanilla bean paste or just good vanilla essence
 

Whisk well and add a big pinch of salt. Whisk well
  

Bring to a light boil till icing thickens a bit, add little more milk if required


Once hot rolls come out of the oven, pour vanilla bean and coffee icing all over. Don't leave out any roll
       

Serve with coffee or just as a snack