It is such a pleasure to be able to make ice creams at home. Soft luxurious luscious ice creams ready to be scooped up and served. Fruit flavoured ice creams like this eggless strawberry ice cream are often made only from essences or concentrates.
The joy is in making and of course eating ice cream made with fresh fruit. You exactly know what is going into your ice cream mixture and know it can be safely consumed without the worry of preservatives or artificial flavourings.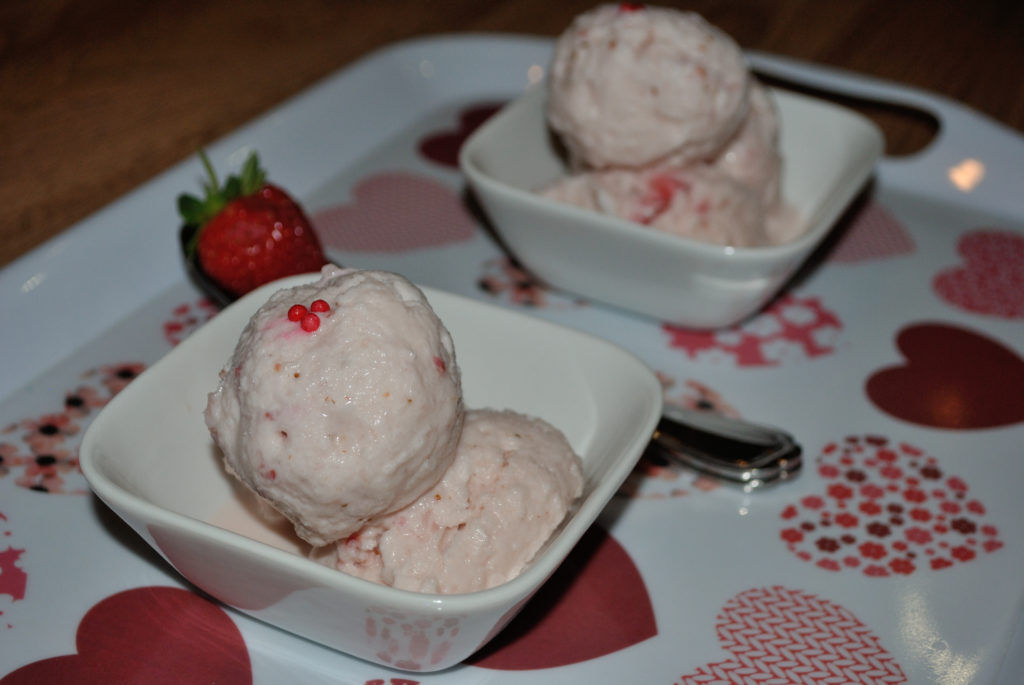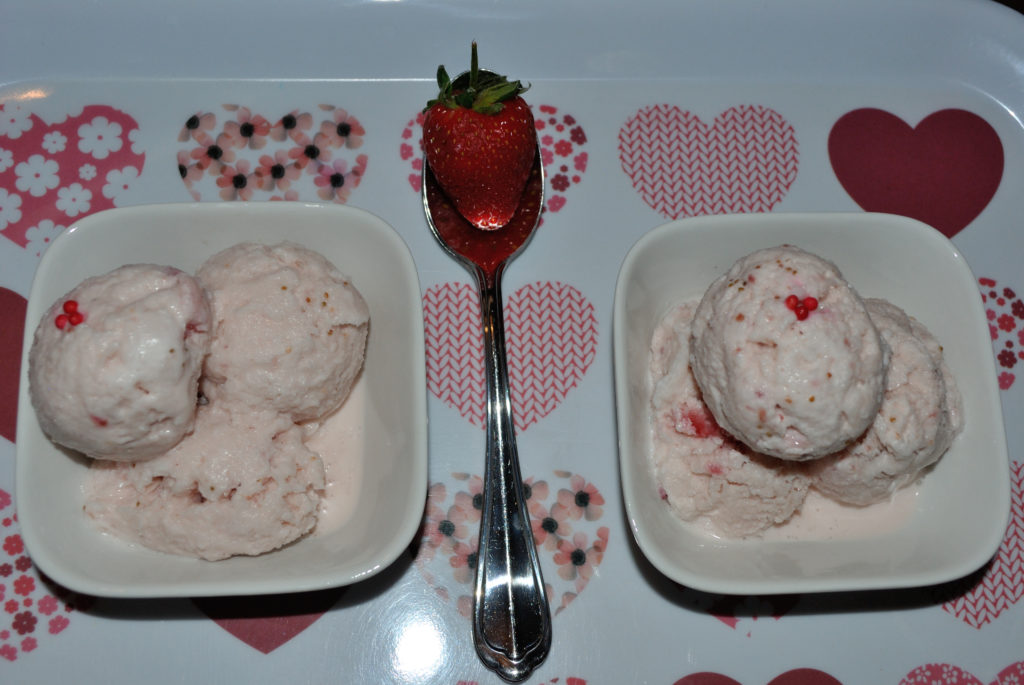 Here I have used fresh strawberries which are puréed coarsely in this eggless strawberry ice cream. You can also make it really smooth if you do not like small chunks of strawberries in your ice cream. However you prefer it 🙂 After all, it is your own ice cream. I have used my ice cream churner to churn the ice cream. But it can be made using a blender.
If using a hand held electric blender or regular blender, blend the ice cream mixture till light. Freeze the mixture for 1 hour. Blend again for a few minutes and make sure any crystals that are formed are broken down. Repeat this 6-7 times at one hour intervals. The end mixture has to be light and fluffy. Freeze this to set ice cream.
As mentioned in eggless vanilla ice cream recipe this also does not require any cooking or making a custard. However, I have used condensed milk to make for a thick and smooth ice cream mixture. Enjoy this rich and luscious dessert!
Do try other ice cream based desserts or use it as an accompaniment for desserts like eggless chocolate brownies or make this ice cream cake. Vanilla ice cream with carrot halwa, oh boy!
Strawberry Ice cream | Eggless Strawberry Ice cream | No cook strawberry ice cream | Homemade strawberry ice cream
Creamy, dreamy, luscious homemade eggless strawberry ice cream with fresh strawberries
Ingredients
1 Cup heavy cream/double cream
1 Cup whole/full fat/full cream milk
¼ Cup condensed milk
3 Tbsp granulated sugar
¾ Cup (180-200 gm hulled strawberries) coarse puree
2 drops organic red food natural colour (optional)
½ Tsp good vanilla
Method
Hull strawberries. Use the edge of a spoon to remove the green top and hull them
Add these hulled strawberries into blender and blend them coarsely. Keep aside
Take sugar in a bowl, pour cream, whisk till cream mixes well with sugar
Now add condensed milk and mix
Pour in cold 1 Cup whole milk and mix well till combined
Splash in vanilla and organic red food colouring. Mix
Next pour in strawberry purée and mix well
Chill this mixture for an hour or so
To make ice cream, start ice cream churner (frozen for 8-10 hours or according to instruction manual). Refer *Notes* for blender usage to make this ice cream
Pour the cold mixture through the spout
Churn for 20-25 minutes or till half frozen
Empty the contents into an ice cream box or freezer proof container. Freeze completely for 8 hours to set
Serve soft ice cream
Notes
*If using a hand held electric blender, blend the ice cream mixture till light. Freeze the mixture for 1 hour. Blend again for a few minutes and make sure any crystals that are formed are broken down. Repeat this 6-7 times at one hour intervals. The end mixture has to be light and fluffy. Freeze this to set ice cream

Make sure there do not exist any crystals before freezing ice cream

Do NOT disturb after the final mix, let it freeze continuously for 8-10 hours till set

Use skimmed/semi-skimmed milk and lower fat cream but the resultant mix will not be smooth and creamy but it is possible to make it

Adjust sweetness as per your taste. Add little more if strawberries are tart and sour

Strain the purée if you want to get rid of strawberry seeds

Eggless Strawberry Ice Cream Stepwise:
Hull strawberries. Use the edge of a spoon to remove the green top and hull them
  

Add these hulled strawberries into blender and blend them coarsely. Keep aside
   

Take sugar in a bowl, pour cream, whisk till cream mixes well with sugar
    

Now add condensed milk and mix
 

Pour in cold 1 Cup whole milk and mix well till combined
 

Splash in vanilla and organic red food colouring. Mix
  

Next pour in strawberry purée and mix well
   

Chill this mixture for an hour or so
 

To make ice cream, start ice cream churner (frozen for 8-10 hours or according to instruction manual). Refer *Notes* for blender usage to make this ice cream
 

Pour the cold mixture through the spout
 

Churn for 20-25 minutes or till half frozen
 

Empty the contents into an ice cream box or freezer proof container. Freeze completely for 8 hours to set
 

Serve soft ice cream