As winter starts after solstice, this is that time of the year when we get the sweet aroma of mild spices like cinnamon and nutmeg. Then there are fruits like fresh juicy oranges, clementines and plums. Fresh plums are very juicy and they make this eggless plum cake with fruits really moist.
This eggless plum cake has those distinct December'y spices cinnamon, nutmeg and all spice. It is of course loaded with fruits like raisins, sultanas, candied orange bits, tutti frutti, dried apricots and even some dried cranberries. This is not a definitive list, add any kind of raisins, dates or currants.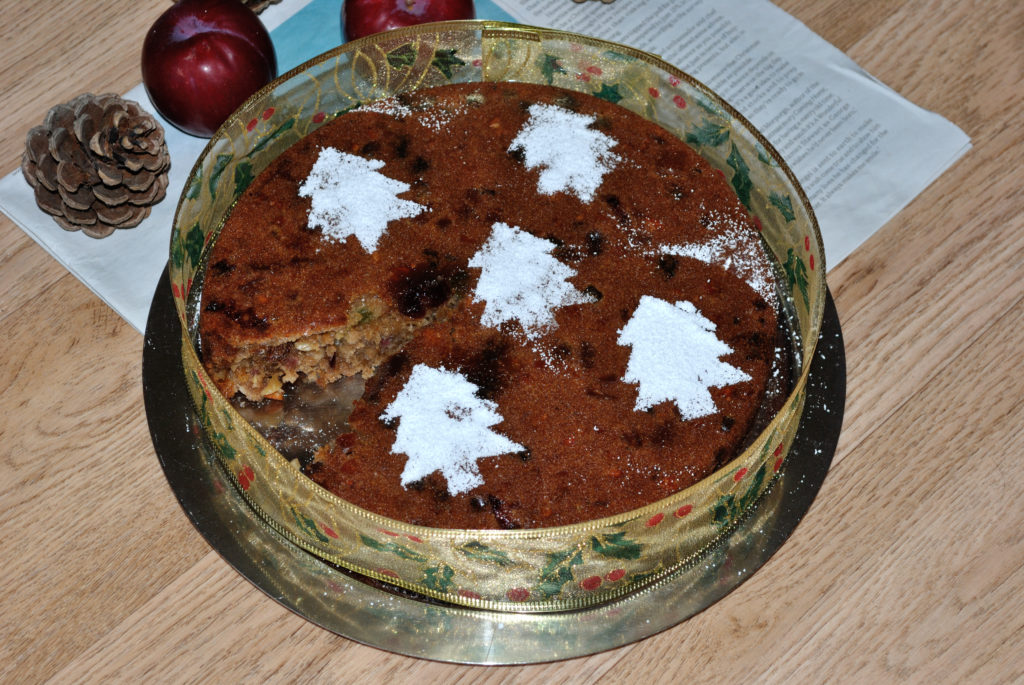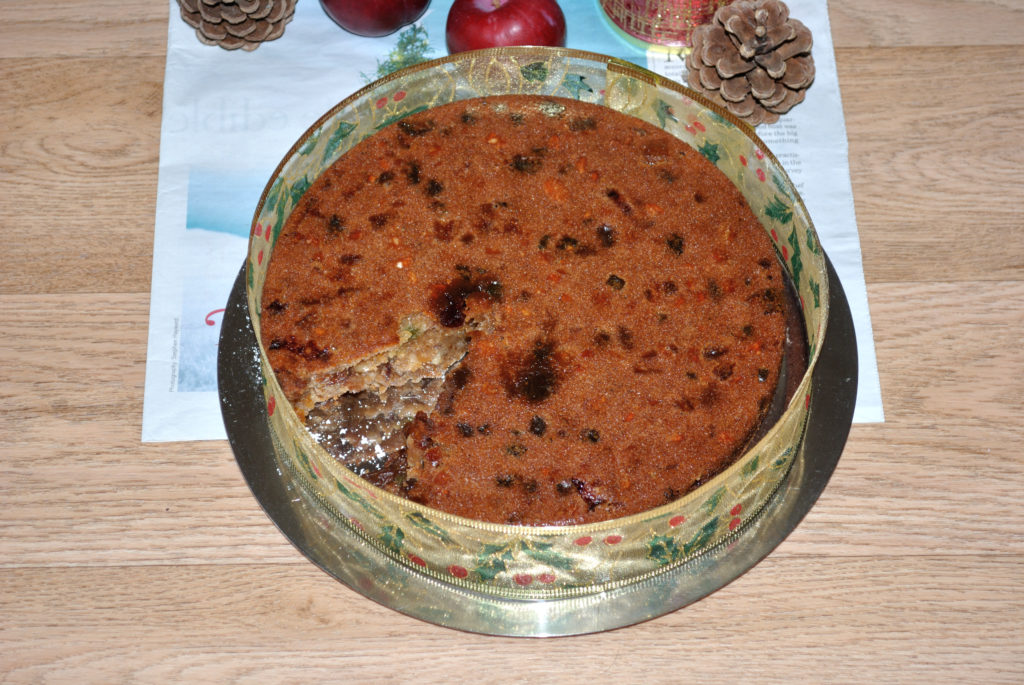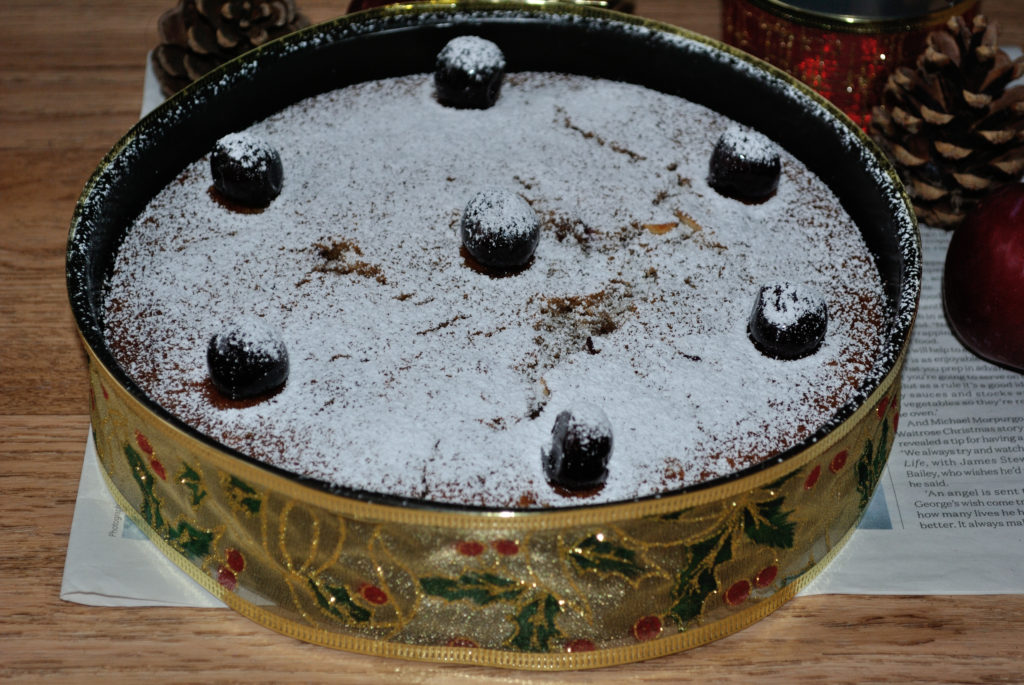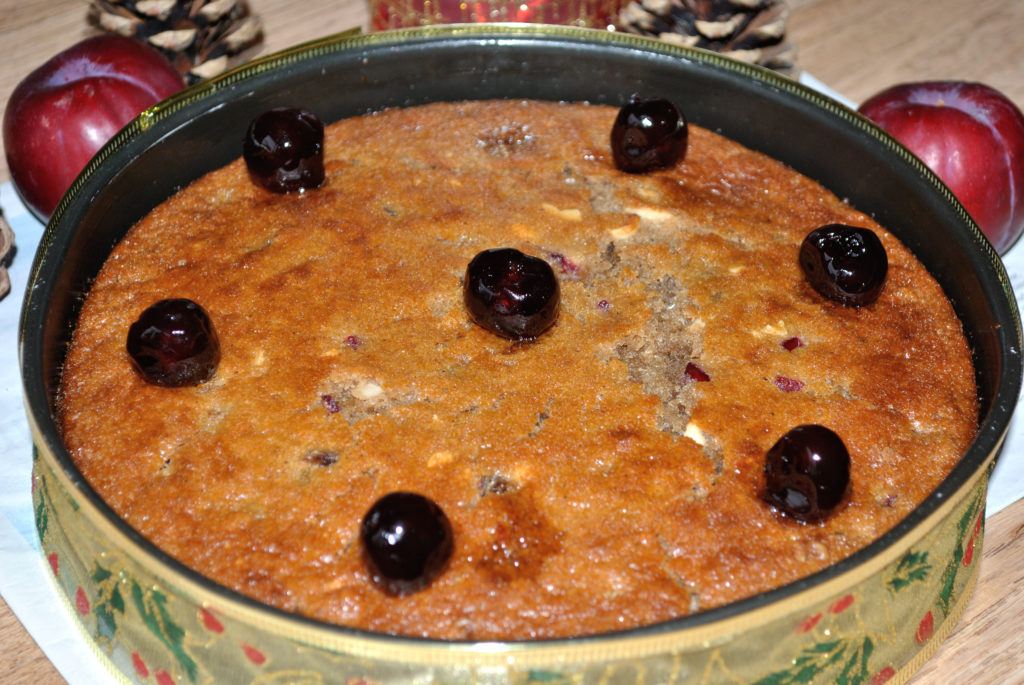 Fruits soak in plain apple juice overnight and next day you will be ready to bake. Cashews are also added in abundance in this cake. So basically this cake is very festive and decadent. And why not, this cake is probably made only once a year.
Try more eggless cakes like eggless honey cake, eggless chocolate cake, eggless orange muffins and of course this special ice cream cake. More eggless bakes and desserts for the upcoming new year celebrations. Eggless banana mousse, eggless ice creams. Go and lay out a big fare and of course enjoy the festivities.
Eggless Plum Cake | Eggless Plum and Fruits Cake | Eggless Cake Recipes
Festive, fruity, moist eggless plum cake loaded with fruits for Christmas and New Year
Ingredients
Dry Ingredients:
1 Cup plain flour/maida/all purpose flour
¼ Cup whole wheat flour
½ Tsp baking soda
½ Tsp baking powder
1 Pinch salt
1 Tsp all spice
½ Tsp cinnamon powder
1 big pinch freshly grated nutmeg

Wet Ingredients:
1 Cup brown soft sugar/regular granulated sugar/golden granulated sugar
1 Tbsp demerera sugar (optional)
¼ Cup apple juice
½ Cup milk
½ Cup melted butter/oil
½ Cup yogurt
1 Tsp pure vanilla extract

Fruits and Other Ingredients: [Note: These fruits can be changed and or added as available]
½ Cup mixed raisins
¼ Cup chopped apricots
2 Tbsp candied orange peel
8-10 cherries (glacé or regular)
2 Tbsp mixed tutti frutti
1 Tbsp dried cranberries
1 Tbsp golden sultanas
½ Cup chopped cashews
1 finely chopped plum
1 Cup apple juice
Method
Start by soaking all dried fruits except cashews in apple juice. Add mixed raisins, dried chopped apricots, cherries, tutti frutti, candied orange peel
Pour apple juice till it covers all fruit. Here I added some golden sultanas also which I noticed in my stash
Cover and let it rest overnight. Wonderful things happen when it is left overnight to soak. The fruits soak up all the juice and plump up which will make the cake extra moist
Next day, drain off the soaking juice. See how the fruits have plumped up and how colourful they look :). Keep aside
Chop up the cashews to any texture you like. Finely chop 1 or 2 plums, keep aside
For the dry ingredients, take plain flour and whole wheat flour into a bowl, sieve these flours
Add baking powder, baking soda and salt
Add all spice, cinnamon powder and nutmeg. Mix these ingredients well and keep aside
Now let's start with wet ingredients, add sugars into another bowl, pour over apple juice and mix well till sugar starts melting and combining with the juice
Whisk in milk with the juice mixture
Next goes in melted butter. Combine well
Splash in vanilla extract and mix
Pour in yogurt and whisk well. This is the wet ingredients mixture
Tip in dry ingredients half at a time and fold into the wet mixture carefully so that no lumps are formed
Once all flours are folded in, add chopped plums and fold in
Add all the soaked fruits and fold again
Fold in chopped cashews. The batter will be quite moist
Grease a cake tin. Pre-heat oven to 180 Deg C
Carefully pour on the cake batter. Tap on the kitchen counter to release air bubbles and to smooth out the surface
Bake at 180 Deg C for 45-50 minutes or till done. I baked in middle rack of the oven till golden and done
Serve this at tea-time or for dessert
Notes
If you do not have all spice, add ½ Tsp more cinnamon powder and skip all spice powder

As mentioned, add any kind of soft dry fruits you have. We would need up to a cup

Add any kind of sugar you have brown sugar gives it a nice crust and colour

Soak in orange juice if you want instead of apple juice

For vegan cake, add oil instead of melted butter and add a vegan milk like soy milk instead of milk, add a Tbsp of vinegar instead of yogurt along with a little more apple juice or vegan milk

Eggless Plum Cake Stepwise:
Start by soaking all dried fruits except cashews in apple juice. Add mixed raisins, dried chopped apricots, cherries, tutti frutti, candied orange peel
         

Pour apple juice till it covers all fruit. Here I added some golden sultanas also which I noticed in my stash
   

Cover and let it rest overnight. Wonderful things happen when it is left overnight to soak. The fruits soak up all the juice and plump up which will make the cake extra moist
  

Next day, drain off the soaking juice. See how the fruits have plumped up and how colourful they look :). Keep aside
  

Chop up the cashews to any texture you like. Finely chop 1 or 2 plums, keep aside
     
For the dry ingredients, take plain flour and whole wheat flour into a bowl, sieve these flours


Add baking powder, baking soda and salt
  

Add all spice, cinnamon powder and nutmeg. Mix these ingredients well and keep aside
    

Now let's start with wet ingredients, add sugars into another bowl, pour over apple juice and mix well till sugar starts melting and combining with the juice
  

Whisk in milk into the juice mixture
  

Next goes in melted butter. Combine well
 

Splash in vanilla extract and mix
 

Pour in yogurt and whisk well. This is the wet ingredients mixture
 

Tip in dry ingredients half at a time and fold into the wet mixture carefully so that no lumps are formed
 

Once all flours are folded in, add chopped plums and fold in
 

Add all the soaked fruits and fold again
 

Fold in chopped cashews. The batter will be quite moist
 

Grease a cake tin. Pre-heat oven to 180 Deg C


Carefully pour in the cake batter. Tap on the kitchen counter to release air bubbles and to smooth out the surface
 

Bake at 180 Deg C for 45-50 minutes or till done. I baked in middle rack of the oven till golden and done
  

Serve at tea time or for dessert