A rich and delicious treat is the best way to celebrate grand festivals like Ugadi and Deepavali. What better dish than dry nuts holige or obbattu for such festivals. Dry nuts holige has a rich dry nuts filling inside a thinly rolled out whole wheat dough then roasted with homemade ghee.
For dry nuts holige you can basically add any kind of dry nuts like pistachios, cashews, almonds, walnuts, pecans all unsalted and unroasted of course. The dry mixture consists of dry nuts obviously and some subtle spices like elaichi and javitri (mace). It's made into a nice soft filling and then rolled out just like a paratha.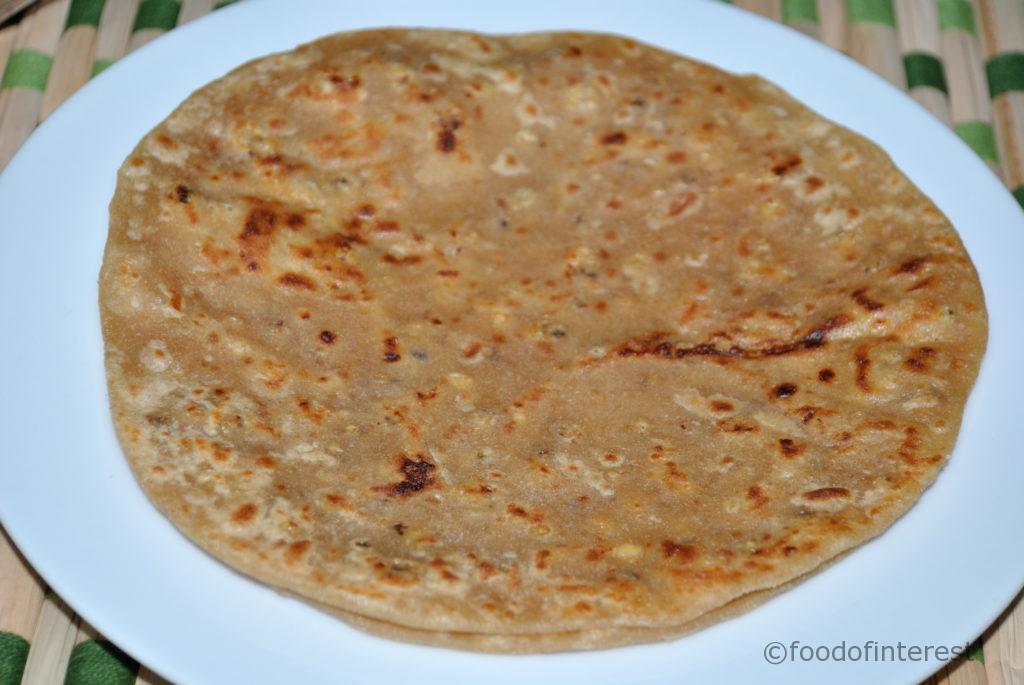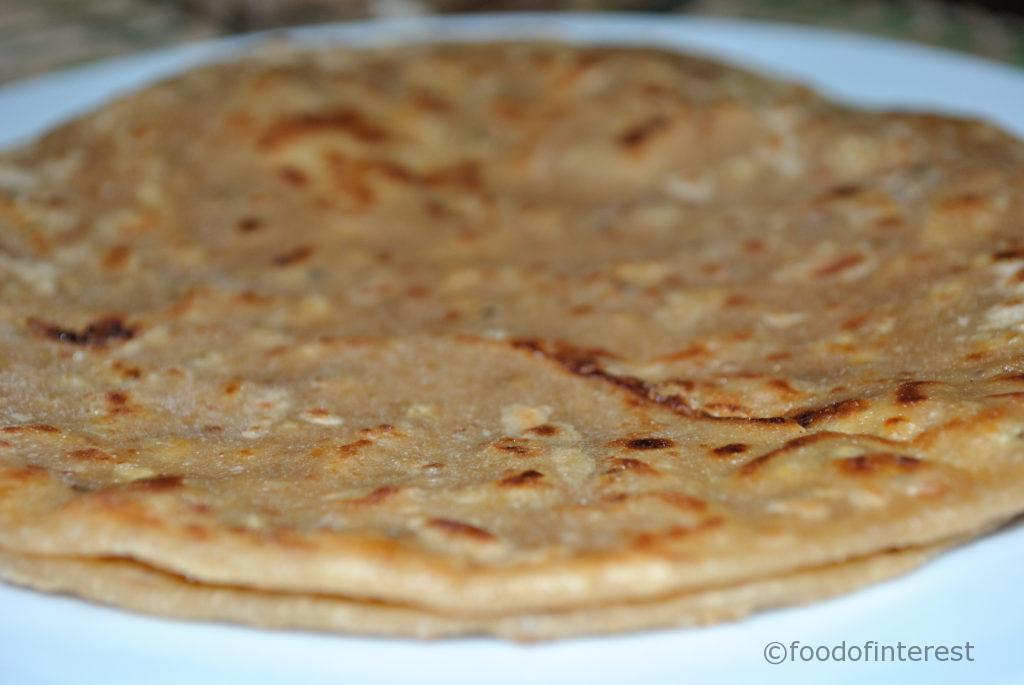 Try this dry nuts holige this Ugadi or if you are looking for options try coconut holige, bele holige (puran poli) from FOI. More dry nuts recipes like kaju katli, kaju pista rolls or milk sweets like doodh pedha, Dharwad pedha etc from FOI. If you want traditional local Karnataka special Ugadi recipes try haalbai, hayagreeva, hesarubele payasa etc.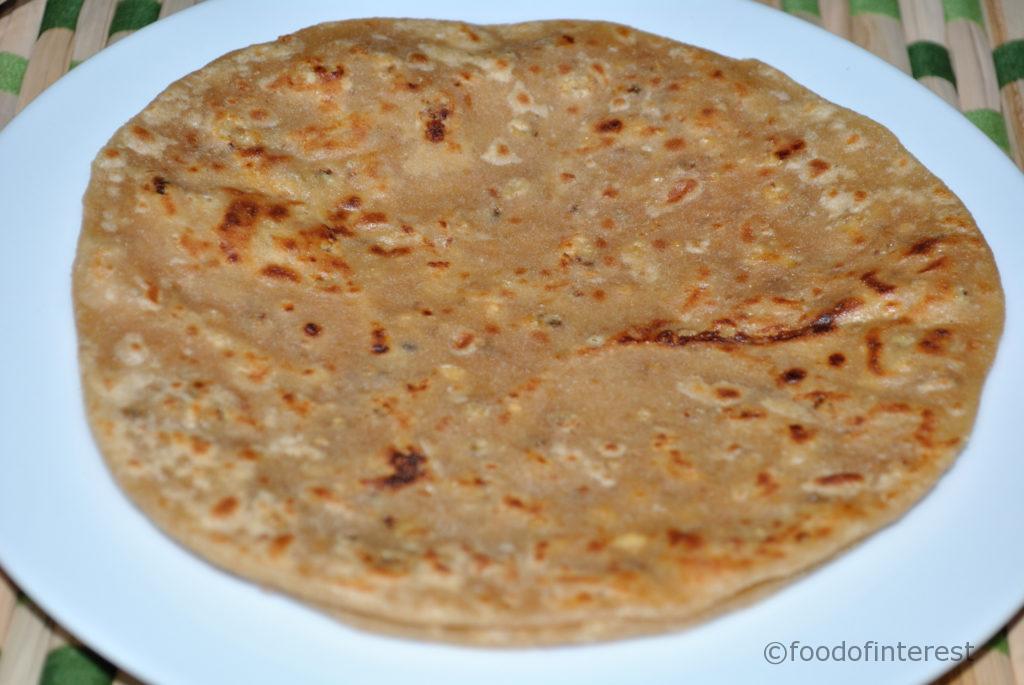 Dry Nuts Holige | Dry Nuts Obbattu | Ugadi Recipes
Rich, nutty, delicious, Ugadi special obbattu, dry nuts holige
Ingredients
8-10 cashews
8-10 almonds
8 pistachios
1 pinch nutmeg
4-5 elaichi
1 small piece mace/javitri (mace photo shown below for reference, add a very small piece as shown in mortar in next photo)
¼ Cup sugar
1 Cup milk powder
2 Tbsp ghee
1 Cup whole wheat flour(atta) dough
Method
In a mixer jar add all dry nuts, cashews, almonds and pistachios
Pulse to make a coarse powder, do not over powder it
Pound elaichi and mace (javitri) into a powder and keep aside
In a pan, melt ghee and milk
Add ½ the milk powder
Add the powdered dry nuts to the milk powder ghee mixture
Keep stirring till it comes together to form a dough
At this stage add sugar and mix well
Once sugar melts, keep stirring to prevent the mixture from sticking to the pan
Now add rest of the milk powder and keep mixing
Once it comes together again add elaichi, nutmeg and javitri powder
Knead the filling into a dough
Also keep the atta dough kneaded and ready
Divide the atta dough into lemon sized balls
In the same way divide filling into small balls
Roll out the atta dough into small puris
Place the filling in the centre of each puris
Bring the sides together and seal the atta over the filling
Repeat with every ball of dough and filling
Apply oil and start rolling out the holige
Roll into a nice slightly thick holige
Roast on a hot tawa till golden spots appear
Apply oil and roast evenly on both sides
Serve hot with ghee
Notes
Use any kind nuts which can be powdered like, walnuts, pecans etc

Add more sugar if you want the holige to be sweeter

Whole wheat dough works really well and is healthy too but if you want you can use maida dough

Dry Nuts Holige Stepwise:
In a mixer jar add all dry nuts, cashews, almonds and pistachios

Pulse to make a coarse powder, do not over powder it

Pound elaichi and mace (javitri) into a powder and keep aside

In a pan, melt ghee and milk

Add 1/2 the milk powder

Add the powdered dry nuts to the milk powder ghee mixture

Keep stirring till it comes together to form a dough

At this stage add sugar and mix well

Once sugar melts, keep stirring to prevent the mixture from sticking to 

the pan

Now add rest of the milk powder and keep mixing

Once it comes together again add elaichi, nutmeg and javitri powder

Knead the filling into a dough

Also keep the atta dough kneaded and ready

Divide the atta dough into lemon sized balls

In the same way divide filling into small balls

Roll out the atta dough into small puris

Place the filling in the centre of each puris

Bring the sides together and seal the atta over the filling

Repeat with every ball of dough and filling

Apply oil or flour and start rolling out the holige

Roll into a nice slightly thick holige

Roast on a hot tawa till golden spots appear

Apply oil and roast evenly on both sides

Serve hot with ghee