Chakli or muruku is one of the most eternally loved savoury snack in India. In South India this is given so many flavours and made with many kinds of flours these days. A truly great snack and no compromise on the flavours. It's savoury, mainly salty and hints of spices like ajwain and jeera in the background, a true winner.
At my home, it's kodubale v/s chakli, with me loving chakli more 🙂 So what do you love more, kodubale or chakli? Of course no would ever deny eating them both if given an option. But for the sake of argument chakli is the best or kodubale, or both. So let's settle on both.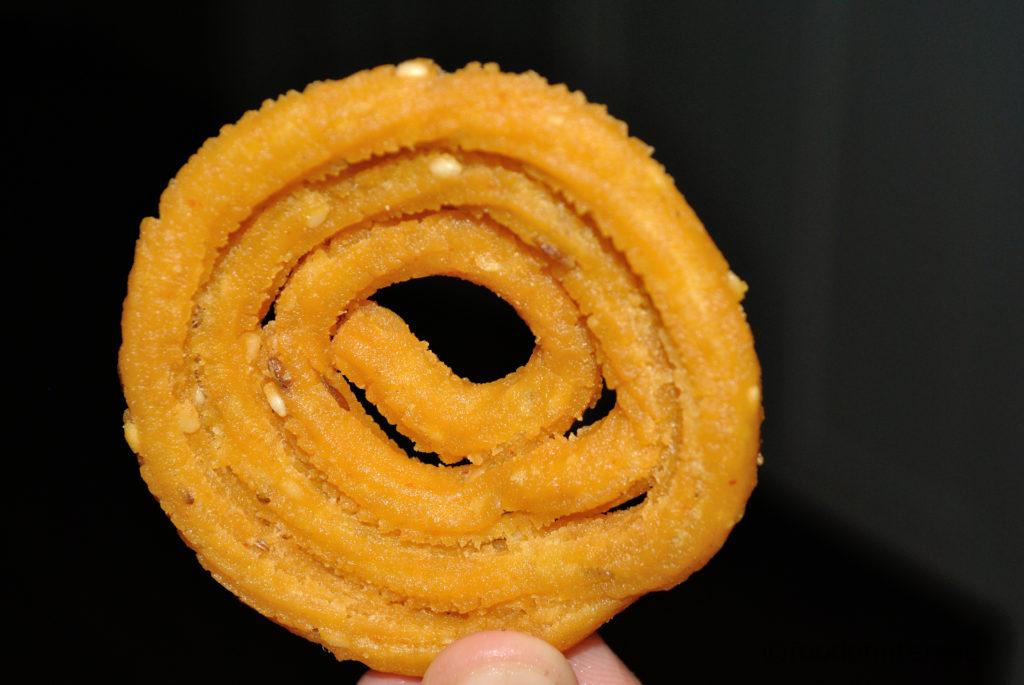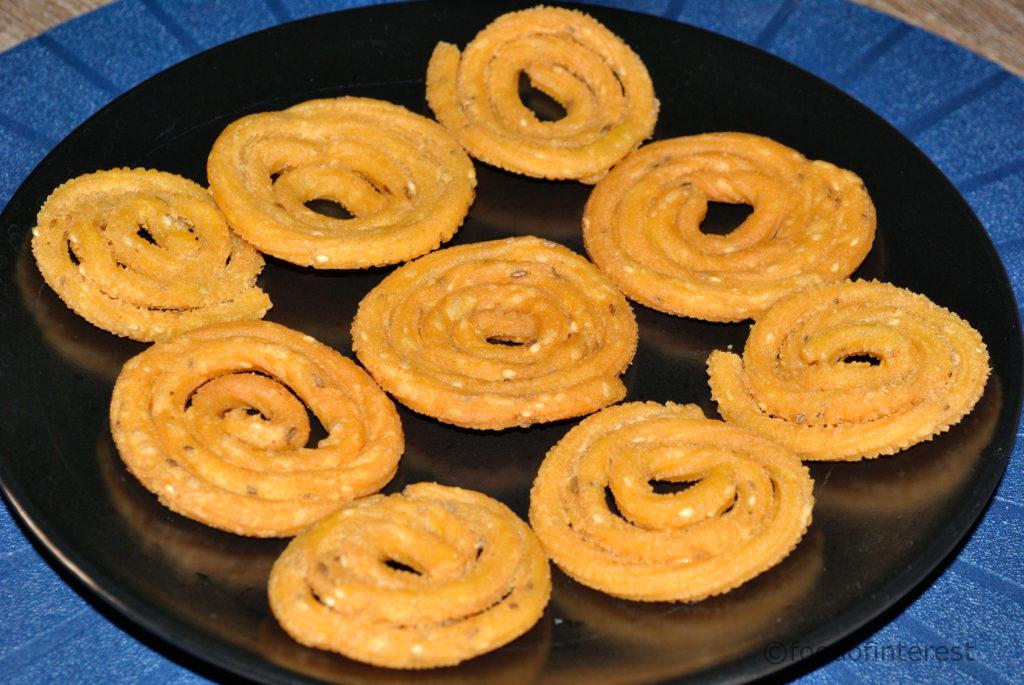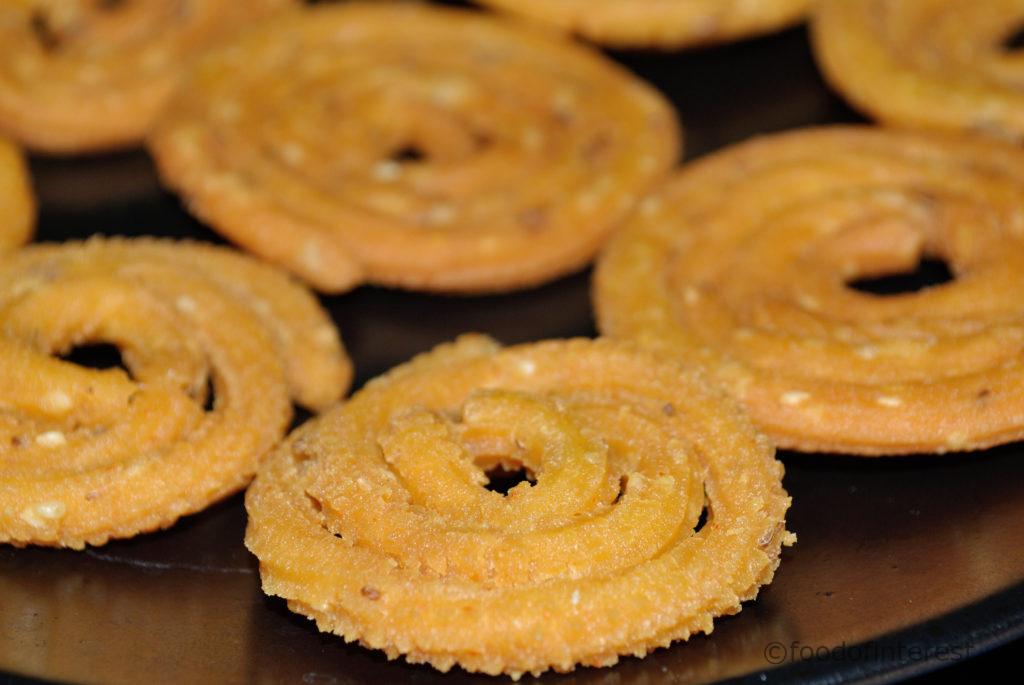 Today let's learn how make chakli with simple ingredients like rice flour and besan. Crispy wound up rings, the best, what's not to like. I have already posted a recipe for benne muruku or butter muruku for Shri Krishna Janmashtami.
The important rule for chakli is to use strong rice flour, you may ask what defines the 'strength' of rice flour or akki hittu or chawal ka atta. It should hold well together and not crumble when made into a dough and that is achieved by roasting the rice flour or using idiyappam flour.

Or even better would be wash and dry rice in the shade. Then powder into a flour, roast it then use it. For this recipe we can use available rice flour and lightly roast it on low flame till nutty aroma arises. With these things in mind, let's go the recipe. Try more fun recipes from FOI, nippattu, benne muruku, kodubale, avalakki chivda etc.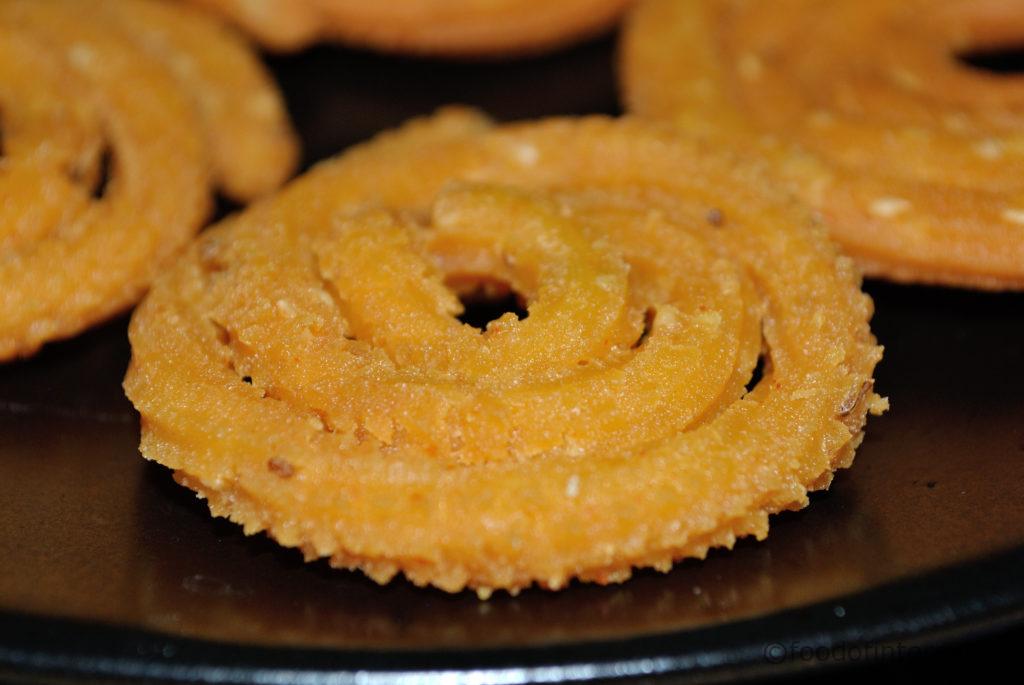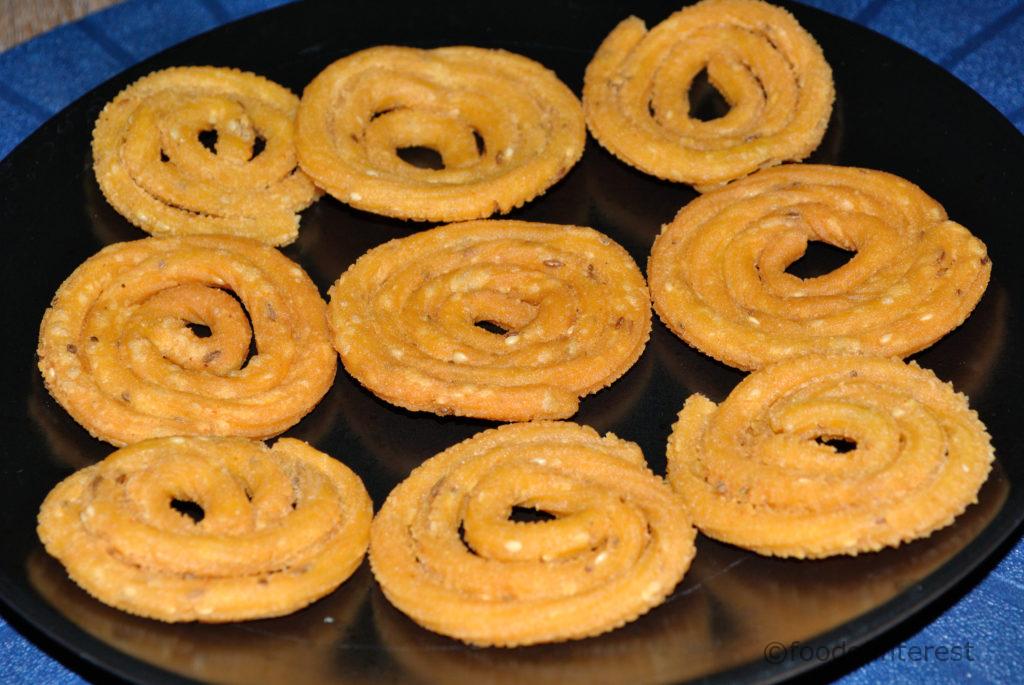 Chakli | Mullu Muruku | Snack Recipes | Diwali Recipes
Crisp and mildly spicy, a favourite tea-time snack, chakli
Ingredients
1 Cup roasted rice flour/akki hittu/chawal ka atta or idiyappam flour
½ Cup besan/kadale hittu/gram flour
3 Tbsp oil
Water as required to knead dough (about ½ Cup)
¼ Tsp ajwain/om kaalu/carom seeds
½ Tsp jeera
1 Tsp red chilli powder
½ Tsp turmeric/haldi/arishina
¼ Tsp hing/asafoetida
1 Tbsp yellu/sesame seeds/til
Salt to taste
Oil for deep frying
Method
In a bowl, take the rice flour and besan
Add oil to a pan and heat it (do not let it smoke)
Add all masalas to the flours, ajwain, jeera, red chilli powder, turmeric, hing, til and salt to taste
Mix everything very well
Once the oil has heated up pour this onto the flour mixture
Let it rest for 3-4 minutes
After the oil turns a bit warm mix the flour very well
Crumble the flour and ensure when you make a fist lump it stays together and does not fall apart
Add water little by little and start forming a dough
Add more water and make sure the dough comes together
Oil your hands and rub on the dough
Keep the dough aside for 5 minutes
To make chakli, oil a chakli maker and fit the chakli mould/plate
Pinch half the dough or about a third of the dough
Make a log as shown
Fill this log into chakli maker, heat oil to fry on medium flame
On a grease proof pepper or underside of an oiled plate, start pressing the chakli
When it reaches desired shape and size pinch off the end with your finger
Make more and check if oil is heated up
Carefully lower the chakli into the oil and start frying
Let the chakli fry on medium heat till they turn crisp and golden
Remove onto kitchen towels to absorb excess oil
Store in an airtight container and serve with chai/coffee
Notes
You can also add melted butter which is heated up. But I like to use oil as adding butter sometimes crumbles the dough

Adjust spices as per your taste, add little or no red chilli powder

Always fry on low-medium flame, or the inside part of chakli does not cook and stays soft

Dry roast available fresh rice flour or use idiyappam flour, it holds the dough much better

Chakli Stepwise:
In a bowl, take the rice flour and besan

Add oil to a pan and heat it (do not let it smoke)

Add all masalas to the flours, ajwain, jeera, red chilli powder, turmeric, hing, til and salt to taste

Mix everything very well

Once the oil has heated up pour this onto the flour mixture

Let it rest for 3-4 minutes

After the oil turns a bit warm mix the flour very well

Crumble the flour and ensure when you make a fist lump it stays together and does not fall apart

Add water little by little and start forming a dough

Add more water and make sure the dough comes together


Oil your hands and rub on the dough

Keep the dough aside for 5 minutes

To make chakli, oil a chakli maker and fit the chakli mould/plate

Pinch half the dough or about a third of the dough

Make a log as shown below

Fill this log into chakli maker, heat oil to fry on medium flame

On a grease proof paper or underside of an oiled plate, start pressing the chakli

When it reaches desired shape and size pinch off the end with your finger

Make more and check if oil is heated up 

Carefully lower the chakli into the oil and start frying

Let the chakli fry on medium heat till they turn crisp and golden

Remove onto kitchen towels to absorb excess oil

Store in airtight container and serve with chai/coffee