Saaru or rasams are simple and light especially after making a heavy meal for festivals like Ugadi. I am a big fan different kinds of saaru and one such easy one is carrot saaru. It will be great to incorporate vegetables into saaru, they give a distinct taste. Carrots are very versatile and they really blend in well in this carrot saaru a slightly carrot'y taste, a little sweetness and also has the healing properties of saaru.
Piping hot carrot saaru mixed with hot steamed rice and there's nothing like it. Very comforting and soothing, makes you feel refreshed and satisfied after a heavy meal. I have added some additional spices like jeera and black pepper along with saarina pudi/rasam powder. These spices take the taste and goodness of carrot saaru to the next level.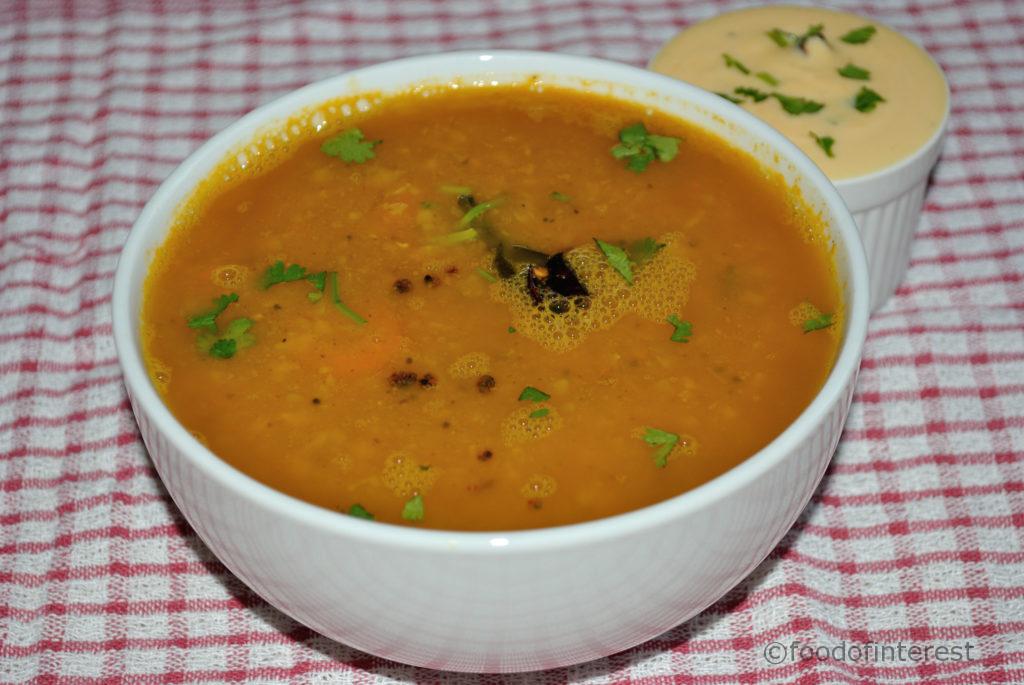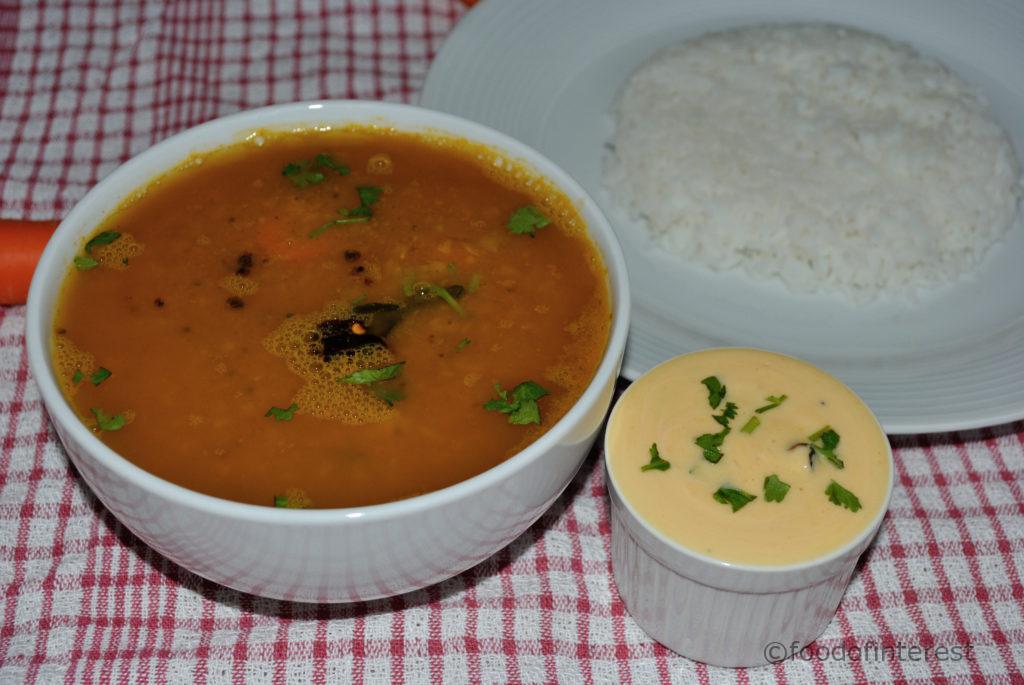 Try more carrot recipes from FOI, carrot paratha, carrot payasa, carrot halwa, carrot akki roti. Also try more saaru/rasam recipes like menasina saaru (pepper rasam). More comfort recipes from FOI. I had also made carrot saasme (raitha) with this saaru which I will post soon. Another combination veg recipe, beetroot huLi + beetroot saasme.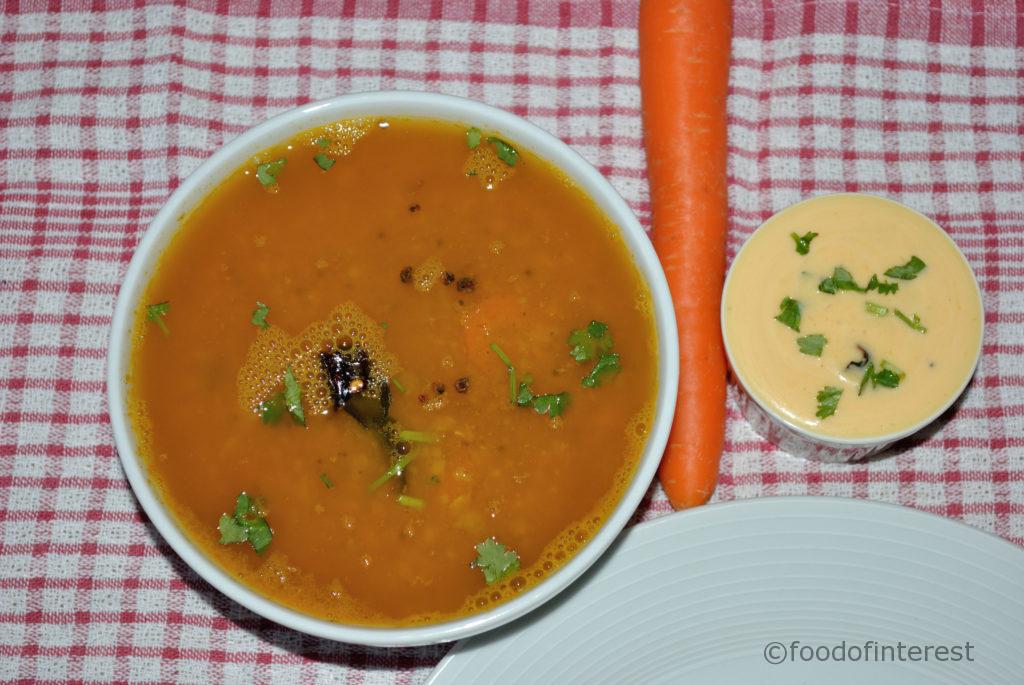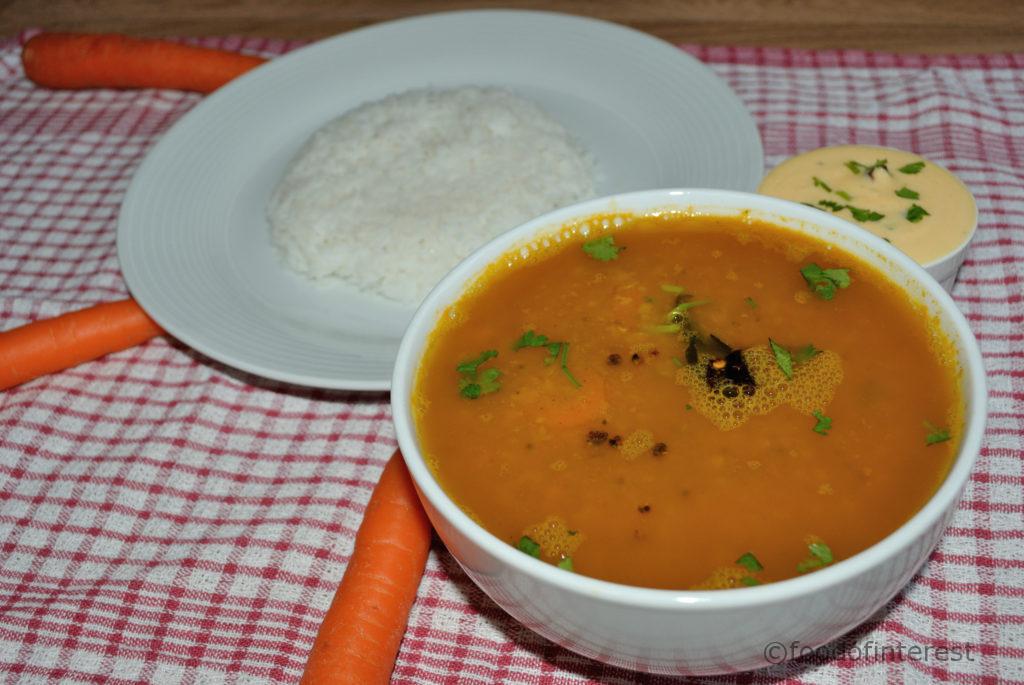 Carrot Saaru | Carrot Rasam | Rasam Recipes
Mild, sweet and piping hot carrot saaru or rasam, a great accompaniment with steamed rice
Ingredients
2 medium sized or 1 Cup sliced carrots
½ Tsp jeera
10-12 black pepper
½ Cup cooked toor dal
½ Tsp rasam powder
Salt to taste
½ Tsp turmeric
½ Tbsp jaggery
1 Tsp tamarind paste or 2 Tbsp tamarind pulp

For Tadka:
½ Tbsp ghee
1 Tsp saasuve/mustard
A pinch of ingu/hing/asafoetida
Few curry leaves/karibevu
1 broken red chilli
Method
Slice 2 medium carrots, boil till soft and keep aside
Blend to a paste/puree after it cools
Lightly roast ½ Tsp jeera, 10-12 black pepper
Pound to a powder in mortar-pestle
Boil and mash dal, keep aside
Add pureed carrot, roasted jeera-pepper powder to mashed dal
Add salt, rasam powder, turmeric, jaggery and tamarind
Pour little water to adjust consistency
Bring to a boil
Make vaggarne with ghee, mustard, hing, curry leaves and broken red chilli
Pour over saaru and garnish with coriander
Serve hot with steamed rice
Notes
You can skip adding jaggery if you want as carrots have sweetness

Add more rasam powder if you want more heat and aroma

Boil well for an aromatic and well seasoned saaru

Carrot Saaru Stepwise:
Slice 2 medium carrots, boil till soft and keep aside

Blend to a paste/puree after it cools

Lightly roast 1/2 Tsp jeera, 10-12 black pepper

Pound to a powder in mortar-pestle

Boil and mash dal, keep aside

Add pureed carrot, roasted jeera-pepper powder to mashed dal

Add salt, rasam powder, turmeric, jaggery and tamarind

Pour little water to adjust consistency

Bring to a boil

Make vaggarne with ghee, mustard, hing, curry leaves and broken red chilli

Pour over saaru and garnish with coriander

Serve hot with steamed rice