A spicy and delicious curry as an accompaniment with pulao, biryani or rotis is always welcome. Such curries enhance the taste of the dish even more and cleanses the palate. Such curries do not have to be oily or loaded with chillies to make them tasty. I have described one such lip-smacking recipe here, bhindi ka salan, Hyderabadi style!
Bhindi ka salan has a delicious masala paste going into it made with with roasted groundnuts, sesame, coconut and some fragrant spices. The flavours are then brought together by adding tamarind and jaggery balancing all the flavours. Ensure you are using fresh and tender bhindi/okra which makes bhindi ka salan really tasty.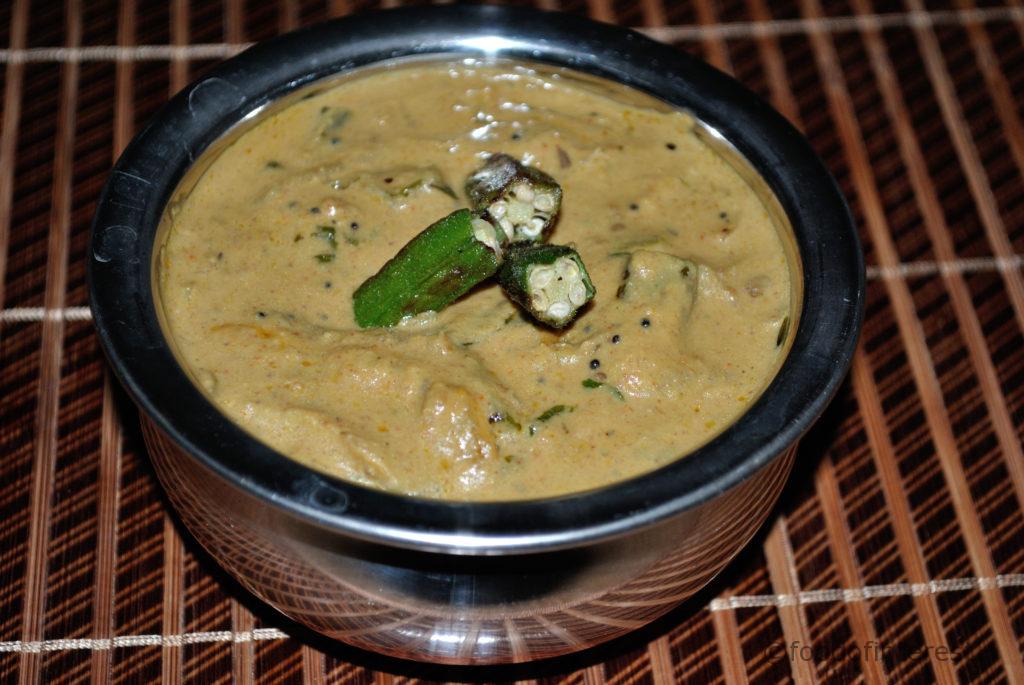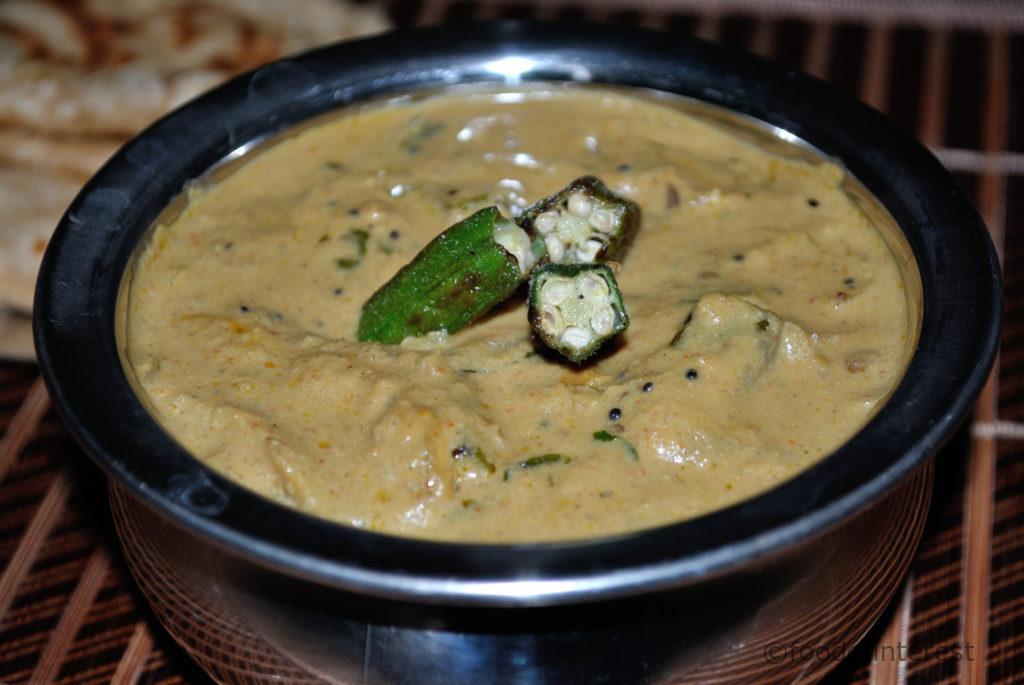 With a little preparation this curry can be made very easily. You can roast the masala ahead of time and grind it just before making your curry. Then fry the bhindi and the paste in parallel, finish the curry and then mix in the bhindi. You can even easily make this on a working day. Try more curry recipes from FOI, seemebadanekayi saagu, vegetable kurma etc. Try more bhindi recipes from FOI, bendekayi gojju etc.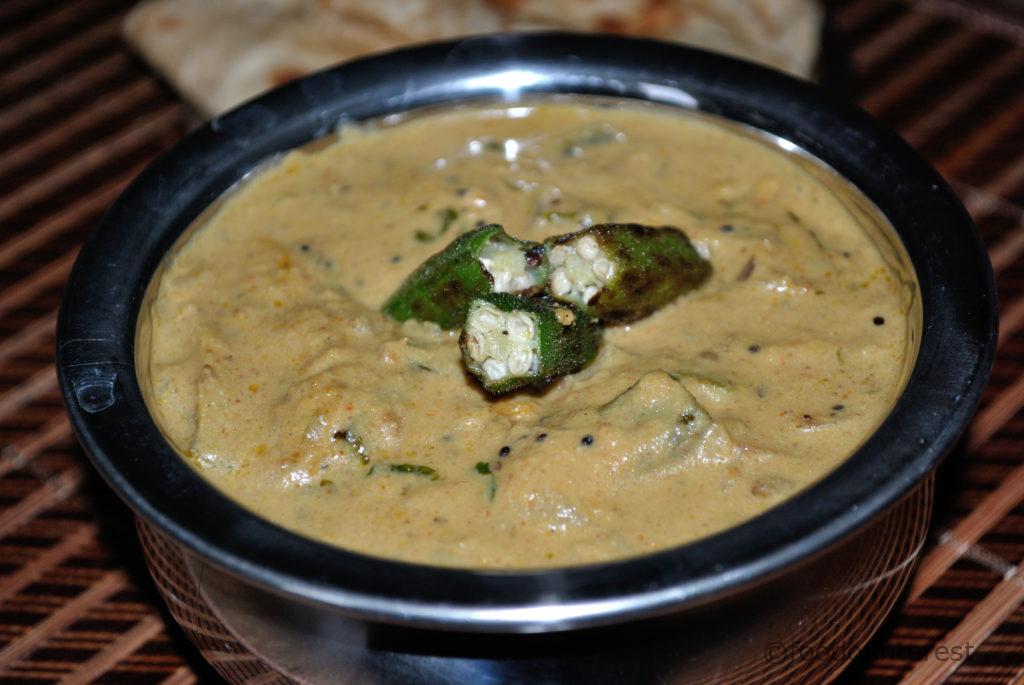 Bhindi Ka Salan | Bhindi Recipes | Curry Recipes
Spicy and delicious, loaded with nuttiness and full of flavour, Hyderabadi special Bhindi Ka Salan
Ingredients
200-250 Gm or 2 Cups 2" pieces bhindi/okra/lady's finger
¼ Cup peanuts/groundnuts/shenga
2 Tbsp sesame seeds/til/yellu
2 Tbsp desiccated coconut
1 Tbsp + 1 Tbsp coconut oil/cooking oil
1 Tsp jeera
¼ Tsp mustard
¼ Tsp menthya/methi seeds
1 sliced onion
Few curry leaves
1 green chilli
1-2 cloves garlic
½" ginger
¼ Tsp turmeric
½ Tsp red chilli powder
1 Tbsp crushed dhania
½ Cup water to adjust consistency
1 Tbsp tamarind juice
½ Tbsp jaggery
Salt to taste
Coriander to garnish
Method
In a pan slowly roast the groundnuts till they turn crisp
Add sesame and toast for a minute or two
Then add desiccated coconut and turn off the flame
Wash bhindi, dry them on kitchen towels well, cut them into 2" pieces
Add a Tbsp of oil into a pan, drop in the bhindi
Fry the bhindi slowly till they turn turn soft and skins changes colour
Set it aside to cool
In a mixer jar, add roasted groundnut mixture
Add 2-3 Tbsp water and grind to a paste (adjust water to make a fine paste)
In a pan, heat oil, add mustard, jeera, let them crackle
Drop in a few methi seeds, let them fragrant and golden
Add sliced onions and start frying, let them soften
Tear up a few curry leaves and drop them in
Next add crush ginger, garlic and green chilli and add it to the onions
Saute till the raw smell disappears
Next masalas go in, red chilli powder, turmeric and crushed dhania
Mix well and saute for a few seconds
Scoop out the groundnut masala paste and add water to adjust consistency, about ¼ Cup water will do
Mix well and let it come to gentle boil
Add tamarind extract and jaggery, mix well
Add salt to taste and let it simmer
Lastly add sauteed bhindi and mix well
Once it thickens and is uniformly mixed, add some chopped coriander to garnish
Serve hot with rotis or pulao
Notes
Ensure bhindi/okra is washed and dried well

Always roast groundnuts/shenga on low-medium flame

Adjust spices as per your taste, you can throw in 1-2 red chillies if you want


Bhindi Ka Salan Stepwise:
In a pan slowly roast the groundnuts till they turn crisp

Add sesame and toast for a minute or two

Then add desiccated coconut and turn off the flame

Wash bhindi, dry them on kitchen towels well, cut them into 2" pieces

Add a Tbsp of oil into a pan, drop in the bhindi

Fry the bhindi slowly till they turn turn soft and skins changes colour

Set it aside to cool

In a mixer jar, add roasted groundnut mixture

Add 2-3 Tbsp water and grind to a paste (adjust water to make a fine paste)

In a pan, heat oil, add mustard, jeera, let them crackle

Drop in a few methi seeds, let them fragrant and golden

Add sliced onions and start frying, let them soften

Tear up a few curry leaves and drop them in

Next add crush ginger, garlic and green chilli and add it to the onions

Saute till the raw smell disappears

Next masalas go in, red chilli powder, turmeric and crushed dhania

Mix well and saute for a few seconds

Scoop out the groundnut masala paste and add water to adjust consistency, about 1/4 Cup water will do

Mix well and let it come to gentle boil

Add tamarind extract and jaggery, mix well

Add salt to taste and let it simmer

Lastly add sauteed bhindi and mix well

Once it thickens and is uniformly mixed, add some chopped coriander to garnish

Serve hot with rotis or pulao