Crisp and crunchy benne/butter muruku has to be one of the tastiest snacks ever. It is a favourite in most households and can be made during many festivals like Ganesha Chaturthi, Sri Krishna Janmasthami and Deepavali/Diwali. In our childhood days, we used to look forward to celebrations of Deepavali/Diwali, along with buying and wearing new clothes and bursting crackers (which we no longer do for Mother Nature!) we also enjoyed eating these crunchy savoury snacks all day long! Of course along with swallowing up some sweets 🙂
Benne muruku is made from rice flour and butter as the main ingredients. Adding butter makes the muruku very crisp and light. Addition of too much butter makes them very brittle and there is a good chance that they will disintegrate while frying. So add butter with caution. Sesame seeds and carom seeds(om/ajwain) give nice flavour and aroma. Enjoy these with a cup of tea/coffee. Try other tea-time festival snacks like chivda and nippattu!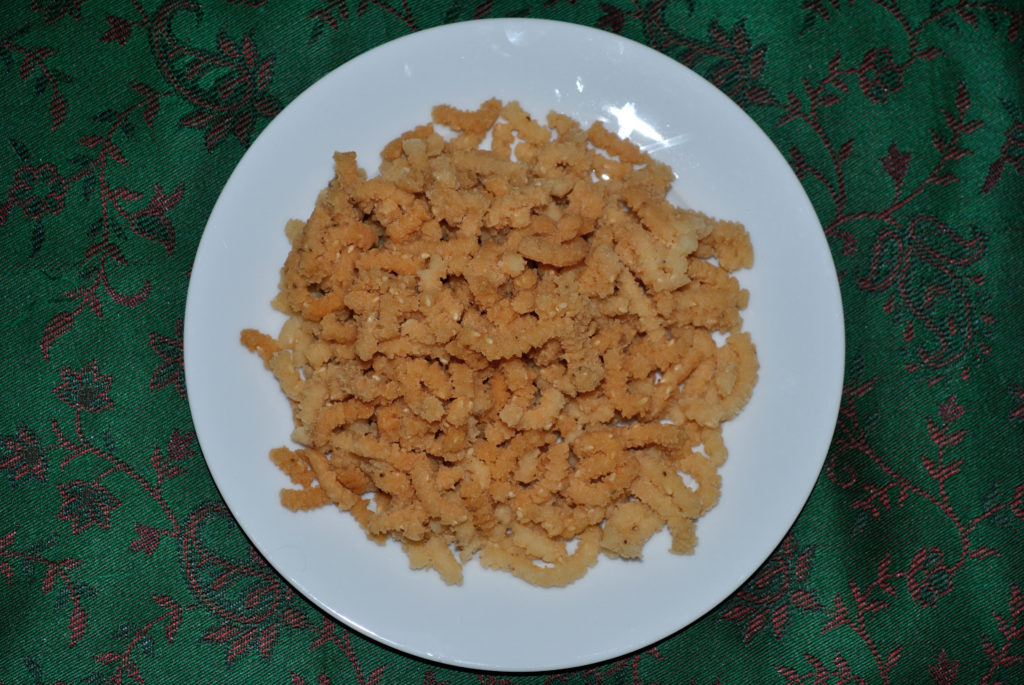 Benne Muruku | Butter Muruku | How to make benne muruku?
Crisp and crunchy snack, butter/benne muruku
Ingredients
1 Cup rice flour
1¼ Tbsp hurigadale hittu/fried gram flour/puthani hittu/chutney dal powder
2 Tsp butter
1 Tsp white sesame seeds/til/yellu
¼ Tsp carom seeds/om/ajwain
Salt to taste
Warm water for making dough
Oil for deep frying
Method
Dry toast the sesame seeds till light golden. Set aside to cool
Dry grind about ¼ Cup of fried gram/hurigadale and use only 1¼ Tbsp of the flour
Take rice flour and fried gram flour in a mixing bowl
Add salt
Add toasted sesame seeds
Add om/ajwain seeds
Add butter. Rub the butter into the flours and make sure everything is mixed well
Add just warm water little by little
Make a smooth and soft dough. The dough should be pliable and not hard. Keep it covered in cling wrap or moist cloth
Use the muruku plate of the chakli maker. Fit it in. Keep the oil to heat for deep frying
Pinch a big ball off the dough and roll into a long shape. Put this inside the chakli maker
On a greaseproof paper make a chakli shape by pressing the chakli maker
Drop these chaklis in hot oil and deep fry them on meduium flame till light golden. Drain on paper towels
Lightly break them up and serve these crunchy snacks with tea/coffee
Notes
Do not worry if they break up a bit while frying. Make sure they do not disintegrate completely. For making muruku we need to lightly break them up anyway. Adding butter makes them extremely light

Add a pinch of hing if you want

Adding just warm water makes the dough smooth and soft

Use any kind of chakli maker you have

Use sunflower oil or any thin cooking oil you like for frying. Always fry on medium heat for the chaklis to cook through and turn golden
Stepwise:
Dry toast the sesame seeds till light golden. Set aside to cool
 

Dry grind about 1/4 Cup of fried gram/hurigadale and use only 1 1/4 Tbsp of the flour


Take rice flour and fried gram flour in a mixing bowl
 

Add salt


Add toasted sesame seeds


Add om/ajwain seeds


Add butter. Rub the butter into the flours and make sure everything is mixed well
  

Add just warm water little by little
  

Make a smooth and soft dough. The dough should be pliable and not hard. Keep it covered in cling wrap or moist cloth
 

Use the muruku plate of the chakli maker. Fit it in. Keep the oil to heat for deep frying
  

Pinch a big ball off the dough and roll into a long shape. Put this inside the chakli maker
 

On a greaseproof paper make a chakli shape by pressing the chakli maker


Drop these chaklis in hot oil and deep fry them on meduium flame till light golden. Drain on paper towels
 

Lightly break them up and serve these crunchy snacks with tea/coffee