Bajra or pearl millet or sajje is such an important grain in Indian cuisine. It has been cultivated for thousands of years on our soil. So it is without doubt that there are so many recipes using this wonder grain. Bajra methi poori is one of them, it is delicious and filling!
Bajra is a sweet grain, it has an earthiness to it. The methi leaves added to this bajra methi poori balances the sweetness of bajra. I have also added some whole wheat flour/atta to make the dough hold together. All the spices added enhance the taste of bajra methi poori. This is a simple recipe which can be made for lunch or dinner.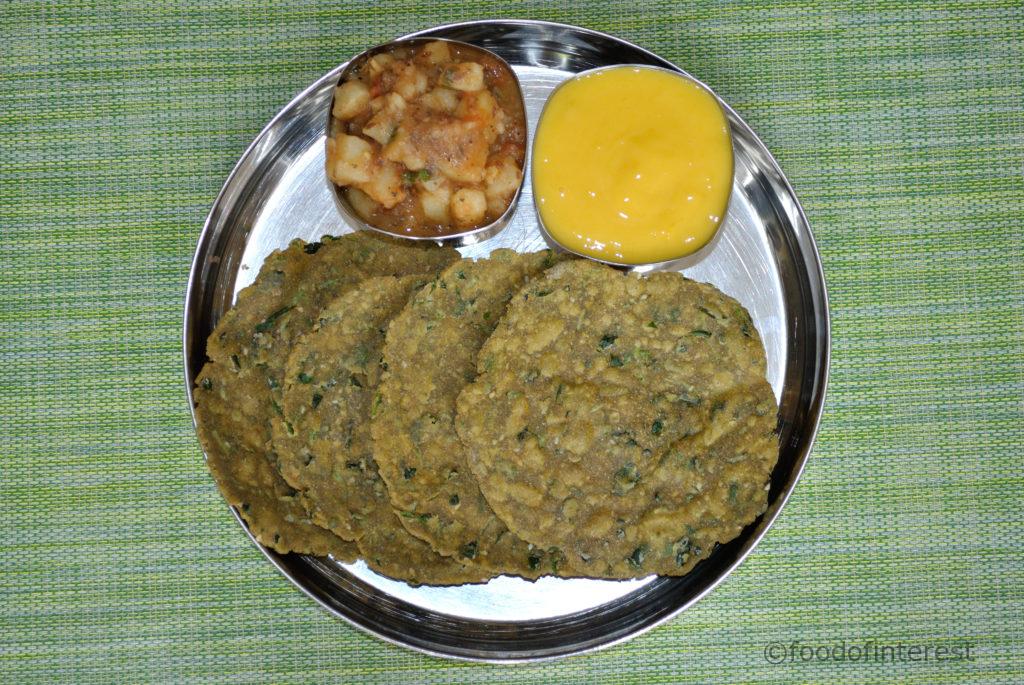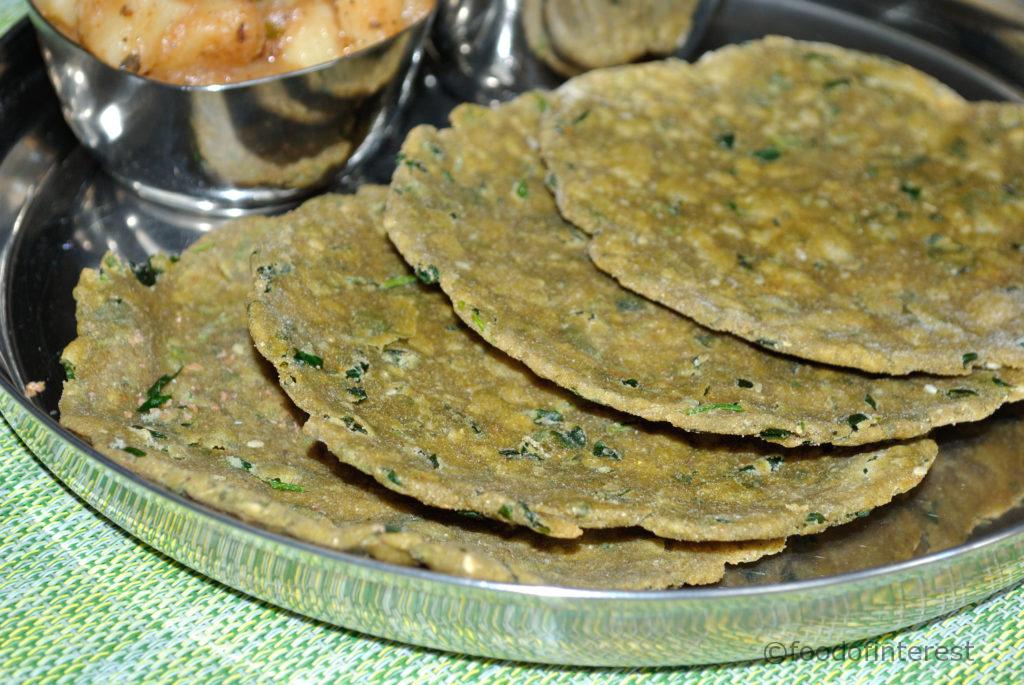 Infact it even packs well and is suitable for travel. Imagine long train journeys and bajra methi poori is in your potli/bag. These pooris can be served with just achar, gur and dahi. Here I have served them with aloo rasedar and aamras.
Try more roti/poori recipes from FOI, rava roti, baalekayi akki roti, carrot akki roti, whole wheat poori. A variety of paratha recipes also available on FOI, like gobhi paratha, aloo paratha, tomato paratha, paneer paratha etc.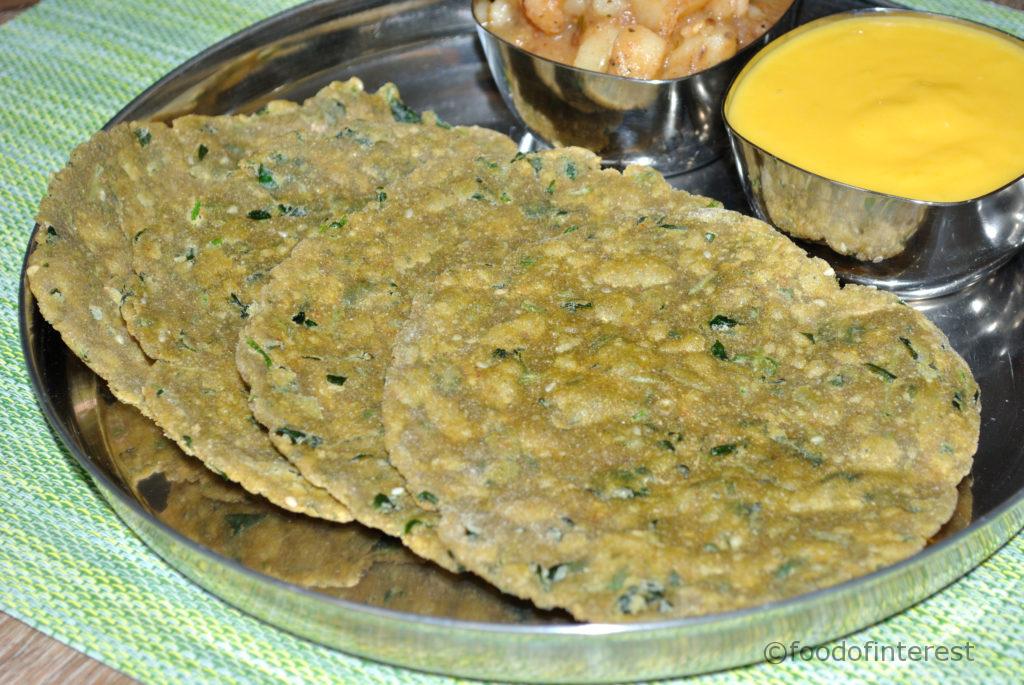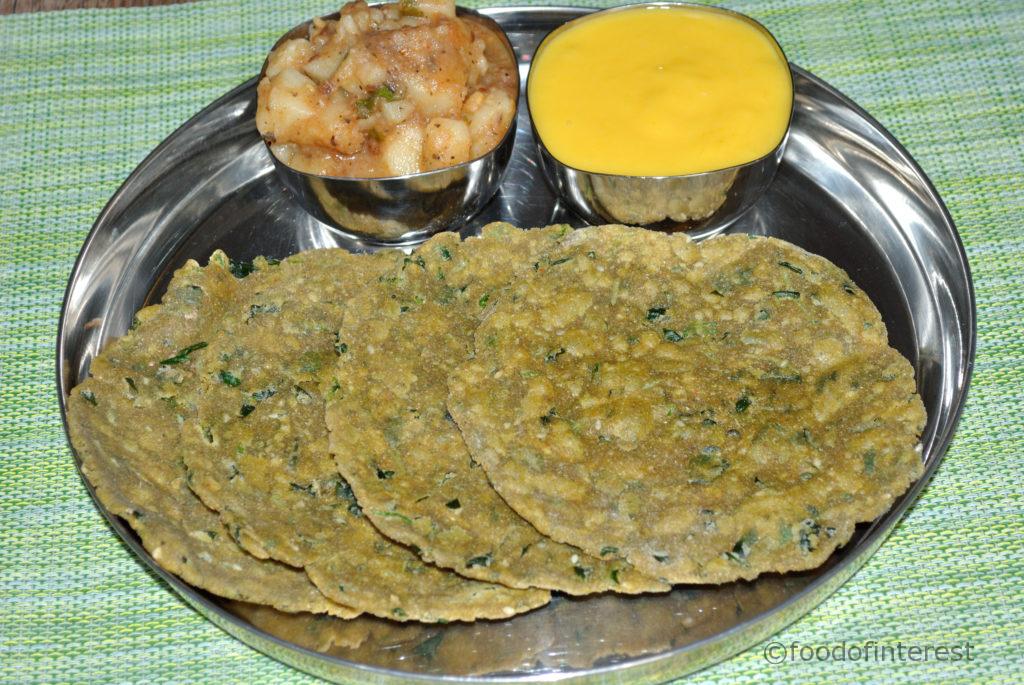 Bajra Methi Poori | Methi Bajra Puri | Poori Recipes
Delicious and filling, bajra methi poori, for lunch or dinner
Ingredients
1 Cup bajra flour
½ Cup whole wheat flour/atta
1 Cup methi leaves
½ Tsp ajwain
¼ Tsp turmeric
½ Tsp yellu/sesame
½ red chilli powder
Salt to taste
1 Tsp sugar
½ Tsp jeera powder
½ Tsp dhania/coriander powder
1 Tbsp ghee
Water to knead dough
Oil for frying
Method
In a bowl take the bajra flour and whole wheat flour
To this add all spices and masalas, sesame, red chilli powder, ajwain, dhania powder, jeera powder, turmeric
Sprinkle salt and sugar and mix all the ingredients together
Clean, wash and finely chop methi leaves and add to the flour mixture
Mix very well so that the leaves get mixed with the flour
Add little ghee and crumble the mixture
Now add water little by little
Knead into a dough, apply ghee, cover and let it rest for 15-30 minutes
Pinch a ball off the dough and roll into a poori
The poori should be rolled slightly thick
Slowly slide the poori in hot oil
Splash oil on top of the poori and fry
Remove onto paper towels
Bajra methi poori is ready to serve with aamras and aloo rasedar
Notes
Wheat flour is added to bind the bajra flour to add some gluten to the dough

You can also add crushed green chilli and garlic to the dough if you want

Serve it with just achar and dahi if you want

You can also roast the rolled out poori like a roti on a tawa by applying little oil/ghee

Bajra Methi Poori Stepwise:
In a bowl take the bajra flour and whole wheat flour

To this add all spices and masalas, sesame, red chilli powder, ajwain, dhania powder, jeera powder, turmeric

Sprinkle salt and sugar and mix all the ingredients together

Clean, wash and finely chop methi leaves and add to the flour mixture

Mix very well so that the leaves get mixed with the flour

Add little ghee and crumble the mixture

Now add water little by little

Knead into a dough, apply ghee, cover and let it rest for 15-30 minutes

Pinch a ball off the dough and roll into a poori

The poori should be rolled slightly thick

Slowly slide the poori in hot oil

Splash oil on top of the poori and fry

Remove onto paper towels

Bajra methi poori is ready to serve with aamras and aloo rasedar