Fruit salads are always fun to eat. The choices are endless. Fancy fruit salads are too pretentious though, I think. Cutting fruits in different ways is an art of course. Bit of a faff to eat it all up later. Our good old traditional ways of eating fruits are the best. This baalehannu rasayana or simple banana fruit salad is one such salad.
This baalehannu rasayana of course has bananas, along with freshly grated coconut, grated jaggery, pounded elaichi, honey, edible camphor and gasa gase (poppy seeds). All of these amalgamate so well together, baalehannu rasayana becomes a magic salad to eat.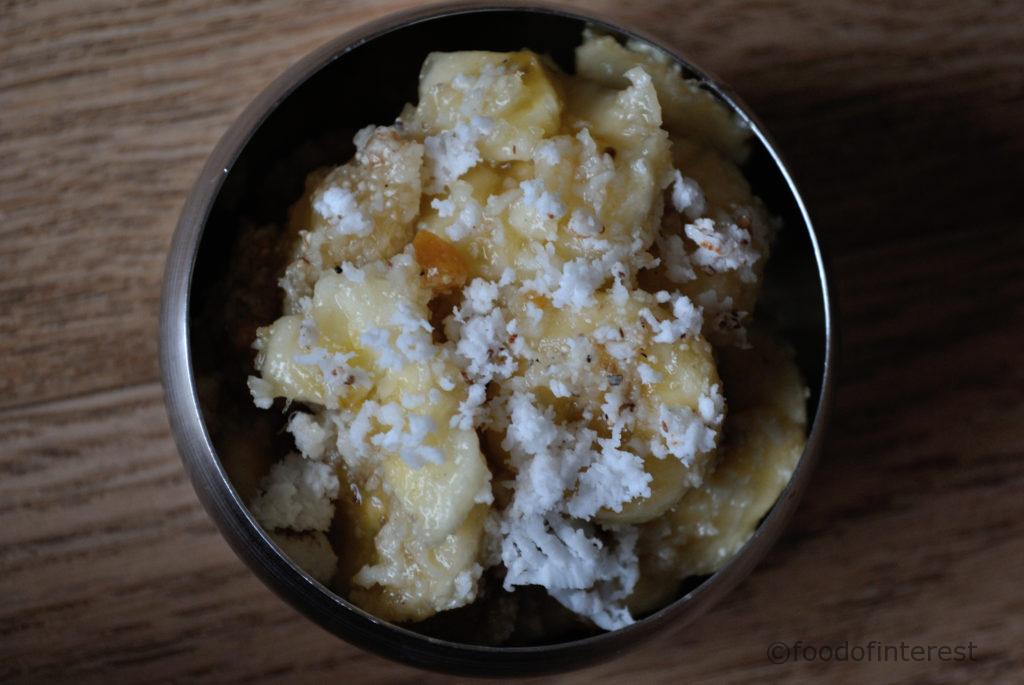 I make Karnataka style baalehannu rasayana on Ram Navami or for Maha Shivaratri when we fast. It gives instant energy and the taste lingers on. So the whole day you will feel that fresh and fragrant taste. It is a balance of all flavours and one flavour does not dominate the other.
Try other banana dishes like eggless banana bread, banana mousse, papaya banana milkshake and overnight banana choco chip oatmeal. Banana is such a versatile fruit. It is the 'potato' of the fruit family. Oh I do love bananas, raw or ripe they are too good! Take for instance raw banana in this baalekayi akki roti! More fasting or vrat recipes…
More banana based recipes like banana dosa, banana chapathi, banana ice cream, banana milkshake etc, all photoshot, have been lined to be posted on FOI. Stay tuned, true to your love for bananas!
Baalehannu Rasayana | Banana Rasayana | Salad Recipes
Traditional and easy, a quick way to satisfy your sweet taste buds-baalehannu rasayana
Recipe type:
Starter/Appetizer
Ingredients
2 ripe bananas
2 Tbsp grated jaggery/bella/gur
1-2 Tsp honey
¼ Cup freshly grated coconut
1 Tbsp gasa gase/poppy seeds/khus-khus (optional)
1 small pinch of edible camphor (optional)
2 powdered elaichi
½ Tsp desi ghee
Method
Toast gasa gase/poppy seeds till light golden. Keep aside
Peel and chop/slice bananas
Put them in a bowl, add grated jaggery
Squeeze in honey
Next add grated coconut
Give everything a good mix with light hands. Do not squash or mash the fruit! Add a pinch of edible camphor
Lastly add toasted gasa gase and pounded elaichi seeds
Serve fresh or after letting it sit for a while! Either way, enjoy the fresh flavours
Notes
Use ripe bananas but make sure they are not squishy over-ripe!

Make sure you use freshly grated sweet coconut

Adjust jaggery as per taste, sugar can be used but rasayana tastes best with jaggery and is traditional!

Double or triple the recipe if needed
Baalehannu Rasayana Stepwise:
Toast gasa gase/poppy seeds till light golden. Keep aside

Peel and chop/slice bananas

Put them in a bowl, add grated jaggery

Squeeze in honey

Next add grated coconut

Give everything a good mix with light hands. Do not squash or mash the fruit! Add a pinch of edible camphor

Lastly add toasted gasa gase and pounded elaichi seeds

Serve fresh or after letting it sit for a while! Either way, enjoy the fresh flavours