A good collection of everyday recipes especially palya/sabzi is very essential. It should be part of a recipe book if you maintain one. Hand-written, everyday recipes are one of the best ways of learning to cook. Noting the recipe down even if you have a copy the book, is quarter of the recipe done. It nicely registers and you exactly know what you need to add to it. So new learners, bachelors, this is one such recipe, aloo methi.
Sabzis made with aloo make for a very easy recipe and go well with rotis/phulkas/chapathis. One of my favourite ways to make a side dish is to choose an easy recipe. I have made a Bengali style aloo methi sabzi with some panch phoran. If you do not have panch phoran readily available, it is quite easy to mix it, read on.
Methi daana (fenugreek), kalonji (nigella seeds), jeera (cumin), rai (mustard) and saunf (fennel)*, yes that easy. Or just use jeera instead, that works too for this recipe!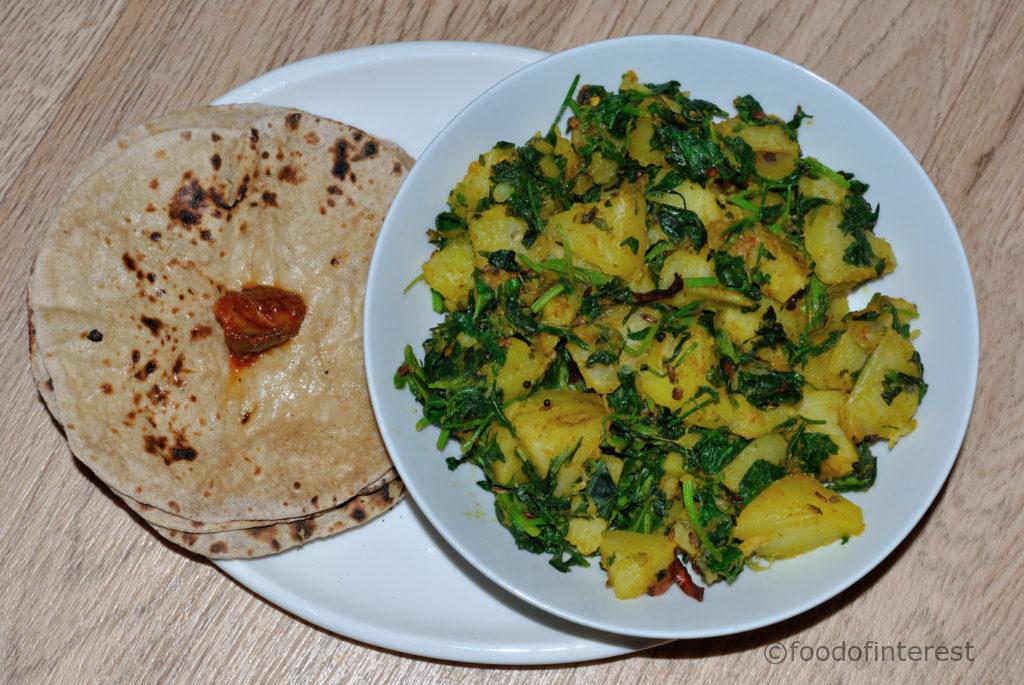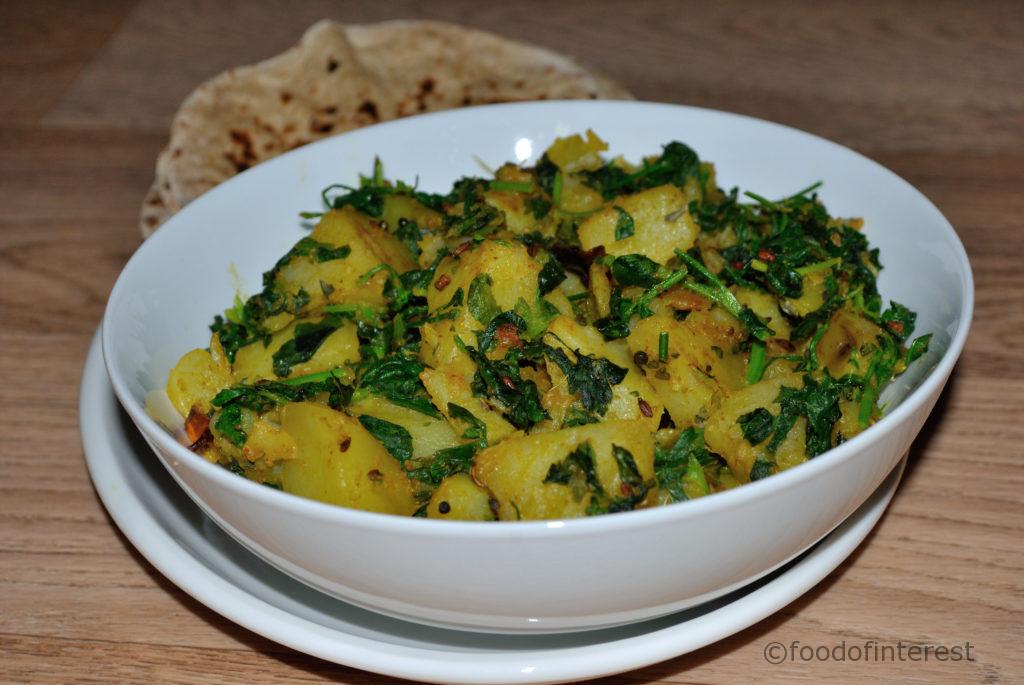 Pre-boiling potatoes makes it faster to make this aloo methi sabzi. When the potatoes are boiling, get the other things ready and sabzi is ready in a jiffy. Use fresh and tender methi leaves for the unmistakable methi flavour. Try more sabzis, aloo matar palak, aloo baingan, gobhi matar, aloo posto, aloo mooli saag etc.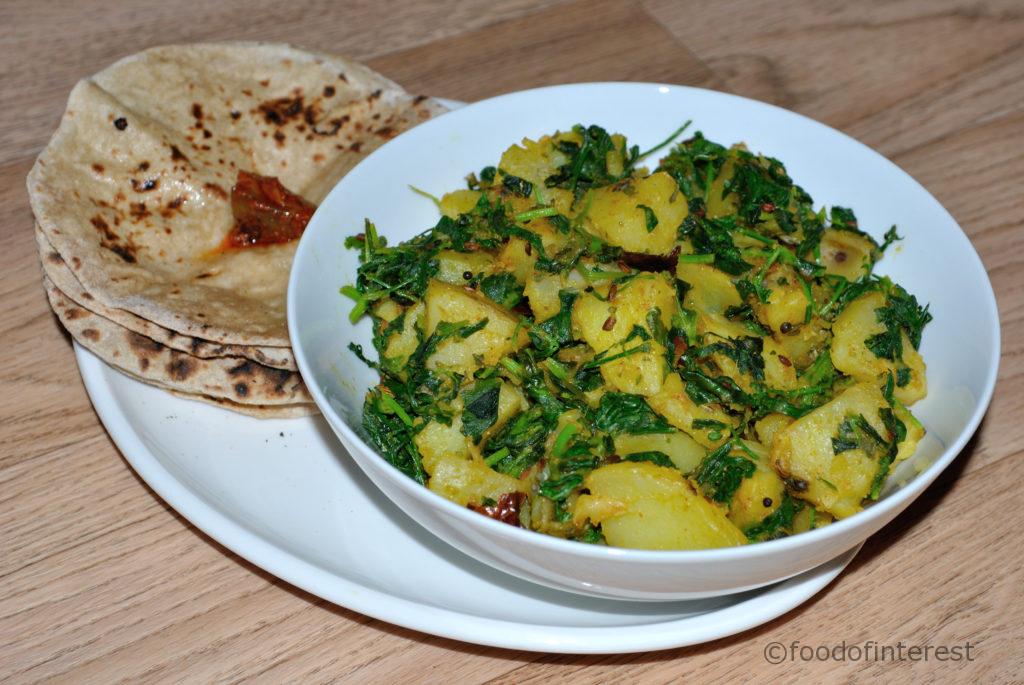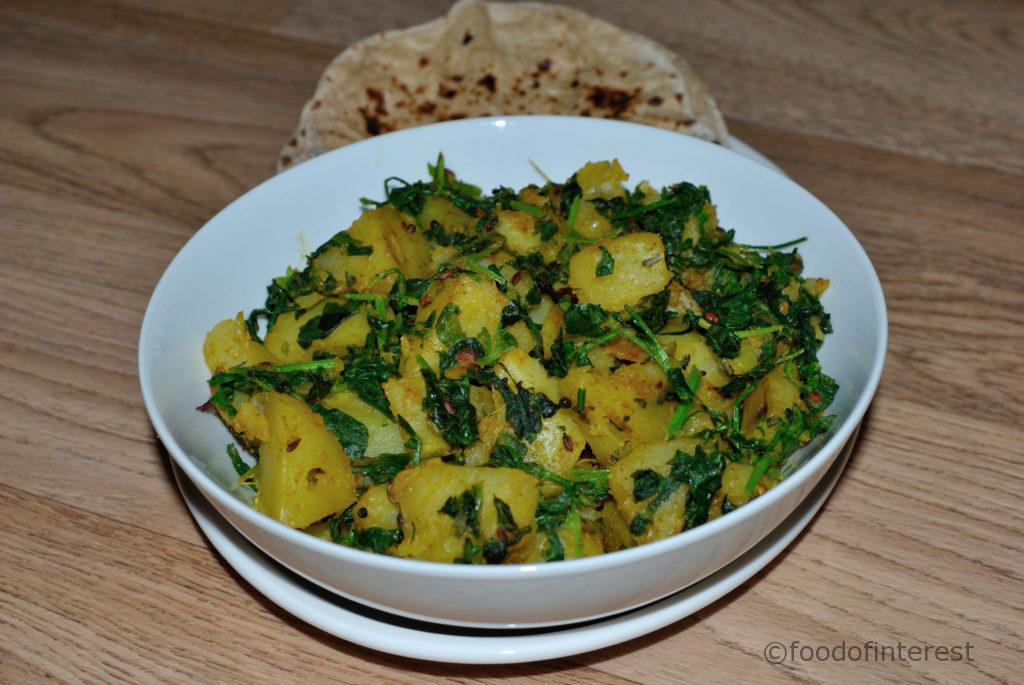 Aloo Methi | Aloo Methi Sabzi | Sabzi Recipes
Simple everyday sabzi, wholesome and flavoursome, aloo methi
Ingredients
1½ potatoes
1 Cup methi leaves
½ Tbsp oil
¼ Tsp jeera
½ Tsp panch phoran*
1 pinch hing
1 dry red chilli
½ Tsp red chilli powder
¼ Tsp turmeric
½ Tsp dhania powder
½ Tsp amchur powder
Coriander leaves
¼ Tsp kasuri methi
Method
Dice potatoes and boil in water till soft
Check with a fork if the potatoes have turned soft
Pick, clean, wash the methi
Finely chop the methi and keep aside
Heat oil, add jeera, panch phoran, let them splutter, add hing and a broken dry red chilli
Add boiled potatoes
Sprinkle red chilli powder, turmeric
Add dhania powder and amchur powder
Season with salt
Mix everything well
Now add chopped methi leaves and saute
Cover and cook for 3-4 minutes till methi leaves are cooked
Finish with a rub of kasuri methi and coriander leaves
Notes
Potatoes do not have to pre-boiled, but it reduces cooking time

Ensure methi leaves are fresh and tender

Adjust spice as per your taste

Aloo Methi Stepwise:
Dice potatoes and boil in water till soft

Check with a fork if the potatoes have turned soft

Pick, clean, wash the methi

Finely chop the methi and keep aside

Heat oil, add jeera, panch phoran, let them splutter, add hing and a broken dry red chilli

Add boiled potatoes

Sprinkle red chilli powder, turmeric

Add dhania powder and amchur powder

Season with salt

Mix everything well

Now add chopped methi leaves and saute

Cover and cook for 3-4 minutes till methi leaves are cooked

Finish with a rub of kasuri methi and coriander leaves