Puris or pooris are unleavened puffed up bread, a very common dish all over India. These are whole wheat puri which makes them extra delicious and they are definitely a crowd favourite.
Whole wheat flour (atta) is kneaded into a smooth dough. Little dough balls are pinched off the dough rolled out into discs (not too thin not too thick). These are then deep fried in medium hot oil till they puff up.
They are a treat to eat and very commonly made during weddings and religious occasions and festivals.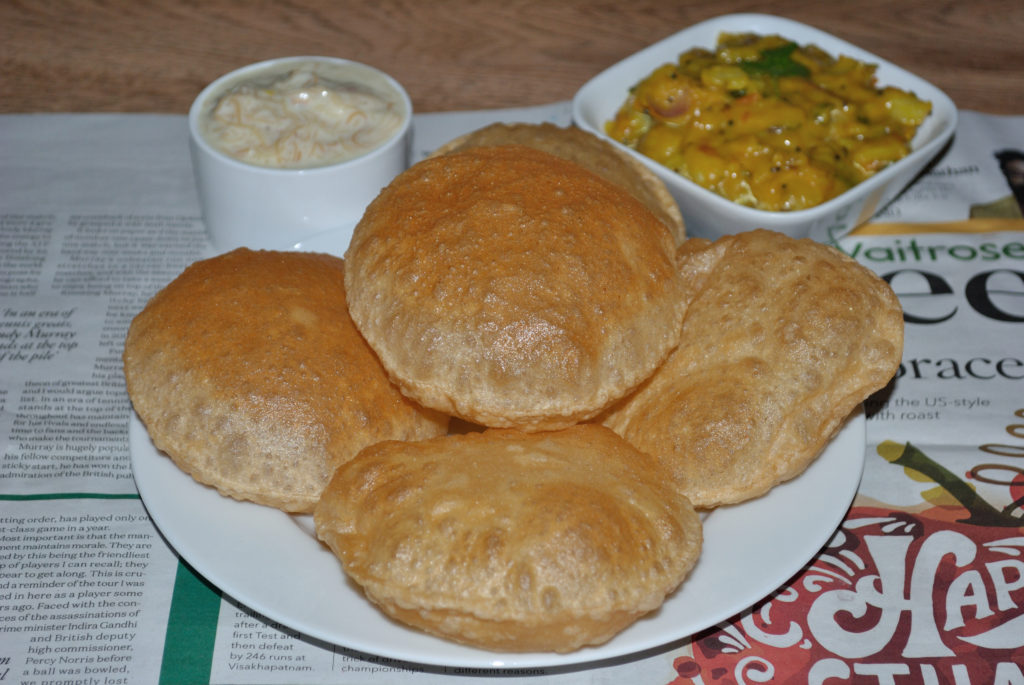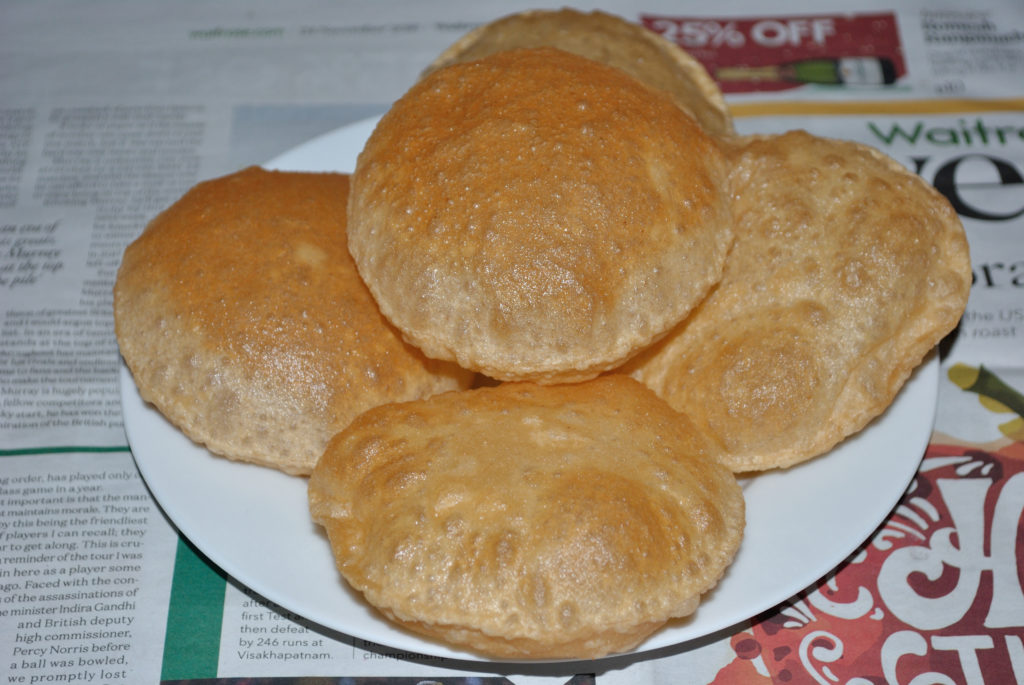 A weekend whole wheat puri nashta with aloo masala and seviyaan kheer. Oh dear! what more can one ask for! Puris are also served with mixed veg saagu or even just coconut chutney. And whole wheat puri are an absolute delicacy with mango shrikhand/amrakhand and kesar elaichi shrikhand.
It's everybody's favourite and a definite hit among children. Of course do not make these every other day but once in a while, yum!
Try other paratha and flatbread recipes like aloo paratha, tomato paratha, methi thepla, carrot paratha.
More whole wheat recipes from FOI!
Whole Wheat Puris | How to make atta poori? | Poori
Whole wheat puri nashta for weekend, with aloo masala and seviyaan kheer
Ingredients
1½ Cups whole wheat flour
1 Tbsp oil
A pinch of salt
A pinch of sugar
Water to knead dough
Oil for deep frying
Method
In a bowl, add whole wheat flour (atta)
Sprinkle salt and sugar. Add ½ Tbsp oil and reserve ½ Tbsp for kneading
Mix salt, sugar and oil into flour
Slowly add water little by little. Gather flour together as you add water
When it starts coming together add water little by little
Knead into a dough, apply oil, knead again
Cover in cling wrap or kitchen towel, set aside for a good 2-3 hours
To make puris, pinch balls off the soft dough
Using a rolling pin/belan roll into a disc (it should not be very thin). Dust with flour as required
If you like to make perfect round puris use a large sized cookie cutter or a round lid, cut into a round puri. I generally prefer hand made ones but showing here for demonstration
Make rest of puris and pile them up. Meanwhile heat oil in a deep kadai or pan or low-medium heat
To fry puris, gently slide a rolled out puri into oil
Push puri downwards slowly into oil with the back of a karchi/spoon and let it puff up
Once golden and puffed up, remove on a paper towel and let it absorb excess oil. Make remaining puris the same way
Serve immediately with aloo masala or veg saagu or chutney
Notes
Do not make a very tight dough or a very loose dough. It should be soft and pliable.

Cutting puris into perfect round shapes is entirely optional

Do NOT fry in very hot oil, fry on medium heat only

Keeping dough for a while helps in gluten formation and makes good puris

Whole Wheat Puri Stepwise:
In a bowl, add whole wheat flour (atta)


Sprinkle salt and sugar. Add 1/2 Tbsp oil and reserve 1/2 Tbsp for kneading
 

Mix salt, sugar and oil into flour


Slowly add water little by little. Gather flour together as you add water
  

When it starts coming together add water little by little
 

Knead into a dough, apply oil, knead again
   

Cover in cling wrap or kitchen towel, set aside for a good 2-3 hours


To make puris, pinch balls off the soft dough


Using a rolling pin/belan roll into a disc (it should not be very thin). Dust with flour as required


If you like to make perfect round puris use a large sized cookie cutter or a round lid, cut into a round puri. I generally prefer hand made ones but showing here for demonstration
  

Make rest of puris and pile them up. Meanwhile heat oil in a deep kadai or pan or low-medium heat
  

To fry puris, gently slide a rolled out puri into oil


Push puri downwards slowly into oil with back of karchi/spoon and let it puff up
 

Once golden and puffed up, remove on a paper towel and let it absorb excess oil. Make remaining puris the same way


Serve immediately with aloo masala or veg saagu or chutney