Fancy eating a pizza? Feel like ordering one? What if you can make it at home with your own homemade dough, hand stretched into a pizza. Here's the recipe for an easy homemade whole wheat pizza dough. It can also be shaped into a rectangular crust by hand stretching the dough. Italians sell pizza slices that are rectangular in shape and they love their crust thin. Pizza joints all over the world make thick crust mostly but authentic Italian pizzas are actually quite thin much like our rotis. Pizza recipes for Fig and Goat's Cheese pizza, Pizza Margherita, Veg Supreme pizza are all lined up to be posted. Watch out for pizza recipes in FOI.
Photo of pizzas from an Italian joint (Tivoli near Rome), clicked with permission 🙂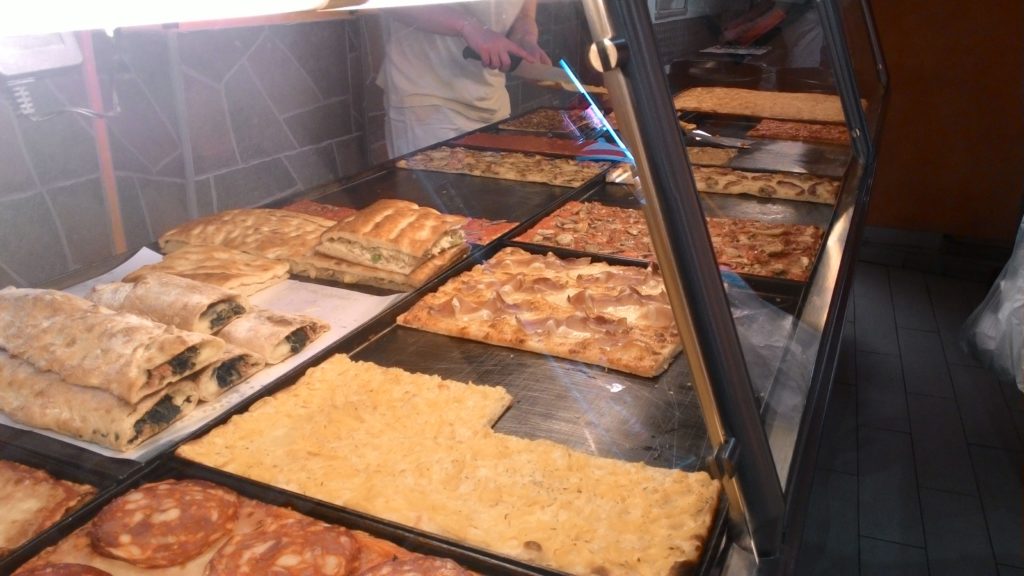 Whole Wheat Pizza Dough | How to make pizza dough
Homemade whole wheat pizza dough
Serves:
8" - 2 thin or 1 thick crust
Ingredients
½ Cup whole wheat flour/atta
¼ Tsp sea salt (or regular table salt)
½ Tsp sugar
1 Tsp active dry yeast
2 Tbsp olive oil for kneading
4 Tbsp luke warm water
Method
In a bowl, take warm water in a bowl. Add sugar to water
To water, sprinkle active dry yeast. Cover and let it sit undisturbed for 10-15 minutes
In another bowl, take whole wheat flour, add salt
Check if water-yeast mixture has frothed up for after 10 minutes. If not, start again*
Start making the dough, make a well in centre of the whole wheat flour, add water-yeast mixture. Make dough, it will be sticky initially, use olive oil towards the end of kneading and make a soft and pliable dough
Let it sit for an hour in warm place so that the yeast can work its magic
To make thin pizza crust, pinch off half of the dough roll out with a rolling pin; for thick crust use the whole dough and roll out into a thick crust
Prick all over the pizza crust with a fork so that it does not fluff up when baked. Add toppings of your choice, bake and eat
Notes
Add dried herbs like oregano, basil and powdered pepper if you like, while kneading the dough

If adding easy bake yeast no need to activate the yeast. Just add ½ Tsp easy bake yeast in place of 1 tsp active dry yeast, mix all ingredients with wheat flour, make dough with warm water

This dough recipe can be doubled

Stretch the dough with hand or roll out with a rolling pin

Pizza dough can be frozen. Just before using it, thaw for a few hours in the refrigerator and then use

Roll out the crust as thin or as thick as you want

*Yeast has to activate before making dough. If your water-yeast mixture has not frothed up, check the use by date on the yeast pack. Start over again with the water-yeast mixture

Bake the crust separately and store it when cooled and then use the crust. I generally bake the crust with the toppings at 220 deg C for 8-10 minutes till done.
 Stepwise:
In a bowl, take warm water in a bowl. Add sugar to water


To water, sprinkle active dry yeast. Cover and let it sit undisturbed for 10-15 minutes
 

In another bowl, take whole wheat flour, add salt
 

Check if water-yeast mixture has frothed up for after 10 minutes. If not, start again*


Start making the dough, make a well in centre of the whole wheat flour, add water-yeast mixture. Make dough, it will be sticky initially, use olive oil towards the end of kneading and make a soft and pliable dough
  

Let it sit for an hour in warm place so that the yeast can work its magic (photos from another time :) )
   

To make thin pizza crust, pinch off half of the dough roll out with a rolling pin; for thick crust use the whole dough and roll out into a thick crust 
 

Prick all over the pizza crust with a fork so that it does not fluff up when baked. Add toppings of your choice, bake and eat
  

A glimpse of the pizza recipes that are coming up :)
Fig and goat's cheese, pizza Margherita, Veg supreme pizza