Back with another street food from FOI. This time it's an Indo-Chinese dish, street style veg fried rice. Along with pav bhaji this used to be my favourite dishes to order in canteens near my college. A platter of gobhi manchurian to share with friends, the perfect combo! This time I made paneer manchurian to serve with veg fried rice. It also tastes delicious with veggies in hot gravy sauce. I have posted a few pictures below from another time.
For me the hit of this dish, veggies of course but it is freshly pounded black pepper which adds the distinct taste. It brings out the flavour of all the veggies and the slightly burnt taste gives it an unique flavour.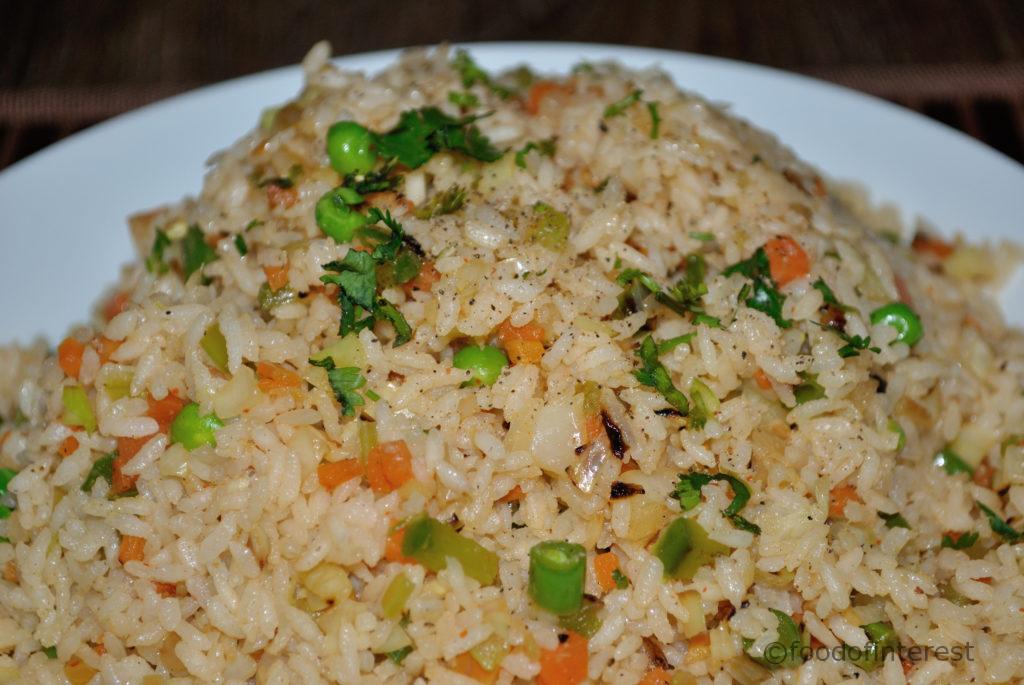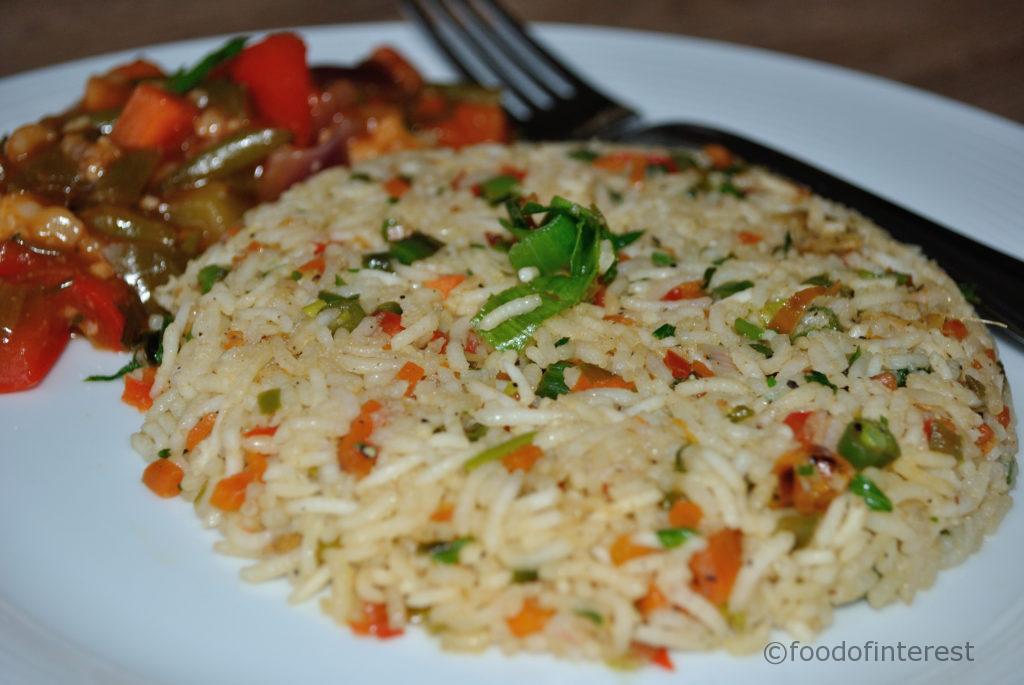 It is quick to make too, boil rice on side, chop veggies. Drain water from cooked rice and set aside to cool. Quickly toss in veggies in a wok and stir fry. Mix rice, add all seasonings and there it is, veg fried rice. Try more Indo-Chinese recipes like gobhi manchurian, veg hakka noodles, veg momos etc. More street style recipes from FOI!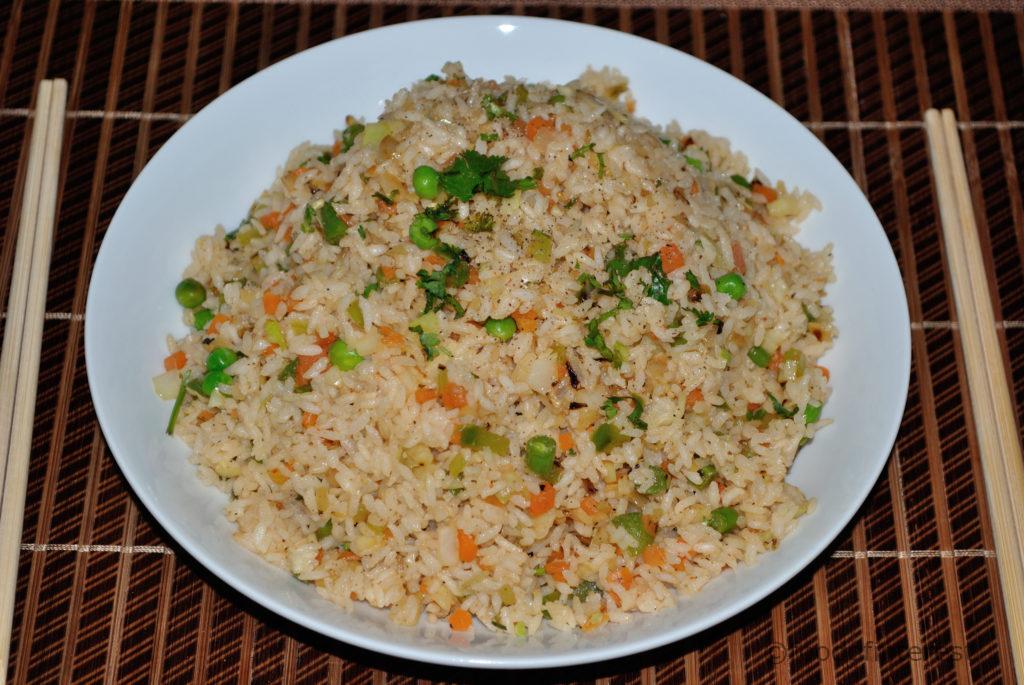 Veg Fried Rice | Fried Rice | Indo Chinese Recipes
Yummy veg fried rice with bright coloured stir fried vegetables
Ingredients
2 Tbsp peanut-oil/sesame-oil/olive-oil
1 Cup jeera-rice/any aromatic small-grained rice
1" finely chopped ginger
1 finely chopped garlic
1 small piece of finely chopped celery
½ green capsicum/bell-pepper
1 finely chopped onion
1 finely chopped small carrot
4-5 finely chopped green beans
¼ Cup fresh/frozen green peas
1 small piece finely chopped cabbage
Salt and freshly pounded black pepper to taste
2 Tsp soya-sauce
1 Tsp chilli-sauce or as required
Chopped coriander to garnish
Method
In a vessel, bring 4 cups of water to a boil
Add the rice and allow it to cook, aldente
Drain excess water from the rice
Add a little oil, sprinkle some black pepper and keep aside
In a pan/wok heat oil, add chopped onion and celery and saute
Next add chopped ginger, garlic and capsicum/bell-pepper
Throw in chopped carrot, green beans and saute on a high flame
Finely chopped cabbage can go in next
Keep sauteing on a high flame
Tip in the green peas and saute well
Add cooked and cooled rice
Mix the rice gently with all the vegetables, do not break rice
Sprinkle salt to taste
Add soya-sauce and chilli-sauce
Mix everything very well
Lastly, sprinkle fresh black pepper powder and garnish with chopped coriander
Serve immediately with chilli-sauce
Notes
You can also add spring-onion instead of celery

Add salt to the fried rice with restraint. Soya sauce already has some salt content

Cook the vegetables on high flame as most Indo-Chinese dishes are made

Veg Fried Rice Stepwise:
In a vessel, bring 4 cups of water to a boil

Add the rice and allow it to cook, aldente

Drain excess water from the rice

Add a little oil, sprinkle some black pepper and keep aside

In a pan/wok heat oil, add chopped onion and celery and saute

Next add chopped ginger, garlic and capsicum/bell-pepper

Throw in chopped carrot, green beans and saute on a high flame

Finely chopped cabbage can go in next

Keep sauteing on a high flame

Tip in the green peas and saute well

Add cooked and cooled rice

Mix the rice gently with all the vegetables, do not break rice

Sprinkle salt to taste

Add soya-sauce and chilli-sauce

Mix everything very well

Lastly, sprinkle fresh black pepper powder and garnish with chopped coriander

Serve immediately with chilli-sauce