An integral part of a typical breakfast plate from South India is this uddina vada. Be it Karnataka, Tamil Nadu, Andhra Pradesh or Kerala, people love these vadas. It is also called as medu vada/ulundu vadai.
Uddina vada is consumed in various ways. It is usually served with soft rice idlis or just plain with tiffin sambar poured over it called as sambar vada. But my favourite combination is Ven Pongal.
The warm pongal with these crisp vadas is simply to die-for. Along with simple coconut chutney these uddina vada are a delicacy. Even pudina chutney tastes great!
These vadas are generally not prepared for festivals instead they feature on menus for ceremonies. But uddina vada are sometimes prepared for specific festivals depending on beliefs and customs. Uddina bonda on the other hand (same batter) are made for any occasion.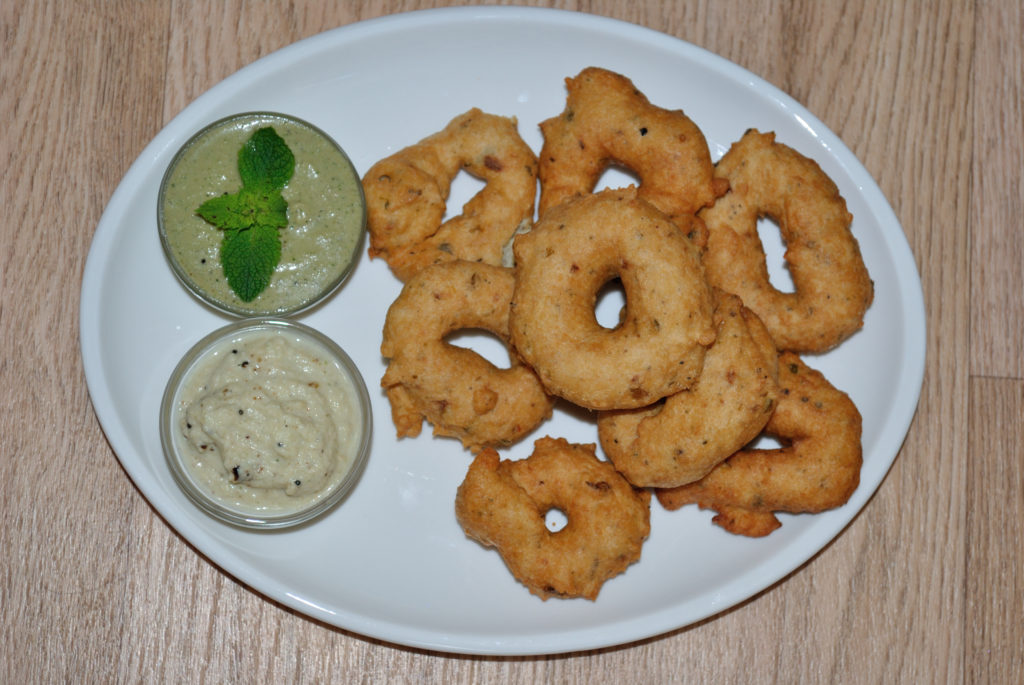 The most important factor for crisp uddina vada is the fluffiness of the batter. It needs to be prepared carefully. Remember urad dal should not be soaked more than 3 hours. Sometimes finely chopped onions are also added to the batter for extra crunch on non-festival days.
Carefully follow the steps and you will end up with good crisp vadas. I am not an expert in shaping vadas. You can also use one of those vada shapers you get in shops these days. Here I have illustrated how to shape them by hand.
So why wait? Let's dive deep into the vadas (pun intended) 🙂
More breakfast and snack recipes on FOI.
Try this special uddina bhaat for a different flavour of urad dal!
Uddina Vada | Medu Vada | How to make uddina vada?
Crisp and hot, everybody's favourite uddina vada
Ingredients
½ Cup urad dal
1 chopped chilli
1 to 1½ Tbsp cold water
1" chopped ginger
Chopped coriander
1 Tbsp grated fresh coconut
1 Tsp freshly and coarsely powdered black pepper
(1/2 Tsp~) Salt to taste
½ Tbsp small rava/chiroti rava
Oil to deep fry
Method
Take urad dal in a bowl, wash it a couple of times and discard the water
Soak in fresh water for 2 to 3 hours only. Do not exceed 3 hours
After soaking time is up, drain water and add into a grinder (mixie)
Add salt and throw in the chopped green chilli
Pulse urad dal with 1 Tbsp water. Add about ½ Tbsp more if mixture feels dry and your grinder is not able to process the mixture
Next add chopped ginger, chopped coriander an grated coconut
Pulse again till mixture is comes together
Add black pepper powder and pulse again to mix
Tip this thick batter into a bowl and add chiroti rava. Beat lightly till fluffy. Let it rest for 5 minutes only
Meanwhile heat oil on medium flame. Wet your hands
Pinch a lemon sized ball off the batter and flatten it on your hand
Now start shaping the vada. Push edges to form an even rounded shape as much as possible
Make a hole with your index finger
Gently drop vadas into hot oil
Fry them on low-medium flame
Once they turn golden brown and crisp, remove from oil and let them rest for a couple of minutes on a paper towel to absorb excess oil
Serve immediately with sambar and chutney
Notes
Adding chiroti rava helps bind the batter and makes vada crisp

Wet fingers help you shape vada better and batter does not stick to your hands

If you find it difficult to shape the vadas, just make uddina bonda (rounds). They will taste the same

Do NOT fry in very hot oil

Add finely chopped onions if preferred

Uddina Vada Stepwise:
Take urad dal in a bowl, wash it a couple of times and discard the water 
  
Soak in fresh water for 2 to 3 hours only. Do not exceed 3 hours
   

After soaking time is up, drain water and add into a grinder (mixie)
 

Add salt and throw in the chopped green chilli
 

Pulse urad dal with 1 Tbsp water. Add about 1/2 Tbsp more if mixture 

feels dry and your grinder is not able to process the mixture


Next add chopped ginger, chopped coriander an grated coconut
   

Pulse again till mixture is comes together


Add black pepper powder and pulse again to mix
 

Tip this thick batter into a bowl and add chiroti rava. Beat lightly till fluffy. Let it rest for 5 minutes only
  

Meanwhile heat oil on medium flame. Wet your hands
 

Pinch a lemon sized ball off the batter and flatten it on your hand


Now start shaping the vada. Push edges to form an even rounded shape as much as possible


Make a hole with your index finger
  

Gently drop vadas into hot oil
 

Fry them on low-medium flame 
  

Once they turn golden brown and crisp, remove from oil and let them rest for a couple of minutes on a paper towel to absorb excess oil
 

Serve immediately with sambar and chutney