Did you know that tomatoes can be 'grated' into a coarse puree. I learnt this recently from an article which mentioned ingredients that can actually be grated. So these grated tomatoes add a new kind of texture to soft tomato paratha. I have used this technique to make super tasty red tomato paratha.
However, tomatoes should be firm and just ripe to be able to grate them. Of course, they should also be fresh. Nothing stops us from pureeing the tomatoes in a blender. That would work well too.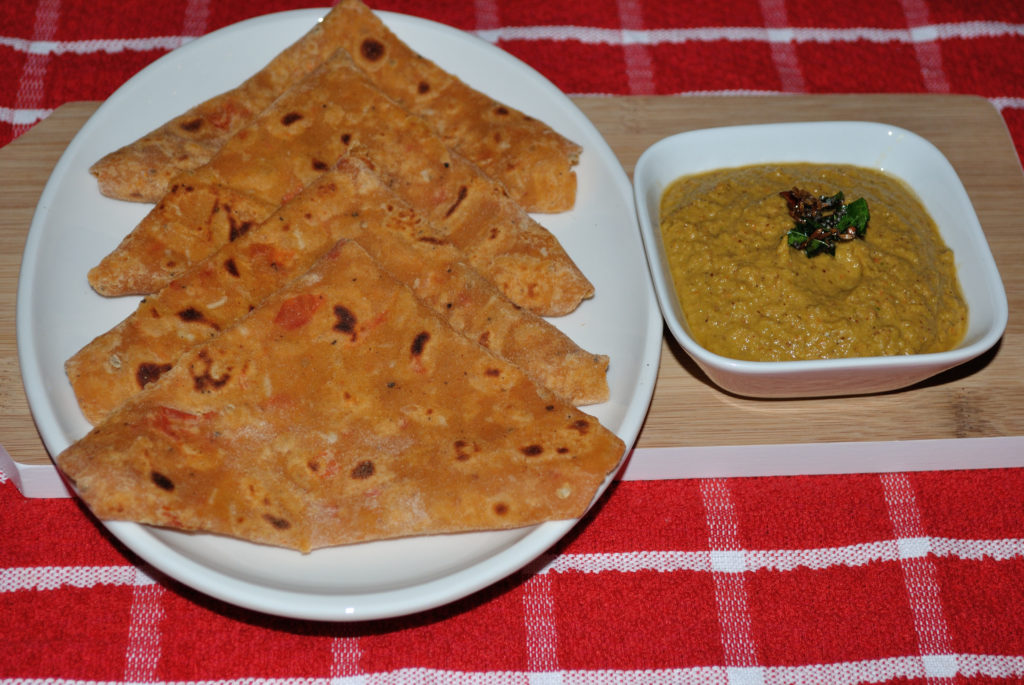 Try other paratha recipes like carrot paratha, aloo paratha, methi thepla from FOI. More tomato based recipes like tomato bhaat, tomato soup, Bengali tamatar chatni also available.
Try these unique tasting and unique coloured parathas. Tomato paratha do not require a lot of masala, simple black pepper and a little grated garlic(optional) add a lot of flavour to these soft parathas. Pack these for lunch box or carry them for a picnic. Yum!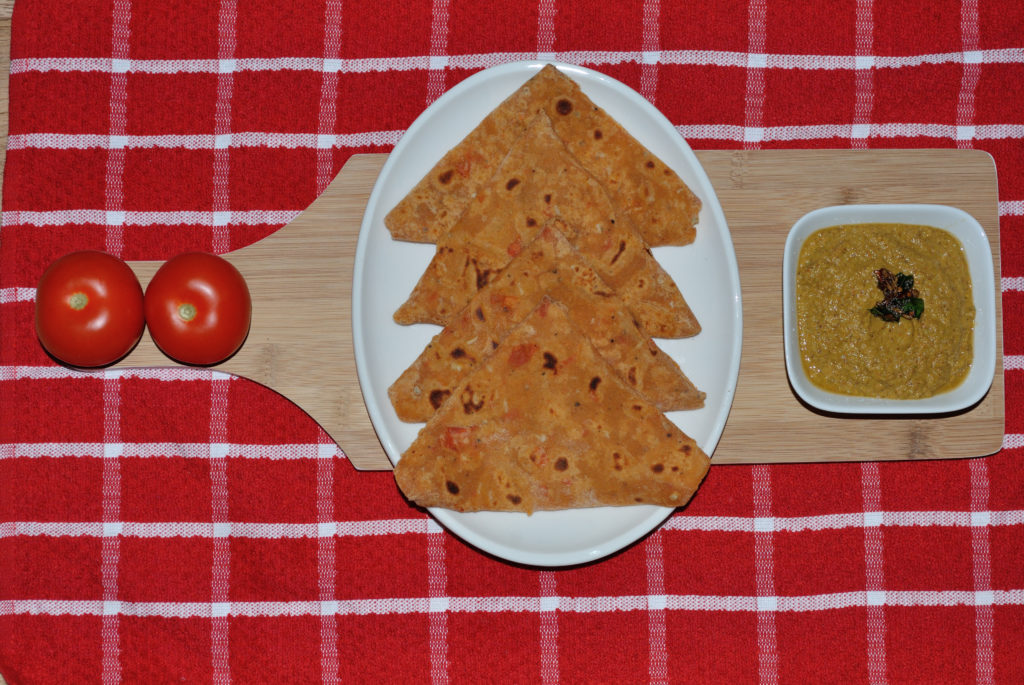 Tomato Paratha | How to make tomato paratha?
Soft, delicious and filling tomato paratha for travel or lunchbox
Ingredients
2-3 firm ripe tomatoes
½ Tsp freshly ground black pepper
2 Cups whole wheat flour
1-2 garlic grated
Salt to taste
1 Tsp sugar
2 Tbsp desi ghee
¼ Tsp red chilli powder
Water to make dough
Method
Wash tomatoes, grate them using a box grater, hand grater. You will end up with coarsely pureed tomatoes and the peels separate out
In a bowl add whole wheat flour, salt and sugar
Sprinkle in black pepper powder
Add grated garlic and red chilli powder
Next add 1 Tbsp ghee. Mix well with a spatula or with the tips of your fingers
Add grated/pureed tomatoes
Start kneading the dough
Now add very little water (1 Tbsp at a time~)
Make sure you knead a smooth and soft dough. Do not add a lot of water
Spoon in remaining ghee. Knead well
Cover and let it rest for an hour
To make parathas, make small pedhas/balls
Roll into a roti like paratha. You can also fold into a triangle and roll again
Roast on both sides till golden spots appear. Apply oil when roasting
Serve hot or pack it for lunchbox. Here I have served it with tomato-onion chutney. Serve it with any chutney or raitha or plain yogurt
Notes
Tomatoes can even be pureed. Grating saves you the effort of washing up your mixer. Plus you end up with nice interesting bits of tomatoes giving a good texture

You can also refrigerate it for a few hours or overnight

If you want to skip red chilli powder if you like it bland or when making them for children

Add water very carefully. Tomatoes will almost knead into a dough. You just need a little water to finally bring it all together

Tomato Paratha Stepwise:
Wash tomatoes, grate them using a box grater, hand grater. You will end up with coarsely pureed tomatoes and the peels separate out
     

In a bowl add whole wheat flour, salt and sugar
  

Sprinkle in black pepper powder


Add grated garlic and red chilli powder
 

Next add 1 Tbsp ghee. Mix well with a spatula or with the tips of your fingers
 

Add grated/pureed tomatoes


Start kneading the dough
 

Now add very little water (1 Tbsp at a time~)


Make sure you knead a smooth and soft dough. Do not add a lot of water


Spoon in remaining ghee. Knead well
 

Cover and let it rest for an hour


To make parathas, make small pedhas/balls


Roll into a roti like paratha. You can also fold into a triangle and roll again


Roast on both sides till golden spots appear. Apply oil when roasting


Serve hot or pack it for lunchbox. Here I have served it with tomato-onion chutney. Serve it with any chutney or raitha or plain yogurt