A bowl of Thai green vegetable curry on a bed of rice is soothing to both the mind and the body. Clean, fresh, fragrant flavours all amalgamated into soft succulent vegetables is  a treat. In my opinion, it is one of the best kind of dishes for an early dinner.
Thai green vegetable curry is creamy from all the coconut milk that we add into it. All the fresh spices and flavours from the Thai green curry paste get absorbed by the veggies. This makes one fall in love with Oriental cuisine and flavours.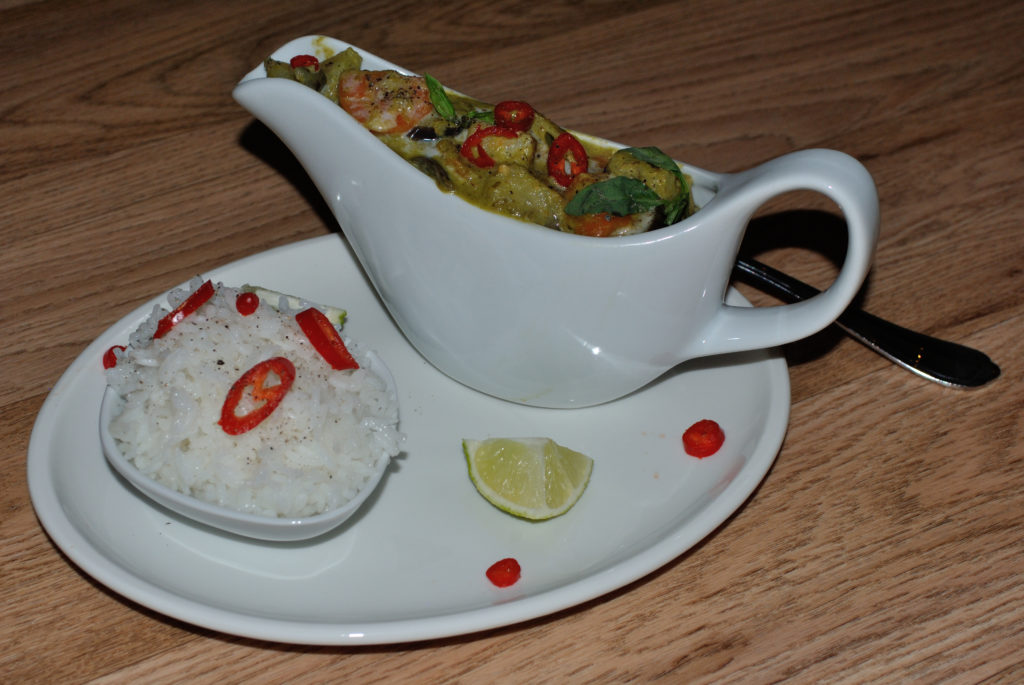 You can add any kind of vegetables you like. But may be not vegetables like beetroot which makes the Thai green vegetable curry not so, er' green 🙂 This is a classic one-pot meal, make ahead kind of dish.
Just heat it up when required and serve with steamed white rice. Use any kind of rice you like, regular white rice, sona masuri rice, basmati rice, jasmine rice, all work well.
Do try other mixed vegetable dishes like Mexican mixed vegetable chilli. Other gravies, curries and one-pot dishes from FOI.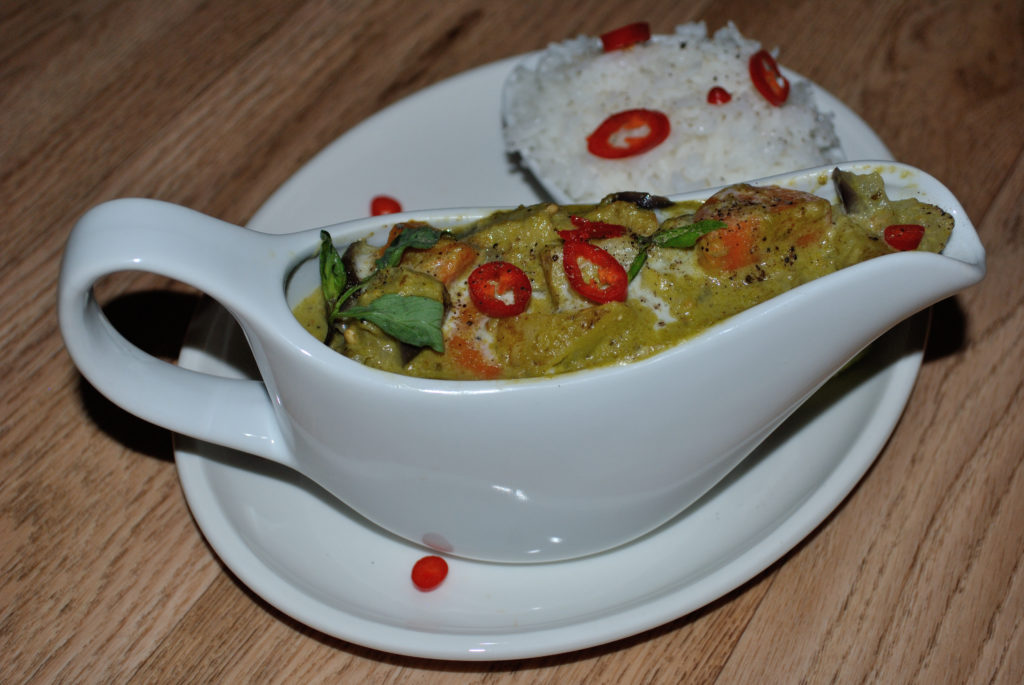 Thai Green Vegetable Curry | Curry recipes
Mildly spicy, creamy, fragrant Thai green vegetable curry, one-pot meal
Ingredients
1 diced medium potato
1 diced medium carrot
2-3 small diced brinjals or ½ diced eggplant/aubergine
Water to boil vegetables
1 Tbsp oil
1 recipe Thai green curry paste
½ Cup thin coconut milk
2 Tbsp thick coconut milk
Cooked white rice to serve
Any kind of mild chilli to garnish
Coriander to garnish
Method
Keep the vegetables diced and ready. While dicing the vegetables bring about 2-3 cups of water to a boil
Starting with hard vegetables like potatoes and carrots, add them into boiling water. When they are almost cooked add softer vegetables like aubergines/brinjals. Let them cook
Meanwhile heat oil in a pan, add Thai green curry paste
Saute the paste till it changes colour
Pour in thin coconut milk and mix well
Now add cooked vegetables. Mix
Cover and cook till vegetables absorb some of the gravy liquid
Lastly add thick coconut milk
Give one final stir, adjust seasoning if required. Remember curry paste has salt and seasonings in it
Serve hot with white/jasmine rice, garnish with chillies and/or coriander on top
Notes
No need to add salt. But if required adjust seasoning

Steam veggies in a steamer or cook them in a cooker

Use any vegetable you like, parsnips, turnips, cauliflower etc

Coconut milk can be made fresh by grating fresh coconut, grind with little by little water and extract coconut milk, strain and keep aside. The first extract will be thick. You can also use store bought organic coconut milk to save some time

Thai Green Vegetable Curry Stepwise:
Keep the vegetables diced and ready. While dicing the vegetables bring about 2-3 cups of water to a boil
 

Starting with hard vegetables like potatoes and carrots, add them into boiling water. When they are almost cooked add softer vegetables like aubergines/brinjals. Let them cook
  

Meanwhile heat oil in a pan, add Thai green curry paste
 
Saute the paste till it changes colour
  

Pour in thin coconut milk and mix well
  

Now add cooked vegetables. Mix
 

Cover and cook till vegetables absorb some of the gravy liquid
 

Lastly add thick coconut milk


Give one final stir, adjust seasoning if required. Remember curry paste has salt and seasonings in it


Serve hot with white/jasmine rice, garnish with chillies and/or coriander on top