Making chutney always seems like a daunting task. Especially if you have to grate loads of coconut. Sometimes it's best to make chutneys with any available ingredient like any kind of vegetable, vegetable peels, dals, spices etc. Sweet potato chutney is one such chutney, easy and very flavourful, it has the right balance of flavours.
If you have a pile of sweet potatoes lying at home, pick up 1 or 2 of them and make this easy sweet potato chutney. It makes a great combination for dosa, idli or rotis. Sweet potato chutney does not involve a lot of ingredients, it can get ready in a jiffy and then you can savour your dosas and idlis with this chutney. The sweetness of sweet potatoes makes the chutney have rounder and full flavours.
You can saute the sweet potatoes in little oil till they turn soft or boil them in water till soft. These cooked sweet potatoes are then mixed with red chillies and some spices to get a tasty sweet potato chutney. Try more chutney recipes from FOI, seemebadane kayi chutney, nellikayi chutney, methi stalks chutney, radish chutney etc. More side dishes for dosas and idlis.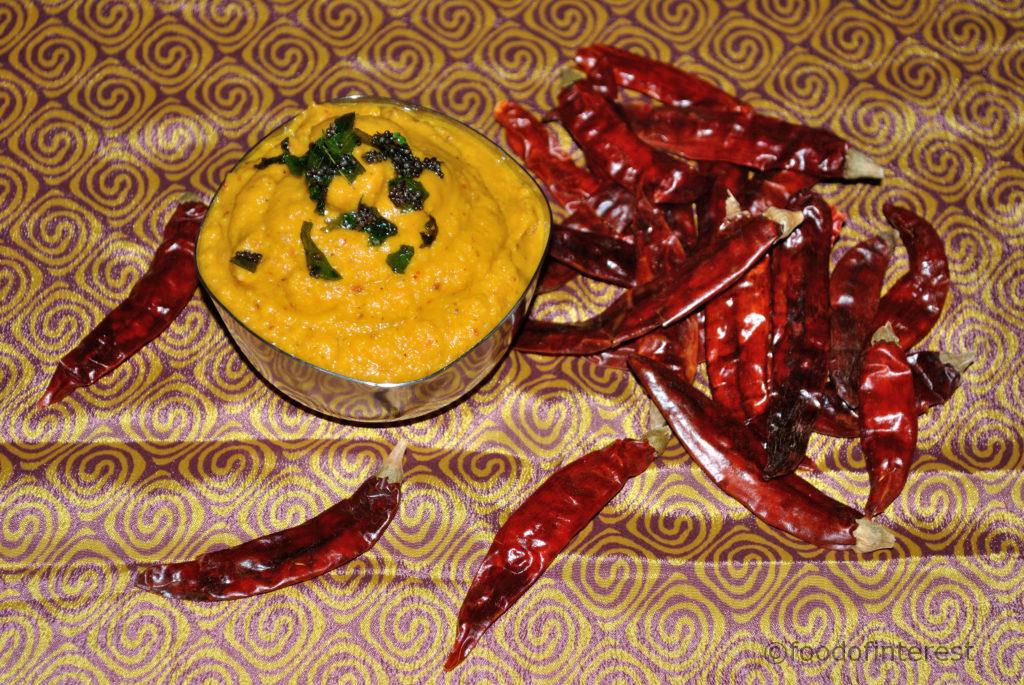 Sweet Potato Chutney | Genasina Chutney | Chutney Recipes
Mildly spicy and sweet, easy side dish, sweet potato chutney
Ingredients
½ Tsp menthya/methi
2 dry red chilli
½ Tbsp urad dal
Few whole black pepper
1 small diced sweet potato
2 Tbsp freshly grated coconut
1 Tbsp tamarind pulp
Salt to taste

For Tempering:
1 Tsp oil
1 Tsp mustard
A broken red chilli
Method
In a pan, roast methi seeds, red chilli, black pepper and urad dal till they release aroma and urad dal turns golden brown
Clean, peel, dice and cook sweet potato in water till soft
In a mixer jar, add grated coconut or coconut pieces
Add cooked and cooled sweet potato, roasted ingredients
Add salt, tamarind paste and little water and grind into a chutney
Temper chutney with oil, mustard and broken red chilli. Serve with any idli or dosa dish
Notes
Adjust spice by adding more/less red chillies

Ensure you have tender and good quality sweet potato

Do not forget to scrub the sweet potatoes to remove all grit and dirt
Sweet Potato Chutney Stepwise:
In a pan, roast methi seeds, red chilli, black pepper and urad dal till they release aroma and urad dal turns golden brown

Clean, peel, dice and cook sweet potato in water till soft

In a mixer jar, add grated coconut or coconut pieces

Add cooked and cooled sweet potato, roasted ingredients

Add salt, tamarind paste and little water and grind into a chutney

Temper chutney with oil, mustard and broken red chilli. Serve with any idli or dosa dish