Rajma masala was one of the first recipes I had posted 2 years ago when I started FOI. A super yummy gravy recipe that goes well with roti or chawal. Usually I tend to make extra rajma so I can eat it with both roti and chawal. But sometimes we do get bored of roti and chawal. The answer to that boredom is this street style rajma sandwich with leftover rajma masala.
Last year when I was travelling, in my flight lunch box I had rajma masala and some bread on the side. That's where the idea of this street style rajma sandwich dawned upon me. No fears when Street style rajma sandwich recipe is soon yours, cheeky eh 😛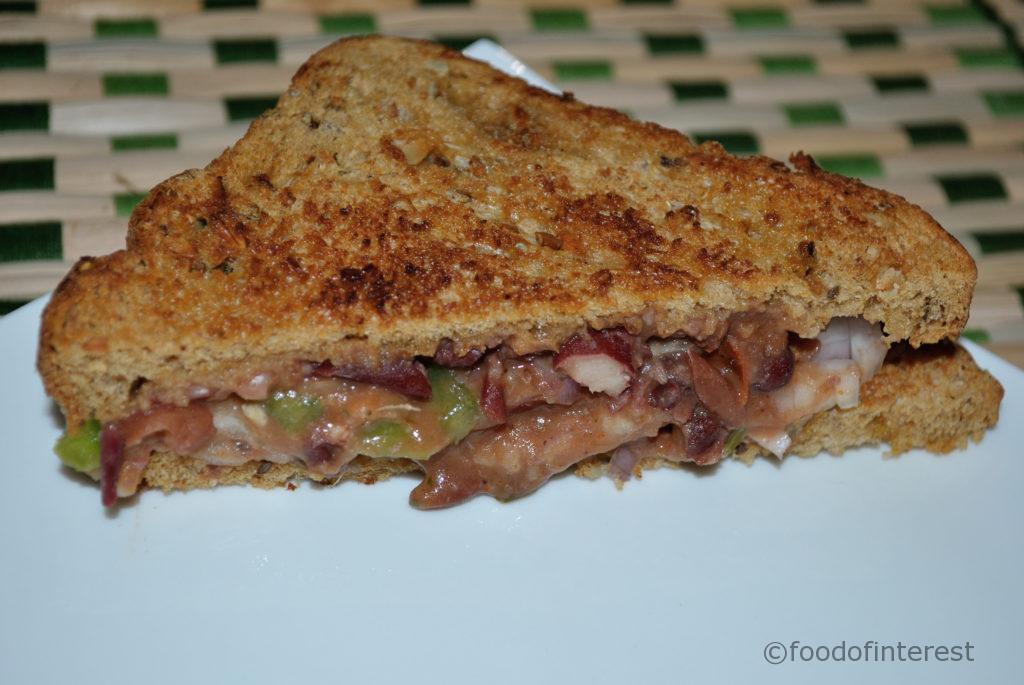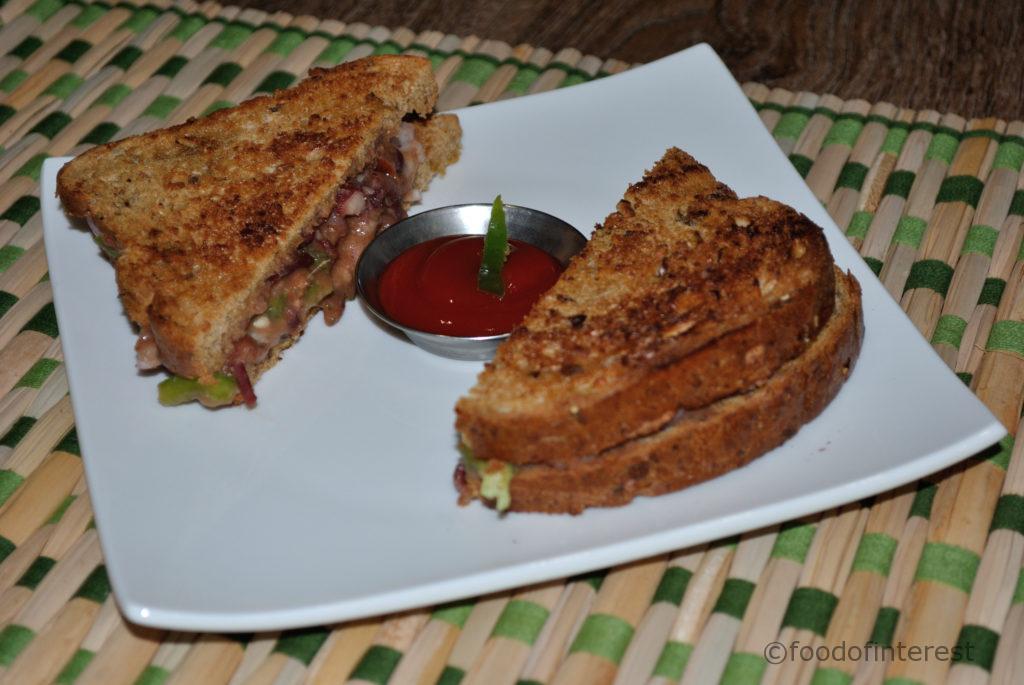 Street style rajma sandwich is simply delicious, it can be grilled or toasted, it has some onions, some capsicum (bell pepper) a few tangy things. And of course to serve a little ketchup or pudina chutney is sufficient, it gets ready in no time at all. Try more sandwich recipes from FOI.
Street Style Rajma Sandwich | Sandwich with rajma masala | Sandwich Recipes
Favourite leftover rajma gravy made into delicious street style rajma sandwich
Ingredients
1 Cup prepared rajma masala or as required
½ green capsicum thinly sliced
½ Cup sliced onion
Softened butter
Grated cheese as required
8 bread slices
Method
Butter bread slices and lightly toast them
On 4 slices smear leftover rajma masala and spread it evenly
Place a few capsicum slices
Next place a few onion slices
Grate some cheese on top
Top with little more rajma masala
Cover with another slice, grill or toast till cheese melts
Notes
Cheese can be skipped if you do not prefer it

Smear pudina chutney on top slice of bread and then close it underside onto the sandwich

Sprinkle some chaat masala or sandwich masala before closing the top slice

You may grill, toast and use sandwich press


Street Style Rajma Sandwich:
Butter bread slices and lightly toast them

On 4 slices smear leftover rajma masala and spread it evenly

Place a few capsicum slices

Next place a few onion slices

Grate some cheese on top

Top with little more rajma masala

Cover with another slice, grill or toast till cheese melts