Jeera rice is a very common dish in North Indian cuisine. Somehow this humble rice dish gets lost amongst special dishes. How about making this special jeera rice? It is also called Ney Choru or Nei choru, a special dish from the Malabar region of Kerala. Make this jeera rice stand out on your plate!
True to its origins, this jeera ghee rice is made extra special with aromatic spices like elaichi, dalchini and laung. It is also rich and festive with cashew nuts, raisins and ghee. A simple humble rice dish will make you feel like royalty!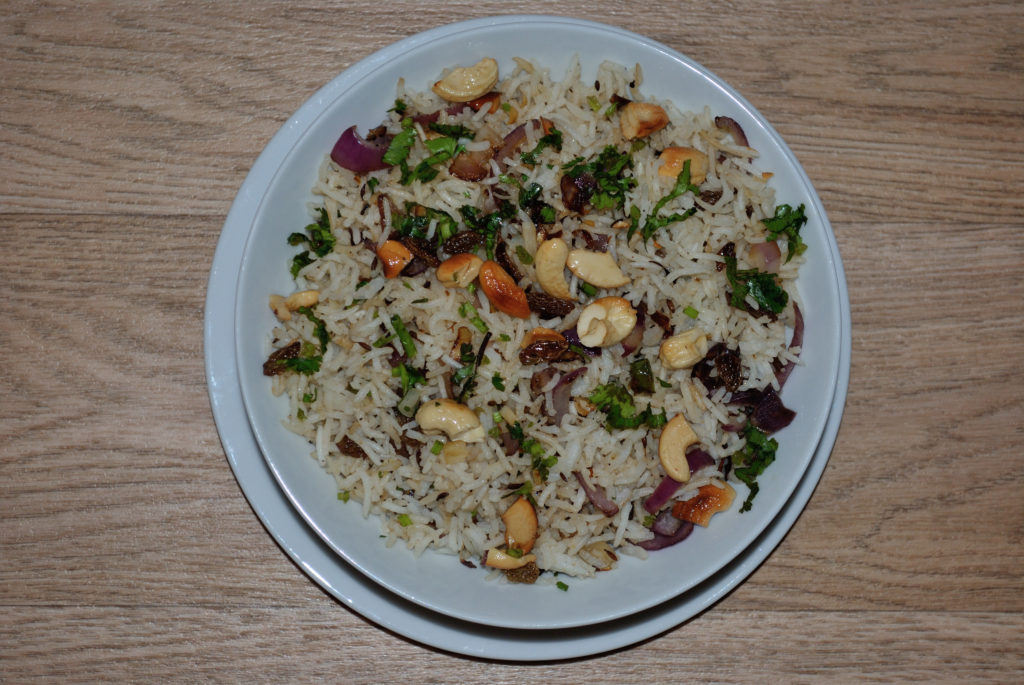 It can be easily made for lunch boxes or even for picnics. Use any kind of rice, basmati rice is generally the variety used simply because of its natural special flavour. But for this Kerala version, a special type of rice called jeerakasala variety is used (here I have used basmati though).
Special jeera rice tastes delicious just on its own or with dal fry or pssstt..come closer I even eat it with a little ketchup 🙂
Try pudina vegetable pulao and more rice dishes. Here are few more picnic dishes and lunch box recipes. Enjoy this simple yet special dish.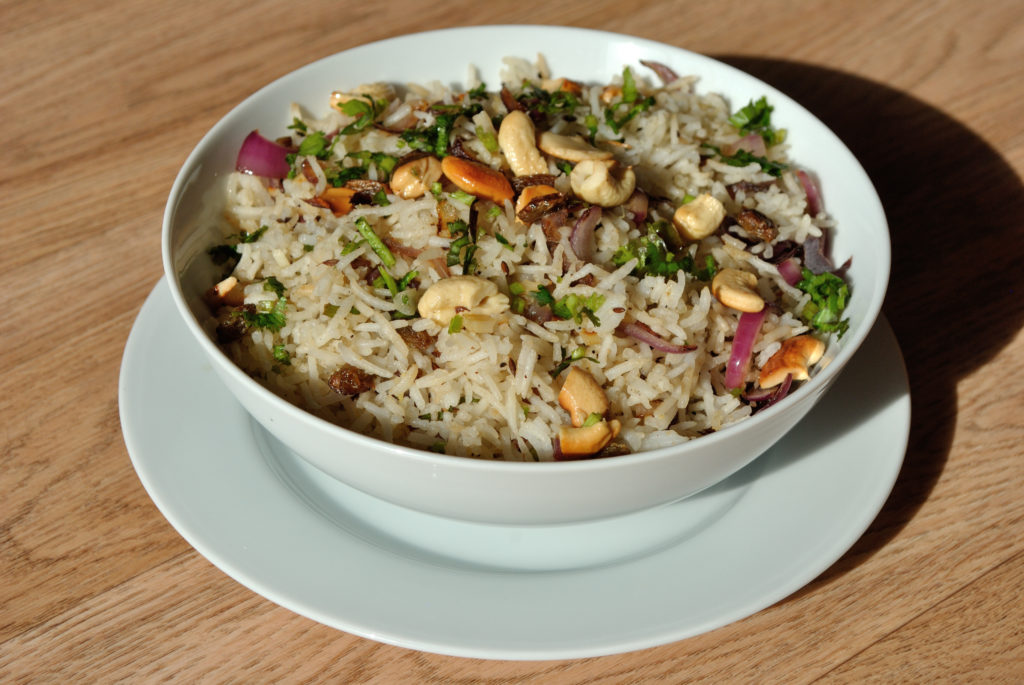 Special Jeera Rice | Jeera rice with nuts and raisins | Rice Recipes
Festive, loaded with nuts and raisins, aromatic special jeera rice
Ingredients
1 Cup basmati rice/jeerakasala rice
2 Cups water
2 Tbsp + 1 Tsp desi ghee
1-2 elaichi/green cardamom
1" broken cinnamon
2 laung/cloves
8-10 powdered black pepper
1 Tsp jeera
1 chopped green chilli
1 sliced big onion
1-2 chopped cloves of garlic
8-10 broken cashews
2 Tbsp raisins
¼ Tsp sugar
Salt to taste
Chopped coriander to garnish
Method
Wash rice 5-6 times or till water runs clear. Soak for 15 minutes, drain water and keep aside for 10 minutes
Add 2 Cups water and let it cook by absorption method
When rice is cooking, get other ingredients ready, keep dry spices together
Roast cashews and raisins in 1 Tsp ghee till golden. Keep aside
Heat 2 Tbsp ghee in a pan, roast dalchini, elaichi and laung
Add jeera and let them splutter and then add black pepper
Throw in chopped green chilli and sliced onions
Sauté onions till they turn soft and light golden
Sprinkle sugar and mix well
Next add chopped garlic and saute
Season cooked rice with salt
Mix rice with jeera-onion tadka, mix well to combine
Tip in roasted cashews and raisins
Garnish with chopped coriander
Pack for lunch box or serve immediately
Notes
Cook rice in pressure cooker for 2-3 whistles

Use any kind of rice which cooks and blooms well, aged rice works well

Nuts can be optional, keep it plain if you want it to be simple

After making tadka, soaked rice can be added and cooked with required water with the tadka itself to make it an easier one-pot meal
Special Jeera Rice Stepwise:
Wash rice 5-6 times or till water runs clear. Soak for 15 minutes, drain water and keep aside for 10 minutes
 

Add 2 Cups water and let it cook by absorption method


When rice is cooking, get other ingredients ready, keep dry spices together


Roast cashews and raisins in 1 Tsp ghee till golden. Keep aside
    

Heat 2 Tbsp ghee in a pan, roast dalchini, elaichi and laung
 

Add jeera and let them splutter and then add black pepper
  

Throw in chopped green chilli and sliced onions
 

Sauté onions till they turn soft and light golden
 

Sprinkle sugar and mix well


Next add chopped garlic and saute


Season cooked rice with salt


Mix rice with jeera-onion tadka, mix well to combine
  

Tip in roasted cashews and raisins
 

Garnish with chopped coriander


Pack for lunch box or serve immediately